March, 8, 2013
3/08/13
11:30
AM ET
»
NFC Eight in the Box
:
East
|
West
|
North
|
South
»
AFC
:
East
|
West
|
North
|
South
Welcome to Eight in the Box, an NFL Nation feature that will appear each Friday during the offseason. This week's topic: Who should be the primary target (including trades) for each team when free agency begins?

Atlanta Falcons.
After releasing veteran
John Abraham
, the team is without an elite pass-rusher. That's why the Falcons should make
Cliff Avril
their top target in free agency. Sitting near the end of the first round, they're not likely to land an impact pass-rusher in the draft. They have to bring in someone from the outside, and Avril is the closest thing there is to a sure thing. At 26, Avril still is very much in his prime. He won't be inexpensive, and the Falcons have made it clear their priority is to re-sign their own free agents. But there aren't many other places to turn for a pass-rusher, so this is one spot where the Falcons can devote some money.

Carolina Panthers
. The Panthers have a glaring need at cornerback.
Josh Norman
and
Josh Thomas
can be role players, but they're not No. 1 cornerbacks. That's why the Panthers should go after San Diego free agent
Antoine Cason
. Ron Rivera knows him from their time together with the Chargers, and Rivera has a history of bringing in players from San Diego. Cason, 26, already is good but could become even better. Put him behind a pass rush anchored by
Charles Johnson
and
Greg Hardy
, and Cason could become a star.

New Orleans Saints.
There is very little cap room to work with in New Orleans, but general manager Mickey Loomis is a creative guy. He can free up enough money for the Saints to make a few moves in free agency. As the Saints switch from a 4-3 defense to a 3-4, they can't afford to sit still with their personnel. More than anything, they need a pass-rusher. Indianapolis defensive end/linebacker
Dwight Freeney
is on the market and would be a good fit here. Freeney has played on a Super Bowl champion team, and his presence could go a long way in helping new coordinator Rob Ryan rebuild the defense.

Tampa Bay Buccaneers.
The Bucs are in a cap position in which they can do just about anything they want. The thing they should do is trade for
New York Jets
cornerback
Darrelle Revis
. The Bucs are one of the few teams with the ability to take on his long-term cap ramifications. The Bucs also are desperate for help at cornerback. Adding Revis would give them a shutdown corner, and that could help a defense that ranked No. 32 against the pass last season.
October, 31, 2011
10/31/11
4:16
PM ET
As most of you know, Atlanta receiver
Roddy White
has a tendency to be outspoken. Sometimes, it's in a playful way. Sometimes, White can be controversial.

But there's another side to White that isn't always seen. That's the thoughtful side. It surfaced Monday when White was talking about the season-ending knee injury to teammate
Ovie Mughelli
that happened in a victory against Detroit.
White told John Manasso that he thinks the NFL
should outlaw the type of hit
that caused Mughelli's injury. Mughelli was looking back at quarterback
Matt Ryan
on a pass play when he was hit from the side and behind by safety
Louis Delmas
.
"Once you see it, once he caught the ball, he couldn't really get around and the guy kind of cut him on his knees," White said. "That's kind of, that's bad. The NFL's got to make a rule or something on that. Those guys going into the flat and they can't see and getting your knees cut from under you like that. It's tough, especially when you're playing on turf and you're planted into the ground and you get hit like that."
White got into a
war of words
with Detroit defensive linemen
Ndamukong Suh
and
Cliff Avril
in the days after the game. White and center
Todd McClure
said Suh and Avril were making comments and gestures, which they thought were in appropriate, while Ryan was down on the ground with an injury.
But White wasn't looking to continue the war on this issue. He refused to say Delmas made a dirty play.
"Not really a dirty play because everybody does that week in week out in the NFL, it's just if you happen to get caught or not," White said.
October, 25, 2011
10/25/11
6:57
PM ET
A very quick update to our
previous item
on Atlanta fullback
Ovie Mughelli
. The Falcons officially announced he's been placed on injured reserve.
They also have placed guard
Mike Johnson
on injured reserve. To fill their roster spots, the Falcons signed fullback
Mike Cox
and offensive lineman
Kirk Chambers
.
Cox, a Georgia Tech product, previously appeared in 32 games with the
Kansas City Chiefs
. Chambers gives the Falcons some veteran depth at tackle. That's notable because left tackle
Sam Baker
missed the last game with a back injury and struggled prior to that.
Chambers has been in the league since 2004 and has spent time, mostly as a backup with Cleveland, Buffalo and Cincinnati. He was released by Detroit prior to this season.
Detroit defensive linemen
Ndamukong Suh
and
Cliff Avril
were not available for comment on Chambers joining Atlanta's offensive line.
October, 25, 2011
10/25/11
2:10
PM ET
Apparently, karma -- or at least the idea of getting what you deserve -- can flow both ways.
Yes, it's time for the latest in the war of words between the
Atlanta Falcons
and
Detroit Lions
. For background, a few of the Falcons said Detroit defensive linemen
Ndamukong Suh
and
Cliff Avril
were
making comments and gestures
when quarterback
Matt Ryan
was injured in Sunday's game. Suh fired back, denying that, but saying the injury might be karma and
accusing Atlanta's offensive line
of using some underhanded tactics.
Now, that bit about karma is being lobbed right back at Suh. This time, it comes in
this radio interview
with Atlanta cornerback
Brent Grimes
.
"For you to mock somebody when they're on the ground and they are possibly seriously hurt where they might need a cart to take them off the field, that's just not cool,'' Grimes said. "That comes back to people when they do something like that.''
That's all we've got on this story for the moment. But stay tuned. Even on a day when players are off, a Lion or Falcon could add to this one at any time.
October, 24, 2011
10/24/11
8:25
PM ET
Time for Round 3 of the battle of words between the
Atlanta Falcons
and
Detroit Lions
.
For those keeping score at home, Round 1 came when Atlanta receiver
Roddy White
and center
Todd McClure
expressed
disgust
and claimed Detroit defensive linemen
Ndamukong Suh
and
Cliff Avril
were making comments and gestures as Atlanta quarterback
Matt Ryan
was on the field after having his ankle stepped on by offensive tackle
Will Svitek
.
Round 2 came when Suh and Avril
denied making comments or gestures
and also took a few shots at Atlanta's offensive line and the media.
Now, on to the latest. In an interview with NFL Network, White responded to Suh's comments.
"I just know he's going to say whatever he wants to say, but we know what they said,'' White said. "We were standing right there in the huddle, we saw when he went down and that's before the medical staff got there that they said was in front of the play. We didn't say he kicked Matt; we said one of the guys, I don't know if it was 92 or 93, one of the defensive ends, came over and he was making kicking gestures like, 'Get him out of here, get him out of here.'
"I know Suh said what he said. He said, 'Go get the cart for him, get him out of here.' He knows he said that and we're not going to go back and forth about what he said-she said. And then he's going to say it was karma for what we've done in the past when their quarterback [
Matthew Stafford
] gets hurt on the last play of the game and they have an MRI today."
You can check out video of the White interview
here
, along with interviews with Suh and teammate
Stephen Tulloch
.
October, 24, 2011
10/24/11
4:59
PM ET
It's time for another round of "Falcons said, Lions said."
In
the first round
, we told you how Atlanta receiver
Roddy White
and center
Todd McClure
expressed disgust at what they said were the actions of Detroit defensive linemen
Ndamukong Suh
and
Cliff Avril
when quarterback
Matt Ryan
was down with an ankle injury.
[+] Enlarge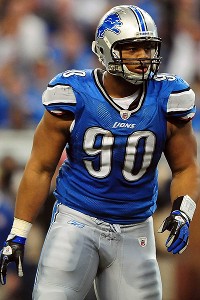 Andrew Weber/US PresswireDetroit's Ndamukong Suh refutes accusations by Falcons players that a Lions player was kicking Atlanta QB Matt Ryan while Ryan was on the turf injured Sunday.
Now, it's time for Round 2.
This is where Suh and Avril come back and deny they did what McClure and White said they did.
"Basically, my whole thing is, with all the statements, they're going to say what they want to say -- he said, she said," Suh said. "I know, for the fact of the matter, Cliff, or anybody for that matter, would have kicked their quarterback, I'm sure there would have been a riot -- there would've been a fight broken out real quick. Because I guarantee you if that would've happened to Matt Stafford, and he was on the ground and somebody kicked him, I guarantee you all hell would've broken loose.
"I just got done watching film, got done watching that play. If you see it, me and Cliff are standing next to each other because there's a back -- there are three people on the two of us. So, with that, [the accusations are] null and void; that kills it right there. So there's no point in even -- these accusations, all these different things -- it means nothing to me."
Avril had a similar response.
"It isn't in anybody's character in our D-line room, honestly and truthfully, to go out and try and end guys' careers," said Avril. "Nobody in our D-line … that's not football to us. We play the game the way it's supposed to be played, I believe, which is to get after the quarterback and hit the quarterback and stop the run. That's what it is."
Of course, there now is room for a few more rounds in this one because Suh and Avril pointed some fingers at various targets, starting with Atlanta's offensive line.
"Nobody's out there trying to tear ACLs, nobody's out there trying to do all the season-ending injuries," Avril said. "But then you have O-linemen that are taught that and they get away with it and all of a sudden we get the stigma of the name of being 'a dirty group' which is mind-boggling, honestly."
Suh also had some words about Atlanta's offensive line.
"There are many, many, many plays that I could go back to that I watch on film all week that their offensive line has done, and that they've been coached to do, as far as I know," Suh said. "It's not anything that's not been said; it's not anything that's new. Those are things that they're taught to do, and I can go back -- there's like a 13-, 15-play reel that we have that shows everything they've done. That's not even counting our game -- there are many plays that I can go back to in that particular game and say, 'What am I supposed to do? Am I supposed to just let that happen? Or what?' But nothing's done about it."
And, of course, the media outlets that initially reported the claims by McClure and White are drawing fire from the Lions.
"For me, it really sits unsettling that there's media outlets, there's reporters that really don't do their homework, and it's kind of unsettling because that's your job," Suh said. "Ultimately, if you go back and watch the film and look at things, come to me and point it out where I've made mistakes and where I've cut somebody, late-hit somebody in the back, or anything like that. Let me know. I want to see it. I want somebody to come out and point it to me and let me know where I did it and how I did, and if I was wrong, we can address it then and there."
I've got news for Suh. It was White and McClure who made the allegations, not the media.
October, 24, 2011
10/24/11
8:34
AM ET
Atlanta receiver
Roddy White
and center
Todd McClure
expressed disgust
at the actions of Detroit defensive linemen
Ndamukong Suh
and
Cliff Avril
after quarterback
Matt Ryan
was injured in the second half of Sunday's Falcons' victory.
Suh
Offensive tackle
Will Svitek
appeared to step on Ryan's ankle. The quarterback went down briefly, but walked off the field. Ryan returned to the game.
"I had respect for Suh before the game," McClure told The Journal-Constitution. "But when Matt was on the ground, the things [Suh] was saying and the trash he was talking was definitely uncalled for. There are certain things you don't do. [He said], 'Get the cart' and several other things that I can't repeat."
"I lost a whole lot of respect for 90 [Suh] today, and also 92 [Avril], the [expletive] they were doing when Matt got hurt," White told The Atlanta Journal-Constitution. "That was unacceptable. ... Like 92 was kicking [Ryan's] feet, saying, 'Get him off the field.' We don't do stuff like that. ... When you compete, you never want to see a guy get hurt."