August, 4, 2012
8/04/12
7:50
PM ET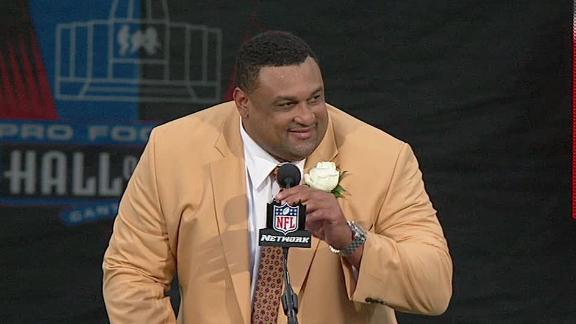 CANTON, Ohio -- Willie Roaf's father, Clifton, has just presented the former New Orleans and Kansas City tackle for enshrinement into the Pro Football Hall of Fame.
The video presentation for Willie Roaf was packed with emotion, especially when Clifton Roaf, his jaw quivering with emotion, called his son his hero.
A quick aside: Clifton Roaf, speaking over lunch Friday, recalled the time his son shut out Hugh Douglas, one of the better defensive ends in the NFL at the time. According to the elder Roaf, Douglas finished with no tackles. When the game ended, Douglas paid tribute to Roaf by crawling off the field. Now that is domination.
August, 4, 2012
8/04/12
7:09
PM ET
CANTON, Ohio -- Welcome to Fawcett Stadium for the 2012 Pro Football Hall of Fame enshrinement ceremony.
I'll be blogging throughout the proceedings, as you might have noticed when this post went live
a bit earlier
. First, a look at the order for enshrinement and speeches for the program, which begins at 7 p.m. ET:
Willie Roaf: This one promises to be emotional, as anyone who witness the way Roaf's father, Clifton, hugged him during the Gold Jacket Dinner presentation Friday night. Clifton Roaf is presenting his son. The Hall encourages presenters to limit their comments to eight minutes in duration. That could be tough for the elder Roaf.
Jack Butler: Butler had to wait a record 50 years for enshrinement. He won't have to wait long Saturday night. The Hall has him going second.
Chris Doleman: The former Minnesota, Atlanta and San Francisco defensive end offered some thoughts Friday on the state of the game. I hope to share those a bit later.
Cortez Kennedy: The second career Seahawk to earn enshrinement will have some time to gather his thoughts. He's fourth in the order.
Dermontti Dawson: One of the greatest interior offensive linemen follows one of the greatest interior defensive linemen.
Curtis Martin: Bill Parcells is presenting Martin. Parcells could be back as an enshrinee before long. Parcells does have some star power. Having him go last wasn't a bad idea.
Should be a memorable night.