February, 19, 2013
2/19/13
2:00
PM ET
BRADENTON, Fla. -- When you talk to
Sheldon Richardson
, it's a waste of time to beat around the bush.

Richardson
You can make subtle implications that he's "outspoken" or "confident," but Richardson will take you right to the point.
"I'm cocky, to most people," Richardson said Monday after a workout at IMG Academy, where he's been preparing for the NFL's scouting combine.
Yes, the Missouri defensive tackle is the person who said Georgia played
"old man football
." He's also the one who -- before the Tigers played the Longhorns in 2011 -- went on
a rant
about how he hates Texas.
"It was just a comment that I made because a lot of my teammates were from Texas and they were reminiscing about guys they played against in high school and how great they are now, and I didn't like that too much," Richardson said. "It was praising the other team too much. When we're out on the field, you can't be friends. It wasn't Colt McCoy at quarterback. It was his little brother [Case] and we got after him defensively."
Missouri defeated Texas 17-5.
"I'm myself," Richardson said. "I really don't see why guys sit there and praise other coaches and other teams when it's totally different in your own locker room. Why sit there and say, 'That's a great team' when it's not?' "
Maybe Richardson has earned the right to say what's on his mind. In his final two college seasons, he recorded 112 tackles, six sacks and had 18.5 tackles for a loss. Most scouts and draft experts list him as one of the top two or three defensive tackles in a class that's particularly deep at that position. If he lasts until the middle of the first round, Richardson would be an obvious target for the
New Orleans Saints
or the
Carolina Panthers
.
"I'll just say this -- he's a grown man," IMG Academy director of football operations Chris Weinke said. "In terms of his ability to make every move, he makes it seamlessly. Our defensive line coaches have just been enamored with his explosiveness. He's going to be a guy that teams are going to look at to be an impact player from the get-go."
He'll also be a guy with plenty of confidence.
"I'm me," Richardson said. "I'll just go out and do what I've been doing. I've got a lot of film and I've made a lot of tackles. I like where I stand going into the combine. I feel like my talent, my confidence and work ethic put me ahead of anyone in this draft."
November, 24, 2010
11/24/10
1:59
PM ET
November, 18, 2010
11/18/10
10:30
AM ET
The
Carolina Panthers
are next in today's series of team-by-team mailbags.
JM in Charlotte writes:
In hindsight, do you think the Panthers made a mistake by drafting
Jimmy Clausen
? Would they have been better off going with
Colt McCoy
instead?
Pat Yasinskas:
I don't think it's fair to declare Clausen a bust just yet. Yes, McCoy's had some early success and Clausen hasn't. But picture McCoy with the Panthers. Would the results be any different? I doubt it. I think any quarterback would struggle with what Carolina has on the offense. The offensive line has been bad, the running game hasn't been anywhere close to what it should be and the receivers haven't been consistent.
---
Michael in Cary, N.C., writes:
You've mentioned several times before how much respect you have for Jerry Richardson, so I loved it when you put him on the list of people's who stock is falling. I just don't understand what he's done to endear any level of respect.
Pat Yasinskas:
Let me emphasize that I still have tremendous respect for Richardson and what he's done through the years. But I also realize his stock is falling with Carolina fans because of what's happened to the Panthers this year. That's understandable and I'm sure Richardson has his reasons for going the route he has. But he hasn't explained that route to fans and we have yet to see any sort of upside from the youth movement. I think Richardson's running the risk of isolating a fan base he's worked hard to build.
---
Evan in Charlotte writes:
Do you think the Panthers would ever trade
DeAngelo Williams
for a first round pick? I like him as a player and person but the Panthers are in free-fall. Same question with
Steve Smith
, a second rounder wouldn't be out of the question would it?
Pat Yasinskas:
The problem with trading Williams is he's not under contract beyond this season. The Panthers would have to re-sign him before they'd even be able to trade him. If they don't re-sign him, Williams could walk into free agency without the Panthers getting any compensation. As far as Smith, I think a second-round pick would be a possibility. But I think whoever the new coach is would have to decide if the team wants to keep Smith, who still might be the team's best offensive player.
---
Haile in Durham, N.C., writes:
Do you think that Jerry Richardson and Marty Hurney are sad they didn't sign
Michael Vick
? Vick is a gem now.
Pat Yasinskas:
Yes, Vick is doing a tremendous job for the Eagles. But I know for a fact Richardson wasn't willing to take a chance on Vick, so he was never a consideration. Besides, even if Richardson allowed the Panthers to pursue Vick, do you really think John Fox and offensive coordinator Jeff Davidson would have pursued him? Although it's part of the reason for his downfall, Fox is a creature of habit. He wasn't going to change his entire offense to accommodate Vick's strengths.
October, 25, 2010
10/25/10
9:11
AM ET
ATLANTA -- With help from ESPN Stats & Information, Elias Sports Bureau and the media relations department of the Falcons and Buccaneers, here are some interesting NFC South numbers.
Before kicking a 37-yard, game-winning field goal, Carolina's

John Kasay

made a 55-yard kick. That gives Kasay 39 field goals of 50 yards or longer in his career. There are only two guys in NFL history with more than that.

Jason Hanson

holds the record with 42 and Morten Andersen had 40 in his career.

Carolina rookie receiver David Gettis had eight catches for 125 yards and two touchdowns Sunday. Prior to Sunday, Gettis had 119 receiving yards on the season.
Tampa Bay's Josh Freeman hit Cadillac Williams with a 1-yard touchdown pass with 10 seconds left Sunday to lift the Bucs to an 18-17 victory against the Rams. That was Freeman's third fourth-quarter, game-winning touchdown pass since he joined the Bucs last season. In that same span, only Peyton Manning has thrown more game-winning touchdown passes in the fourth quarter. Manning's done it three times. Freeman joins Jay Cutler, Carson Palmer and Atlanta's Matt Ryan as quarterbacks who have done it three times and Freeman didn't start playing until about the midway point of last season.
Freeman also has led five fourth-quarter comeback victories in his brief time as a starter. In those five games, Freeman has completed 33 of 51 passes for 423 yards and five touchdowns without an interception.
The Bucs didn't commit a turnover Sunday. Since 2002, they're 20-2 in games when they haven't turned the ball over.
Atlanta receiver Roddy White has been particularly dominant against AFC opponents. In his past five games against AFC teams, White has 37 catches for 552 yards and five touchdowns. White's also had 100 receiving yards in each of those games.
Atlanta's Michael Turner rushed for 121 yards in the victory over Cincinnati. The Falcons now are 13-2 in games in which Turner has rushed for 100 yards. They're 3-0 this season when Turner has gained 100 yards.
Ryan is now 18-1 in games he's started in the Georgia Dome.
Since coach Mike Smith took over the Falcons in 2008, Atlanta is 11-3 in games following a loss.
The New Orleans Saints made history Sunday when they lost to quarterback Colt McCoy and the Cleveland Browns. The Saints became the first defending Super Bowl champion ever to lose two to starting rookie quarterbacks in the same season. They also lost to Arizona and Max Hall a couple weeks ago.
October, 24, 2010
10/24/10
4:18
PM ET
Wrapping up Cleveland's
30-17
win against New Orleans.


What it means:
I'd like to say there's no shame in losing to the
Cleveland Browns
, but I can't. There's no way the defending Super Bowl champions should lose to a team like Cleveland in the Superdome. The Saints fell behind, 20-3, with Cleveland quarterback
Colt McCoy
making his second career start and throwing for a whopping 35 yards. When you have
Drew Brees
at quarterback and a roster like the Saints do, you should win this game simply by showing up. Apparently, that's exactly what the Saints thought.
What's next:
I don't want to overemphasize the significance of one loss, but this one puts the Saints in a very tough spot. They've got a very good Pittsburgh team coming to town next Sunday night. With the
Atlanta Falcons
suddenly looking very good, back-to-back losses could really put the Saints in a spin they might not be able to break.
Irony of the week:
The Saints, who won a Super Bowl with an onside kick, got burned by a fake punt by Cleveland that turned into a 68-yard gain.
April, 27, 2010
4/27/10
10:40
AM ET
Cleveland president Mike Holmgren, general manager Tom Heckert and coach Eric Mangini are getting all the credit for landing quarterback
Colt McCoy
. But let's give Atlanta general manager Thomas Dimitroff some of the credit for that.
Without him, there's a very good chance McCoy would not have been taken by Cleveland. In the aftermath of the draft, the Browns have admitted they were focused on defensive tackle
Corey Peters
and were giving him serious consideration as their No. 85 pick approached. In fact, Heckert was leaning heavily toward Peters, although Holmgren had McCoy in his sights.
But Dimitroff helped prevent a potential battle in Cleveland's draft room. He stepped in and took Peters at No. 83 and that basically made Cleveland's decision to go with McCoy.
April, 23, 2010
4/23/10
11:38
AM ET
Round 1 is over, but all four NFC South teams still have needs in this draft. Here's a look at what to expect the rest of the way.
Atlanta Falcons.
They got linebacker
Sean Weatherspoon
and that filled one need. They're without a second-round pick. They still could use a pass-rusher and someone like South Florida's
George Selvie
could be available in the third or fourth round. Depth on the offensive line and at wide receiver also could be on the priority list.
Carolina Panthers.
They didn't have a first-round pick and they'll make their draft debut with the No. 48 overall pick tonight. There are rumblings they could be interested in quarterback
Colt McCoy
and that may be true. But I think there are bigger needs at defensive tackle and wide receiver. Plus, there's a pretty good chance McCoy will be gone before the Panthers draft. I'm keeping an eye on defensive tackle
Terrence Cody
and a whole bunch of wide receivers who are still on the board.
New Orleans Saints.
They got cornerback
Patrick Robinson
in the first round and that solidifies a secondary that already was pretty good. There still are needs at outside linebacker and defensive tackle and that's where the Saints will focus the next few rounds.
Tampa Bay Buccaneers.
Defensive tackle
Gerald McCoy
is in the house and that filled the team's biggest need. But there are plenty of other major needs left and the Bucs are holding two second-round picks. Notre Dame receiver
Golden Tate
seems to be a fan favorite and that could happen, but I can't help but wonder if the Bucs would prefer a bigger receiver. Cornerback also has to be addressed pretty quickly. Safety also is an issue and South Florida's
Nate Allen
is sitting in Tampa Bay's backyard.
April, 16, 2010
4/16/10
2:13
PM ET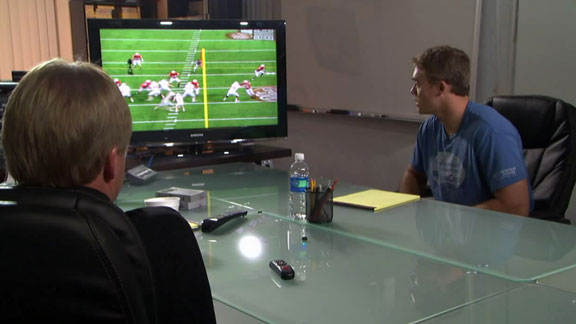 Thursday night, ESPN premiered the SportsCenter special "Gruden's QB Camp" a look at the NFL draft's top quarterback prospects with former NFL coach and current ESPN analyst Jon Gruden. In the video above, Gruden talks with Texas quarterback Colt McCoy about earning respect from his teammates, calling plays without an accent and avoiding sacks on the blitz. Click the links for Gruden's chat with
Florida's Tim Tebow
,
Notre Dame's Jimmy Clausen
and
Oklahoma's Sam Bradford
.
March, 3, 2010
3/03/10
5:30
PM ET
Just heard from the Maxwell Football Club that New Orleans coach Sean Payton and quarterback
Drew Brees
have earned some more accolades (and hardware) for their magnificent season.
Brees has been selected as the 2009 Bert Bell Professional Football Player of the Year. Payton has been chosen as the Greasy Neale Professional Coach of the Year.
The awards will be presented Friday along with some other very prestigious honors. Texas quarterback Colt McCoy is the winner of the 73rd Maxwell Award as college player of the year. Nebraska's Ndamukong Suh will receive the Chuck Bednarik Award as the national college defensive player of the year. U.S. Army All-American and Florida signee Sharrif Floyd will be recognized as the high school player of the year.