February, 23, 2012
2/23/12
12:00
PM ET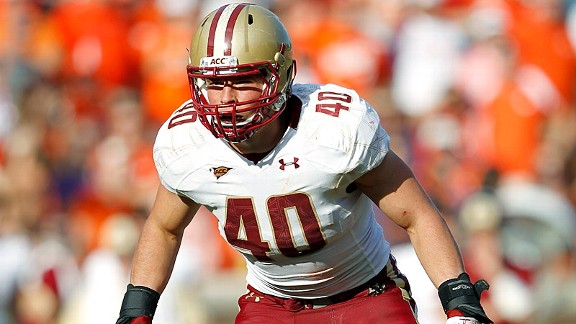 Joe Robbins/Getty ImagesLuke Kuechly has the opportunity, given a solid combine performance, to be a top-10 draft pick.
BRADENTON, Fla. — Look at any mock draft or any list of player rankings and you'll find Boston College's
Luke Kuechly
ranked near the top of the linebackers.
On Monday, he might be able to put himself alone at the very top of every team's linebacker list. When the linebackers work out for NFL scouts and coaches, Kuechly will be out to disprove the only two knocks against him.
Too small and too slow are the common criticisms of Kuechly. He was listed at 6-foot-3 and 237 pounds in college, but NFL types would like to see his weight north of 240. There's also a suspicion that Kuechly won't wow the audience with his time in the 40-yard dash.
But those scouts and coaches haven't seen Kuechly since the final game of his college career. They might be in for a surprise because there have been some major changes.
Kuechly, who could not play in any of the college all-star games because he left school after his junior season, has been working on bulking up and getting faster at IMG Football Academy.
"Let me tell you something, he's plenty big enough,'' said former NFL quarterback Chris Weinke, who directs IMG's football operations. "He plays with great instincts. What I've seen from Luke is a consistent approach every single day. This is a guy that's honed in on what he can do to get better. In terms of his physical skills since he's been here, he's bigger and stronger. He's faster. I can tell you this, there are going to be people excited at the combine when he runs. He's more fluid when he runs.''
Kuechly has been working with IMG director of speed and movement Loren Seagrave, a former speed coach for the
Atlanta Falcons
who also has worked with multiple Olympians. Kuechly's not about to predict his 40 time, but he said he has gotten faster in recent weeks.
"A lot of the stuff we do is called explosive movements,'' Kuechly said. "We talk about having our feet under our body. If your feet are outside your body, you can't move as well. You're going to slip and you're going to have your feet fall out from underneath you. What they teach us here is having your feet underneath you makes you take direct steps. That stuff translates into quickness.
[+] Enlarge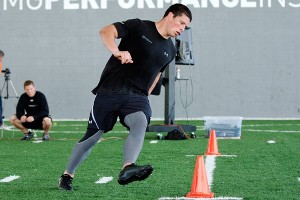 IMG Madden Football AcademyLuke Kuechly has been preparing for the NFL combine by working out at IMG Football Academy.
"The first week, it didn't make sense because it's something new and something I hadn't heard before, but as the weeks progressed, I was like 'Wow, this actually is working for me.'''
If Kuechly can show good speed and size at the combine, his stock could rise and that could put him on the radar of some NFC South teams. The
Tampa Bay Buccaneers
, who pick No. 5, and the
Carolina Panthers
, who will pick either No. 8 or No. 9 (depending on a Friday coin flip), have needs at linebacker. So do the Falcons and
New Orleans Saints
, who are without first-round picks at the moment.
Tampa Bay could use help at any of the linebacker positions, while Carolina should be set in the middle with the return of a healthy
Jon Beason
, but could be looking for an outside linebacker to pair with
James Anderson
. The Falcons could lose middle linebacker
Curtis Lofton
in free agency. The Saints need help on the outside, but also could be looking for a successor to middle linebacker
Jonathan Vilma
, who had knee problems last season.
Kuechly currently is projected by most draft gurus to go about midway through the first round. The Saints and Falcons are without first-round picks. It might be a stretch to project Kuechly as a top-10 pick right now, but a good workout at the combine could change that.
Kuechly played outside linebacker in his first college season before moving to the middle.
"Anywhere I can play is fine with me,'' Kuechly said.
While the size and the speed remain questions, at least until Monday, Kuechly's production has never been in doubt. In his three-year career, Kuechly finished with 532 tackles. Since the NCAA began counting tackles as an official statistic in 2000, only one player has had more tackles than Kuechly. That was Northwestern's
Tim McGarigle
, who had 534 tackles in a four-year career.
Boston College coach Frank Spaziani frequently called Kuechly "the Human Eraser'' for his tackling ability.
"Luke's going to show the physical skills they're looking for at the combine,'' Weinke said. "Add all that onto what he was able to accomplish in college. The guy made a bunch of tackles and it's not like people are running the ball 60 times a game in the ACC. They're throwing the ball and he's still making tackles. He's got the warrior mentality. Whoever gets him is getting a big-time player.''
February, 23, 2012
2/23/12
8:57
AM ET
Time for a look at the Thursday morning headlines from around the NFC South.
The Buccaneers reportedly
have hired
Ron Cooper as their defensive backs coach. Cooper has spent the past three years as LSU's defensive backs coach. That could be significant, because LSU cornerback Morris Claiborne is one of the players frequently tied to the Bucs in early mock drafts.
Alabama running back Trent Richardson, another player who has been tied to the Bucs, will not work out at the combine. Richardson recently had
minor knee surgery
.
An Atlanta scout
reportedly spoke
to former South Carolina quarterback Stephen Garcia after a recent workout. This is exactly what I talk about when I say don't read too much into reports about which teams are talking to which players. All teams talk to just about every prospect, because they're doing their homework. Garcia isn't even likely to be drafted.
The Panthers and Dolphins will
conduct a coin flip
Friday at 7 a.m. at the combine to determine which team gets the No. 8 pick. The winner gets that pick and the loser gets No. 9.
New Orleans already is
bracing itself
for 2013, when the city will host a Super Bowl while Mardi Gras is going on.
February, 22, 2012
2/22/12
2:04
PM ET
We already went through a
primer on NFC South needs
as teams head to the scouting combine. Now, let's give you some material that might show which college prospects could fill those needs.
All of the following are Insider posts. Here's Mel Kiper's
latest Big Board
. Here are the
top five prospects at each position
and here is a list of Kiper's
most intriguing players
at the combine.
Also, I'll have a Thursday column on Boston College linebacker Luke Kuechly. I caught up with him at IMG Football Academy last week. All four NFC South teams could be in the market for a linebacker and a lot of people are saying Kuechly is the best linebacker in this draft.
February, 22, 2012
2/22/12
10:45
AM ET
With the NFL combine kicking off, let's take a look at several of the potential story lines involving the NFC South during the draft-preparation event:
Double dipping again?
Last year, Tampa Bay general manager Mark Dominik used his first two picks on defensive ends
Adrian Clayborn
and
Da'Quan Bowers
. The year before that he used his first two picks on defensive tackles
Gerald McCoy
and
Brian Price
. In that same draft, Dominik also took two receivers almost in succession, with
Arrelious Benn
coming in the second round and
Mike Williams
in the fourth. If there's a position where I can see Dominik doubling up this year, it's cornerback. It's unclear what the future holds for
Ronde Barber
and
Aqib Talib
.
[+] Enlarge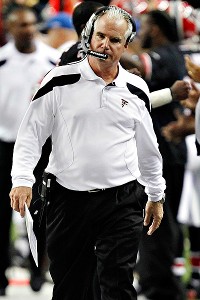 Josh D. Weiss/US PresswireThe pressure is on coach Mike Smith to get the Falcons to the Super Bowl, not just the playoffs.
Sitting it out:
The Saints and Falcons don't have first-round picks. But their scouts and coaches should be paying close attention to all the top prospects. You never know who might fall out of the first round, like Bowers did last year. More importantly, there's no guarantee the Saints or Falcons stay out of the first round. They both have aggressive front offices and both are in a win-now mode. I can see either one trading back up into the first round.
Flip a coin:
That literally is what it will come down to in deciding who gets the No. 8 pick and who gets the No. 9 pick between Carolina and Miami. The coin flip will be held Friday in Indianapolis. Carolina general manager Marty Hurney is an extremely superstitious guy and I'm guessing he's carrying some sort of coin that he thinks is lucky. By the way, Hurney is so superstitious that he's hoping for the No. 8 pick for another reason besides the fact it's one spot higher than No. 9. In the 2003 draft, the Vikings failed to turn in their pick on time. The Panthers wound up jumping ahead of them and taking offensive tackle
Jordan Gross
. He's had a pretty nice career, so Hurney probably is hoping for a repeat.
In need of a hit:
Like coach Mike Smith and quarterback
Matt Ryan
, Atlanta general manager Thomas Dimitroff is under a bit of pressure if the Falcons don't advance deep into the playoffs next season. Owner Arthur Blank has said simply making the playoffs isn't good enough. He wants to contend for the Super Bowl. Dimitroff has had mixed success with his first-round picks. Ryan and linebacker
Sean Weatherspoon
have worked out pretty well and
Julio Jones
looks like he can be an elite player. But defensive tackle
Peria Jerry
and offensive tackle
Sam Baker
have had their careers stall. Dimitroff is going to be busy in free agency, but he needs to pull a starter somewhere out of this draft and it would be especially nice if that guy was a defensive end or a left offensive tackle.
In need of a pass rush:
The problem with new defensive coordinator Steve Spagnulo's scheme is that the Saints don't have the personnel to run it effectively yet. Spagnuolo likes to generate almost all his pressure from the front four. Outside of veteran defensive end
Will Smith
, the Saints don't have any real pass-rush threats on the line. The Saints almost certainly will address that in the draft.
February, 20, 2012
2/20/12
11:27
AM ET
We're a little more than two months away from the NFL draft, but we're about to enter a key time.
The scouting combine starts later this week and that's when you'll see the stock of various prospects rise or fall. As it stands right now, there seems to be a fairly clear consensus on the top 10 players, but that could change after players work out at the combine.
The NFC South has only two teams with first-round picks because Atlanta and New Orleans traded away their choices last year. But Tampa Bay and Carolina each are in the top 10 and should be able to come out of the draft with players that can make instant impacts.
Let's take a look at the latest Insider
mock draft

by Mel Kiper.
He has the Bucs taking Alabama running back
Trent Richardson
at No. 5. I'm not ruling this one out at all because the Bucs clearly have to improve their backfield.
LeGarrette Blount
is not an every-down back and it doesn't seem real likely that
Earnest Graham
, who will be a free agent, will return. But conventional wisdom says you can get a good running back a little later in the draft.
The Bucs have plenty of needs and running back is high on that list. But cornerback could be even higher. That's why I wouldn't be surprised if the Bucs pass on Richardson and take LSU cornerback
Morris Claiborne
. Cornerback could end up being the biggest need of all. We don't know yet if veteran
Ronde Barber
wants to continue playing. Even if he does, we don't know if the Bucs want him back.
Aqib Talib
is the other starting cornerback, but he's got a trial on an assault charge coming up. Talib could end up with a prison sentence. He also could be subject to discipline from the league. It's also possible new coach Greg Schiano might send a message to his team about off-field issues by parting ways with Talib.
We'll know Friday if the
Carolina Panthers
will pick No. 8 or 9. A coin flip with the
Miami Dolphins
at the combine will determine that.
Either way, it's not that difficult to project what Carolina might do. Kiper has the Panthers taking LSU defensive tackle
Michael Brockers
and I think that's entirely possible. Even with
Ron Edwards
expected back from injury and the presence of second-year players
Terrell McClain
and
Sione Fua
, the Panthers need to make sure they finally fix the middle of their defensive line. I could also see them going with a cornerback if Claiborne falls a bit. I also wouldn't be all that surprised if the Panthers went with an offensive tackle, such as Iowa's
Riley Reiff
or Stanford's
Jonathan Martin
. Left tackle
Jordan Gross
is getting older and right tackle
Jeff Otah
has had chronic knee problems. It might be a long time before the Panthers pick in the top 10 again. It might be hard to pass on a can't-miss left tackle. The Panthers could play the new guy at right tackle for a year or two and eventually move him to the left side.
February, 14, 2012
2/14/12
5:53
PM ET
BRADENTON, Fla. -- The NFL world doesn't yet know a lot about Tampa Bay coach Greg Schiano, so let's turn to someone who does.
Let's turn to Mohamed Sanu, who spent the past three seasons playing wide receiver for Schiano at Rutgers, for a scouting report.
[+] Enlarge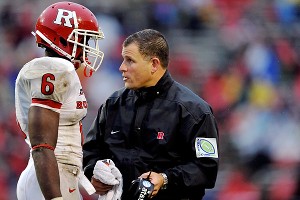 Paul Abell/US PRESSWIRE"He helped my career tremendously," Mohamed Sanu said of Greg Schiano. "He always got the best out of me every day."
"They're going to get a real resilient coach that never lets up on an opponent,'' Sanu said Tuesday. "He's just a tough coach. He's going to want the best out of you every single day in practice and out on the field on Sundays. He's very energetic. He'll get up in your face. He'll crack a joke here and there. But he'll get on you if he needs to.''
Sanu had 115 catches for 1,206 yards and seven touchdowns as a junior last season. After consulting with advisers about where he might land if he entered the 2012 NFL draft, Sanu decided to skip his final year of eligibility. Sanu wouldn't say exactly what the advisers told him, but most draft gurus and publications are projecting him to go in the first two rounds.
Sanu has been working out at IMG Football Academy since January and will go to the scouting combine in Indianapolis next week. Sanu, who made his decision to pass up his senior year before Schiano left Rutgers said it's ironic his college coach will be one of the NFL coaches watching him next week.
"He helped my career tremendously,'' Sanu said. "He always got the best out of me every day. We had a very tight relationship, so he didn't have to demand it out of me because he knew that I was going to give it all every day.''
Schiano knows plenty about Sanu, which leads to an obvious question: Could the coach and player be reunited in the NFL? Anything is possible. Sanu could be available when Tampa Bay picks early in the second round and it's not like the Bucs had stellar play at wide receiver last season.
"That would be awesome to be able to play for him again,'' Sanu said. "He's just a great coach and I just love being around him. But I can't really control that. I just want the opportunity to get the chance just to go prove myself and play the game I love. We'll see what happens.''
February, 14, 2012
2/14/12
4:48
PM ET
BRADENTON, Fla. -- The boot was off Tuesday and
Ryan Tannehill
's right arm looked just fine.
The Texas A&M product, who is considered one of the top quarterback prospects in the 2012 NFL draft, said the foot injury that forced him to miss the Senior Bowl is healing fast. Tannehill said he will head to Indianapolis for the scouting combine next week and will go through medical testing and meeting with teams, but will not participate in any of the on-field drills.
Tannehill said he'll save that for his pro-day workout in late March when he expects to be 100-percent healthy. Tannehill had been in a walking boot until recent days after having surgery to repair a fractured fifth metatarsal a little more than three weeks ago.
The surgery was performed in Charlotte by
Carolina Panthers
team physician Robert Anderson, one of the best-known foot specialists in the sports world.
"Dr. Anderson basically put a screw in there,'' Tannehill said. "It's locked down and I shouldn't have any problems going forward.''
Tannehill will stay out of the physical part of the combine, but he wasn't holding back on the field Tuesday at IMG Football Academy, where he's taking part in pre-combine training with about 30 other draft prospects.
After fellow quarterbacks
Russell Wilson
(Wisconsin) and
Kirk Cousins
(Michigan State) finished the on-field portion of their workday, Tannehill remained on the field for about 15 minutes getting one-on-one work with former Carolina quarterback Chris Weinke, who runs IMG's football operations. Tannehill said the fracture happened during a January workout at IMG, but Anderson told him it probably was the result of a pre-existing stress fracture.
Tannehill said he plans to come directly back to Bradenton after the combine and begin doing more intense on-field work with Weinke.
"We'll come back and push it pretty hard,'' Tannehill said. "I'm thinking I should be getting close to 100 percent by right after the combine and we'll really jump into the on-field stuff then to make up for the time I missed and get ready for pro day.''
Tannehill has been mentioned as a possible first-round pick by some draft experts. Last year, Carolina's
Cam Newton
and Minnesota's
Christian Ponder
came to IMG to work with Weinke and both ended up starting as rookies.
"I knew that Cam and Christian worked with coach Weinke and he helped elevate them,'' Tannehill said. "That's what you look for in a QB coach is someone who can take you to the next level. We lost a little time because of the foot, but we'll make up for it.''
(
Note:
I'll have much more from my visit to IMG, including features on some top prospects over the coming days.)
February, 14, 2012
2/14/12
11:01
AM ET
BRADENTON, Fla. -- I'm going to get a little preview of the scouting combine Tuesday. I'm down at IMG Football Academy, where I'll soon be heading out to the practice field to watch some of the draft prospects working out.
I'll be out of pocket for a bit because I'll be interviewing IMG Football Academy director Chris Weinke, the former quarterback for the
Carolina Panthers
, and some of the players for several stories over the coming days. While I'm out of pocket, keep an eye on the headlines section of our main NFL page for any news on the NFC South. Weinke obviously is doing some good things here -- he worked with Carolina's Cam Newton and Minnesota's Christian Ponder last winter and spring.
I'll check back in this afternoon, but right now I'm looking forward to seeing how these players are going about getting ready for the combine, an event where their performance could have a big impact on the rest of their lives. I was down here last summer when the rookie symposium and the
Tampa Bay Buccaneers
' minicamp were held here during the lockout and the facility is quite impressive.
In addition to the on-field work, the combine-preparation program also focuses on physical conditioning, speed and movement, nutrition, vision training and mental conditioning.
Here's a list at some of the draft prospects who have been taking part in the program along with their college and positions:
Kirk Cousins, Michigan State, QB
Luke Kuechly, Boston College, LB
Mohamed Sanu, Rutgers, WR
Ryan Tannehill, Texas A&M, QB
Russell Wilson, Wisconsin, QB
Peter Konz, Wisconsin, OL
Alexander Tounkara, Brown, WR
Alfred Morris, Florida Atlantic, RB
Bobby Wagner, Utah State, LB
Brandon Lindsey, Pittsburgh, LB
Bryce Brown, Kansas State, RB
Chris Manno, Hofstra, WR
Cordy Glenn, Georgia, OL
Corey White, Samford, DB
Derek Moye, Penn State, WR
Devin Aguilar, Washington, WR
Eric Page, Toledo, WR
Gerell Robinson, Arizona State, WR
Hugo Souza, New Hampshire, DB
Jeff Allen, Illinois, OT
Jerry Franklin, Arkansas, LB
Josh Kaddu, Oregon, LB
Josh Norman, Coastal Carolina, DB
Justin Bethel, Presbyterian, DB
Kendall Reyes, UConn, OL
Mark Asper, Oregon, OT
Matt McCants, UAB, OL
Markus Kuhn, NC State, DL
Ron Brooks, LSU, DB
Ryan Steed, Furman, DB
Stephen Hill, GA Tech, WR
Stephen Peyton, Brown, DB
February, 23, 2011
2/23/11
4:34
PM ET
The
Tampa Bay Buccaneers
are the final stop in our series of team-by-team draft needs.


February, 23, 2011
2/23/11
4:05
PM ET
The
New Orleans Saints
are up as we continue our series of team-by-team draft needs.
Defensive end. The Saints let Charles Grant go last season and Alex Brown and Jimmy Wilkerson were adequate. But neither of them give the Saints anything special. The Saints need another pass rusher to go with Will Smith. The Gregg Williams defense is at its best when it can force other teams into turnovers.
Outside linebacker. The Saints let Scott Fujita go in free agency last year and it didn't seem like a big deal at the time. But several guys who were in contention to take over for Fujita got hurt and the position never really got filled. The Saints could use a speedy playmaker to put next to middle linebacker Jonathan Vilma.
Running back. A lot of New Orleans fans don't seem willing to believe it, but Pierre Thomas almost certainly will be allowed to walk as a free agent. He fell into the doghouse when his ankle injury was slow to heal last season. Chris Ivory did a nice job filling in when Thomas and Reggie Bush were out. But the Saints need consistency at this position and that means adding a running back who can handle a good chunk of carries to go with Bush and Ivory.
Defensive tackle. Sedrick Ellis has developed into a solid player, but the Saints don't have much in the middle beside him. It's time to upgrade the talent level here.
Offensive tackle. I know the Saints drafted Charles Brown last year. But, if he's not ready to start, I'm not sure this offense can endure another year of Jermon Bushrod at left tackle.
For a look at New Orleans' needs through another set of eyes,
check out our friends at HoopDat
.
February, 23, 2011
2/23/11
3:40
PM ET
We continue our series of NFC South team-by-team draft needs with the
Carolina Panthers
.
Quarterback. There is not a bigger need on this team than at the game's most important position. It's been a huge problem spot the last two seasons and new coach Ron Rivera knows he has to find a quarterback in order to have any chance at success. Could the Panthers take Auburn's Cam Newton or Missouri's Blaine Gabbert with the first overall pick? It's possible and either of those prospects could help their chances with a big combine. But the Panthers are a conservative franchise and Newton and Gabbert each have upside and downside. The Panthers may look to free agency or a trade to find their quarterback.
Defensive tackle. This also has been a problem spot the last couple of seasons. There generally is a much lower bust factor for a defensive tackle than a quarterback and that's why I'm thinking Auburn's Nick Fairley might be the guy Carolina goes with as the No. 1 pick.
Cornerback. This remains up in the air because we don't know what will happen with Richard Marshall in free agency or if Chris Gamble can get back into good graces with Rivera after falling out of favor with John Fox last year. But it's likely at least one of them will be gone.
Tight end. Rivera has made it clear he wants the tight end more involved in the passing game. I'm not sure any of Carolina's current tight ends really fit the profile. It might be time for Carolina to go out and get the first true pass-catching tight end the franchise has had since Wesley Walls.
Defensive end. On the surface, it's not that huge a need if the Panthers can re-sign Charles Johnson. But a lot of people think Clemson defensive end Da'Quan Bowers is the best player in the draft. If the Panthers agree, they have to at least consider taking him even if Johnson is back.
February, 23, 2011
2/23/11
3:07
PM ET
With the scouting combine officially starting Thursday, let's go ahead and take a look at team-by-team needs around the NFC South. We'll go in alphabetical order and start with the
Atlanta Falcons
.

February, 21, 2011
2/21/11
12:53
PM ET
He may be a long shot to be the No. 1 overall pick in the NFL draft, but you have to figure the
Carolina Panthers
, who hold that pick, are at least looking into Missouri quarterback
Blaine Gabbert
.
The Panthers freely admit they're in the market for a quarterback in either the draft or free agency. Gabbert and Auburn's
Cam Newton
are ranked as the top prospects at that position by most draft gurus. Those same people generally have the quarterbacks ranked behind defensive linemen Da'Quan Bowers and
Nick Fairley
.
But, as the Panthers head to the scouting combine later this week, it's likely they'll be keeping an eye on Gabbert's workouts and very possible they'll schedule an interview with him.
If you want to see a preview of what the workout and the interview might look like,
take a look at this video
. Gabbert has been preparing for the combine with former NFL assistant coach Terry Shea. That's not a bad idea. Shea has worked with a couple of other quarterbacks in preparation for recent drafts. Former clients include St. Louis'
Sam Bradford
and Tampa Bay's
Josh Freeman
.