January, 3, 2014
Jan 3
11:25
AM ET
The way things have gone for the
Philadelphia Eagles
this season, you half expected to hear that
Drew Brees
fell down an elevator shaft or was hit by some space junk. But no, the
New Orleans Saints
' superb quarterback will not go the way of
Aaron Rodgers
,
Adrian Peterson
and
Tony Romo
the week before their teams played the Eagles.
Of course, that doesn't mean anyone knows which Brees will show up for the first-round playoff game Saturday night at Lincoln Financial Field. Will it be the Brees with the 8-0 record at home, or the Brees who has gone 3-5 on the road this season?
In search of the answer to this and other questions, ESPN.com reporters Mike Triplett in New Orleans and Phil Sheridan in Philadelphia exchanged insight and info.
Phil Sheridan:
Let's start with the obvious: the disparity between the Saints at home and on the road. Is it mostly Brees? The fast track at the Superdome versus grass fields elsewhere? Exposure to electromagnetic waves in the outdoors? Some combination?
Mike Triplett:
Shoot, if I had the answer to that question, I'd probably be interviewing for some of these head-coaching vacancies around the league. It really is a mystery. Of course, the most obvious answer is that it's harder for all teams to play on the road -- especially when weather conditions become a factor. And the Saints have had some road struggles in the past (including an 0-3 playoff record with Sean Payton and Drew Brees). But even in those playoff losses, their offense showed up. We've never seen a season quite like this, where they've had so much trouble scoring points on the road.
Honestly, it's really come down to the football stuff: Early turnovers that put them in a hole, drive-killing penalties, an inability to stop the run. I expect their offense will still put up plenty of yards and points in this game, but I'm curious to see if they can avoid those costly turnovers -- and if they can find a way to contain
LeSean McCoy
. Those are the trends they must reverse from their previous road losses.
While we're dwelling on the negative, what could be the Eagles' fatal flaw? If something goes wrong for them in this game, what do you think it will be?
Sheridan:
The Snowball Effect. While the Eagles' defense has done a remarkable job of keeping points low -- 11 of the past 12 opponents have scored 22 or fewer -- there is a persistent suspicion that the smoke could clear and the mirrors could crack.
Matt Cassel
hung 48 points on them two weeks ago, the most since
Peyton Manning
put up 52 in Week 4. Even Sunday night,
Kyle Orton
was only a couple of slightly better throws away from scoring another touchdown or two. Brees is obviously capable of making those throws. If the Saints can move the ball the way many teams have, plus translate the yards into points, it could force the Eagles to play catch-up. And we haven't really seen
Nick Foles
in a shootout-type game yet.
Jay Cutler
didn't show up two weeks ago when the Bears came to town, and a freak snowfall took Detroit's
Matthew Stafford
and
Calvin Johnson
out of their game.
The stats say Rob Ryan has transformed the Saints' defense from a farce into a force. Does that align with what you see when you watch them? Does Ryan have the scheme and the personnel to be physical with the Eagles' receivers while getting pressure on Foles?
Triplett:
That's absolutely true, Phil. Ryan has been an outstanding fit for this team. I know Philly fans didn't see his best results with the
Dallas Cowboys
the past two years. But it must have been a perfect storm here, where the Saints' defense had just given up the most yards in NFL history under former coordinator Steve Spagnuolo in 2012. The players were ready for a change -- and Ryan is all about change. He constantly adapts his approach from week to week, building around his players' strengths and tailoring game plans for certain opponents.
Several young players are having breakout years -- including pass-rushers
Cameron Jordan
and
Junior Galette
(12 sacks each this season) and cornerback
Keenan Lewis
, who is a true No. 1 corner. He's physical with long arms and plays well in man coverage. I imagine he'll be matched up a lot against
DeSean Jackson
.
From what I've read about Chip Kelly, it seems as though he's a kindred spirit of both Ryan and Sean Payton -- trying to create confusion and mismatches. Is it possible for you to boil down his philosophy to one or two paragraphs?
Sheridan:
Force the issue. That's the underlying principle. It's behind the no-huddle, up-tempo approach, and it drives many of the unusual things he does with formations and blocking schemes. Kelly wants to spread the field horizontally and vertically, forcing defenses to account for every offensive player and every square foot of grass. He'll line right tackle
Lane Johnson
out like a wide receiver, or left tackle
Jason Peters
at tight end on the right, or DeSean Jackson in the backfield, just to see how the defense responds. If he sees a mismatch, he'll exploit it until the defense corrects it.
It must be said that Kelly inherited a lot of offensive talent that was pretty darn good under Andy Reid. The line has been outstanding and, just as important, healthy. Jackson, McCoy and the other skill players are exceptional. The X factor has been the way Foles has mastered what Kelly wants to do. There are a lot of quick reads and decisions for the quarterback to make -- whether it's a zone-read or a package play with run/pass options -- and Foles has translated Kelly's dry-erase board to the field very well, leading the Eagles to a 7-1 record since they were 3-5 at the midway point.
Payton is a similar creative offensive mind with an NFL pedigree. The first time I met him, he was the Eagles' quarterback coach on Ray Rhodes' late 1990s teams, trying to win with Bobby Hoying and various Detmers. Is he any different or more driven since serving his one-year suspension? Is there a sense the Saints are back where they belong and determined to make a deep run?
Triplett:
I think it's a great comparison. Although the offenses don't look identical, the philosophies are the same -- create, identify and exploit mismatches. The Saints will actually rotate in a ton of different personnel groupings early in games, as well as mix up their formations, to see how defenses react.
Payton hasn't changed drastically this season. One of the things that stood out to me most early in the season was his patience in games -- how he'd stick with a methodical attack, settling for a lot of check-down passes, etc., to win games against teams such as Chicago and San Francisco. Lately, Payton's been a little stumped in similar-style games on the road, though.
Overall, the idea with him is that he is hyperfocused on every detail that can help this team win. Brees keeps saying Payton's leaving no stone unturned. It started with switching defensive coordinators on his second day back on the job, then things such as changing the team's conditioning program, then recently switching out the left tackle and kicker heading into Week 16.
I'll leave you with a quick question, Phil. Who are the one or two players we haven't talked about much who could have a big impact on this game? From my end, the answer would probably be those young pass-rushers, Jordan and Galette.
Sheridan:
I'm going to go with the Eagles' key pass-rushers, too --
Fletcher Cox
,
Trent Cole
and
Connor Barwin
. The Eagles didn't sack Orton at all Sunday night in Dallas. Orton is no Brees, but he does get the ball out quickly. So it might not result in many sacks against the Saints, but the defense has to disrupt Brees' rhythm as much as possible. Cole had eight sacks in the second half of the season. Cox has been outstanding at collapsing the pocket. Barwin is as likely to jam
Jimmy Graham
at the line of scrimmage as rush the passer.
But somebody from that group -- or maybe it will be
Brandon Graham
or
Vinny Curry
-- has to make Brees feel uncomfortable, or it's going to be a long night for the Eagles. As you pointed out, the Saints have made more mistakes on the road than at home. Forcing some of those mistakes, preferably early, could make the air feel colder and the wind feel sharper.
.
October, 10, 2013
10/10/13
12:00
PM ET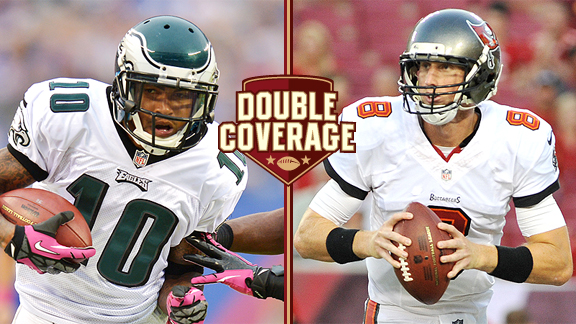 Getty ImagesDeSean Jackson is on pace for over 1,600 yards, while Mike Glennon is looking for his first win as an NFL starter.
TAMPA, Fla. -- Sunday's meeting between the
Philadelphia Eagles
and
Tampa Bay Buccaneers
represents a culture clash of offensive styles.
The Eagles have been making headlines with their fast-paced offense, while the Bucs have been plodding along with a passing offense that ranks No. 32.
ESPN.com Eagles team reporter Phil Sheridan and Bucs team reporter Pat Yasinskas discuss the matchup.
Phil Sheridan:
Eagles fans are familiar with Bucs coach Greg Schiano through his Rutgers and Penn State connections. Has he been able to hold the locker room together through this
Josh Freeman
episode?
Pat Yasinskas:
It has been a challenge and I guess you could say it remains a work in progress. There have been some reports that some veteran players aren't sold on Schiano's old-school ways. He might be a little overboard with his thoughts on order and discipline. But this was a team that was in disarray when he arrived. The Freeman episode was a major distraction, but it's over now. Schiano needs to take this team and move forward from all the Freeman stuff.
Speaking of coaches who have come from college backgrounds, Chip Kelly fits that profile and his offense has generated a lot of headlines. From a distance, it seems as though Kelly's offense has been up and down. What are your thoughts on whether this offense can be successful in the NFL over the long term?
Sheridan:
Talk about a work in progress. We all saw the Eagles burst out of the blocks in that Monday night opener in Washington. We really haven't seen much of the Kelly offense -- uptempo, innovative, aggressive -- since then. The Eagles have the NFL's top rushing offense, but that seems inflated by quarterback
Michael Vick
's rushing yards as well as defenses' willingness to let the Eagles amass yardage as long as it doesn't translate to a lot of points. Meanwhile, it does seem as though the offense wears down in games after trying to push the tempo early. I'm not sure that means Kelly's scheme won't work in the NFL or if he just doesn't have the personnel to run it.
On that note, it's especially tough on a team when one side of the ball is playing at a high level and the other is struggling. How has the Bucs' defense been able to hold opponents to such low-scoring totals?
Yasinskas:
Pitting the defense against the offense is another concern for the Bucs. Their defense has played well, overall, while the offense has struggled mightily. Although no one has griped publicly, I sense that the defensive players are frustrated with the lack of production from the offense. The secondary, the defensive line and the linebackers all have had some very bright moments. But the offense has been dismal. If things continue like they are, it's only a matter of time before there are some ill feelings from the defensive players.
Speaking of the defense, how has Philadelphia's been so far? It seems like all the talk has been about the offense, but we really don't know much about the defense.
Sheridan:
Talk about a work in progress -- oops, did I already say that? Kelly hired Bill Davis to install a 3-4 defense with a bunch of new starters (three quarters of the secondary, plus
Connor Barwin
), or old starters at new positions (
Trent Cole
, especially). The defense was OK in the opener, terrible for long stretches against San Diego, Kansas City and especially Denver, then OK again against the Giants on Sunday. There are no real playmakers, the kind who keep offensive coordinators up at night, but overall, this group seems to be jelling a bit better. The equation this year always had the offense producing enough points to carry a developing defense. So far, the offense has let down the defense.
Other than he's tall,
Mike Glennon
is an unknown to people around here. Can he play on this level or do you sense the bigger plan is to get through this season and find a quarterback in the draft?
Yasinskas:
The jury is very much out on Glennon. But Schiano has liked Glennon since he tried to recruit him out of high school and would like to make things work. Glennon is the kind of quarterback Schiano likes -- he's a rah-rah, fiery leader (something Freeman was not). Perhaps more importantly, Glennon has the big arm that Schiano covets. Schiano's core offensive philosophy is to run the ball well and take some deep shots with the passing game, so Glennon fits the profile of what Schiano is looking for in a quarterback.
Speaking of quarterbacks fitting in, how much different should we expect Philadelphia's offense to be with
Nick Foles
playing in place of Vick?
Sheridan:
I won't use the work-in-progress joke again because I'm better than that. Kelly swears it is the same offense regardless of who is playing quarterback. That is what we football insiders technically call balderdash. Kelly went with Vick because the veteran still represents a serious threat to run the ball, which in turn gives Kelly's read-option the edge it needs. Foles can move in the pocket and elude a pass rush, but his mobility doesn't translate to 20-yard read-option runs. But he does get the ball out more quickly in a rhythm passing game, so it will be interesting to see if the receivers who haven't been open for Vick -- talking
Riley Cooper
,
Jason Avant
and the tight ends -- are more involved if Foles plays.
.
March, 28, 2009
3/28/09
12:58
PM ET
Posted by ESPN.com's Pat Yasinskas
I just did an interview with ESPNEWS in which we talked about the upcoming draft for Carolina.
The segment will air several times Saturday afternoon and we'll talk about the Atlanta Falcons on Sunday afternoon.
Carolina's in the most unique position of all the NFC South teams because the Panthers don't hold a first-round pick. That was traded away last year to draft tackle Jeff Otah. You can't question that move because Otah had a very nice rookie season and should only get better.
But the Panthers will have to wait until 59th overall to draft a player (here's the complete list of Carolina's picks), assuming things stay as they are. Nobody knows exactly how things will play out with defensive end Julius Peppers. The Panthers could end up with a first-round pick if they trade Peppers, but that may or may not happen.
For now, we have to assume the Panthers are staying put. This team has some needs on the defensive line and also could use some depth at wide receiver and cornerback. No matter what happens with the Peppers situation, my guess is that Carolina will focus on the defensive line.
That's always been the strength of a John Fox football team, and the Panthers have to rebuild up front. With or without Peppers, I think the Panthers go with a defensive end at this pick. The two guys I like that might be available are Utah's Paul Kruger and Cincinnati's Connor Barwin.
For the moment, I'm going to project Kruger as the pick. Just a hunch, but Carolina has had good luck with guys from Utah (Steve Smith and Jordan Gross) and general manager Marty Hurney can be a little superstitious.
If you want to go outside the box and say there's no defensive lineman the Panthers like at No. 59, here's a hunch: How about Ohio State receiver Brian Robiskie? Carolina's got Smith and Muhsin Muhammad as the starters and Dwayne Jarrett as the backup. Muhammad's not getting any younger. Jarrett finally showed some promise near the end of last season and the Panthers are hoping he can have a breakout year. But there are no guarantees on Jarrett. Robiskie is a very polished receiver and could be ready to contribute right away.