April, 26, 2012
4/26/12
10:21
PM ET
TAMPA, Fla. -- Before he was even asked a question about his first pick as coach of the
Tampa Bay Buccaneers
, Greg Schiano was painting a portrait that probably still is invisible to most Tampa Bay fans.
Schiano had just stunned his fan base -- and probably the rest of the world -- by taking Alabama safety
Mark Barron
at No. 7. A safety at No. 7? This guy had better be the second coming of Ronnie Lott and
Ed Reed
put together or, at very least, John Lynch Jr. You don't take a safety at No. 7, and say you gladly would have taken him at No. 5, unless you think he's special. Schiano and general manager Mark Dominik definitely thought Barron was special.
"I think he fits into what we do defensively perfectly,'' Schiano said. "You couldn't draw it up any better.''
That probably doesn't excite you, especially if you wanted the Bucs to stay put at No. 5 and draft LSU cornerback
Morris Claiborne
. And I know there was a contingent of Tampa Bay fans who thought Boston College linebacker
Luke Kuechly
would be a perfect fit after the Bucs traded out of No. 5 and Claiborne went to Dallas at No. 6.
Either of those would have fit the profile of what we've come to expect from the Buccaneers, stretching back to Tony Dungy, running through the Jon Gruden era (with Monte Kiffin as the bridge) and right through the ugly final days of Raheem Morris.
But here's the thing: Those days are over. This is Schiano's team now.
Unless you're a die-hard Rutgers fan, you don't have any clue what a Schiano team looks like. Even if all your Knights are scarlet, you might see some changes as Schiano adjusts to the NFL. He's not about to publicly share his X's and O's, but he certainly has implied this team is going to look a lot different in a lot of ways. Believe it or not, that might start at safety because Barron is going to be tied to Schiano forever, for better or worse.
"I think our safeties have to be more dynamic than in most schemes,'' Schiano said.
At 6-foot-1 and 213 pounds, Barron is big enough to play in the box and make an impact on a run defense that needs improvement. With 12 career interceptions, Barron also has shown the ability to make plays in coverage.
"He needs to be able to do a lot of things, and he is capable of them,'' Schiano said.
He's going to have to cover wide receivers man to man, Schiano said. That's a change from the days of Kiffin's Cover 2, when safeties picked up wide receivers only after they got past the cornerbacks and Lynch often played the role of a linebacker. That may not be enough in an NFC South in which
Drew Brees
has thrown for 5,000 yards in a season and
Cam Newton
and
Matt Ryan
can put up big numbers. In case you haven't noticed, that's not just an NFC South trend. All around the league, teams are throwing the heck out of the ball.
"Safety has become an extremely important position now,'' Dominik said.
More important than cornerback? Where the Bucs have
Eric Wright
, an aging
Ronde Barber
and a question mark in
Aqib Talib
?
Obviously, the Bucs think so. Dominik said the Bucs would have chosen Barron at No. 5 if they had stayed put. That means they would have chosen him over Claiborne, who was widely considered the best cornerback in this draft.
That's a pretty strong statement from a team that has chosen only two defensive backs in the first round in its history and both of those were cornerbacks. There's even a bit more pure football logic about this pick.
The Bucs had a big need at safety after releasing
Tanard Jackson
. They were left with
Cody Grimm
, a possible move to safety by Barber and not much else. Barron fills that need.
[+] Enlarge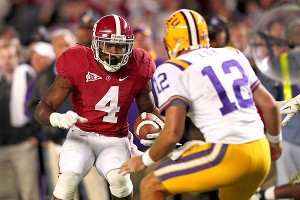 Marvin Gentry/US Presswire"You couldn't draw it up any better," Bucs coach Greg Schiano said of getting safety Mark Barron.
But I don't think this pick was completely about X's and O's and pure football ability.
I think the selection of Barron was another sign that Schiano is going to do things much differently than in the past. Something obviously cooled the Bucs on Claiborne. Maybe it was that he reportedly had a low Wonderlic score or maybe it was something else.
Schiano said he and Dominik saw sparks the first time they watched film of Barron. By the time they interviewed him at the combine, there was a flame. As they talked about Barron, Schiano and Dominik both mentioned that he was a two-time captain for a team that won two national championships during his stint.
"He fits who we are and what we are,'' Schiano said.
I get the impression Schiano cares a lot about what guys bring as players, but I'm getting an even stronger sense he cares about what they bring as people and how that can translate into winning. That's sort of a new concept around here, at least since the Dungy days.
"He fits who we are and what we are,'' Schiano said.
In other words, the Bucs think Barron can step right in and be a leader on a team that desperately lacked leadership and personality in the Morris days.
"Our coaches are excited to get their hands on him and mold him into a Buccaneer Man,'' Dominik said.
We've heard the phrase "Buccaneer Man'' a lot since Schiano took over. The problem is we have no idea what the new Buccaneer Man is supposed to be. But now we're starting to get a bit of a portrait.
With Barron, there's a face and maybe an outline of a body and a personality. Looks a little like a good athlete, a natural leader and a guy who was asking if there was a way to get his hands on a playbook Thursday night, even though he's scheduled to fly to Tampa first thing Friday morning.
Maybe the Barron pick doesn't look so bad -- or blank -- after all.
April, 25, 2012
4/25/12
4:27
PM ET
Todd McShay has his latest
mock draft

out and it includes some major changes from what he's had in the past for the NFC South.
This draft goes seven rounds deep and McShay has help from Steve Meunch and Kevin Weidl. But we'll just focus on the first round here and that means we're talking about the Bucs and Panthers, the only two division teams with first-round picks.
It long has been thought that Tampa Bay's choice at No. 5 would come down to LSU cornerback
Morris Claiborne
and Alabama running back
Trent Richardson
. But McShay is buying into growing speculation that Minnesota is going to throw off the direction many saw this draft going. McShay now has the Vikings taking Claiborne at No. 3. He follows that up by giving Richardson to Cleveland at No. 4.
Then he goes in a direction that many suddenly seem to be headed. He has Tampa Bay taking Boston College linebacker
Luke Kuechly
at No. 5. I don't have a big problem with that scenario, assuming new coach Greg Schiano's defense is ready to put increased emphasis on the middle linebacker position. Back in the Cover 2 days, middle linebacker wasn't all that important and the Bucs relied on outside linebacker Derrick Brooks to make the big plays.
If the Bucs want a strong presence and are willing to make a significant investment on middle linebacker, then go with Kuechly. He's viewed as a can't-miss prospect with no real questions on or off the field. (That in itself would be a departure from the approach Tampa Bay took with some picks in the past.)
But, I also see some other scenarios for the Bucs if Claiborne and Richardson are gone. They probably could trade down a few picks and still get Kuechly and they also would add a pick or two.
Even if the Bucs stay put, I'm not certain Kuechly really is the guy they would take. They at least would have to consider Southern California offensive tackle
Matt Kalil
or Oklahoma State receiver
Justin Blackmon
. Neither plays a position where the Bucs have a huge need, but they might be hard to pass up. Kalil is viewed as the kind of guy who can be an elite left tackle for a decade.
The Bucs are pretty well set on the offensive line. The interior is very strong and left tackle
Donald Penn
is above average. Right tackle
Jeremy Trueblood
is a bit of a question mark. The Bucs could take Kalil and start him off on the right side and eventually have him switch spots with Penn. Or the Bucs could take Kalil and switch Penn, who has a history of getting off to fast starts and then not playing as well down the stretch, to the right side. That could give them one of the league's best offensive lines and it's become clear one of Schiano's priorities is to structure this team to help quarterback
Josh Freeman
.
Speaking of helping Freeman, Blackmon also could do that. I know the Bucs just signed
Vincent Jackson
and they have a bunch of young guys with potential. But
Mike Williams
and
Arrelious Benn
haven't really shown they are big-time players. The Bucs already have given Freeman one big playmaker in Jackson. They could give him two if they take Blackmon.
McShay also departs from previous conventional wisdom by selecting South Carolina cornerback
Stephon Gilmore
for Carolina at No. 9. There are rumblings that Gilmore is a player on the rise. He's also a local kid. He grew up just over the South Carolina border in what qualifies as a suburb of Charlotte. Cornerback is certainly a need and owner Jerry Richardson likes to bring in players from the Carolinas. I can see this one happening. But there's another local guy who could be in the mix. That's North Carolina defensive end
Quinton Coples
. General manager Marty Hurney and coach Ron Rivera drove up to Chapel Hill for a meeting with Coples on Monday and I don't think they would have made that trip if they weren't seriously considering him.
April, 25, 2012
4/25/12
3:31
PM ET
We've known it was close all day, but Adam Schefter now reports the
Atlanta Falcons
have
made the trade
with the
Philadelphia Eagles
for cornerback
Asante Samuel
.
There was early speculation that the Falcons would try to restructure Samuel's deal without adding any years to a contract that was scheduled to run through next season. But Schefter reports that the actual agreement is a three-year deal worth $18.5 million. We don't know the exact structure of the contract or Samuel's first-year cap figure. But the Falcons were only $1.7 million below the cap before this deal. Even if they somehow fit Samuel under the cap, they'll have to restructure some other contracts or release players just to be able to make any other moves.
But the Falcons brought in their first significant player from outside this offseason and that should silence Atlanta fans who have griped about them sitting still. Samuel once was considered perhaps the best cornerback in the league. He's 31 now and isn't quite viewed at that level, but he's still a very good cornerback.
That's important for the Falcons. Samuel is a perfect fit for the Falcons, even though they already have
Brent Grimes
and
Dunta Robinson
.
So who starts? Actually, all three.
New defensive coordinator Mike Nolan has talked extensively about how the league's movement toward more passing has made it essential to have three good cornerbacks. They all will get significant playing time. The Falcons had problems when they went to their nickel package last year.
That should no longer be an issue, and there's another bright side to this move. I've watched the Falcons sit back in Cover 2 too much the past few seasons. Nolan's an aggressive guy. Now that he has three good cornerbacks, I don't think you'll see them sitting back.
April, 7, 2012
4/07/12
1:00
PM ET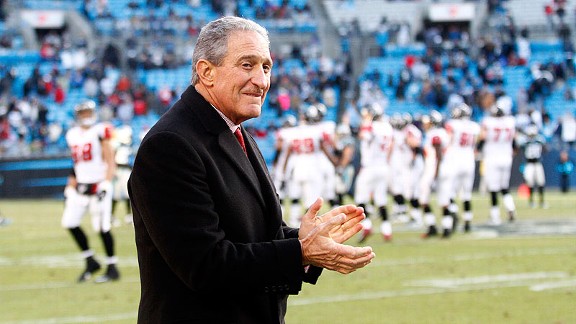 AP Photo/Nell RedmondArthur Blank contends the Falcons failed to maximize their talent last season.
Given the way
Atlanta Falcons
fans have reacted to what the team has done (or, more accurately, not done) this offseason, I was expecting Arthur Blank to pull out earmuffs as he reached into his pocket just before the start of an interview last week.
It didn't happen. Instead, the owner of the Falcons pulled out a pair of sunglasses. This was a rare step outside during the NFL owners meetings in Palm Beach, Fla. He slipped on the shades, surveyed the Atlantic Ocean, sat down on a bench and started explaining, in great detail, the course his team has chosen.
Maybe this will, once and for all, stop all the screaming in Atlanta about how the Falcons didn't pursue LB
Mario Williams
and didn't really do much of anything in free agency. Blank has a detailed answer for that and, when you listen, it should all start to make sense.
There was a moment when I looked directly at Blank, but could have sworn I was seeing and hearing Gene Hackman. It was almost exactly like the scene in "Hoosiers," where the basketball coach played by Hackman firmly tells a referee "my team is on the court" after a player fouls out and the coach elects to go with four players instead of turning back to a player who had defied orders.
Blank has said, "My team is on the field."
[+] Enlarge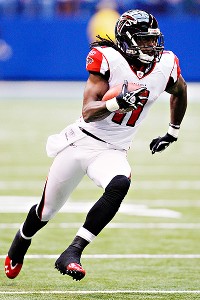 Brian Spurlock/US PresswireFans should expect to see bigger plays from Julio Jones in 2012.
Yeah, the marquee free-agent signings have been linebacker
Lofa Tatupu
and guard
Vince Manuwai
. And Atlanta fans aren't exactly jumping up and down about the fact that the Falcons re-signed defensive end
John Abraham
and center
Todd McClure
; it wouldn't have surprised anyone if they decided to retire. Throw in the re-signing of role players
Thomas DeCoud
,
Jason Snelling
and
Harry Douglas
, and it's easy to see why a lot of Atlanta fans believe the Falcons haven't done a single thing to get better after ending last season with an embarrassing playoff loss to the
New York Giants
.
But Blank has an explanation, so let's hear it.
"I feel good about where we are,'' Blank said. "I know we didn't make a big splash going into free agency. But that really wasn't our intention going into this year. We really felt we had a lot of talent. We were fortunate that we had the opportunity to bring in the two new coordinators and a few other coaches. At some point, it's not even a matter of if the contents are correct. Sometimes, it's a matter of who is delivering the message and whether the players are hearing it or not.''
The man makes a good point. The 2011 Falcons team that went 10-6 (and didn't play with much consistency) was essentially the same team that went 13-3 and played with a great deal of consistency in 2010. The 2012 Falcons have largely the same roster as the previous two teams. In the eyes of Blank, general manager Thomas Dimitroff and coach Mike Smith, the problem last season and the reason this team hasn't won a playoff game under the current administration isn't about the roster.
Maybe the roster was just fine, but the coaching staff and the schemes were holding back the Falcons. Offensive coordinator Mike Mularkey left after the season to become head coach of the
Jacksonville Jaguars
. Defensive coordinator Brian VanGorder left after the season to become the defensive coordinator at Auburn. Both men left on their own, but I get the impression that if they hadn't, they might have been shown the door.
Let's be honest here. Mularkey's offensive system reached its peak in 2010 and didn't get any better even with the addition of talented rookie receiver
Julio Jones
last season. VanGorder's defense was solid but never dominant, which was a disappointment because the Falcons have some individual talent on defense. Mularkey has been replaced by Dirk Koetter, and VanGorder has been replaced by Mike Nolan.
"I love the selections that Smitty and Thomas made,'' Blank said.
I get the sense that the days of QB
Matt Ryan
rolling out and almost always checking down are over. I get the sense that the days of sitting back in the Cover 2 are long gone.
"Dirk and I have had numerous discussions in terms of what our players are capable of doing,'' Smith said during the meetings. "I think, first and foremost, you have to design your schemes toward what the players are capable of doing. We've spent a lot of time identifying the strengths and weakness of all our guys and what they do well and what they don't do well, and we want to put together an offense that accentuates their strengths.''
In other words, the Falcons aren't going to be handing the ball to
Michael Turner
300-plus times a season. They're going to try to take some shots downfield with Jones and
Roddy White
, and they're going to get versatile second-year running back
Jacquizz Rodgers
more involved in the offense. They also will try to put Ryan in a position where he can go from being a good quarterback to an elite one.
Smith said he's had similar discussions with Nolan, the former head coach of the
San Francisco 49ers
who has had success as a defensive coordinator elsewhere. Nolan is noted for producing aggressive defenses. Some minor tweaks to attitude and scheme could provide an upgrade over the VanGorder units that never were able to establish any sort of identity.
[+] Enlarge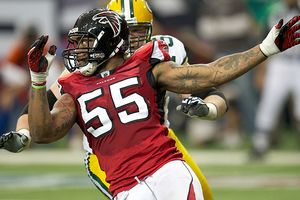 Dale Zanine/US PresswireBy re-signing John Abraham, the Falcons are valuing continuity over flash.
Blank made quite a bit of noise after the loss to the Giants about how simply getting to the playoffs wasn't good enough. He wants his team to win playoff games and contend for the Super Bowl.
That really hasn't changed. But after the heat of the moment cooled a bit, Blank, Smith and Dimitroff sat back and realized they weren't all that far from where they wanted to be. Early in his days as an owner, Blank was portrayed as hands-on and reactionary. I don't think those descriptions really fit him anymore and I think he's learned from his past. I think Blank is at a stage where he remains plugged in but trusts Smith and Dimitroff to make the football decisions.
"I went back and studied this over a long period of time in the NFL and studied the great teams,'' Blank said. "Consistency is very important in terms of leadership with coaches and players. The great teams, what they have done is they've kept their head coaches for a longer period of time, kept their general managers for a longer period of time, and they identified early enough their core players and they extended them. The football staff has done a great job of identifying the players that can help us and keep them.''
The salary cap also was a factor in the Falcons' approach to the offseason. Pursuing Williams or some other big names in free agency would have meant sacrificing continuity. The only key player the Falcons lost was middle linebacker
Curtis Lofton
-- and that was a calculated loss. Lofton wanted a lot of money and Atlanta placed a limit on his value. If the Falcons had made just one or two big free-agency moves and kept Lofton, guys like Abraham, McClure, DeCoud, Douglas and Snelling wouldn't be on the roster. The team would have had to cut other players to free up cap room. The Falcons could have made a splash, but it would have left them with all sorts of holes.
"What you have to look at is, this is not like baseball,'' Blank said. "There are limits. This is real money and not monopoly money … one of the beauties in the NFL is that in July and August fans of every team think their team has a chance to go to the playoffs or to go to the Super Bowl and win it. The salary-cap system forces you to make some tough choices. Thomas and Smitty and their staffs made these choices because they believe they were the ones that will give us the biggest bang for the buck going forward. I certainly tested their logic and asked questions, but I think their plan was all very sound and well-formulated.''
Like it or not, Blank is putting
his
team (the one chosen by Smith and Dimitroff) on the field this fall. You might not like it now and that's fine with Blank. He thinks you'll like it a lot more as the season goes along.
November, 22, 2011
11/22/11
4:53
PM ET
Even after the bye week, the
New Orleans Saints
are still among the league leaders in team yards after the catch.
Of New Orleans' 3,326 passing yards, 1,510 have come after the catch. That's No. 2 in the league. The
New England Patriots
lead with 1,534 yards after the catch (YAC), according to ESPN Stats & Information. The Saints are averaging 5.1 yards after the catch.
For the moment, New Orleans running back
Darren Sproles
has lost his individual lead in yards after the catch. He currently is fourth with 466 yards, just 26 yards behind league leader
Fred Jackson
. New Orleans running back
Pierre Thomas
is tied for No. 15 with 306 yards after the catch. Tight end
Jimmy Graham
is No. 21 with 280 yards after the catch.
The combined threat of what Sproles, Thomas and Graham can do after the catch makes it almost silly for an opposing defense to use the Cover Two. Defenses can't afford to sit back on New Orleans' wide receivers because Sproles, Thomas and Graham can cause so many problems after catching short passes.
The only other NFC South players in the top 20 are Carolina running back
Jonathan Stewart
and receiver
Steve Smith
. Stewart is tied for seventh with 392 yards after the catch. Smith is No. 17 with 303 yards.
The Panthers have 1,231 yards after the catch. The Panthers also average a division-best 5.6 yards after the catch.
Atlanta has 1,144 yards after the catch and averages 5.2 yards. The Buccaneers have more yards after the catch (1,175), but Tampa Bay has a pretty meager after the catch average. The Bucs average 4.9 yards after the catch. Only four teams have lower averages.
January, 12, 2010
1/12/10
10:51
AM ET
The Associated Press
has announced
its Defensive Player of the Year and the winner is Green Bay cornerback
Charles Woodson
.
He won easily, finishing with 28 votes. Cornerback
Darrelle Revis
of the Jets finished second with 14 votes. New Orleans safety
Darren Sharper
finished tied for third (with Denver's
Elvis Dumervil
) with three votes.
Early in the season, Sharper seemed to be a top candidate for this award. But the New Orleans defense tailed off during the second half of the season. That wasn't Sharper's fault. There were injuries at cornerback, linebacker and on the defensive line that impacted the entire defense.
The injuries at cornerback forced the Saints to use Sharper more in a Cover 2 scheme and he wasn't as free to roam and come up with interceptions as he was early in the year.