NFC South:

Cowboys Stadium
December, 23, 2012
12/23/12
4:44
PM ET
Thoughts on the New Orleans Saints'
34-31 overtime victory
against Dallas at Cowboys Stadium on Sunday:
What it means:
The Saints improved to 7-8, but they might have done themselves more harm than good in the long run by hurting Dallas' playoff hopes. Suspended New Orleans coach Sean Payton remains without a contract for next season and there's been a ton of speculation that he could end up in Dallas, where he served as an assistant coach and was very close to owner Jerry Jones. If the Cowboys don't make the playoffs, the chances that Jones will fire coach Jason Garrett increase dramatically. If there's an opening in Dallas and Payton hasn't already worked out a new deal with New Orleans, Jones is likely to come after Payton with an open checkbook.


What I liked:
The way the Saints came to play even though they began the day with only the slightest chance of backing into the playoffs and that scenario was eliminated as the day went on. This team faced a lot of adversity all season long, but the Saints never used that as an excuse.
Drew Brees
threw for a season-high 437 yards, middle linebacker
Curtis Lofton
forced a fumble and recovered it to set up a crucial touchdown and the Saints still pulled out the overtime win after blowing a 14-point fourth-quarter lead.
What I didn't like:
A defense that seemed to be improving in recent weeks struggled mightily. The secondary in particular had major problems, especially when it came to attempting to cover
Dez Bryant
. Cornerback
Jabari Greer
left the game with a concussion and backup
Johnny Patrick
had a very rough day. That defense is the reason the Saints aren't going to the playoffs and a lot of work has to be done on that side of the ball in the offseason.
What's next:
The Saints complete their season next Sunday by hosting the
Carolina Panthers
at the Mercedes-Benz Superdome.
February, 7, 2011
2/07/11
10:32
AM ET
The winter weather that hit the Dallas area last week could be the best selling point for Tampa Bay's expected bid for the Super Bowl in 2015.
A lot of people make the mistake of thinking the game is the only thing that matters when you're talking about a Super Bowl venue. The roof on Cowboys Stadium was closed Sunday, so the weather had no impact on the game. The same will hold true next year in Indianapolis, where the game will be played indoors, and the following year in New Orleans when the game is in the Superdome.
The 2014 Super Bowl will be outdoors in the New York area, but the general thought is that fans can tough it out for three or four hours. But the reality is a Super Bowl venue is about a lot more than three or four hours.
As this report details,
the real economic impact comes during the week leading into the game
and the Dallas area took a major hit due to snow, ice and cold. Part of the reason the Super Bowl traditionally had been held in warm-weather venues was to allow fans and corporate sponsors to enjoy the week -- outdoors.
You can bet that Indianapolis and New York aren't going to be balmy. The owners, who ultimately decide Super Bowl venues, have to be thinking about that after the Dallas experience. It will be fresh in their mind when they hold their annual spring meeting in March.
The people making the presentation for Tampa Bay will be talking about the positives of Raymond James Stadium, Tampa Bay's success with past Super Bowls, all the great local golf courses, the night life and the proximity to Disney World. That's all great. But maybe the best thing they can bring is a copy of the weather report from last week.
The temperature in Tampa Bay was in the 70s during the daytime most of the week and didn't fall below the mid-50s at night. Sunday was a little cooler. But, at least according to my car thermometer right before game time, the temperature was 65 degrees. There were a few rain drops, but none of them were turning to ice.
January, 24, 2011
1/24/11
5:34
PM ET
Sean Payton is going to the Super Bowl after all.
The coach of the defending Super Bowl champion (and they technically still hold that title until there is a new Super Bowl winner)
New Orleans Saints
will join ESPN's coverage during the week leading into Super Bowl XLV.
Payton will be part of Sports Center Special at 3 p.m. ET on the Thursday and Friday before the Super Bowl. He also will be a part of the pre-game coverage on Super Bowl Sunday. Payton will join the "Monday Night Football" team of Mike Tirico, Ron Jaworski and Jon Gruden from the ESPN set at Cowboys Stadium in Arlington, Texas. That part should be especially interesting since Gruden and Payton are close friends.
They worked as assistants together with the
Philadelphia Eagles
and Gruden has visited Saints' training camp the past two preseasons to spend time with Payton and quarterback
Drew Brees
. By the way, Payton and Gruden have something else in common. They are the only two coaches to win Super Bowls with an NFC South team.
December, 2, 2010
12/02/10
11:13
AM ET
The
New Orleans Saints
are the final stop in today's series of team-by-team mailbags.
Rum in New Orleans writes
: I read the other day that Saints fans accounted for approximately 1/3 of the 94,000 fans in the Cowboy Stadium on Turkey-Day. The TV showed a lot of Who Dats, and you could even hear the Who Dat chant drowning out the Cowboys fans in the game--but WERE there really that many Who Dats in attendance?
Pat Yasinskas
: I was in Cowboys Stadium that day. While I didn't have the time to do a detailed count on how many New Orleans fans were there, I'd estimate the number you cited was probably pretty close to accurate. There definitely was a strong presence by Saints fans. I saw a lot of them tailgating as I walked through the parking lot and I saw a lot of Saints shirts and hats in the stands. This is not uncommon. New Orleans fans, probably more than any team in the NFC South, travel with their team.
---
James in Louisville, Ky., writes:
I know it isn't even close but I'm always looking at the draft because I'm football nut. With
Pierre Thomas
being "hurt" for most of this year and
Chris Ivory
not being a true workload back, do you see the Saints drafting someone in an early round to fill that void?
Pat Yasinskas:
Entirely possible. I think Pierre Thomas will be done in New Orleans after this season. The Saints have a history of going with a committee approach at running back and Ivory has done some good things this season.
Reggie Bush
also can do a lot of different things and he's going to get playing time. Plus, the Saints like
Lynell Hamilton
, who should be coming back from injury next season. They could just stay with that group. But the injury problems at this position have shown you can never have enough running-back depth. I think there's a good possibility the Saints look to add another running back. It doesn't have to be a first-round pick because I don't think they're looking for one guy to come in and take on all the duties at running back. I think they just might look for a guy to play a role along with Bush, Ivory and Hamilton.
---
Brison in New Orleans writes:
Why is everybody just handing Atlanta the best record and home field in the NFC? The season has 5 games left, and the world champs are still in the hunt.
Pat Yasinskas:
I can see where your perception comes from. There's been a lot of talk about the Falcons being the best team in the NFC. They do have the best record and they are a good team. But, like you said, there still is a lot of football to be played and the Saints are right on the heels of the Falcons. Their Dec. 27 meeting could be a huge game and we'll have to see how it all plays out.
---
Hank in Montana writes:
Nice
article about Malcolm Jenkins' miracle play
. Was that the defensive play of the year for the NFC South? Also, has Lance Moore had a drop yet?
Pat Yasinskas:
To this point, I'd have to say Jenkins' forced fumble and recovery in Dallas was the biggest defensive play in the NFC South this year. It allowed the Saints to win a game that was slipping away and kept them very much in the hunt for the division title. As far as Moore, I just looked at our weekly packet from ESPN Stats & Information. Moore still does not have a drop this season and he's made 43 catches. That makes him one of only six receivers in the NFL that does not have a drop while making at least 25 catches.
November, 25, 2010
11/25/10
10:53
PM ET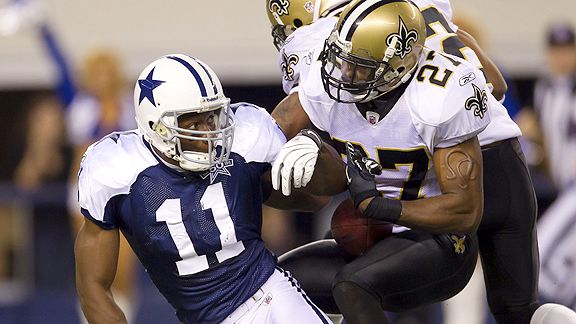 Wesley Hitt/Getty ImagesThis forced fumble by Malcolm Jenkins, right, gave the Saints new life against Dallas.
ARLINGTON, Texas -- Maybe it was one of the goat horns that suddenly was sprouting out of
Malcolm Jenkins
' helmet that caused perhaps the biggest play of the season for the
New Orleans Saints
.
The safety, who made a mistake in coverage, somehow chased down
Dallas Cowboys
receiver
Roy E. Williams
and popped the ball loose deep in Saints' territory. Just moments earlier, it seemed the Saints were about to let a shot at a repeat of the NFC South title and the Super Bowl championship fade away.
"It could have been a catastrophe,'' Jenkins said.
That's no exaggeration. Jenkins' play helped the Saints defeat the Cowboys,
30-27
, in a bizarre Thanksgiving game at Cowboys Stadium. Jenkins chased Williams knowing he had to make more than a tackle. He needed something close to a miracle.
After all, Jenkins was a big part of the reason why Williams was running free downfield and the Saints were about to blow a game that seemed so winnable early on.
With Dallas leading 27-23, Williams caught a slant pass from
Jon Kitna
. Jenkins said he took a bad angle in pursuit, and a cornerback had slipped. That left Williams running free down the middle of the field with three minutes remaining. If Williams scored, the Saints would need two possessions to have a chance. Even if he didn't score, the Cowboys might have been able to run out the clock or, at worst, kick a field goal.
"If I just tackled him there, the game is over,'' said Jenkins, a second-year pro who made the transition to safety after playing cornerback as a rookie.
With Williams running free, cornerback
Tracy Porter
was the only New Orleans player downfield and Williams had a lot of room to beat him. As Williams got near Porter, he tried to wrap the ball up. Jenkins was in pursuit from the blindside.
At the New Orleans 11-yard line, Jenkins caught up to Williams and somehow popped the ball free.
"It kind of fell right into my stomach,'' Jenkins said. "All I can say about that is God is good.''
Divine intervention? Well, that might be extreme, but there's no doubt Jenkins did something extraordinary.
"I think I did everything I could have done,'' Williams said. "It went through my head to just fall down, but that's not in my repertoire. The guy just made a great play. We had it in our pocket, and I let it go.''
Jenkins fell down with the ball and
Drew Brees
and the offense came onto the field.
"Whenever you have No. 9 out there, you have a chance,'' Jenkins said.
Brees marched the Saints 89 yards in five plays and one minute and eight seconds. He put New Orleans ahead to stay with a 12-yard touchdown pass to
Lance Moore
on the first play after the two-minute warning.
Even then, it wasn't over for the Saints, who spent most of the second half of the game looking like they were going to blow a game they'd led by 17 points against a 3-7 team. The Cowboys moved downfield.
David Buehler
's 59-yard field-goal attempt to tie the game with 31 seconds left had the distance, but was left of the goal post by just a few feet.
"To give up that lead and go home, it would have been a terrible weekend,'' Jenkins said.
An embarrassing loss after the Saints led by as much as 20-3 in the first half might have had implications beyond the weekend. It would have put the Saints two games behind the
Atlanta Falcons
in the NFC South race and started a downward spiral for a team that's been inconsistent all season.
[+] Enlarge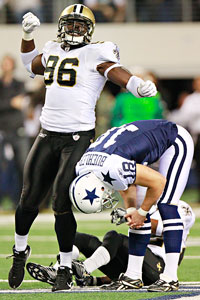 AP Photo/Mike FuentesDavid Buehler's missed field goal in the final minute gave Alex Brown and the Saints reason to celebrate.
The Saints squandered the big lead as
Reggie Bush
, making his return from missing eight games with a broken leg, dropped two easy passes and fumbled away a punt return. Rookie tight end
Jimmy Graham
had a pass go off his hands and turn into an interception for Brees.
"It's a credit to our team's fight,'' coach Sean Payton said. "That play Malcolm makes late is a heart play. It's an effort play and that inspires a whole team. It was kind of a gut-check win.''
By popping the ball loose and having it fall into his gut, Jenkins helped the Saints get to 8-3. They now have as many wins as the Falcons, who are 8-2 heading into Sunday's showdown with Green Bay at the Georgia Dome.
"The sweet thing about winning is it gives the players an extra three days off to get their feet wet,'' Payton said.
The Saints will get Friday, Saturday and Sunday off before returning to practice next week to get ready to face Cincinnati on the road the following Sunday. They likely would have had to work at least part of the weekend had they lost, and it certainly wouldn't have been pleasant. They would have to have played the rest of the season trying desperately to catch up to the Falcons.
There's a fine line between wins and losses and heroes and goats. Jenkins' play on Williams demonstrates that better than anything.
"Our mentality for the entire fourth quarter (was) to (get the ball back) and give our offense another chance,'' Jenkins said.
His play not only gave Brees and the offense another chance. It gave the Saints a chance to compete for another NFC South title and another Super Bowl title.
November, 25, 2010
11/25/10
6:10
PM ET
ARLINGTON, Texas -- It's halftime here at Cowboys Stadium and the Saints have dominated so far. The Saints lead 20-6.
They jumped out to a 17-0 first-quarter lead, but did allow Dallas' offense a nice long drive in the second quarter to trim the lead to 17-3. Garrett Hartley made a 45-yard field goal at the end of the second quarter to swing the momentum back toward the Saints. But Dallas kicked a field goal on the final play of the first half.
If you aren't already on our live game chat,
hop over here
. I'll be back on the chat by the time the third quarter starts.
November, 25, 2010
11/25/10
1:12
PM ET
ARLINGTON, Texas -- I'm getting settled into Cowboys Stadium where I'll bring you all the news, notes and analysis I can from Thursday's game between the
New Orleans Saints
and
Dallas Cowboys
.
It's a good thing they've got a roof on this place because the Dallas area had a cold front come through overnight. The temperature dropped more than 30 degrees from Wednesday's high. It's in the 40s right now and very windy outside. It also is raining lightly and rain is in the forecast all day.
But it's nice inside the stadium.
Starting shortly before kickoff, I'll be jumping into the live game chat on ESPN Dallas. Stop by and join us if you can. I'll be jumping between the chat and the blog throughout the day.
Happy Thanksgiving.