NFC South:

Cullen Jenkins
July, 26, 2011
7/26/11
7:39
PM ET
The
Carolina Panthers
, who've been kicked around the NFC South the past couple seasons, started kicking back Tuesday. Not only did the Panthers
help themselves by re-signing
defensive end
Charles Johnson
, they also hit the
Atlanta Falcons
where it hurts most.
The Panthers took some potential kick out of the Atlanta pass rush. By all indications, the Falcons were very much in the mix for Johnson (so were the
Denver Broncos
, but they're not in the NFC South). We've known for months the Falcons would almost certainly pursue a pass-rusher as soon as free agency opened.
They did and it didn't work out. Where does Atlanta go from here?
Well, let's not completely rule out Minnesota free agent
Ray Edwards
. His name was creating as much buzz in Atlanta as Johnson's in recent months. Although there have been some reports the Falcons really aren't interested in Edwards, I'm not buying that.
But the Panthers could end up costing Atlanta a shot at Edwards as well as Johnson. The deal the Panthers gave Johnson (six years, $76 million with $32 million guaranteed) is probably something Edwards and his agent will point to. Is Edwards, who has never had more than 8.5 sacks in a season, really worth that kind of money?
I'm not so sure. I'd let the market sort itself out and if the Falcons can get Edwards to sign a deal cheaper than Johnson's, go for it. If not, it's time to look elsewhere, but where is that?
There's not a lot else out there. Tennessee's
Jason Babin
is available and he had 12.5 sacks last season. But Babin never had more than five sacks in any previous season. More importantly, he's 31 and could end up beating
John Abraham
to retirement.
I'm looking at the other alternatives and not seeing anything overwhelming. Yeah, Green Bay's
Cullen Jenkins
is out there, but he's as much defensive tackle as defensive end and doesn't bring much of a threat off the edge.
There's one intriguing possibility out there that might not cost all that much, but it comes with some risk. That's
Mathias Kiwanuka
. He's spent a star-crossed career with the
New York Giants
. He's coming off a neck injury last season and had a major leg injury in 2007.
But, when healthy, Kiwanuka's been a pretty decent player, even though the Giants shuffled him between defensive end and linebacker. I think back to Kiwanuka coming out of college. He was athletic, quick and smart and looked like he could be a big-time pass rusher.
He's never had more than eight sacks in a season, but I think there's still potential in him. I'm not sure about the medical stuff, but the Falcons have team doctors. I'd have them take a look at Kiwanuka (or at least his medical records, since time is of the essence) and see what they say. If they think Kiwanuka's healthy, I say the Falcons should take a chance.
Atlanta can probably get Kiwanuka with a one- or two-year deal at a reasonable rate. If he doesn't work out, not much harm will be done. If he does work out, the Falcons could end up with the pass-rusher they were looking for at a much lower price.
July, 25, 2011
7/25/11
7:06
PM ET
When
Kris Jenkins
announced his retirement last week, I wrote about how I liked that the former defensive tackle for the Panthers and the Jets
always said what was on his mind
.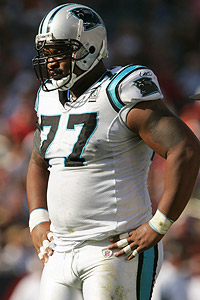 Brian Bahr/Getty ImagesKris Jenkins spoke his mind about the Carolina Panthers' fans, owner Jerry Richardson, receiver Steve Smith and former defensive end Julius Peppers among other topics on a Charlotte radio station.
Well, we've got an audio example of that. Jenkins did a
radio interview
with Charlotte's WFNZ on Monday morning and, holding back absolutely nothing, revealed the real reason why he retired, reflected on his time with the Panthers and had some praise and criticism of former coaches and teammates.
Jenkins said he's been in a custody battle for years. He said he currently has primary custody of his oldest son and feared that a return to football might clear the way for him to lose custody.
"I can get back on the field,'' Jenkins said. "I don't think that's the issue. I've always said family comes first.''
I urge you to listen to the interview in its entirety (and tell me Jenkins doesn't have a future in broadcasting), but let's run through a few of the highlights.
"How much time do we have?" – when asked if he was too outspoken for the John Fox regime.

"We just didn't find a way to mesh." – on Fox.

"I got to the Jets and I said, 'Fox was full of it.'"

"When you're out here, you're a robot. That was the biggest thing." – on what he said was a corporate environment in Carolina.

"The fans here are wishy-washy sometimes." -- on Carolina fans.

"That was where it got past personal for me." – on his claim that team officials tried to tell him what he could and could not do on the field.

"I like Julius. Julius was not a people person. If you understood that about him, it saved you a whole lot of trouble with other stuff." – on former teammate Julius Peppers.

"You decided to be an owner." – on owner Jerry Richardson.

"With him, it was a love-hate relationship. There's not a more passionate guy out there going out to play wide receiver." – on Steve Smith.

"He likes to pick on people that don't deserve it." – more on Smith.

"You can't beat the crap out of your teammates." – more on Smith.

"You're dealing with hand puppet Mike Minter and you're dealing with hand puppet Mike Rucker." – on two retired teammates, who Jenkins said were telling coaches and ownership about off-field behavior.

"What is wrong with what I did? Whether it's Bank of America or Wachovia, and your boss starts throwing crap at you, you're either going to take it or you're going to stand up for yourself." – on why he wanted out of Carolina.

"Do not assume my brother and I have the same personality." – on if he'd tell his brother, Cullen, a free agent, not to sign with the Panthers.
July, 14, 2011
7/14/11
3:03
PM ET
Check out this
Insider article
by KC Joyner on the Atlanta defense.
KC is also known as "the football scientist'' and he's great at throwing out all sorts of metrics. Sometimes Joyner's science shoots down conventional wisdom. In this case, it only helps make a stronger case for what most of us are pretty sure is coming.
Whenever free agency opens, the Falcons are going to go out and sign a top-notch pass-rusher. The names you hear most often are
Ray Edwards
and
Charles Johnson
and I think both are possibilities. Joyner also includes
Cullen Jenkins
,
Mathias Kiwanuka
and
Jason Babin
on his list.
His point is simple: It's not all that important which one of those guys the Falcons get. They just need to improve their pass rush and their defense can become elite. Yeah, it would help if they improve in a few other areas, like tackling by the safeties, but a pass-rusher to go with
John Abraham
could put this team over the top.
The other thing I really like about Joyner's article is that it points out the Falcons are just fine at cornerback. Yeah, they need one of their young players to step up as the nickelback, but Joyner's got numeric proof that
Dunta Robinson
and
Brent Grimes
are quality starters.
I know there are some fans out there saying the Falcons should sign
Nnamdi Asomugha
. I don't get that. Yeah, he's an outstanding cornerback, but the Falcons spent a ton of money on Robinson last year. At some point, they want to lock up Grimes to a long-term contract. That's going to be a lot of money invested in one position. If you threw Asomugha into the mix, the Falcons probably would have more money invested in cornerbacks than any team in the league.
Another cornerback isn't what the Falcons need. What they need is a guy who can rush the quarterback.
June, 24, 2011
6/24/11
11:42
AM ET
We already have talked quite a bit about players from the NFC South who are expected to become unrestricted free agents. We're going on the assumption that players not under contract who have at least four accrued seasons can become unrestricted free agents.
With that in mind, and with some help from ESPN Stats & Information, let's take a look at some of the more prominent potential free agents from the rest of the league.
QUARTERBACKS:
Marc Bulger
,
Kerry Collins
,
Rex Grossman
,
Matt Hasselbeck
,
Patrick Ramsey
,
Alex Smith
,
Billy Volek
,
Kellen Clemens
,
Brodie Croyle
,
Trent Edwards
,
Bruce Gradkowski
, Tarvaris Jackson,
Matt Leinart
,
Troy Smith
and
Tyler Thigpen
.
RUNNING BACKS:
Cedric Benson
,
Ronnie Brown
,
Kevin Faulk
,
Mewelde Moore
,
Sammy Morris
,
Clinton Portis
,
Dominic Rhodes
,
Tony Richardson
,
Kevin Smith
,
Darren Sproles
,
Fred Taylor
,
Brian Westbrook
,
Ricky Williams
,
Joseph Addai
,
Ahmad Bradshaw
,
Jerome Harrison
,
Brandon Jackson
,
Laurence Maroney
and LeRon McClain.
WIDE RECEIVERS
:
Mark Clayton
,
Braylon Edwards
,
T.J. Houshmandzadeh
,
Randy Moss
,
Santana Moss
,
Terrell Owens
, Donte' Stallworth,
Steve Breaston
,
Malcom Floyd
,
Santonio Holmes
,
James Jones
,
Sidney Rice
,
Mike Sims-Walker
,
Brad Smith
and
Steve Smith
(of the
New York Giants
, not the Steve Smith of Carolina).
TIGHT ENDS:
Desmond Clark
,
Donald Lee
,
Randy McMichael
,
Bo Scaife
,
Kevin Boss
,
Owen Daniels
,
Daniel Fells
,
Zach Miller
,
Ben Patrick
and
Matt Spaeth
.
OFFENSIVE LINEMEN:
David Baas
,
Jammal Brown
,
Robert Gallery
,
Adam Goldberg
,
Kyle Kosier
,
Olin Kreutz
,
Matt Light
,
Sean Locklear
,
Casey Rabach
,
Chris Spencer
,
Langston Walker
,
Casey Wiegmann
,
Floyd Womack
,
Damien Woody
,
Chris Chester
,
Jeromey Clary
,
Daryn Colledge
,
Willie Colon
,
Doug Free
,
Jared Gaither
,
Charlie Johnson
,
Deuce Lutui
,
Samson Satele
,
Lyle Sendlein
and
Marshal Yanda
.
DEFENSIVE TACKLES:
Aubrayo Franklin
,
Tommie Harris
,
Chris Hoke
,
Chris Hovan
,
Kris Jenkins
,
Bryan Robinson
,
Gerard Warren
,
Jamal Williams
,
Pat Williams
,
Alan Branch
,
Barry Cofield
,
John McCargo
and
Brandon Mebane
.
DEFENSIVE ENDS:
Jason Babin
,
Dave Ball
,
Raheem Brock
,
Andre Carter
,
Shaun Ellis
,
Cullen Jenkins
,
Travis LaBoy
,
Trevor Pryce
,
Marcus Spears
,
Ray Edwards
and
Mathias Kiwanuka
.
LINEBACKERS:
Akin Ayodele
,
Keith Bulluck
,
Kevin Burnett
,
Dhani Jones
,
Kirk Morrison
,
Julian Peterson
,
Matt Roth
,
Takeo Spikes
,
Jason Taylor
,
Mike Vrabel
,
Stewart Bradley
,
Bobby Carpenter
,
Manny Lawson
,
Paul Posluszny
,
Ernie Sims
and
Stephen Tulloch
.
CORNERBACKS:
Nnamdi Asomugha
,
Phillip Buchanon
,
Chris Carr
,
Drayton Florence
,
Ellis Hobbs
,
Carlos Rogers
,
Lito Sheppard
,
Ike Taylor
,
Fabian Washington
,
Drew Coleman
,
Antonio Cromartie
,
Chris Houston
,
Johnathan Joseph
,
Dimitri Patterson
,
Josh Wilson
and
Eric Wright
.
SAFETIES:
Aaron Francisco
,
Ken Hamlin
,
Michael Lewis
,
Brandon McGowan
,
Quintin Mikell
,
Lawyer Milloy
,
Brodney Pool
,
Gerald Sensabaugh
,
Roy Williams
,
Gibril Wilson
,
Atari Bigby
,
Melvin Bullitt
,
Abram Elam
,
Dashon Goldson
,
Michael Huff
,
Dawan Landry
,
Danieal Manning
,
Bernard Pollard
,
Eric Weddle
and
Donte Whitner
.
May, 12, 2011
5/12/11
12:00
PM ET
The NFL draft is long over and all we have to look forward to now is free agency, though we don't know when or how it will come or exactly what it will look like.
But if there is a 2011 season, it will have to be preceded by some sort of free-agency period, one last window for teams to fine-tune their rosters with what they couldn't get in the draft.
We'll spare you most of the boring details of the labor negotiations, but we do have to point out that the rules for a potential free-agency period aren't set. They could be determined if a new labor agreement is reached and that probably would include some tweaks to past rules. It has long been assumed that if the lockout is lifted before an agreement that free agency rules will be the same as they were in 2010. But word has started to trickle out in the past few days that might not be the case.
At this point, we only can look at hypothetical situations -- all you can do is dream and you might as well dream big. With that in mind, let's take a look at one free-agency dream scenario for each NFC South franchise.

Atlanta Falcons
-- This is the easiest call in the division because you can see it coming like a slow-moving storm or Arthur Blank strolling to the sideline late in a game. Let's go ahead and make Atlanta's dream move signing Minnesota defensive end
Ray Edwards
.
Some of our coming moves are pie-in-the-sky scenarios that probably won't happen, but this one has serious potential. Edwards has five seasons in the league, which could make him a restricted or unrestricted free agent, depending on the rules of free agency. If at all possible, I think the Falcons will pursue a player who had eight sacks in 14 games last season and 8.5 the season before that.
Edwards is just hitting his prime and sure looks like the one missing link between the Falcons being a team that exits the playoffs early and one that can challenge for the Super Bowl. Blank and general manager Thomas Dimitroff already put most of their chips on the table when they traded up on draft night to get wide receiver
Julio Jones
. He's the explosive player they wanted on offense.
Edwards can be the explosive guy on defense. Carolina's
Charles Johnson
, a probable restricted free agent, and Green Bay's
Cullen Jenkins
could be fall-back options. But the Falcons already have shown strong signs this offseason they're not interested in falling back.

Carolina Panthers --
Let's imagine for a moment that Carolina owner Jerry Richardson opens his free-agent checkbook for the first time in several years to bring in cornerback
Johnathan Joseph
, who has been playing with Cincinnati and is another five-year player.
If Joseph is a free agent, this move would make all sorts of sense. He's a local product, from just over the border in Rock Hill, S.C. He also has nine interceptions the past two seasons. Carolina has
Richard Marshall
and
Chris Gamble
, but their futures are very uncertain.
Richardson has had some success in the past bringing local products home --
Stephen Davis
,
Kevin Donnalley
,
Ricky Proehl
-- and Carolina has invested a lot in its young defensive line and has a good group of linebackers. Joseph could solidify the secondary and new coach Ron Rivera suddenly could have a nice defense. By the way, I know there's speculation about defensive tackle
Tommie Harris
ending up with the Panthers because of his Chicago ties to Rivera. That could happen. But I don't view Harris as a dream scenario. I view him as a guy with questions about his knees, who could be a decent pickup if he can stay healthy.

New Orleans Saints
-- This one's tough because the Saints have a bunch of young and talented, but totally unproven players at outside linebacker. Plus, veteran outside linebacker
Scott Shanle
can become an unrestricted free agent. The list of players at outside linebacker who definitely will be unrestricted is pretty thin. You could take a veteran such as Detroit's
Julian Peterson
and gamble that he'll regain some of his early-career magic the way some other veterans have with the Saints in recent years. The Saints have shown willingness to gamble on injured guys in the past and Carolina's
Thomas Davis
has huge upside.
But Peterson's no long-term solution and Davis is a total unknown because he's had two major knee injuries. In a best-case scenario, the Saints will re-sign Shanle. Then, they'll go after Buffalo's
Paul Posluszny
. He's a four-year player and could end up being restricted. But hey, we can dream.
Put Posluszny with Shanle and
Jonathan Vilma
and the Saints would be better off at linebacker than they were in 2009, when Shanle and Vilma were joined by
Scott Fujita
.

Tampa Bay Buccaneers --
The Bucs spending big money in free agency? Well, they haven't done it in some time unless you count
Derrick Ward
, and that didn't work out. But there's one sure-fire move that could excite a fan base that wasn't buying tickets during a 10-6 season in 2010 and put this team over the top: sign cornerback
Nnamdi Asomugha
.
Asomugha's the one true gem we know will be in this free-agent class and his price tag is going to be astronomical. But if there is a salary cap, the Bucs will have more room under it than any team in the league. The Bucs showed a willingness to spend big money once before, offering more to defensive tackle
Albert Haynesworth
than the Redskins did before Haynesworth went to Washington. There are strong rumors Asomugha will end up in the NFC East, but Tampa Bay can use the lack of a state income tax in Florida, a great natural-grass field, the weather, a team on the rise and coach Raheem Morris (a former defensive backs coach) as selling points.
The future of
Aqib Talib
is unsure because of off-field problems. Sign Asomugha and the Bucs have a corner more talented than Talib who doesn't come with the headaches. Put him out there with veteran
Ronde Barber
, who still plays at a high level, and younger players such as
E.J. Biggers
and
Myron Lewis
. If the pass-rushers taken in the draft (
Adrian Clayborn
and
Da'Quan Bowers
) work out, Tampa Bay's corners suddenly could be dominant.
Remember, it's all hypothetical. But wouldn't the NFC South be a better and more exciting place if these dream scenarios actually came true?
May, 11, 2011
5/11/11
12:08
PM ET
Football Outsiders has
this Insider post
on the top remaining needs for each NFC South team now that the draft is over.

They list defensive end as Atlanta's biggest need and that one's obvious. The Falcons got their explosive player on offense, taking receiver
Julio Jones
in the draft. They need a pass-rusher and depending on the rules of free agency, whenever it opens, guys like
Ray Edwards
and
Charles Johnson
could be possibilities. I've also heard Green Bay's
Cullen Jenkins
tied to the Falcons a little bit. Jenkins has been a productive pass-rusher, but that's not really his forte. He's a big defensive end who can slide inside to defensive tackle in some situations.

Although the Panthers used to third-round picks on defensive tackles, defensive line is listed as one of their top needs. There's even speculation that Ron Rivera's ties to Chicago could lead him to pursue defensive tackle
Tommie Harris
.

New Orleans' biggest need is listed as outside linebacker, even though the Saints drafted
Martez Wilson
in the third round. But
Scott Shanle
could become a free agent and Football Outsiders speculates that the Saints could pursue Buffalo's
Paul Posluszny
, who could be a restricted free agent.

Tampa Bay's biggest needs are listed as cornerback and defensive end. Although the Bucs just drafted
Adrian Clayborn
and
Da'Quan Bowers
, they can use more defensive ends because they had virtually nothing at that position last season. There has been some speculation that the Bucs, who haven't been big players in recent years, could make a splash and pursue
Nnamdi Asomugha
in free agency. Although I suspect Asomugha is headed for the NFC East, I'm not totally ruling this one out.
Speaking of ways to fill holes, Scouts Inc. has
an Insider post on the top 40 undrafted free agents
. Teams can't sign these guys until the lockout is lifted, but you can bet that every team has a list of guys it is ready to contact the moment the doors to signing players open.
January, 12, 2011
1/12/11
4:41
PM ET
The Falcons and the Packers just sent out their first injury reports for the week for Saturday night's playoff game. Let's take a look.
Atlanta.
The Falcons appear pretty healthy after having a first-round bye. They listed seven players on the injury report, but only cornerback
Brian Williams
(knee) did not take part in Wednesday's practice. Defensive end
John Abraham
(groin), defensive tackle
Jonathan Babineaux
(shoulder), safety
Thomas DeCoud
(ankle), linebacker
Curtis Lofton
(knee), center
Todd McClure
(ankle) and receiver
Roddy White
(knee) all took part in practice on a limited basis. The Falcons frequently rested Abraham and McClure in practices during the regular season. Lofton, Babineaux and White were all dealing with their injuries later in the season and it wasn't uncommon for them to sit out or practice on a limited basis near the end of the regular season.
Green Bay.
The Packers have 11 players on the injury report and three of them participated fully in practice. Only linebacker
Frank Zombo
(knee) and offensive lineman
Jason Spitz
(calf) sat out completely. Safety
Atari Bigby
(groin), tackle
Bryan Bulaga
(shoulder), tackle
Chad Clifton
(knee), fullback
Korey Hall
(knee), defensive end
Cullen Jenkins
(calf) and linebacker
Clay Matthews
(calf) practiced on a limited basis.