July, 18, 2011
7/18/11
2:59
PM ET
The New Orleans Times Picayune lists Saints owner Tom Benson as
the most influential person
in the city's sports world.

No doubt Benson is a huge force and the Saints are more popular now than they've ever been. But I'm not thoroughly convinced Benson belongs at the very top of this list. He's not a hands-on owner like Jerry Jones or Daniel Snyder.
There's nothing wrong with that approach and Snyder and Jones haven't had huge success of late. But I think one of Benson's strengths is that he surrounds himself with good people. There are some of his employees who are a little further down the list and I think you could make a case that each of them might be the most influential person in New Orleans sports.
Start with quarterback
Drew Brees
. He's more than just a great football player. He's a community leader and a symbol of the city. Brees' arrival in the aftermath of Hurricane Katrina went a long way in turning around the fortunes of the Saints and the city.
Coach Sean Payton and general manager Mickey Loomis also are on the list, but I think a case can be made that they belong closer to the top. Like Brees, Payton and Loomis are major reasons why the Saints have become a model franchise.
Finally, there is Rita Benson LeBlanc. She's the granddaughter of the owner and she's more powerful than a lot of people realize. She's the heir apparent to her grandfather, but she already plays a prominent role on the business side. She also has taken the lead role in the team's community relations.
June, 30, 2011
6/30/11
1:00
PM ET
»
Best of NFC
:
East
|
West
|
North
|
South
»
AFC
:
East
|
West
|
North
|
South
As part of Best of the NFL Week on ESPN.com, here are five bests for the NFC South:
Best training camp venue, Wofford College in Spartanburg, S.C.
,: That's where the
Carolina Panthers
train, and they're the only division team right now that goes away for training camp. There's been a league-wide trend of moving camps back to regular-season facilities. But if you're going to go away, this might be the best setup in the NFL. Spartanburg isn't all that picturesque or glamorous. But the Wofford campus is gorgeous, particularly the football facilities. In case you've forgotten, team owner Jerry Richardson played football for Wofford -- and later, the Baltimore Colts, before starting to make his fortune with his first Hardee's restaurant in Spartanburg -- and he paid for those facilities.
[+] Enlarge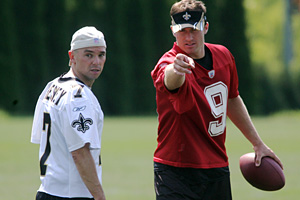 AP Photo/Tony TribbleKenny Chesney, pictured here with Drew Brees, has been known to show up at Saints practice.
Best coaching staff, Falcons:
Coach Mike Smith's going to be challenged a bit this year because the Falcons lost quarterbacks coach Bill Musgrave to a coordinator job in Minnesota, but they've replaced him with Bob Bratkowski. The rest of the staff is a group of all-stars, highlighted by coordinators Mike Mularkey (offense) and Brian VanGorder (defense). Offensive line coach Paul Boudreau isn't a household name, but he's one of the best in the business. For the past three years, the Falcons have given
Matt Ryan
great protection without having a lot of big names up front.
Best celebrity fan, Kenny Chesney:
He's not just a fan of the
New Orleans Saints
, he played for them. Well, sort of. A few years back the Saints held a press conference to announce they were signing the country singer/wide receiver to a contract. They never really did, but it was coach Sean Payton's way of having fun with one of his best friends. It's not unusual to see Chesney around the Saints. Heck, he's even gone out on the practice field and attempted to catch punts.
Best team facility, One Buccaneer Place:
It's referred to as "One Buccaneer Palace'' by some, and it is a palace on the inside. Also, despite popular belief, it was not paid for with taxpayer money. The Glazer family paid for the facility. The lobby and team meeting room are awesome and the locker room is the nicest in the NFC South. Heck, even the media room is, by far, the nicest in the division. The Falcons' facility gets a strong honorable mention. In some ways, it's just as nice as Tampa Bay's facility, but the media room doesn't even come close.
Best meddling owner, Arthur Blank
: He's not the Cowboys' Jerry Jones or the Redskins' Daniel Snyder, but I think it's accurate to say Blank is hands-on in a healthy way. You'll see him on the sidelines at the end of games, and he sits in on Smith's postgame press conferences, which is pretty unusual for an owner. But I see Blank as more of a guy who cares passionately about his team and likes to keep a close eye on everything. He lets his people do their own thing, but he observes everything. Nothing wrong with that. After all, he owns the team.
September, 3, 2010
9/03/10
2:34
PM ET
I just came across
this radio interview
with Falcons owner Arthur Blank. There was one part where Blank was asked about being accessible to the media. As a media member, I found this interesting and I think fans will, too.
"That's very much a part of our culture, is to be available, and frankly to be even more available when times are difficult,'' Blank said. "It's easy to be available when things are going great. Sometimes when you're facing adversity, some folks go off and hide someplace. We don't think that's the best thing to do."
Applause for Blank. There's no doubt he is the NFC South's most accessible owner. Nobody else is even close. Blank isn't Jerry Jones or Daniel Snyder. In other words, he's not constantly out there seeking attention, but he's willing to be out front with the media and, in turn, his fans. Blank gets it when it comes to dealing with media and fans, and I give Falcons public relations guru Reggie Roberts and his staff a lot of credit for creating a very media-friendly environment.
It's really not that way with the other NFC South owners. Carolina's Jerry Richardson is by no means an unfriendly man. In fact, he'll often stop on the practice field to talk with reporters. It's off the record and just basic conversation, and Richardson treats media members as real people. But he just doesn't like being in the spotlight. When I covered the Panthers for The Charlotte Observer, Richardson usually would agree to go on the record once a year, and usually it was at the spring owners meeting. He'd talk extensively about the state of his team. At the end, I'd always say something like, "See, it's not that difficult''. He'd laugh and say, "Yeah, but we won't do it again until next year''. It's just the way he operates.
New Orleans owner Tom Benson has been a bit more visible since the Saints won the Super Bowl, but he's never been the type to hold court with the media. His granddaughter Rita LeBlanc, who seems to be gaining more and more power in the operation of the franchise, is more media friendly and has become the face of the franchise, from an ownership perspective.
Tampa Bay owner Malcolm Glazer used to be called a recluse, and I don't think that was inaccurate. In fact, I can only remember him speaking twice in the early years of his ownership when I was covering the Bucs for The Tampa Tribune. I believe once was when he officially bought the team, and the other time was when the Bucs signed Warren Sapp to a huge contract extension. Glazer is not in great health these days, and sons Bryan, Joel, and Ed are running the team. They take a lot of heat locally for not being very media friendly. But I don't think that label is entirely accurate. The Glazers might not be outgoing personalities, but they know every reporter in their market by name and they'll make small talk when they run into media members. They also have taken the Richardson approach at times and done some state-of-the-union addresses at league meetings. There also is a new effort inside One Buccaneer Place to make the Glazers more visible, and we've seen some evidence of that with the brothers playing big roles in Derrick Brooks' retirement ceremony and the announcement that John McKay will join the team's Ring of Honor. Look for that to continue, but don't ever expect the Glazers to become like Blank.
October, 9, 2009
10/09/09
4:00
PM ET
»
NFC Final Word
:
East
|
West
|
North
|
South
»
AFC
:
East
|
West
|
North
|
South

Posted by ESPN.com's Pat Yasinskas
Five nuggets of knowledge about this weekend's games:
| | |
| --- | --- |
| | |
| | Daniel R. Harris/US Presswire |
| | Falcons running back Michael Turner should have fresh legs this week. |
Back on "The (front) Burner.''
Did the Falcons wear out running back
Michael Turner
with 376 carries last season? Turner hasn't looked sharp this season. But he's coming off a bye and should be fresh. The Falcons also have had a week to clean up their play on the offensive line. They know they're 9-0 in games in which they've had a 100-yard rusher since coach
Mike Smith
took over last year, and they're intent on re-establishing the ground game.
History doesn't always repeat itself.
It appears as if quarterback
Donovan McNabb
will be back in the lineup for Philadelphia after a rib injury. McNabb's track record as a passer against Tampa Bay is worse than any other NFC team. But don't read too much into that. This isn't the same Tampa Bay defense that has given McNabb problems through much of his career.
Redskins rivalry.
As bad as the Carolina-Washington game looks based on what the teams have done this season, this still is a good rivalry. North Carolina was Redskins territory before the Panthers came along, and a lot of fans still hold allegiances to the Redskins. Plus, Carolina general manager Marty Hurney is a former Redskins employee (and a prideful and competitive one at that) and owner Jerry Richardson isn't a big fan of Washington owner Daniel Snyder. Richardson once publicly referred to Snyder as "my little friend.'.
T-Jack is back.
Safety
Tanard Jackson
returns from a four-game suspension. That's going to be a big lift for a Tampa Bay secondary that has had more than its share of problems. Jackson is the team's best defensive back and his presence should help stabilize things a bit.
Maybe it's not over yet.
With good reason, a lot of people are down on the Panthers. I can see at least one possible positive scenario. If this team has anything left, getting to 3-3 isn't out of the question. After the Redskins, the Panthers face Tampa Bay and Buffalo. But I don't know whether this team has anything left.