NFC South:

Darrius Heyward-Bey
March, 17, 2014
Mar 17
8:00
AM ET
The
Carolina Panthers
made an offer to
Hakeem Nicks
thinking they had a legitimate shot to sign the former
New York Giants
receiver.
That was until the
Indianapolis Colts
stepped in and not only offered Nicks a one-year contract worth up to $5.5 million, but also an opportunity to be on the receiving end of passes from quarterback
Andrew Luck
and be a part of a team that could be one of the best in the AFC next season.
ESPN.com Panthers reporter David Newton and Colts reporter
Mike Wells
talk about Nicks' decision to sign with Indianapolis
[+] Enlarge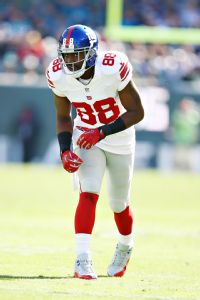 Al Bello/Getty ImagesHakeem Nicks chose the Indianapolis Colts over the Carolina Panthers.
Wells:
David, Carolina quarterback
Cam Newton
proved last season that he's one of the best young quarterbacks in the league. But Luck has proven in just two years -- with 22 victories -- that he has the complete package: arm, foot speed and mental toughness. So it seems Nicks made the right decision to sign with the Colts. What are your thoughts?
Newton:
Totally agree. When Nicks picked Indy over Carolina I mentioned one of the reasons may have been Luck was the more proven quarterback. It didn't sit well with Carolina fans. My argument was simple. Two trips to the playoffs to one. But the bigger reason is Nicks will be surrounded by proven receivers in Indy. Maybe that would have happened at Carolina, but at the time of the decision the Panthers didn't have a receiver on its roster with an NFL catch. When
Brandon LaFell
signed with New England on Saturday that guaranteed Newton won't have any of his top four wide receivers from last season. At Carolina, Nicks risked the possibility of being double-teamed because there wasn't anybody proven to take coverage away. He would have been the clear-cut No. 1, and I'm not sure he's a No. 1. Luck also has a more established offensive line. So when I said Luck was more proven there were other factors around that.
Having said that, if you were starting a team from scratch would you pick Luck or Newton?
Wells:
I like how Newton played last season, but I've still got to give Luck the edge over him and players such as Seattle's
Russell Wilson
and San Francisco's
Colin Kaepernick
. Luck's résumé speaks for itself. He led the Colts to an 11-5 record during a rookie season when his coach, Chuck Pagano, missed 12 games while battling cancer. He repeated that record last season while losing five offensive starters by Week 7. Luck has led the Colts on 11 fourth quarter or overtime game-winning drives in his young NFL career. Should I continue? It also helps that Luck's Colts have already beaten the Seahawks and 49ers. Maybe you and I can corner Rob Chudzinski somewhere after the season and ask him his thoughts because he obviously coached Newton in Carolina and he's about to coach Luck with the Colts next season.
It seems like the Panthers don't seem to know which direction they're headed with players like receiver
Steve Smith
being released. Am I wrong to think that could sway a free agent's decision?
Newton:
It would have to cast doubt. It certainly casts doubt in my mind. It'll all come down to how convincing general manager Dave Gettleman is on selling his plan. And yes, there's a plan.
Jerricho Cotchery
is coming in for a visit on Monday and
James Jones
says he'd like to play for Carolina. If the Panthers can get a couple of solid veterans -- even if they aren't bona fide No. 1s, and select a dynamic receiver with either their first- or second-round pick, the receiving corps potentially could be better than last season. Even Smith admitted he's not a No. 1 anymore. So for all the grief I've given Gettleman for making a mistake in dumping Smith, in the long run it could work out. I mean, the beef on LaFell last season was he wasn't a bona fide No. 2.
Ted Ginn
Jr. had a nice season, but he had only two catches the year before.
Domenik Hixon
had only one catch that impacted a game. So big picture, they didn't really lose a lot.
So how do you expect Nicks to fit in at Indianapolis? Can he help put Indy over the top?
Wells:
Colts fans are a little leery because there was high hope last year when
Darrius Heyward-Bey
, the No. 7 pick in the 2009 draft, signed a one-year contract the same way Nicks did. Heyward-Bey, to put it as nice as possible, was brutal last season. So brutal that he ended up being demoted to special teams where he actually did a great job downing punts inside the 20-yard line. I think Nicks will fit in nicely because he doesn't have the pressure of being the No. 1 receiver. He simply has to just fit in alongside of fellow receivers
Reggie Wayne
and
T.Y. Hilton
. Tight ends
Dwayne Allen
and
Coby Fleener
are also receiving options for Luck. The fact that Nicks had almost 900 yards receiving last season and that was considered a down year for him is a good thing for the Colts. Luck will find him as long as he can get open.
Newton needs somebody to throw the ball to. What are the Panthers going to do since Smith is gone and Nicks decided playing with the Colts was a better option?
Newton:
As I mentioned above, Cotchery is coming in for a visit and I still believe they'll get Jones. The plan is to find a few bargains and blend them in with a draft pick. Smith would have made a nice No. 2 receiver in this package in my opinion. But from everything I gather Newton won't be heartbroken to see his top receiver gone. Smith has gotten in Newton's face more than a few times the past few years. As much as that may have been needed, there is a belief on the team that Smith might have been a distraction to Newton as the central leader of the offense. It will be interesting to hear how Newton spins it when we finally hear from him.
Now that the Colts have Nicks, what's the rest of their free-agency plans?
Wells:
General manager
Ryan Grigson
has put an emphasis on defense so far. They still need to find a safety to replace
Antoine Bethea
, who signed with San Francisco last week. The interior part of the offensive line could use some help, too. They signed former Dallas center
Phil Costa
last week. The Colts haven't completely shut the door on Cleveland center
Alex Mack
even though it is a longshot that they'll be to get him because the Browns used the transition tag on him. Adding another guard wouldn't be a bad idea, either.
March, 10, 2014
Mar 10
8:00
AM ET
The wide receiver position has become an even greater priority for the
New Orleans Saints
now that they are parting ways with both receiver
Lance Moore
and pass-catching running back
Darren Sproles
.
The draft is probably the Saints' best bet for finding a dynamic young athlete who could develop into a future starter -- and ideally help stretch the field in the short term as part of the rotation. This is a deep class for wide receiver talent, so the Saints could have ample options in Round 1 or the middle rounds of the draft.
But the Saints always prefer to fill their pressing needs in free agency. So I could see them adding a No. 3-type receiver with speed or shiftiness. And an ability to return kicks would be a major plus.
[+] Enlarge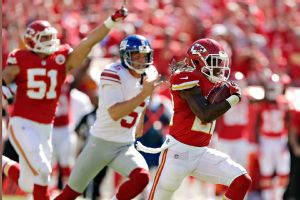 AP Photo/Charlie RiedelVersatile Dexter McCluster could fit with the Saints as a replacement for Darren Sproles.
I picked ESPN Scouting Insider Matt Williamson's brain for a few suggestions that could fit that mold. And I particularly loved his suggestion of
Kansas City Chiefs
receiver/runner/returner
Dexter McCluster
-- a guy who could help fill both voids by himself.
McCluster has taken turns as a running back, receiver, kick returner and punt returner at different times in his first four NFL seasons. Last season he made the Pro Bowl as a punt returner. And he could be a dangerous weapon in the hands of Saints coach Sean Payton.
"I think he would be a good fit," Williamson said. "Most teams, he might turn into nothing. But I think Payton and (Drew) Brees would use him properly."
Williamson also thinks
Carolina Panthers
receiver/return man
Ted Ginn Jr.
could be an interesting fit in New Orleans, especially after Ginn had a bounceback season last year after underachieving for most of his seven-year career.
"He was a bust for a ninth pick in the draft (for the
Miami Dolphins
in 2007). But he played pretty well for Carolina. And he can fly," Williamson said.
If the Saints want to spend a little more money on a receiver/punt returner, they might be interested in the Seattle Seahawks'
Golden Tate
, a yards-after-the-catch threat who could be a lot more dangerous in New Orleans' passing offense.
Maybe they would consider slot receiver/punt returner
Julian Edelman
from the
New England Patriots
or the Pittsburgh Steelers' big-play threat
Emmanuel Sanders
, who has some kick-returning experience. And New Orleans native
Jacoby Jones
is a speedster who has been better so far as a kick returner than a receiver with the
Baltimore Ravens
-- but he could certainly provide that deep threat as a No. 3 or No. 4 receiver.
The Minnesota Vikings'
Jerome Simpson
is another deep threat who could fill that No. 3 role. And Williamson mentioned a deep wild-card possibility in another former first-round underachiever -- the
Indianapolis Colts
'
Darrius Heyward-Bey
.
"Everybody hates the guy, and he isn't a great player. But Darrius Heyward-Bey can still run," Williamson said. "He wasn't that big of a bust. And you could get him streaking down the sideline. And you can get him for nothing."
There aren't many big-name receivers available in free agency this year. The
Denver Broncos
'
Eric Decker
could command the biggest deal, and he might be too costly for the Saints. The
New York Giants
'
Hakeem Nicks
could also be costly, though he's been plagued by injury issues.
Other receivers in the next tier or two include the
Green Bay Packers
'
James Jones
, the
Arizona Cardinals
'
Andre Roberts
, the Seahawks'
Sidney Rice
and the Panthers'
Brandon LaFell
-- plus Lance Moore, of course.
April, 9, 2009
4/09/09
1:17
PM ET
Posted by ESPN.com's Pat Yasinskas
ESPN's Mel Kiper has unveiled his latest mock draft. There's plenty of logic in his picks, which speak for themselves.
Mel may be right on all three first-round picks for the NFC South teams. But I see some alternatives for all three picks. I still think the Saints will go defense, possibly with defensive backs Malcolm Jenkins or Vontae Davis at No. 14.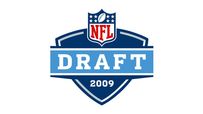 Mel's been consistent with quarterback Josh Freeman to the Bucs and that could happen. But I think the Bucs may go wide receiver (Darrius Heyward-Bey), defensive tackle (Peria Jerry) or cornerback (Jenkins or Davis, if available) at No. 19.
Mel lines up the Falcons with Brandon Pettigrew at No. 24. That wouldn't surprise me, but I still think the Falcons go with a linebacker, defensive end, defensive tackle or defensive back here.
Anyway, here are Mel's picks for the first four rounds for NFC South teams:
SAINTS
1: 14, Chris "Beanie" Wells, RB, Ohio State
4: 116, Tyrone McKenzie, LB, South Florida
4: 118, A.Q. Shipley, C, Penn State
BUCCANEERS
1: 19, Josh Freeman, QB, Kansas State
3: 81, Alex Magee, DT, Purdue
3: 90, Antoine Caldwell, C, Alabama
4: 120, Austin Collie, WR, BYU
FALCONS
1: 24, Brandon Pettigrew, TE, Oklahoma State
2: 55, Sherrod Martin, DB, Troy
4: 125, Brandon Gibson, WR, Washington State
PANTHERS
2: 59, Roy Miller, DT, Texas
3: 93, Kraig Urbik, G, Wisconsin
4: 128, Mike Wallace, WR, Mississippi
April, 7, 2009
4/07/09
5:11
PM ET
Posted by ESPN.com's Pat Yasinskas
The Tampa Bay Buccaneers are our final stop in the series of mini-mailbags (two questions per team).
James in Tampa writes: Pat,I'm a huge Buccaneers fan and I was just wondering if you see Tampa going after any of the big receivers or defensive linemen that are available?I think this is a team that needs every weapon and pass rusher they can get? What are your thoughts and predictions on this?
Pat Yasinskas: Wow, it's kind of nice to get a Bucs' question that doesn't involve the quarterback position. I think a defensive lineman (end or tackle) or a wide receiver is very possible in the first round. Not sure there's going to be good value for an end at No. 19 in the first round. If the Bucs decide to go defense with that pick, I say go with one of the tackles. B.J. Raji could fall after reportedly failing a drug test. Ron Brace or Peria Jerry could be available at that spot and either could be a big boost for a run defense that needs some help. But I truly like the idea of getting a receiver at that spot. The Bucs have Antonio Bryant and Michael Clayton and that's a nice start. Bryant and Clayton are both big receivers and are good in the possession game. If you could throw a downfield receiver like Maryland's Darrius Heyward-Bey into that mix, I think Luke McCown suddenly would be in a position where he'd have a pretty strong chance to succeed as the starting quarterback.
---
Daniel in Jamestown, N.Y., writes:
Hey Pat, say the Bucs stick with a defensive player in the first round, do you see them drafting a quarterback later on? The likes of
Pat White
even?
Pat Yasinskas: Not even a mini-mailbag on the Bucs would be complete without some sort of quarterback question. But I think Daniel might be on the right path here. I know there are schools of thought out there that the Bucs might take Josh Freeman or trade up to get Mark Sanchez. But I don't think Freeman's ready to start and I think the price tag to move up for Sanchez may be too steep. I definitely can see the Bucs taking a quarterback a bit later on. Not sure if Pat White's the guy for Jeff Jagodzinski's offense because he's undersized and isn't the classic drop-back passer. But I could see someone like Michigan State's Brian Hoyer or Purdue's Curtis Painter being a possibility in the middle or late rounds.
April, 6, 2009
4/06/09
2:24
PM ET
Posted by ESPN.com's Pat Yasinskas
The Tampa Bay Buccaneers are the final stop on our tour of team-by-team mailbags.
Chris in Harrisburgh writes: Hey pat, i was just wondering, if Heywerd Bey is still available at 19 when the Bucs pick, do you think they may look to trade down with a team like the Giants, who have two 2nd round picks and a need for a WR?
Pat Yasinskas: Anything is possible when it comes to trading down, especially if it gives the Bucs a second-round pick. They are without their own second-round pick because it was traded to Cleveland in the Kellen Winslow deal. Although the common belief is the Bucs will take a quarterback or a defensive player in the first round, I would not be at all surprised if they stayed put at No. 19 and drafted Darrius Heyward-Bey. I think the Maryland receiver could give the Bucs a downfield threat and a nice complement to Antonio Bryant and Michael Clayton.
---
Nick in Tampa writes: Pat, is the new coaching staff in Tampa content with Ronde Barber remaining a starter next year? He is the only older vet on the defense who survived the purge and the team hasn't made any moves to bring in a FA to replace Buchanon.
Pat Yasinskas: Well, the Bucs did sniff around Jabari Greer and a couple of other cornerbacks in free agency and they still could draft one early. But it seems like the general thinking among the coaching staff is that Barber will be the starter. Keep a couple of things in mind here. First, new coach Raheem Morris previously coached defensive backs and he believes Barber has something left in the tank. Second, Barber is angry at media and fans who have suggested he's washed up. That should provide some good motivation for a guy who has a lot of pride.
---
Steve in Toronto writes: Who is going to be playing buffalo in toronto? I hear it down to tampa or new orleans, i hope its the bucs being a huge fan, i don't think it will be new orleans because there a dome team, but that will give the bucs two games out of the u.s. Who has the better chance of playing in toronto?
Pat Yasinskas: All indications are the NFL's complete regular-season schedule will come out next week. We'll find out for sure then. But the Bucs already have a game scheduled in London. I think the NFL will be hesitant to make them travel outside the country twice.
---
Tony in Philadelphia writes: Pat, who do the bucs start on kick-offs and punt returns week 1? Do you think it's still Smith even with him being more involved in the backfield? Thanks!
Pat Yasinskas: I think Clifton Smith will remain as the primary return man after a great rookie season. Yes, the Bucs may look to get him involved in the offensive backfield. But, with Derrick Ward, Earnest Graham and possibly Cadillac Williams, I think Smith will be a situational player in the backfield. If Smith ends up carving a bigger niche, things could change. As disappointing as Dexter Jackson was last year, I could see him getting another shot as a return guy. He has great speed and the coaching change might give him a fresh start.
---
Anthony in New Port Richey, FL writes: Can the Bucs still trade for a quarterback like Brady Quinn or Derek Anderson?
Pat Yasinskas: I think that's something the Bucs at least would explore if Cleveland really does put one of those two quarterbacks on the trade block. I think either Brady Quinn or Derek Anderson would be nice competition for Luke McCown. The Bucs have made it clear they still plan to bring in another quarterback. There's not much left in free agency. Not sure if they would take Josh Freeman at No. 19 because he might be a year away from being ready to start. I could see them making an attempt to trade up for Mark Sanchez, but that could be costly. Of all the scenarios still out there, I like trading for Anderson or Quinn the best.
---
Andrew in Boston writes: I know that summer practices without pads don't really matter, but how did Josh Johnson look during the latest mini-camp while you were there?
Pat Yasinskas: The coaches and players were singing Johnson's praises during the minicamp and I think their scouting reports are probably better than mine. That's encouraging, but I still think Johnson is a project. He also has to learn an offense that's dramatically different than last year's.
---
Charlene in Tampa writes: Could you please tell me if you have heard anything about Derrick Brooks? If we lose him, Tampa will be crushed..Most people would like to see him retire here, rather than go to another team! Thank you Charlene
Pat Yasinskas: Once the Bucs released Derrick Brooks in February, that ended any chance of him playing in Tampa Bay again. I wouldn't rule out the possibility of him coming back to the Bucs in an administrative or coaching role. But I think Brooks still wants to play and is waiting until after the draft to see what type of opportunities he gets elsewhere.
March, 30, 2009
3/30/09
3:33
PM ET
Posted by ESPN.com's Pat Yasinskas
Just finished a segment on ESPNEWS where we talked about the upcoming draft for the Buccaneers.
Like a lot of people, I've been talking previously about how Tampa Bay's needs are at quarterback (Josh Freeman) and on the defensive line (Everette Brown? Peria Jerry?). But, at least in today's segment, I decided to go in a different direction when asked who the Bucs will pick at No. 19.
I went with Maryland receiver Darrius Heyward-Bey. My logic is this: A rookie quarterback is going to take too long to develop. Not sure the value will be good for a defensive lineman at this spot. I went with Heyward-Bey because I think he could give the Bucs the downfield threat they're missing right now.
I might change my thinking a bunch of times between now and the draft, but that's the way I'm leaning at the moment.