May, 2, 2013
5/02/13
4:22
PM ET
Time for an afternoon run through some news and notes from around the division:
TAMPA BAY BUCCANEERS
The Bucs did more than make the official announcement that Warren Sapp will be the next inductee into the team's Ring of Honor. The Bucs also announced that Sapp's number (99) will be
retired
. The late Lee Roy Selmon is the only other Tampa Bay player to have his number retired. Sapp will be inducted into the Pro Football Hall of Fame in August and the Ring of Honor ceremony will take place Nov. 11 when the Bucs host Miami.
NEW ORLEANS SAINTS
Charlie Campbell calls linebacker Chase Thomas
the best signing
of an undrafted free agent in the entire league. Thomas has some pass-rush skills and could have a chance to compete with Martez Wilson and Junior Galette.
CAROLINA PANTHERS
In
an interview
with Charlotte's WFNZ, general manager Dave Gettleman wouldn't go much further than to say running back DeAngelo Williams is on the roster "right now." Go ahead and start the speculation (again) that Williams could be traded or released. The Panthers have way too much money invested in their running backs and unloading Williams could free up a lot of cap space now and in the future.
ATLANTA FALCONS
In this
radio interview
, cornerback Asante Samuel said he would respect Tim Tebow if he walked into Atlanta's locker room. Don't worry, that's not going to happen. The Falcons aren't looking to put in a gimmick package in their offense because there's no way they want to take the ball out of Matt Ryan's hands.
Samuel might not be the only Atlanta player with that last name. Former Georgia player Richard Samuel reportedly will get a
tryout
during this week's rookie camp. The younger Samuel bounced between running back and linebacker in college and his best bet to earn an NFL roster spot might be as a special-teams player.
Chris Polian, who spent last season in Atlanta's scouting department, has left to become
pro personnel director
in Jacksonville. Polian is joining Jacksonville general manager Dave Caldwell, who previously worked for the Falcons.
The team announced it will hold combined practices with the Cincinnati Bengals on Aug. 5 and 6. The two teams will play an exhibition game at the Georgia Dome on Aug. 8.
February, 28, 2013
2/28/13
10:52
AM ET
The
Atlanta Falcons
have had to steadily reshuffle their front office over the past two years as Les Snead and Dave Caldwell moved onto jobs elsewhere as general managers.
The shuffling continued Thursday with another promotion from inside. Nick Polk was named director of football operations after spending the past five years as the team's director of football administration.
Polk might not be a name known to the average fan, but he's been an important part of the front office and his role just got bigger. Polk has worked closely with general manager Thomas Dimitroff on contract proposals, negotiations and management with the salary cap.
"Nick does a very good job of managing our salary cap," Dimitroff said. "His communication regarding our cap situation has paid dividends over the last five years and we are fortunate to have him as a member of our organization."
Polk's also got big-picture experience. He basically ran a whole league at one point. Polk worked as the senior director of football operations for NFL Europe for three years. He also has some history as a coach in the college ranks.
This was a logical move for the Falcons because Polk has paid his dues and been a key part of the front office. But this promotion also puts him one step closer to ending up as a general manager somewhere else in the future.
February, 11, 2013
2/11/13
6:03
PM ET
Let's take a run through some odds and ends from around the division:
ATLANTA FALCONS
Remember Ray Edwards, the free-agent bust the Falcons released in the middle of last season? Well, after no other team signed him, Edwards apparently turned to boxing. Check out
the video
of his recent fight in North Dakota.
Since Dave Caldwell left to become the general manager of the Jacksonville Jaguars, the Falcons have readjusted their personnel department by promoting from within. The latest example is the team's announcement that Tukunbo Abanikanda has been promoted to
area scout
. In 2012, he worked as a scouting assistant.
CAROLINA PANTHERS
In his latest
mock draft
, Charlie Campbell has the Panthers taking Ohio State defensive tackle Jonathan Hankins. Defensive tackle has been a problem spot for the Panthers for years and veteran Ron Edwards appears to be a likely salary-cap cut.
NEW ORLEANS SAINTS
Safety Rafael Bush said he has
re-signed
with the team. Bush played mostly on special teams last season. But, with new defensive coordinator Rob Ryan taking over, Bush could have a shot at more playing time at safety.
TAMPA BAY BUCCANEERS
Stephen Holder reports that the Bucs have had
no substantial contract talks
with defensive tackle Roy Miller. That's a little surprising because Miller was a key part of a solid run defense last season. But there's still a month before the start of free agency, so talks could start up at any time.
January, 11, 2013
1/11/13
4:59
PM ET
The
Atlanta Falcons
didn't take long to find a new director of player personnel after Dave Caldwell left to become the general manager in Jacksonville this week.

General manager Thomas Dimitroff said Friday that Lionel Vital, who spent the past four seasons as the team's assistant director of player personnel, will move into Caldwell's old role.
"Lionel has assisted in constructing our roster and has been instrumental in our draft process and free-agent acquisitions,'' Dimitroff said. "He has over 20 years of scouting experience and has had the opportunity to work under team-builders like Ozzie Newsome and Bill Belichick during his career. Lionel is a vital member of our scouting team and we are happy that he will continue to be a member of our organization."
Vitale worked in New England's personnel department with Dimitroff prior to joining the Falcons. Vitale also previously worked as a scout for the Jets, Ravens and Browns.
Interestingly, Vitale's promotion sets up the possibility of the Falcons keeping one streak going. Former director of player personnel Les Snead was hired away to become general manager of the
St. Louis Rams
last year. Caldwell replaced him and quickly got hired away by Jacksonville.
We'll see next year if Vitale ends up being another branch of the Dimitroff tree.
January, 9, 2013
1/09/13
9:27
AM ET
Time for a morning trip through the headlines from around the division:
ATLANTA FALCONS
For the second straight year, Atlanta is losing its director of player personnel. Dave Caldwell
has been hired
as the general manager in Jacksonville. That comes a year after Les Snead left for St. Louis. Atlanta general manager Thomas Dimitroff has a deep and talented staff in place. But it's logical to speculate about the chances of Scott Pioli ending up with the Falcons. He used to be Dimitroff's boss in New England.
CAROLINA PANTHERS
The team
interviewed
New York Giants college scouting director Marc Ross and Montreal Alouettes general manager Jim Popp on Tuesday for the general manager job. But there are more interviews coming this week. The Panthers are expected to interview five or six candidates and a decision might not come until next week.
If Ron Rivera gets off to a slow start next season, fans can start screaming for Bill Cowher -- again. The former Pittsburgh coach, who has a home in North Carolina, said he wants to
return to the NFL
at some point.
NEW ORLEANS SAINTS
Bradley Handwerger has his list of the most
memorable plays
of the season. The top two plays were memorable for all the wrong reasons. But, at No. 3, he has the play where safety Malcolm Jenkins chased down Tampa Bay receiver Vincent Jackson to prevent a touchdown. That play didn't define the Saints' season, but it might have been the team's best play of the year.
TAMPA BAY BUCCANEERS
Mark Cook has a list of the potential class of
free-agent quarterbacks
. It is far from impressive. That's another reason why I think that, if the Bucs do add a quarterback to compete with Josh Freeman, it will come through the draft.
January, 1, 2013
1/01/13
10:31
AM ET
Time for a run through the top headlines from around the NFC South:
ATLANTA FALCONS
When the Falcons had the first-round bye back in the 2010 season, coach Mike Smith gave his team some time off. Although Smith usually is a creature of habit, he's taking a different approach this time around. The Falcons will
practice four times
this week. But I'm not surprised Smith is taking a different approach than he did in 2010 because the Falcons lost to the Packers in the playoffs.
Offensive coordinator Dirk Koetter, defensive coordinator Mike Nolan and special-teams coach Keith Armstrong aren't the only staff members drawing attention from elsewhere. Director of player personnel Dave Caldwell also is
being mentioned as a candidate
for several of the vacant general manager jobs.
CAROLINA PANTHERS
After rushing for a franchise record 210 yards in the season finale, DeAngelo Williams said his
future
is in the hands of the Panthers. No matter who ends up as general manager, the Panthers face a difficult salary-cap situation and Williams stands out because he has a huge contract and the team has depth in the backfield with Jonathan Stewart and Mike Tolbert.
NEW ORLEANS SAINTS
Mike Triplett writes the NFL should go ahead and
reinstate
suspended coach Sean Payton immediately, instead of after the Super Bowl. It's a nice idea and it would help the Saints if Payton was allowed to have a voice in some big decisions that are facing the Saints. But I have a very tough time seeing NFL commissioner Roger Goodell letting Payton coming back early. Goodell took a big hit when his player suspensions were overturned and letting Payton serve his full suspension would save some face.
TAMPA BAY BUCCANEERS
Ira Kaufman lists
five issues
the Bucs need to address in the offseason. Naturally, he starts with the secondary. The pass defense was terrible and the Bucs have to find several new cornerbacks in free agency and the draft. They also may have to get a free safety because Ronde Barber could retire.
March, 28, 2011
3/28/11
1:45
PM ET
All four NFC South teams have representatives at the University of Cincinnati's pro day, which is going on right now. No doubt they're keeping an eye on one of the draft's more intriguing prospects, wide receiver
Vidal Hazelton
.
He suffered a major knee injury in last season's opener and today was the first time he's run publicly. According to agent, Kelli Masters, Hazelton was clocked at 4.50 seconds in the 40-yard dash, which isn't bad for a guy who was measured at 6-foot-2 and weighed in at 218 pounds. Hazelton also checked in with a 34-inch vertical leap and did 18 reps of 220 pounds on the bench press. Hazelton was clocked at 4.20 seconds in the shuttle and 6.78 seconds in the cone drill.
Hazelton came out of high school as one of the top-rated receivers in his class and started his career at Southern California before transferring to Cincinnati. Hazelton has spent part of his life in Georgia and previously
said his dream would be to end up playing for the Falcons
. Due to the injury and a limited college career, Hazelton is viewed as a possible undrafted free agent or late-round pick.
But he still has potential and that's why teams are keeping an eye on him. By the way, Falcons director of college scouting Dave Caldwell is in attendance.
April, 18, 2010
4/18/10
5:28
PM ET
The common assumption out there, and I've been firmly in this category, is that the
Atlanta Falcons
are going to go with a defensive player with their first-round pick -- No. 19 overall.
[+] Enlarge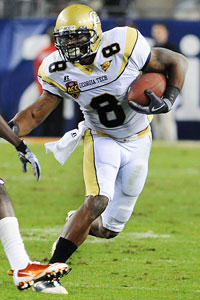 Al Messerschmidt/Getty ImagesThe Atlanta Falcons were out in full force to watch Georgia Tech receiver Demaryius Thomas on Sunday.
But I just heard something that made me pause a bit. A league source tells me the Falcons were out in full force Sunday for a workout by Georgia Tech receiver
Demaryius Thomas
. General manager Thomas Dimitroff, college scouting director Dave Caldwell, personal director Les Snead and assistant director Lionel Vital all were in attendance. About eight to 10 teams had representatives at the workout, but the Falcons had, by far, the biggest contingent.
Yes, the workout was in Atlanta, so logistics weren't an issue for the Falcons. But I think they must be looking hard at Thomas if they sent so many people to watch. They already should have a good read on this guy since he's in their own backyard, but this is a sign that they're doing extra homework.
Drafting a receiver wouldn't be a total surprise for Atlanta. Dimitroff admits the Falcons draft for need and defensive end and linebacker seem to be the needs everyone talks about. But there also is a need at receiver.
Roddy White
is firmly established as the No. 1 receiver.
Michael Jenkins
has been the other starter, but he's somewhat of a role player. In the long term, Thomas could be an upgrade at No. 2. The Falcons still have high hopes for
Harry Douglas
, but he's coming back from a major knee injury and projects more as a slot receiver. Veteran
Brian Finneran
is also in the mix, but he's more of a situational player.
Thomas is in the Jenkins mold. He's a bigger receiver -- 6-foot-2 and 229 pounds. He's not a burner, but he's tough to tackle and can make things happen after the catch. The best stat I saw on him is that he averaged 25 yards a catch last season. Thomas isn't known for his blocking, which is perhaps Jenkins' biggest strength. But he has the size and can be taught to become an effective blocker. He's also born and raised in Georgia and the Falcons like that kind of thing -- see
Dunta Robinson
and, in the past,
Keith Brooking
.
Yes, the Falcons may still go with defense first, but don't rule this one out. Keep in mind, this team is built around quarterback
Matt Ryan
and the Falcons try to give him all the toys he needs to succeed.