May, 17, 2013
5/17/13
9:22
AM ET
Let's take or morning run (or bike ride) through some news and notes from around the NFC South:
ATLANTA FALCONS
General manager Thomas Dimitroff is taking part in
National Bike To Work Day
. I don't think we'll see any roster moves out of the Falcons this morning.
Quarterback Matt Ryan
turns 28 today
. That's a prime age to become one of the league's highest-paid quarterbacks. The Falcons have stayed quiet about where negotiations are for an extension, but I suspect a deal will get done before training camp.
CAROLINA PANTHERS
Linebacker Chase Blackburn figures to be a backup and special-teams player. But he'd be a starter if the Panthers were fielding a
baseball team
. Blackburn hit three home runs as members of the Panthers, including coach Ron Rivera, took batting practice before a Charlotte Knights game.
NEW ORLEANS SAINTS
The Saints have
signed
defensive tackle Isaako Aaitui. He's spent time with the Dolphins and Jets, and will compete for a roster spot behind Brodrick Bunkley and John Jenkins.
Quarterback Luke McCown, who was cut by the Saints in the preseason last year, said he's
more optimistic
about his chances of making the roster this year. He should be. Chase Daniel had a firm grip on the backup job last year. With Daniel leaving via free agency this year, the backup job is wide open. McCown and Seneca Wallace will compete for that spot, and McCown might have the early advantage because he knows the offense.
TAMPA BAY BUCCANEERS
With David Garrard reportedly retiring, Tampa Bay's opener against the New York Jets could become even more of an
intriguing game
, Stephen Holder points out. The game already was matching up Tampa Bay cornerback Darrelle Revis against his former team. With Garrard gone, it means the Bucs could be going against rookie quarterback Geno Smith.
July, 11, 2012
7/11/12
11:29
AM ET
All the talk about
Drew Brees
' quest
for a new contract
that will make him the highest-paid player in the NFL got me thinking about quarterback salaries and average per year.
It remains very likely that, sometime between now and Monday afternoon, Brees and the Saints will work out a contract that pays him somewhere around an average of $20 million per season. That would put Brees on top of the list of quarterback pay. He's earned that honor.
But what about the rest of the NFC South quarterbacks?
First off, let's be clear that none of them are at the same level as Brees. But two of them are likely to come up for contract extensions sooner rather than later and Brees could help raise the bar.
As it stands right now, Atlanta's
Matt Ryan
is tied for No. 13 in average per year at $11.25 million. Ryan's contract currently runs through the 2013 season and there have been some rumblings the Falcons could start looking to extend him. Unless he goes out and wins the Super Bowl this season, I don't think Ryan falls into the category of elite quarterbacks, but I think it would take an average of somewhere between $14 million and $16 million a season to lock him up.
Tampa Bay's
Josh Freeman
ranks No. 22 with a $5.24 million average per year. Freeman's coming off a tough season, but still has plenty of upside and also has a contract that expires after the 2013 season. If the Bucs really believe he is their franchise quarterback, they might be wise to try to extend him before Freeman gets a chance to get back on the field and really drive his price tag into the upper echelon. Then again, the Bucs might want to wait a bit to see if Freeman can recapture his style of play from the 2010 season before making any big commitment.
Carolina's
Cam Newton
is No. 21 with a $5.506 million average salary. Although he was the No. 1 overall pick in last year's draft, Newton's first contract was less than a lot of guys drafted in the years just ahead of him because the league put in new rules last year that limit rookie contracts. If Newton continues to play like he did as a rookie, he could be looking at numbers like Brees a few years down the road.
I've assembled a list of the top 32 quarterbacks, based on average salary per year. Here it is:
February, 28, 2012
2/28/12
2:37
PM ET
I heard a very interesting and lengthy interview with
David Garrard
while driving a bit earlier Tuesday on Sirius NFL Radio.
Garrard made it very clear he wants to play again next season after sitting out 2011. Garrard said he had back surgery to repair an injury that was holding him back when the Jaguars released him just before the start of last season. He said he's almost 100 percent and his agent is making teams aware of his availability.
[+] Enlarge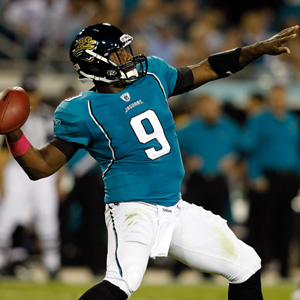 J. Meric/Getty ImagesQuarterback David Garrard could take on a backup/mentor role on several NFC South teams.
As you might expect, Garrard said his first preference would be to go to a team where he would at least have a chance to compete for a starting job. I don't see that scenario as even a remote possibility in the NFC South. But Garrard also said he'd be open to being a backup/mentor.
In those roles, I could see him in the NFC South. Let's throw out the Saints because they've got
Drew Brees
as their starter (assuming they finally get around to getting a new contract done) and they seem content with
Chase Daniel
as the backup. If the Saints do anything at quarterback this offseason, it might be using a late-round pick on a project-type quarterback to groom behind Brees.
But I can at least see scenarios where Garrard would make sense for the other three NFC South teams. Let's start with Tampa Bay. The Bucs have
Josh Freeman
as their starter and view him as their franchise quarterback.
Backup
Josh Johnson
can become a free agent and I think he probably will test the market. Johnson's athletic and the previous coaching staff sometimes used him in the wildcat formation (although not with a great deal of success). But Johnson's not the kind of guy you want to see playing for an extended period if Freeman is injured. Garrard can be that guy because he's got plenty of experience as a starter.
There's also a school of thought that the Bucs might want to surround Freeman with an experienced backup that can help act as a mentor. Garrard or
David Carr
are guys I think could be possibilities if the Bucs go in that direction. New offensive coordinator
Mike Sullivan
worked as quarterbacks coach with Carr and the
New York Giants
the last two seasons. Sullivan also worked for the
Jacksonville Jaguars
in 2002 and '03. Those were Garrard's first two seasons in the NFL and Sullivan was a defensive assistant the first year, before switching to offense in 2003. But at least he has some familiarity with Garrard.
Speaking of familiarity with Garrard, that could be more of a factor with the other two NFC South teams.
Carolina quarterbacks coach Mike Shula was quarterbacks coach in Jacksonville from 2007 through 2010. Garrard's best statistical seasons came in that span and all indications are he and Shula got along well. The Panthers are set with
Cam Newton
as their starter, but backup
Derek Anderson
is a free agent and Jimmy Clausen's future with the team remains unclear. Garrard might be an upgrade over Anderson as a mentor and as a player.
Garrard also has ties to the Atlanta coaching staff. New offensive coordinator Dirk Koetter was Jacksonville's offensive coordinator from 2007 through the end of last season. I'm not real sure if Garrard and Koetter parted on friendly terms, but I think the decision to dump Garrard was made mainly by former Jacksonville coach Jack Del Rio. If nothing else, Garrard should be pretty familiar with the concepts Koetter will try to add to Atlanta's offense.
Atlanta veteran backup
Chris Redman
is scheduled to be a free agent and I don't think the Falcons are ready to elevate
John Parker Wilson
to the No. 2 role. I think there will be some interest in bringing back Redman because his price tag won't be high and he's a good set of eyes and ears for
Matt Ryan
. But Redman's not the kind of guy you want to play if Ryan goes down for an extended period of time.
If the Falcons are going to make a play for Garrard, a lot will depend on what Koetter thinks of the quarterback. Heck, even coach Mike Smith could have a weighty opinion on this one. Smith is familiar with Garrard because he was defensive coordinator in Jacksonville before taking over in Atlanta.
January, 16, 2012
1/16/12
9:14
AM ET
All those Atlanta fans that
aren't thrilled with the hiring
of Dirk Koetter as Atlanta's offensive coordinator might find some good news in the numbers I'm about to reveal.
Unlike previous offensive coordinator Mike Mularkey, Koetter likes to use screen passes. That's pretty obvious from his days as the coordinator in Jacksonville.
In 2011, Jacksonville rookie
Blaine Gabbert
completed 36 of 45 (80 percent) of his attempts on screen passes for 190 yards, which ranked No. 19 in the league, according to ESPN Stats & Information. The Jaguars may have thrown even a few more screens than that. Gabbert started the final 14 games.
Luke McCown
started the first two games and we can likely assume he attempted at least a few screens. We don't know for sure because ESPN Stats & Information's list of numbers on screen passes only goes 36 quarterbacks deep.
Right near the bottom of the list is Atlanta's
Matt Ryan
. He attempted only 20 screens while starting all 16 regular-season games. He completed 16 of those attempts for 68 yards -- that yardage total ranked No. 32 among quarterbacks.
Koetter wasn't simply trying to take pressure off his rookie quarterback. He's got a history of using the screen. In the 2010 season, former Jacksonville starter
David Garrard
completed 37 of 42 screen passes (88.1 percent) for 316 yards.
February, 3, 2011
2/03/11
7:30
AM ET
As Tampa Bay's
Josh Freeman
emerged as a franchise quarterback in 2010, a lot of people compared him to Pittsburgh's
Ben Roethlisberger
.

Freeman
Understandable. Both of them are the size of a tight end, can throw the heck out of the ball and can bounce off defenders. But one other comparison got overlooked. In some ways, you can put Freeman in the same class as
Michael Vick
.
The Philadelphia quarterback is known for his running ability, particularly his speed. Freeman's not nearly as fast and most of his runs aren't by design. But look back at the quarterback rushing statistics from the 2010 season and Freeman was the closest thing there was to Vick.
Vick was the league's top rushing quarterback with 100 carries for 676 yards. But Freeman was second with 364 yards on 68 carries. That put Freeman ahead of Green Bay's
Aaron Rodgers
and Jacksonville's
David Garrard
, who are known as strong runners.
Freeman also finished second in rushing first downs by quarterbacks with 29. Vick was first with 38. Freeman had one more than Garrard and seven more than Rodgers, who were third and fourth.
Freeman tied for the league lead in percentage of converting third-and-1 rushing opportunities into first downs. He was successful on all seven attempts. Eight other players also had perfect percentages, but none had as many attempts as Freeman.
Oh, if you want to compare Freeman to another big-name quarterback who was known for his rushing, try
Steve Young
. He spent a couple years with the Bucs back in the 1980s and set the team's rushing record for quarterbacks with 425 yards on 74 carries in 1986. Doug Williams' 370 yards on 58 carries in 1980 rank second and Freeman's 2010 output is third.
December, 11, 2010
12/11/10
12:00
PM ET
Earlier this week, I asked readers to name the
quarterback they least would like to take a hit from
. The question was prompted after Tampa Bay's
Josh Freeman
got fined $5,000 for a late hit on Atlanta cornerback
Brent Grimes
last week.
Here are some of the best answers that showed up in my mailbag, followed by my thoughts on the matter at the bottom.
Jamie in Kennar, La.
: If
Jared Lorenzen
were still in the league, that would be the easy choice. But I might have to go with
Derek Anderson
, he hasn't been looking too happy lately.
Richard in New Orleans:
I know he doesn't have the size, but I would not want to take a hit from
Michael Vick
. If he was going full speed and caught someone who wasn't ready for it, he could really lay someone out. Other than that, I would say Freeman and maybe
David Garrard
.
Jerry in Pensacola, Fla.:
You're right Pat. I wouldn't want to take a shot from Freeman. He's a beast and can get running at full speed in a few steps.
Matt Ryan
could give a good hit, he has decent size.
Drew Brees
and that shoulder wouldn't go for a hit, and
Jimmy Clausen
,
Tony Pike
,
Brian St. Pierre
and
Matt Moore
are a revolving door of failure
Hunter in Austin, Texas:
Tim Tebow
tops the list of QBs that I don't want to hit me. David Garrard is also on this list somewhere. Good call on Freeman though.
Jack in Washington, D.C.
: Taking a different approach I would like to look at the most embarrassing QBs to be hit by:
Peyton Manning
,
Doug Flutie
,
Brett Favre
of today,
Eli Manning
(just because he constantly looks confused),
Jay Cutler
(because he would look all smug afterwards since, after all, he is the most important player in the world, at least I'm pretty sure that's how he thinks), and maybe
Ryan Fitzpatrick
.
My take:
Good stuff all the way around and I particularly got a good laugh out of Jack's different approach on QBs that would be the most embarrassing to take a hit from. I thought purely in terms of size when I wrote the first post and Freeman was mentioned because he's bigger than a lot of linebackers. I definitely wouldn't want to take a hit from Freeman, especially if he has any sort of running start.
Speaking of Lorenzen, if he were still playing, I'd take my chances. Yes, he's huge. But, even at my advanced age and with a left knee that's going to need cleanup after the season, I think I could still outrun him. Guys like Matt Ryan, Drew Brees and Jimmy Clausen … well, I wouldn't particularly want to get hit by either one because they're younger and in much better shape than I am. But, as far as size, I'm just slightly smaller than Ryan, reasonably bigger than Clausen and definitely bigger than Brees. I might be hurting a bit, but I think I'd at least be able to get up after taking a hit from them -- after an hour or so.
Now, the guys that readers brought up that I really wouldn't want to take a hit from are Vick, Tebow and Garrard. Maybe even Derek Anderson because Jamie is right about his recent demeanor. But let's stick with Vick, Tebow and Garrard. Vick isn't huge, but he's one of the best athletes on the planet. If he had wanted to, he probably could have been a top-notch defensive back. Give him a few steps and he's going to be able to run down and put a nice hit on anybody.
Tebow, well, going back to before the draft, I said the guy should be a linebacker, tight end, fullback or H-back. I still think that. He doesn't have Freeman's size, but he's athletic and strong. Garrard's the surprise guy on this list, in my eyes. Once I saw several people mention him and thought about it, I had to agree. Garrard's not particularly tall, but the guy is solidly built and he could put a hurting on somebody.
August, 28, 2010
8/28/10
10:56
PM ET
TAMPA, Fla. -- Time for some observations on the Bucs from their 19-13 loss to the
Jacksonville Jaguars
.
[+] Enlarge

Al Messerschmidt/Getty ImagesBackup quarterback Josh Johnson had a decent start in place of injured Bucs starter Josh Freeman.

The Bucs showed some signs of having a bend-but-don't-break defense. That's super. But let's keep it in perspective. Jacksonville's offense, minus Maurice Jones-Drew, isn't going to break any defense.

Rookie defensive tackle Gerald McCoy looked pretty good. He got good pressure on David Garrard on an incompletion in the second quarter. Right after that, McCoy did a nice job running Garrard out of bounds after a snap sailed over the quarterback's head. That play resulted in a 10-yard loss.

Where else might the Bucs get a pass rush from? Believe it or not, Kyle Moore was in Garrard's face as he threw a second-quarter interception (more on that in just a second). Looks like Moore's going to have a starting job.

On to the previously-mentioned interception. It was made by (drum roll please) … Barrett Ruud. Yep, the middle linebacker made the kind of big play he needs to make to get himself that big contract he wants. Ruud even ran 80 yards after making the grab. Do that in the regular season a few times and Ruud's wish will come true.

Return man Clifton Smith, who missed a chunk of last season after concussion problems, fumbled the first time he touched the ball this preseason. Not really a good sign for Smith because the Bucs have other options in the return game.

Josh Johnson had decent numbers (9 of 14 for 122 yards) while starting in place of injured starting quarterback Josh Freeman. But I still don't think it would be a bad idea for the Bucs to pluck a legitimate backup quarterback off the waiver wire before the season starts.

Then again, maybe the Bucs are just like the Vikings. After all, they've got a quarterback who spent virtually all of training camp hanging out in Mississippi. That's Jevan Snead, the guy they cut on the first day of training camp and re-signed when Freeman got hurt.

I thought the biggest positive for the Bucs was rookie receiver Mike Williams. He's been making big plays since he arrived in Tampa Bay. It's great when he can do that with Freeman, but it's even more impressive that he's still making big plays when he's catching passes from another quarterback.

The Bucs just gave an injury update on Sabby Piscitelli, who went down in the fourth quarter. The team said he has a mild concussion.
July, 24, 2009
7/24/09
10:30
AM ET
| | |
| --- | --- |
| | |
| | Al Messerschmidt/Getty Images |
| | Former Falcons quarterback Michael Vick may get conditionally reinstated, but even if he does, will any team want him? |
Posted by ESPN.com's Pat Yasinskas
Anybody want Michael Vick?
That's not a question. It's a plea. Seriously, I'd be thrilled to trade you the former Atlanta quarterback for anything. Heck, for nothing. Take him and the mountain of baggage he carries, please.
Still no takers?
Don't feel isolated. It appears nobody is lining up to take Vick. Selfishly, I'm not real happy about that because I've had more than my share of the ugly Vick saga, which has dragged on seemingly forever.
As the NFC South blogger, my territory includes Vick until he signs with a team in another division. My readers write me every day to ask me to stop writing about Vick because they're so tired of hearing about him. That's probably not going to change any time soon.
Yes, Vick is out of prison and done with home confinement. Yes, ESPN's Sal Paolantonio is reporting Commissioner Roger Goodell has decided to grant Vick a conditional reinstatement for training camp, although there remains a chance the quarterback could face a four-game suspension.
Even with the conditional reinstatement, there's no guarantee an NFL team will step forward to take an immensely talented athlete, who may or may not be suited to play quarterback or some other position and is certain to bring a swarm of media and protesters if he shows up anywhere near a stadium. And the cloud of a possible four-game suspension doesn't make Vick any more appealing.
Still, I thought there was a chance some owner (Jerry Jones? Al Davis?) might take a shot. Now, I'm thinking there's a very real chance 32 owners will pass on Vick.