May, 8, 2014
May 8
8:00
AM ET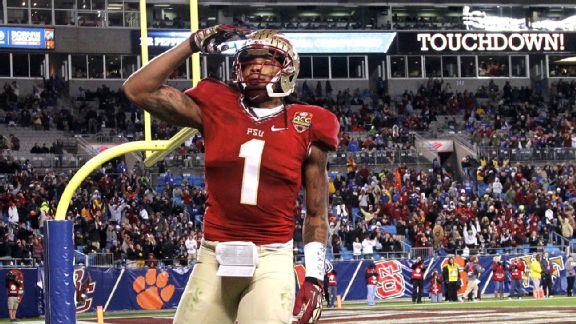 AP Photo/Bob LeveroneFlorida State receiver Kelvin Benjamin could be an option for the Panthers in the first round.
It's no secret the
Carolina Panthers
have big needs at left tackle and wide receiver entering tonight's first round of the NFL draft.
But general manager Dave Gettleman won't reach for a player at either position when the Panthers pick at No. 28 if there are players on the team's board who rank higher.
There is also a slim chance, though he covets having picks, that he will trade up for a player at one of those positions.
This is about taking the best player available, not filling a need. If Gettleman can do both as he did last year with defensive tackle
Star Lotulelei
at No. 14, that is a bonus.
But as Gettleman showed last season in picking defensive tackle
Kawann Short
in the second round, he will stick with value over potential even if it means going with the same position in consecutive rounds.
"I've said this before, when you reach, when you have made up your mind, you're locked in and you're going to take a position because you feel a need to fill that spot, more often than not you're going to make a mistake," Gettleman said.
Gettleman says there are a combined nine to 10 tackles and wide receivers he considers worthy of a first-round pick. That there is enough depth at both positions to get value in the second and possibly third rounds opens the possibility that Carolina takes what Gettleman calls a "blue goose" pass-rusher in the first.
He "wouldn't be mad if a corner was there."
In other words, don't be surprised by whom the Panthers take sometime around 11 p.m.
With that, here are 10 players (alphabetical order) who could be there for Carolina at No. 28:
Davante Adams, WR, Fresno State: Adams says he's the best wide receiver in the draft, so he's not lacking confidence. A playmaker with decent size at 6-foot-2, 216 pounds. Led the nation in receptions (131) and touchdown catches (24) this past season. Caught a touchdown pass in 22 of his 26 games and had 38 career touchdowns. Can be dynamic at times and has some of that Steve Smith flair for the dramatics. Not nearly as strong physically as Smith, though. Definitely a player the Panthers have talked to and worked out.

Kelvin Benjamin, WR, Florida State: One of the more imposing receivers in the draft at 6-5, 240 pounds. A physical player who has the ability to use his size to create space. Doesn't have elite speed, and doesn't always finish plays. Still, he had 15 touchdowns last season, including the game-winner in the national championship game. Has the raw talent teams are looking for, but gets a lot of second-round grades because he is still developing.

Ealy

Kony Ealy, DE, Missouri: With Greg Hardy unsigned long term and Charles Johnson showing some age with a late-season knee injury, the Panthers might be tempted to go for this athletic pass-rushing specimen. He had 14.5 tackles for loss and 9.5 sacks last season. He might be what Gettleman meant when he referred to a "blue goose" pass-rusher.

Dee Ford, DE, Auburn: Another potential "blue goose." Had 10.5 sacks this past season and doesn't lack for confidence. He called South Carolina defensive end Jadeveon Clowney, expected to be the top player taken in the draft, a "blind dog in a meat shop" during the NFL combine. At 6-2 and 252, Ford might be a bit undersized for a 4-3 end, but still a good value at 28.

Kyle Fuller, CB, Virginia Tech: At 6-0, 190 he's a strong, physical player who can be an every-down cornerback or play in the slot, both needs for Carolina. Played linebacker, safety and cornerback at Virginia Tech, where he was a three-time All-ACC player. Considered by many to be the most ready NFL corner in the draft.

Ra'Shede Hageman, DT, Minnesota: Gettleman said he wouldn't pass on a "blue goose" defensive tackle even though Carolina drafted Lotulelei and Short in the first two rounds a year ago. At 6-6, 310, Hageman might be too good to pass up if the top wide receivers and offensive tackles are gone.

Kouandjio

Cyrus Kouandjio, OT, Alabama: Before his knees became a medical issue, many had this 6-6, 322-pound left tackle as a top 10 pick. A bad workout at the NFL combine didn't help. But if the Panthers cleared him medically, Kouandjio could be a steal at 28 the way Lotulelei was with his with medical concerns (heart).

Morgan Moses, OT, Virginia: This is a popular pick for Carolina by many because he is expected to be around at 28 and because he fills a big need. But not everyone has the 6-6, 314-pounder rated as a first-round pick. He definitely has the size and wingspan (35 3/8-inch arms) to make NFL defensive ends run a long way to get around him. It's just a matter of whether the Panthers have him listed as a first-rounder. Not so sure they do.

Ryan Shazier, OLB, Ohio State: You might be surprised to see an outside linebacker here, but Gettleman said he would take the best player available -- particularly if he was a pass-rusher. Shazier has blazing speed and reacts well to the ball. He had 23.5 tackles for loss last season, but sometimes has issues with his tackling technique. The consideration here is that Carolina outside linebackers Chase Blackburn and Thomas Davis are in their 30s, so this could be a pick for depth and the future.

Jason Verrett, CB, Texas Christian: If he was 6-1 instead of 5-9 he might be a top-five pick. Considered by many to be the best pure cover corner in the draft. That the Panthers were comfortable with Captain Munnerlyn at 5-8 last season means they likely wouldn't hold the size against Verrett. He had six interceptions in 2012 and nine in three seasons. With Carolina's front seven in front of him, he would make the league's second-ranked defense in 2013 better.
April, 8, 2014
Apr 8
8:00
AM ET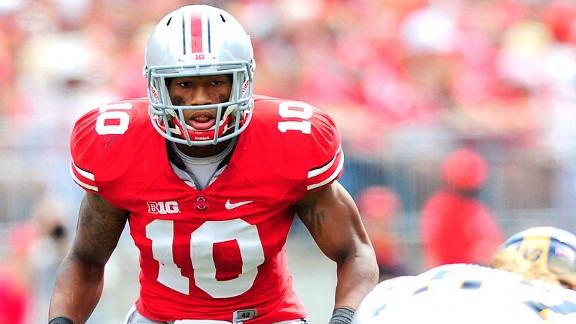 David Dermer/Diamond Images/Getty ImagesThe Saints could use a dynamic linebacker like Ryan Shazier to bolster their corps.
If we're ranking the
New Orleans Saints
' top needs in the draft based on where they could use the most immediate help, then the top three are probably center, wide receiver and cornerback.
The need at center is obvious in the wake of
Brian De La Puente
's departure. Meanwhile, a first-round draft pick at receiver or cornerback could step in right away in a rotational role while being developed as a future starter.
That's why cornerbacks like
Jason Verrett
,
Kyle Fuller
and
Bradley Roby
and receivers like
Odell Beckham Jr.
,
Brandin Cooks
and
Marqise Lee
make a lot of sense as possible Saints targets.
However, when it comes to New Orleans' long-term future, the linebacker position isn't far behind.
The Saints will eventually need to replace veterans such as
David Hawthorne
and
Parys Haralson
. And in the meantime, they could really use a dynamic athlete to rotate into the mix in that spot.
After the 2013 season, I chatted with ESPN scouting analyst Matt Williamson about how much
the Saints could benefit
from their own version of NFC South studs like Tampa Bay's
Lavonte David
and Carolina's
Thomas Davis
-- guys who can chase down speed backs in the open field, cover running backs and tight ends in the passing game and occasionally blitz.
That's why I find myself gravitating toward Ohio State linebacker
Ryan Shazier
as a top prospect for the Saints with their 27
th
pick in Round 1 of the draft.
The Saints primarily run a 3-4 defense under coordinator Rob Ryan, so Shazier isn't an ideal fit on the surface. He's not really a pass-rushing outside linebacker, and he's a bit small for a traditional 3-4 inside linebacker at 6-foot-1, 237 pounds.
But as we've learned about Ryan, he's about as versatile and multiple as any defensive coordinator in the league. Give him a playmaker, and he'll find room for him (see:
Kenny Vaccaro
).
Shazier is certainly a playmaker. He ranked among the top three players in the country last season with 144 tackles and 23.5 tackles-for-loss, in addition to seven sacks and four forced fumbles. He was reportedly timed at a blazing 4.38 seconds in the 40-yard dash at Ohio State's pro day.
"You can make an argument he's one of the best 10 football players in this draft just on being a pure, instinctive football player," ESPN draft analyst Mel Kiper Jr. said.
Shazier's dimensions are almost identical to those of David and Davis -- and to former Saints linebacker
Jonathan Vilma
, for that matter. And the one knock on Shazier in his scouting report is the same one that always stuck to Vilma: that he has trouble shedding blockers at times.
But everything else on the scouting report is extremely tantalizing.
"I love Shazier," Kiper said when I asked him if Shazier could fit in the Saints' defensive scheme. "It's just where is the best scheme fit? [He is] a guy that I think is a 4-3 outside linebacker but can play inside in the right scheme in a 3-4. And he could possibly, as you say, be that run-around chase athletic guy who can do so much with that 4.39 speed and that incredible athleticism."
That includes dropping back in pass coverage, Kiper affirmed.
"Yeah, Shazier's a tremendous athlete who can do everything you want," he said. "The only thing he lacks is the kind of size you look for as a 3-4 inside linebacker. And he might not be an elite pass-rusher, but he can certainly close and chase and pursue and do all the things you want. Heck of a football player."
Alabama's
C.J. Mosley
is another tantalizing athlete at the inside linebacker position. But Kiper said he doesn't expect him to fall far enough for the Saints to have a shot at him.
Kiper also mentioned Auburn pass-rusher
Dee Ford
as the kind of athlete who could fit the Saints as an outside linebacker. Kiper has paired Ford with the Saints in each of his past two mock drafts. Although Ford (6-2, 252) played defensive end in college, he projects as a 3-4 outside linebacker. And he has some experience dropping back in coverage, though it's not his specialty.
Kiper also mentioned Georgia Tech's Jeremiah Attaochu as a pass-rushing outside linebacker -- though he is generally considered more of a second-round prospect. Attaochu has 22 sacks in the past two seasons and probably fits best as a 3-4 outside linebacker.
March, 13, 2014
Mar 13
2:00
PM ET
ESPN draft analyst Mel Kiper switched his pick for the
New Orleans Saints
in his
Mock Draft 3.0

, giving them Auburn pass-rusher
Dee Ford
, a defensive end in college who projects as a 3-4 outside linebacker in the NFL.

Kiper is thinking like the Saints by plugging in his best available prospect at No. 27. Kiper had previously paired Tennessee offensive tackle
Antonio Richardson
with the Saints because of their need at that position. But the Saints will try to fill their pressing needs in free agency so they can go after the highest-rated prospect on their board in May, regardless of position.
Ford has been a fast riser among draft analysts since he impressed during Senior Bowl week in January. He's a dynamic athlete who can rush the passer. And the 6-foot-2, 252-pounder has even shown some coverage ability on occasion.
The Saints are set with top pass-rushers
Cameron Jordan
and
Junior Galette
. And they hope veteran
Victor Butler
can be an asset this year as he returns from a torn ACL. But they could certainly make room for another young athlete who can rotate into the mix early and develop into a future starter.
If the Saints go strictly with need in the first round of the draft, cornerback and wide receiver might be more imperative. But the Saints will try not to get locked in if they can avoid it.
March, 13, 2014
Mar 13
10:30
AM ET
Free agency hasn't helped much when it comes to narrowing down the
New Orleans Saints
' draft-day targets. It's probably a safe bet now that they won't draft a safety in Round 1, since they're set with last year's first-round pick
Kenny Vaccaro
and blockbuster free-agent signing
Jairus Byrd
. But a number of positions could still be in play at No. 27 for a New Orleans team that always likes to select the highest-rated player on its board, regardless of position.

The Saints will still likely address one or two of their most pressing needs in free agency so they can think more long-term with their draft picks.
For now, though, I still see cornerback as the Saints' biggest need overall, so TCU's
Jason Verrett
and Ohio State's
Bradley Roby
could make a lot of sense. And the Saints definitely need some new, young dynamic playmakers on offense after parting ways with running back
Darren Sproles
and receiver
Lance Moore
. So speedy receivers such as LSU's
Odell Beckham Jr.
and Oregon State's
Brandin Cooks
could be very attractive.
But the Saints won't reach for those spots if they have a higher grade on someone such as Ohio State linebacker
Ryan Shazier
, Auburn pass-rusher
Dee Ford
or Virginia offensive tackle
Morgan Moses
(especially if they don't re-sign veteran free agent
Zach Strief
).
Check out ESPN draft analyst Mel Kiper's
Mock Draft 3.0

to see where he thinks the Saints might go with that No. 27 pick.
February, 20, 2014
Feb 20
8:20
AM ET
Atlanta Falcons
veteran defensive end
Osi Umenyiora
already stated his desire to remain with the team. At the same time, Umenyiora realizes the Falcons could add a rookie pass-rusher to the mix.
Umenyiora already has an appreciation for two edge-rushers who are set to display their ability at this year's NFL combine in Indianapolis.
Naturally, one of them is South Carolina defensive end
Jadeveon Clowney
.
"This is a tremendous athlete; a tremendous football player,'' Umenyiora said of Clowney. "And there's a guy out of Auburn,
Dee Ford
, who I think is a hell of a defensive end. He's a phenomenal pass-rusher. So I definitely think there are a couple of guys who could really upgrade our team.''
But Umenyiora, a former second-round pick of the
New York Giants
out of Troy, has been around the league enough to know that some touted pass-rushers don't always live up to expectations – not to say that will be the case with Clowney and Ford.
"I've seen a lot of rookies who were supposed to be good players come in and not do nothing,'' Umenyiora said. "Or you have a bunch rookies that come in and are supposed to do this and that, and they find out the NFL is a different game.
"You can't always put all your hopes in someone coming in out of college, especially a team like Atlanta that is built to win now. Then again, I'm just employee No. 50 and I do what I'm told. And I definitely understand all the talk about these young pass-rushers.''
Umenyiora, who has one more year left on his contract and is set to count $4.75 million against the cap, would be the ideal mentor for any young pass-rusher. The
Falcons likely would have to trade up
to get Clowney. Ford, who impressed at the Senior Bowl, isn't likely to be picked in the top 10, and the Falcons currently hold the sixth overall pick.
Two other pass-rushers linked to the Falcons in terms of draft projections are UCLA's
Anthony Barr
and Buffalo's
Khalil Mack
. Although most see them as better fits as outside linebackers in 3-4 schemes, even Falcons general manager Thomas Dimitroff said both Barr and Mack are capable of being successful pass-rushers in 4-3 defenses.
Combine workouts for defensive linemen and linebackers are on Monday.