NFC South:

DeMarco Murray
November, 5, 2012
11/05/12
10:02
AM ET
With the help of ESPN Stats & Information, Elias Sports Bureau and the Tampa Bay media relations staff, it's time for some statistical superlatives on the Buccaneers 42-32 victory against Oakland on Sunday.
Rookie running back Doug Martin rushed for 251 yards and four touchdowns. The 251 rushing yards are tied for third-most by a rookie in NFL history. Oh yeah, we should add that Martin had 265 rushing yards before losing 14 yards on three carries on the game's final drive. Adrian Peterson (296 yards in a 2007 game) and DeMarco Murray (253 yards in a game last year) are the only rookies to rush for more yards in a game than Martin.
Martin's rushing total also set a franchise record (James Wilder's 219 yards in a 1983 game were the previous record) and his four rushing touchdowns also set a new team standard.
Martin became the first player in NFL history with three rushing touchdowns of 45 or more yards in a game.
Martin and Mike Anderson (in 2000) are the only players ever to rush for 250 yards and four touchdowns in a game.
Martin rushed for 268 yards when the Bucs lined up a lead blocker in the backfield, including 215 yards before first contact. He had -17 yards on six carries on which he didn't have a lead blocker.
All totaled, Martin gained 197 of his yards before contact. That's the second-most yards before contact over the past four seasons. James Harrison had 235 yards before contact in a 2009 game.
Josh Freeman passed for 247 yards and two touchdowns. He's only the third quarterback in franchise history to throw for a touchdown pass in each of the first eight games of the season. Brad Johnson in 2003 and Doug Williams in 1979 were the other two.
Over the last four games, Freeman has thrown for 11 touchdowns and one interception. I'm sensing a big contract extension after the season.
Freeman had a 108.6 NFL passer rating and now has recorded four straight games with a passer rating over 100.
Tampa Bay's 515 yards from scrimmage ranks second on the team's all-time list. The record is 573 in a 1980 game against Minnesota.
The Bucs now have eight plays with 60 yards or more this season. That's a franchise record and they've only played eight games.
The victory was the first time the Bucs ever have defeated the Raiders on the road. (They're now 1-5 when visiting the Raiders).
Rookie linebacker Lavonte David continues to excel. He had two tackles for losses to bring his season total to a team-leading 11. He also posted a career-high 16 tackles.
October, 17, 2012
10/17/12
9:39
AM ET
Time for a Wednesday morning run through the top headlines from around the NFC South:
TAMPA BAY BUCCANEERS
Defensive end Da'Quan Bowers, who has been on the physically unable to perform list, could begin practicing as early as Wednesday. As Stephen Holder notes, look for the Bucs to bring Bowers
along slowly
. Michael Bennett has been playing well and Daniel Te'o-Nesheim has shown promise since taking over for an injured Adrian Clayborn. The best tact might be for the Bucs to use Bowers as a situational pass-rusher early in his return.
Martin Fennelly takes a look at the
receiver tandem
of Vincent Jackson and Mike Williams. The two look like they're starting to click. If that continues, this could be the best tandem in franchise history, partly because the Bucs haven't had many strong receiver pairings throughout their existence.
NEW ORLEANS SAINTS
New Orleans (and Tampa and Atlanta) are not in the running for Super Bowl L (the 50th Super Bowl). The NFL said Tuesday that San Francisco and South Florida are
the finalists for the game
. I'd look for New Orleans and Tampa to get involved in the bidding for the 2017 game. And, if Atlanta gets its new stadium in 2017, it could be a candidate to host the Super Bowl as early as 2018.
With Jonathan Vilma, who has been on the physically unable to perform list, expected to begin practicing, his health isn't the only issue. The Saints have been getting
quality play
out of middle linebacker Curtis Lofton and I don't see him moving. If Vilma is healthy enough to be more than a backup, he could be moved to the outside.
CAROLINA PANTHERS
The Cowboys will be without DeMarco Murray on Sunday due to injury. But a Dallas running game that
produced 227 yards
against Baltimore remains very dangerous. It's especially dangerous against a Carolina rushing defense that's allowing 127.4 yards per game.
Although he's out for the season and the Panthers are 1-4, center Ryan Kalil said he has
no regrets
about taking out a full-page newspaper ad, promising a Super Bowl win, in the preseason. Kalil shouldn't have any regrets. At the time, he believed the Panthers were capable of something like that and he wanted to excite a fan base that hasn't had much to be excited about in recent years.
ATLANTA FALCONS
Daniel Cox points out that since coach Mike Smith took over in 2008, the Falcons have the NFL's
third-best home record
with 29 wins. I used to question how much of a role the Georgia Dome played in the Falcons' success at home. In recent years, it's been filled with decent audiences, but those crowds never seemed to have much impact on the game. I'm sensing that's changing this year. When I've been to the Georgia Dome this year, the crowds have seemed more festive before the game and much louder during it.
Smith said a decision will be made soon on when defensive tackle Corey Peters, who has been on the physically unable to perform list, will
begin practicing
. I'd look for that to happen next week, when the Falcons resume practicing after their bye.
September, 23, 2012
9/23/12
2:40
PM ET
The
Tampa Bay Buccaneers
are in a tight game at Dallas.
The Cowboys are leading
10-7 at halftime
in a game that's been dominated by the defenses.


Tampa Bay got an early break when cornerback
Aqib Talib
intercepted
Tony Romo
. That set up the Tampa Bay offense for a quick touchdown.
But it's not just the Cowboys who are handing out free points. The Bucs basically have handed Dallas 10 points. Late in the first quarter, quarterback
Josh Freeman
was intercepted. Freeman's pass went off the hands and facemask of running back
D.J. Ware
, but you have to wonder if Freeman might have been better off putting a little touch on the ball, instead of throwing a Nolan Ryan fastball.
DeMarco Murray
quickly followed that up with a touchdown run.
The Bucs also set up a Dallas field goal when
Jordan Shipley
, who was re-signed a couple days ago, failed to handle a punt and Dallas recovered.
Tampa Bay's defense is playing pretty well. But the offense hasn't been able to put together anything on a consistent basis since the first drive. If the Bucs are going to have any shot at winning this game, they need much better production from their offense in the second half.
Feel free to share your thoughts on the Bucs in the comments section below. I'll be back with a wrap-up soon after the game ends.
November, 17, 2011
11/17/11
1:00
PM ET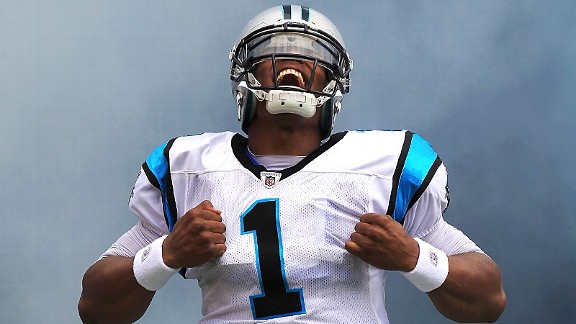 Streeter Lecka/Getty ImagesCam Newton made a statement early, accumulating 854 passing yards in his first two games.
On the surface, it looks like there's a great argument brewing out there about who should be the NFL's Offensive Rookie of the Year.
The names
Cam Newton
,
Andy Dalton
and
DeMarco Murray
are getting tossed around. It makes for great conversation, but let's face reality.
Newton won the award a long time ago. This race was over two weeks into the season. Despite some really nice deeds by Dalton and Murray, nothing really has changed and it's not going to.
As the first overall pick in the draft, Newton came with all sorts of flash and glitter. He was a Heisman Trophy-winning quarterback on a national championship team at Auburn and that made him a strong favorite to win Rookie of the Year before the season ever started.
Newton settled it in two weeks. He threw for more than 400 yards in each of his first two games. No rookie quarterback had ever done that, and that's the kind of thing that's going to stick in the mind of voters.
Speaking of voters, let's be very clear. We're talking about the Associated Press NFL Offensive Rookie of the Year award. There are other rookie honors out there and they matter. Just not as much as the one by the Associated Press.
If you don't believe me, consider this: If a player gets an incentive clause in his contract for winning a Rookie of the Year award, it almost always is stipulated that he only gets paid if it's the one from the Associated Press.
[+] Enlarge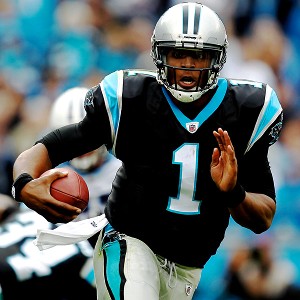 Streeter Lecka/Getty ImagesCam Newton has passed for 2,605 yards this season and 11 touchdowns, and has also rushed for 374 yards and seven more scores.
The way it works is the voters are writers from every NFL city. Majority rules and, unless Newton suffers a season-ending injury very soon, he's going to win.
Yeah, I can hear the arguments coming from Dallas and Cincinnati and I respect them. But those folks can save themselves some pain later by realizing now that Murray and Dalton aren't going to win the award.
I know everything is bigger in Texas and that's why Dallas fans are going crazy about Murray. He has been incredible since
Felix Jones
went down with an injury in mid-October. Murray has 674 rushing yards this season with 601 of them coming in the past four games.
And I understand that the Cowboys are "America's Team,'' and Dallas is a much bigger media market than Charlotte or Cincinnati. But that actually could end up working against Murray. For a long time, there have been grumbles that it's harder for Cowboys to get into the Pro Football Hall of Fame because voters feel saturated by anything to do with Dallas.
A lot of those voters are the same ones who select the Rookie of the Year. The Cowboys haven't had one of those since
Emmitt Smith
in 1990.
Murray is good, but he's not Emmitt Smith. You could make the case that we saw Murray last year. Tampa Bay's
LeGarrette Blount
rushed for 1,000 yards in basically half a season (and for his next trick he's trying to learn how to pass block) and he didn't even come close to winning the award.
Sam Bradford
did.
That's because Bradford is a quarterback. Let's face it, quarterbacks generally are going to win popularity contests simply because they're quarterbacks. Four of the past seven winners have been quarterbacks. Heck, even
Vince Young
won it in 2006.
Once in awhile, as happened in 2007, an
Adrian Peterson
comes along. And in the years when no rookie quarterback does much, the award goes to a
Percy Harvin
or a
Cadillac Williams
. This isn't one of those years.
That brings it down to Dalton and Newton.
Dalton is doing what Bradford did last year and what
Matt Ryan
did in 2008. He's come in, played very well and his team is winning. The Bengals are 6-3 and Dalton has thrown for 1,866 yards and 14 touchdowns. He's smart, doesn't make big mistakes and there's no doubt Dalton is a big reason Cincinnati is one of the league's most surprising teams.
But he's not the only reason. Cincinnati's defense has been shockingly good. Dalton really hasn't been shocking. He has only had one 300-yard game, and only one game in which he's thrown more than two touchdown passes.
Is anybody really ready to call Dalton a franchise quarterback? Yeah, I know it might be a little tempting because it's been tough to even call the Bengals a franchise for most of the time they've been in the league. But Dalton is not Newton. He's not even close.
By about halftime of the opener, the world knew Newton was a franchise quarterback. He threw for 422 yards that day in Arizona. Then, he came back the next week and threw for 432 against Green Bay, and, suddenly, the Panthers had hope for the first time in a long time. They've still got it.
Yeah, both those games were losses, and, despite Newton's play, the Panthers have continued to do a lot of losing. They're 2-7 and we are talking about a game that's supposed to be the ultimate team sport.
But Rookie of the Year isn't a team award, which is significant because if you factored in the play of Carolina's defense, Newton would be wearing heavy anchors on both his legs.
Rookie of the Year is an individual honor, and even if it wasn't, Newton still would have the edge. He's thrown for about 800 yards more than Dalton. Oh, and since we mentioned Newton's legs, let's take a look at rushing stats. Newton has rushed for 374 yards and seven touchdowns.
Dalton has run for 26 yards. If you really want to pad his stats, you could say he's run for 78 feet, which is nice. But we've seen Dalton before. He compares nicely to guys like Ryan, Bradford,
Joe Flacco
and
Mark Sanchez
as rookies.
We've never seen anything like Newton before. You could say he runs like
Tim Tebow
or
Michael Vick
. Or you could say he throws like
Dan Marino
or
Peyton Manning
. You've never been able to say both things about any single quarterback. Until now.
Yeah, Newton's not perfect. He has thrown 10 interceptions (but Dalton has thrown nine on 40 less attempts). It also would be nice to see Newton get some wins. But those will come next season when the Panthers have had time to rebuild a defense that got shredded by injuries.
This is about this year. There's no question Newton and Dalton have turned heads. But Newton is the only rookie who has had heads spinning.
November, 9, 2011
11/09/11
12:00
PM ET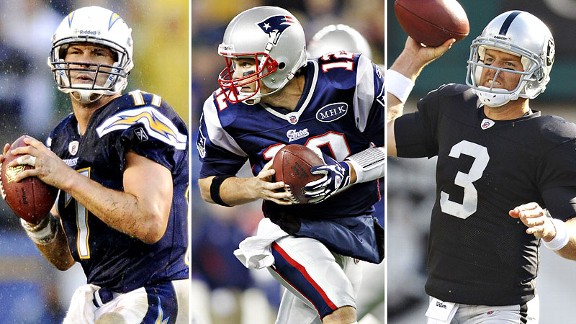 US PresswirePhilip Rivers, Tom Brady and Carson Palmer put up big passing totals Sunday but none of them won.
Every week, it seems we hear about how passing numbers around the NFL are at an all-time high. For the past couple of years, we've heard coaches, front-office personnel and media experts talk about how it's now a "quarterback-driven league."
The numbers support the theory in most ways. But I'm starting to wonder if throwing the ball all over the field every week really is a good thing.
I'm looking at the three quarterbacks with the highest passing totals in Week 9.
Philip Rivers
threw for 385 yards.
Tom Brady
had 342.
Carson Palmer
threw for 332 yards in just his second game with the Raiders.
Guess what? Rivers, Brady and Palmer all lost Sunday.
They all threw at least 35 times, with Brady attempting 49 passes. They combined for nine touchdown passes, but also combined for eight interceptions. Rivers and Palmer each threw three interceptions.
All this leads me to believe it's not so much about quantity but quality when it comes to quarterback play.
Yes, there's no doubt you have to throw the ball to win in the modern NFL. But there's some sort of fine line out there. If you cross it, you're asking for trouble. When you're throwing too many times, you're opening yourself up to too many mistakes.
You're also making your team one-dimensional, and that's never a good thing. Balance on offense is a wonderful thing.
So where is the line between enough passing and too much?
It's not that difficult to spot. Let's just go back to the stats from Sunday's games. Let's use Dallas'
Tony Romo
and New Orleans'
Drew Brees
as models.
Their numbers were a little bit less than what Rivers, Brady and Palmer turned in. But here's the crucial difference -- Romo and Brees won.
Romo attempted 31 passes and completed 19 for 279 yards with two touchdowns and no interceptions. Brees completed 27 of 36 attempts for 258 yards with two touchdowns and one interception.
There's a very common thread here. Unlike Rivers, Brady and Palmer, Romo and Brees had plenty of help. It came from their running games.
Dallas'
DeMarco Murray
rushed for 139 yards. New Orleans' trio of
Darren Sproles
,
Pierre Thomas
and
Chris Ivory
combined for 175 rushing yards.
Take the New Orleans model back another week. In Week 8, Brees attempted 44 passes and had 269 yards. In that game, the Saints had virtually no running game. They lost to the previously winless
St. Louis Rams
and came home intent on putting more balance in their offense.
Too much of a good thing can become a bad thing. Yes, it is a quarterback-driven league. But the Week 9 statistics show us that you should keep a quarterback's throws somewhere between 31 and 36, and you need to be able to run the ball (and maybe play a little defense).
If the quarterback is driving the car all by himself, the team is not going anywhere.

TRENDING UP

TRENDING DOWN
October, 24, 2011
10/24/11
10:20
PM ET
By
ESPN.com staff
| ESPN.com
Trent Dilfer and Jon Ritchie give their biggest takeaways from Week 7; The "Caveman" Gary Horton tells us what he learned from
Tim Tebow
's win against the
Miami Dolphins
; and
Dallas Cowboys
running back
DeMarco Murray
breaks Emmitt Smith's single-game franchise rushing record, then tweets back and forth with the Hall-of-Famer.