NFC South:

DeMaurice Smith
January, 8, 2013
1/08/13
3:30
PM ET
By
ESPN.com staff
| ESPN.com

NFLPA executive director DeMaurice Smith talks about his relationship with NFL commissioner Roger Goodell and the league's handling of the Saints bounty scandal.
June, 22, 2012
6/22/12
5:13
PM ET
By
ESPN.com staff
| ESPN.com

John Clayton discusses NFLPA executive director DeMaurice Smith asking Roger Goodell to conduct Saints bounty investigation again, and the strength of NFL's case after denying gag orders and witness retraction cover-ups.
June, 1, 2012
6/01/12
5:29
PM ET
We hadn't heard from filmmaker Sean Pamphilon, the man who released the infamous Gregg Williams audiotape to the media and added another controversial layer to the New Orleans Saints' bounty program, in quite some time.
But that's over. Pamphilon has
spoken up again
. On his personal website Pamphilon wrote a post that's longer than some books I have read. He recounts his decision to go public with the audio and a lot of what he says is similar to what he's said in the past. But there are some new twists.
Most significantly, he details how former New Orleans linebacker
Scott Fujita
, a member of the NFL Players Association's executive committee and now a member of the
Cleveland Browns
, urged him to go public.
Pamphilon was given access to the Saints as he worked on a documentary on former New Orleans special-teams star
Steve Gleason
, who has been diagnosed with ALS. Gleason and his wife initially were opposed to the tape being released.
"They were emphatic Steve wasn't willing to "burn that bridge," Pamphilon wrote.
Pamphilon said Fujita began acting as an intermediary to help convince the Gleasons to give their blessing on releasing the tapes. That never happened, and Pamphilon said his agreement with Gleason did not give the former player the right to veto the release of the tape. But Pamphilon said Fujita continued to encourage him to go public, at one point saying "sooner the better."
Pamphilon also said Fujita led him to believe that New Orleans quarterback
Drew Brees
also was in favor of releasing the tape. But Pamphilon got a phone message from Brees just as the tape was being released.
"In the voicemail, Brees never says NOT to release it,'' Pamphilon wrote.
Pamphilon also said the NFLPA, including executive director DeMaurice Smith, was aware of the tape's existence before it was released.
"At 3:12 in the afternoon Fujita texts me right after a conversation with DeMaurice Smith and says Smith 'brought up the release of the audio and his only question was if it will be released raw or edited?'" Pamphilon wrote.
Pampilon also wrote in great detail about the aftermath from the release of the tapes. Some of it was centered on people questioning his motives and his fractured relationship with Gleason. He also expresses disappointment in Brees. But the strongest part was reserved for Fujita, who no longer talks to Pamphilon.
Fujita recently met with the Cleveland media and denied any knowledge of a bounty program. When asked about the tape, Fujita said it was merely evidence of a coach saying some inappropriate things.
"In no way is this intended to be a cheap shot, but there is no chance in hell I would allow (Fujita) to teach either of my sons, an ethics class,'' Pamphilon wrote.
April, 16, 2012
4/16/12
1:18
PM ET
As expected, the
New Orleans Saints
opened their offseason program without quarterback
Drew Brees
.
I'm sure the fact he is carrying the franchise tag, hasn't signed his tender and wants a long-term contract is part of the reason Brees didn't show at the team's Metairie facility. We've known that was coming since Friday, when it was reported that Brees wasn't planning to attend.
But there's a bit of a twist to this story. Even if Brees had signed a new contract weeks or months ago, he still might not have joined his teammates Monday. Brees
reportedly is in New York
at the NFL's offices. Brees, former New Orleans linebacker
Scott Fujita
and NFL Players Association executive director DeMaurice Smith reportedly are meeting with league officials. NFLPA president Dominique Foxworth and union legal representatives also reportedly are in attendance.
Brees and Fujita are members of the NFLPA's executive committee. Presumably, the meeting is related to the league's investigation of player involvement in a bounty program. The NFL already has issued a $500,000 fine, stripped the Saints of two draft picks and suspended coach Sean Payton (for a full season), general manager Mickey Loomis (for the first eight games of the season) and assistant head coach Joe Vitt (for the first six games of the 2012 season).
The league has said 22 to 27 players were involved in the bounty program and has said fines and suspensions are possible. But no official announcement on player discipline has been made.
March, 30, 2012
3/30/12
4:29
PM ET
For those of you waiting for news on possible suspensions of players for roles in the New Orleans Saints' bounty program, I'd say don't get your hopes up that we'll hear official word anytime soon.
It sounds like we're getting into a little war of words between the NFL Players Association and the NFL office and that could delay things. Kind of reminds me of last year's labor negotiations.
Check out this
news story
I spent much of this afternoon working on. In it, you'll see quotes from NFLPA executive director DeMaurice Smith, saying he wants access to all the information the NFL found in its investigation before discussing possible punishments with NFL commissioner Roger Goodell.
"It's very hard to have a productive discussion about punishment when one side has kept, to itself, all the information," Smith said. "What I would expect is to have a conversation soon and certainly it would be our expectation that the request for all information, as it relates to particular players, will be provided before any discipline takes place."
A league official said confidential reports with extensive details were provided to the NFLPA on two different occasions. The official also said Goodell has invited Smith and other union leaders to come to his office and discuss the evidence. The league also has told the NFLPA that it is free to talk to players as it conducts its own investigation.
Smith said he believes he should have strong say in the punishments.
"Obviously, the first word that popped out to me was the word 'determine,' '' Smith said of a phrase Goodell used about potential suspensions. "I'd much rather that be the word 'discuss.' As of yet, they haven't turned over anything that we would consider to be direct evidence of player involvement in a 'pay-to-injure' scheme that we could consider for discipline."
The league official said Goodell is more than willing to listen to "recommendations'' from Smith, but emphasized that any final decision on player discipline is up to the commissioner.
Stay tuned on this one.
March, 22, 2012
3/22/12
1:00
PM ET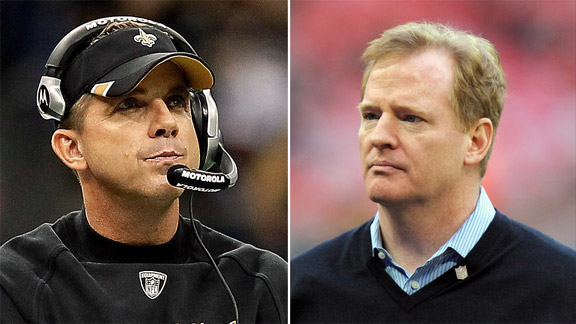 Getty Images/US PresswireRoger Goodell, right, punished the Saints' brass for the bounty scandal. Next, he'll focus on players.
NFL commissioner Roger Goodell announced heavy penalties (suspensions, a heavy fine and the forfeiture of draft picks) against the
New Orleans Saints
on Wednesday. But this story is far from over.
Let's take a look at what else might happen.
What's left to come?
Pat Yasinskas:
Disciplinary action against the players. The NFL has said anywhere from 22 to 27 players were actively involved in a three-year bounty program in which Saints' defenders were offered financial incentives to intentionally injure opponents. The players also were involved in funding the programs. Goodell has said there will be disciplinary action against the players, but he didn't announce it when he revealed the suspensions for coach Sean Payton, former defensive coordinator Gregg Williams, assistant head coach Joe Vitt, general manager Mickey Loomis, a $500,000 fine for the team, and the loss of second-round draft picks in 2012 and 2013.
That's because Goodell has agreed to allow the NFL Players Association some time to complete an independent investigation into the situation. Goodell is expected to meet soon with union leader DeMaurice Smith and will listen to recommendations on penalties. The ultimate decision on that rests with Goodell, and given the severity of the punishment he already has handed out, look for the penalties against players to also be harsh.
Expect multiple suspensions and heavy fines. Goodell is intent on making sure nothing like this ever happens again. He already got the message out to coaches and administrators. But he also has to make it clear to players.
When will those penalties come?
PY:
Unless Goodell and Smith meet very quickly, there probably will be a little lag time on this. The annual NFL spring meeting begins Monday in Palm Beach, Fla., and Goodell will have to travel there sometime over the weekend. Once the meeting gets started, he'll be tied up with other matters.
The likely scenario is that an announcement will come late next week or early the following week.
Which players have the most to lose?
PY:
It's hard to say, because the NFL's report didn't go into a lot of specific details on players. But the one player that was singled out in the report was New Orleans middle linebacker
Jonathan Vilma
. The NFL said he was responsible for placing a $10,000 bounty of former Minnesota quarterback Brett Favre. That's not going to look good when a decision on his punishment is made. It's likely Vilma will face a multiple-game suspension, and he probably will be the player with the most severe punishment.
But it's not likely to end with Vilma. The NFL obviously turned up a lot of details in its investigation, but held back details on specific players. Those details likely will come out when discipline for players is announced. Expect more suspensions and plenty of fines.
Will the NFL stagger the suspensions, or will they all come at the same time in the 2012 season?
PY:
Keep in mind, the punishment on this one isn't likely to be limited to just the Saints. There are former New Orleans defenders scattered about the league, and some are out of the NFL. They're still subject to discipline. But it's likely the Saints will have multiple defenders facing penalties. If a lot of them are facing multiple-game suspensions, the NFL might have to stagger the suspensions. You could argue the penalties already have put the Saints at a competitive disadvantage. But forcing them to play multiple games without, let's just say for example, half their defense, would make the Saints completely non-competitive. If there are a lot of players suspended, the NFL might have to spread things out.
How will the Saints replace the suspended players?
PY:
Again, much will depend on the number of players suspended. But the fact that Loomis will be allowed to work through the offseason, and begin his suspension just before the regular season opens, will give him time to put a plan in place. He's likely to go heavy on defensive players in the draft, although the Saints won't have a pick in the first two rounds (the first-round pick was lost last year when the Saints traded up to get
Mark Ingram
. The second-round choice was forfeited as part of the punishment). So the Saints might have to play some of their middle-round draft picks very early in the season.
The Saints already have added free-agent defensive tackle
Brodrick Bunkley
, and have had multiple free-agent linebackers in for visits. The Saints have been active in free agency throughout the Loomis/Payton era. But there's an additional challenge this year, because the Saints are very tight against the salary cap. Part of the issue is that quarterback
Drew Brees
is currently carrying the franchise tag while he and the team try to work out a long-term contract. A new deal isn't likely to free up much cap room. In fact, unless there's some unusual structure to it, Brees' cap figure will probably be in the $19 million range. But the Saints need to get him signed just to create some stability.
Then, there are other ways Loomis can work with the cap. There are several players who could be released to free up cap room, and several other contracts that easily could be restructured. There's little doubt the Saints will remain players in free agency. They also could catch a bit of an in-season cap break. Once players begin suspensions, they don't count against the cap. They'll again count against the cap once they are reinstated, but their prorated salary for the games they miss won't continue to count against the cap, because they won't be paid for the games they miss due to suspension.
March, 22, 2012
3/22/12
9:40
AM ET
On this Thursday morning, the punishment of the New Orleans Saints for the bounty program continues to dominate the news stories and opinion pieces around the NFC South. As a matter of fact, there are virtually no non-Saints headlines across the division. So let's take a run through what's being talked about.

This editorial in the New Orleans Times-Picayune says that Saints fans
deserve more of an explanation
of why the penalties against the Saints were so harsh. I think there was plenty of explanation in the report the NFL released to the media. It was, by far, the most detailed report I've seen on an NFL disciplinary matter. It named names and went into deep detail. If you really want more of an explanation than that, be careful what you wish for. There could be even more things that loyal fans don't want to hear.
Here's an
unflattering portrayal
of NFL commissioner Roger Goodell, who is the target of wrath for many Saints fans. I understand that, but I think they're way off target and blind in their loyalty. Goodell wasn't the one who broke rules, lied and didn't listen to his boss. Sean Payton, Gregg Williams, Mickey Loomis and Joe Vitt were the ones that did all that. Don't shoot the messenger.
It's kind of amazing how their can be such strongly different reactions to the same thing in different areas. Atlanta columnist Jeff Schultz
thoroughly agrees
with Goodell's decision.
Same thing in Charlotte, where columnist Tom Sorensen wrote that Goodell
didn't undermine football
, "he preserved it''.
In Tampa, columnist Marty Fennelly writes that there's
blood in the NFC South water
and it's time for the Buccaneers to strike. The Bucs have some major building to do, and as long as they have Drew Brees, the Saints aren't going to simply fall apart. But it's a valid point. There have been plenty of instances of teams going from worst to first in the NFC South, and there's little doubt the Bucs have improved their roster with what they've done so far this offseason.
Carolina general manager Marty Hurney said it was
very disappointing
to see franchise quarterback Cam Newton named as one of the players the Saints targeted with their bounty program. Carolina veteran offensive tackle Jordan Gross said the bounty program was "appalling," but added he wasn't surprised to hear about it.
Goodell said he
expects to meet
with NFL Players Association leader DeMaurice Smith and union leaders soon. He said he'll listen to their recommendations for penalties against players involved in the bounty system. But the ultimate decision rests with Goodell. Given the severity of Wednesday's penalties against coaches and the front office, I'd expect the punishment for players will involve suspensions and heavy fines.
June, 30, 2011
6/30/11
8:33
AM ET
Let's take a morning run through the headlines around the NFC South.
Remodeling of the Superdome is nearly complete. The dome
opens this weekend
with a music festival and work should be completed entirely before the Saints play a game.
In this radio interview, Tampa Bay quarterback Josh Freeman says he believes the Bucs can be ready to
jump into action
quickly whenever the lockout ends. He also talks about what the team is accomplishing in a three-day set of workouts that is scheduled to end today.
Not all drafted players attended the NFLPA's rookie event. This year, players had to pay for their own travel and that kept some of them away. One who fell into that category was Atlanta seventh-round draft pick Andrew Jackson, who
stayed home in California
. He's been working out there all offseason.
Only four of Carolina's draft picks
attended the rookie event
. Quarterback Cam Newton, the top overall pick in the draft, was there but declined to speak to the media.
Most Tampa Bay players stayed away from Roger Goodell as he and union chief DeMaurice Smith made a quick stop by their workout. But defensive tackle Gerald McCoy went over and
hugged the NFL commissioner
. McCoy said Goodell was his friend before the lockout and will be his friend after it.
June, 29, 2011
6/29/11
7:46
AM ET
Again, thanks for your patience Tuesday as technical difficulties forced us to wait to post items on all the blogs. Those issues appear to be fixed and we're hoping for a more normal day. Let's start with a look at the headlines from around the NFC South.
News that NFL commissioner Roger Goodell and NFLPA executive director DeMaurice Smith will
meet with draft picks
Wednesday is another encouraging sign on the labor talks. No deal is done yet, but Smith and the NFLPA must feel very optimistic if they're letting Goodell talk to the rookies.
Former Falcons linebacker Jessie Tuggle was
inducted into the Atlanta Sports Hall of Fame
on Saturday.
Maybe
the picture that runs with this story
is a sign of things to come for the Falcons. Atlanta offensive coordinator Mike Mularkey was doing some daring stunts off the field. Maybe he'll be a little more daring with the offense now that he's got receiver Julio Jones to go with Roddy White and Matt Ryan.
New Orleans has two of the top four guards in the league,
according to these rankings
. Jahri Evans is No. 1 and Carl Nicks is No. 4. I don't think that's far off, but there are some scouts that will tell you Nicks moved ahead of Evans last season.
Tampa Bay guard Davin Joseph said what the Bucs do as far as keeping some of their other free agents
could influence
his decision on if he re-signs or goes elsewhere.
Tampa Bay quarterback Josh Freeman said the Carolina Panthers
have enough leaders
in the locker room to provide strong support for rookie quarterback Cam Newton.
May, 19, 2011
5/19/11
5:09
PM ET
Time for an evening look at the NFC South headlines.
Carolina linebacker Jon Beason
scored a victory in court
Thursday. A man had filed a civil suit for damages, saying Beason had hit him in a Charlotte nightclub. Beason countersued and won. He was awarded $1 in damages, which, at the moment puts him on the same pay scale as Roger Goodell and DeMaurice Smith.
Add the Denver Broncos to the list of teams to
decline to be featured
on HBO's "Hard Knocks.'' Not really surprising because Carolina fans know how Denver coach John Fox is about keeping his team out of the public eye. By the way, we already know the Tampa Bay Buccaneers declined "Hard Knocks.'' I don't think any of the other three NFC South teams are in the running. According to officials from each of those teams, they either are not interested in being featured or have not been approached by representatives of the show.
The
speculation
continues about Chad Ochocinco landing with the Atlanta Falcons. Most of the speculation seems to be centered on the fact Atlanta quarterbacks coach Bob Bratkowski used to be with Cincinnati and is close to Ochocinco. But I don't see this one happening. The Falcons just drafted Julio Jones. They've already got a top receiver in Roddy White and have some other talent (Harry Douglas, Michael Jenkins, Eric Weems and Kerry Meier) at the position. Besides, Ochocinco has a strong dose of the diva personality that comes with many receivers. White has a touch of that, but the Falcons do a nice job of keeping him in check. Coach Mike Smith is a no-frills guy and I doubt there'd be any reason he would think it would be a good idea to put Ochocinco and White in the same locker room.
Once again, the agent for Tampa Bay rookie defensive end Da'Quan Bowers said his client
will be ready for training camp
. The agent also disputes reports about Bowers' knee possibly limiting him to a very short career.