May, 31, 2012
5/31/12
2:04
PM ET
While repeatedly saying he's confident Drew Brees' contract situation will be worked out, New Orleans assistant head coach Joe Vitt said Thursday the Saints likely will add a third quarterback before the start of next week's minicamp.

The Saints have gone through the early part of their offseason workouts with
Chase Daniel
working with the first team and only
Sean Canfield
behind him. Vitt said the Saints will work out some quarterbacks in the coming days.
Assuming the Brees situation eventually gets resolved, the Saints aren't looking for a starter. That's a good thing because there aren't any real starters available at this time of year. The list of available guys is basically a list of guys that could provide an extra arm for minicamp and the rest of the offseason program.
The Saints previously worked out Brian Brohm and he could be a candidate.
Tyler Palko
and
Mark Brunell
have spent time with the Saints in the past and could be possibilities. But I don't know that the Saints would want Brunnell because he's 41. If you're looking for a third arm, you might as well bring in a guy that at least has the potential to blossom in your system.
Another former Saint,
Jake Delhomme
, remains available. But Delhomme falls into the same category as Brunell. Same for
Jeff Garcia
.
After that, the list of available quarterbacks isn't any more impressive. It includes guys like
Luke McCown
,
J.P. Losman
,
Kyle Boller
, Kevin O'Connell,
Dennis Dixon
,
A.J. Feeley
,
Brian St. Pierre
,
Jim Sorgi
and J.T. O'Sullivan.
We'll have more from Vitt, once I get a complete transcript of his media session later this afternoon. But I'll give you one hint about something that's coming. Defensive end
Will Smith
has been getting some work at defensive tackle. I'll be back with more on what was said on that topic.
September, 12, 2010
9/12/10
6:33
PM ET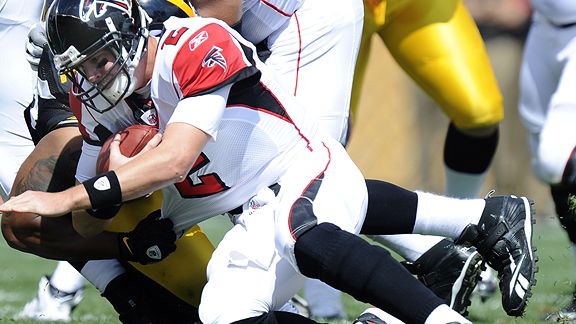 AP Photo/Don WrightMatt Ryan and the Atlanta offense wasted a strong performance by the Falcons defense.
PITTSBURGH – Rise up? How about falling flat?
That's what the
Atlanta Falcons
did Sunday at Heinz Field. The team that made the phrase "Rise Up'' the centerpiece of its offseason marketing campaign, at very least, stumbled badly in the season opener.
When you've got a good young core of players that you think is about to take the next step, there's nothing wrong with promoting the idea of rising up. Seems like everyone else in Atlanta got the message, except the Falcons.
"I thought it was a well-fought game,'' Atlanta coach Mike Smith said.
Well fought? Yeah, we'll give Smith that. But well played? No, not even close.
If you truly aspire to be a playoff team, you don't go on the road and lose 15-9 in overtime to a
Pittsburgh Steelers
team that's playing its third-string quarterback. With
Ben Roethlisberger
suspended and
Byron Leftwich
out,
Matt Ryan
easily should have been the best quarterback on the field.
He wasn't.
Dennis Dixon
was, and that's a huge problem for the Falcons. One loss doesn't make a season, but it sure can set a tone. Three hours after the season started for the Falcons, they already were one game behind the
New Orleans Saints
… and the
Tampa Bay Buccaneers
. You've got to figure the Bucs will run into reality at some point, but the Saints aren't the kind of team you can give an early lead and expect to come back.
Especially when you lose a game you should have won.
"They were the better team today,'' Smith said.
I'm not buying that. With Roethlisberger, sure. With Leftwich, maybe. But, with Dixon and not much else but a good defense, the Falcons had a big opportunity. It wasn't like Dixon tore Atlanta's defense apart. He completed 18 of 26 passes for 236 yards with one interception. He appeared frazzled at times, made some bad throws and only led the Steelers to three field goals in the 60 minutes of regulation time.
So where was Atlanta's new-look defense, which is supposed to be so much better than last season, and what about all the rumors that the Falcons would have an actual pass rush this year?
Well, the Falcons did record three sacks. But two of those came on back-to-back plays near the end of regulation, and the other one came earlier in the second half. When the Falcons had a chance to really rattle a young quarterback early on, they failed.
Let's hit the defense with one more thing before we move to the real culprit. Overall, the defense wasn't that bad until its first play of overtime. That's when
Rashard Mendenhall
broke off a 50-yard touchdown run to win the game.
"To have a big play at the end like that just makes you sick to your stomach,'' Atlanta linebacker
Curtis Lofton
said.
That was the only time either team got into the end zone all day, and that was Atlanta's real crime.
"Our defense played well,'' receiver
Roddy White
said. "We let them down as an offense.''
What White said pretty much sums up the game. When you've got an offense that features Ryan, White,
Tony Gonzalez
and
Michael Turner
, you shouldn't have such trouble scoring points.
"We've got to make more big plays,'' White said.
He's right. The Falcons had only two pass plays go for 20 yards or more, and the longest was 23 yards. The Falcons didn't have a run go for more than seven yards. Aside from White, who caught 13 passes for 111 yards, the Falcons really had no offensive bright spots.
Did the absence of injured receiver
Michael Jenkins
really make that much difference? It shouldn't. Jenkins is a role player, a guy who's supposed to catch some possession passes and make some blocks in the running game.
[+] Enlarge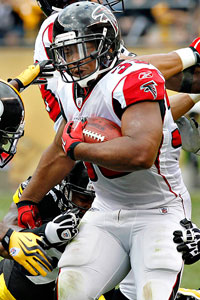 AP Photo/Keith SrakocicAfter a subpar 2009 season, Michael Turner is off to another slow start in 2010.
Where Jenkins is important in the running game is down the field. But the Falcons never came close to getting down the field in the running game. Turner carried 19 times for 42 yards. That's a 2.2-yard average.
That's hugely disappointing, especially after we heard so much in the offseason about how Turner was in such better physical condition than last season. Turner admitted he let himself get out of shape after a huge 2008 season and has claimed he's on a mission to prove he was not a one-season wonder.
I'm not ready to write Turner off just yet, because it didn't look like his offensive line was doing him any favors. Then again, Turner wasn't making anything happen on his own.
Same with Ryan. The conventional wisdom among the Falcons was that Ryan didn't have a bad season in 2009 -- that he was just the victim of injuries to Turner and receiver
Harry Douglas
. I bought it at the time and repeatedly argued that Ryan didn't have what many called a "sophomore slump."
But now I'm starting to wonder about that and about Turner perhaps being a one-season wonder. That makes me wonder about the whole idea of Atlanta rising up.
Sure, the defense looked pretty good, and that's encouraging even against an inexperienced quarterback. But the offense, which seems so talented on paper, really hasn't played to its full potential in a very long time. Was 2008 just a mirage?
"It's one game,'' Ryan said. "Our objective has to be to get back to work and fix some things.''
Ryan's right. It is only one game. But there are a lot of things to fix and the
Arizona Cardinals
come to the Georgia Dome next week and the Falcons go to New Orleans in Week 3. If the Falcons don't fix things quickly and find an offense, they won't be rising up.
September, 10, 2010
9/10/10
4:00
PM ET
»
NFC Final Word
:
East
|
West
|
North
|
South
»
AFC
:
East
|
West
|
North
|
South
Five nuggets of knowledge about Week 1:
[+] Enlarge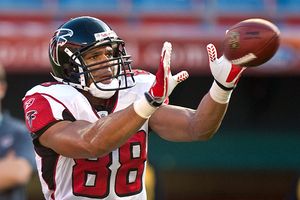 Ronald C. Modra/Sports Imagery/Getty ImagesTight end Tony Gonzalez needs one catch to reach 1,000 for his career.
Get the milestone out of the way.
If I'm
Mike Smith
and Mike Mularkey, I'm throwing to tight end
Tony Gonzalez
on one of the first three offensive plays, probably even the first. Gonzalez needs one catch to reach 1,000 for his career. Gonzalez will get his 1,000th catch sometime on Sunday against Pittsburgh. But the Falcons can do him and themselves a favor by getting it out of the way early. Once that mission is accomplished, Gonzalez can start shooting for career catch 1,100 and the Falcons can focus squarely on the Steelers.
Lucky break.
Remember last year when it seemed like everything that could go wrong for the Falcons did go wrong? They had all sorts of injuries and still managed to go 9-7. The Saints went 13-3 and were very good, but also very lucky along the way. Maybe things are turning in a better direction for the Falcons. It's only one omen, but, come on, drawing
Dennis Dixon
as the starting Pittsburgh quarterback (
Ben Roethlisberger
is suspended and
Byron Leftwich
is hurt) on opening day is a sign that the Falcons might not be abiding by Murphy's Law this year.
Growing pains.
The Bucs have sold out every home regular-season game since they've been playing in Raymond James Stadium. For the record, that facility opened in 1998. For the record,
Josh Freeman
was 10-years-old when the stadium opened. Sunday's opener with Cleveland is not a sellout and won't be seen on local television. All indications are that Freeman has grown immensely since his rookie season. Tampa Bay fans better hope that's the case or else they'll be watching a lot of out-of-town games on television this fall.
Curb your enthusiasm.
A lot of folks in the Carolinas are all fired up because the defense looked very good in the preseason. That's all very encouraging, but let's keep things in perspective. Before we go saying this defense is better off without
Julius Peppers
, let's see how August superstars
Charles Johnson
and
Greg Hardy
fare against
Eli Manning
and a team with an actual game plan.
Anybody up for some flag football?
Through the years, Carolina receiver
Steve Smith
has crossed the line many times. The Panthers always have been willing to forgive and part of the reason for that is Smith usually makes up for his mistakes when given another opportunity. Well, the next opportunity comes Sunday when Smith plays in his first game since the one at the Siskey YMCA in Charlotte, where he broke his arm in a flag-football game in June. I'm guessing Smith will come back very motivated and may look like he's playing flag football against the Giants.