December, 13, 2012
12/13/12
1:00
PM ET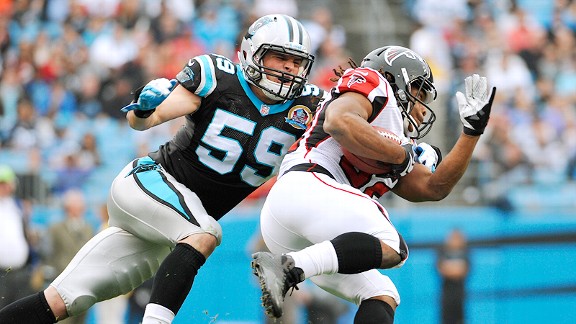 AP Photo/Rainier EhrhardtRookie linebacker Luke Kuechly has a league-best three games with 15 or more tackles.
There's a lot of talk out there about who should be the NFL's Offensive Rookie of the Year.
Andrew Luck
?
Robert Griffin III
?
Russell Wilson
?
Doug Martin
?
You could go on for days with that one. But there's another, less-talked-about question out there.
Who should be the Defensive Rookie of the Year?
I say that one's much clearer than the offensive award. Carolina middle linebacker
Luke Kuechly
is the best defensive rookie in the NFL.
Think about it for a second and see if you can come up with someone better than Kuechly, who has flown under the radar, mainly because Carolina's season has left the Panthers largely ignored.
I look at players such as Seattle's
Bobby Wagner
, Denver's
Derek Wolfe
, Green Bay's
Casey Hayward
, Minnesota's
Harrison Smith
, Tampa Bay's
Lavonte David
and
Mark Barron
, New England's
Chandler Jones
, St. Louis'
Janoris Jenkins
and Cincinnati's
Vontaze Burfict
and nobody blows me away.
Kuechly does.
Amid the rubble that has been Carolina's disappointing season, Kuechly has been a huge bright spot -- and he seems to be getting better as the season goes on. He had a career-high 16 tackles in Sunday's victory against Atlanta.
His 130 tackles (we're using press-box stats, not revised numbers from coaches) lead the league. Kuechly has a shot to be the first rookie since
Patrick Willis
in 2007 to lead the league in tackles and to at least challenge Willis' record for tackles by a rookie (174).
Not bad for a guy who freely admits he's still getting used to his new job.
"The theme of what I've learned from the older guys since I've been here is that it's a job now and you have to treat it like one," Kuechly said in a telephone interview Wednesday afternoon. "You're not in college anymore. You don't leave practice and go back to the dorm and hang with your buds. You put in a full day here and you go home and rest. You have to take care of yourself mentally and physically because, at this level, you have to stay on top of everything."
"

He's always around the ball somehow, some way. When he gets a little bit more wisdom, it's going to be amazing what he's going to do.

"

-- Steve Smith, on Luke Kuechly
The main thing Kuechly has been staying on top of has been whomever has the ball. He leads the league with three games recording at least 15 tackles. No other player has more than one such game. Go back and watch any Carolina game and Kuechly always seems to be around the ball.
"The guy he reminds me of -- that's had this much success so quickly -- would be Dan Morgan," veteran receiver
Steve Smith
said. "Very smart. He's always around the ball somehow, some way. When he gets a little bit more wisdom, it's going to be amazing what he's going to do."
I like Smith's comparison of Kuechly to Morgan a lot. That's mainly because that's the first thing I thought of when I first watched Kuechly go through a workout and interviewed him at IMG Academy as he was preparing for the scouting combine last February.
After the interview, I talked to IMG Academy director of football operations Chris Weinke, who came in the same 2001 Carolina draft class as Morgan and Smith. When I mentioned the comparison, Weinke nodded in agreement and said, "They're both all about football."
Carolina fans might not like the comparison of Kuechly to Morgan, but it's meant as a huge compliment. Morgan is a bit of a tragic figure because persistent injuries prevented his career from truly blossoming and cut it way too short. But when he was on the field, Morgan was as good as any linebacker.
I look at Kuechly and I see what Morgan could have been.
Apparently, so does Smith.
"He just makes plays," Smith said. "He's a young guy that came in, didn't come in entitled, real eager to learn."
Much like Morgan, Kuechly has a low-key personality. He is quiet and exceedingly polite -- until you put him in pads and have people run at him. That's when Kuechly tackles anything that moves.
That shouldn't come as a surprise. Kuechly led the nation in tackles in two of his three seasons at Boston College and finished second in the other season. That's why the Panthers used the ninth overall pick in the draft on him.
The Panthers opened the season with
Jon Beason
in the middle and Kuechly on the weak side. That lasted four games before Beason went down with an injury and Kuechly shifted to the middle, the position he played in college, and took over the role of the leader of the defense.
Carolina's defense has drawn a lot of criticism this season. But there has been a noticeable difference since Kuechly moved to the middle. In the first four games, the Panthers allowed an average of 393.8 yards. In the past nine games, the average has dropped to 328.9 yards, which ranks eighth in the league during that span.
"You see his leadership,'' coach Ron Rivera said. "You see his maturity as far as leading the defense. You see how he rallies his teammates, how he handles his teammates. How his teammates work with him, how he works with them.''
If it continues, you could see a Defensive Rookie of the Year in Carolina.
April, 27, 2012
4/27/12
9:39
AM ET
The second round of the draft is shaping up to be a very quiet one for the NFC South.
At the moment, the
Carolina Panthers
and
Atlanta Falcons
are the only two teams with picks in the round. The Panthers have No. 40 overall, and the Falcons have No. 55.
But that's only at the moment. As we saw in Thursday night's wild first round, trades can shake things up in a hurry. The Buccaneers and Saints could find ways to trade into the second round, and there are no guarantees the Panthers and Falcons stay where they are.
If they do, Carolina has some decent options at No. 40.
Let's take a look at the
Insider list

of Mel Kiper Jr.'s 10 best-available players. North Alabama cornerback
Janoris Jenkins
might be the most exciting name on there, and the Panthers could use some depth at cornerback. But this will only happen if the Panthers are comfortable with what they've seen from their homework on the issues Jenkins has off the field. There's a perception the Panthers suddenly stopped caring about off-field matters in last year's draft. That's not the case at all. They were willing to draft
Brandon Hogan
in the fourth round, but that only happened after they did extensive homework and decided his off-field problems didn't bring a big risk.
A lot of people thought the Panthers would go with a defensive tackle in the first round. They instead chose Boston College linebacker
Luke Kuechly
. But I think there's a chance the Panthers take another big body up front to allow Kuechly and the other linebackers to run free, and help cut down on the rash of linebacker injuries the Panthers have had recently. Michigan State's
Jerel Worthy
and Cincinnati's
Derek Wolfe
are on Kiper's list. So is Penn State defensive tackle
Devon Still
, who many saw as a potential first-round pick.
I'm also looking at Kiper's list and wondering if a couple of guys could still be around for Atlanta's pick. Mississippi
Bobby Massie
and Stanford's
Jonathan Martin
didn't go in the first round. That means they're not blue-chip prospects at left tackle. But they're only a notch below that, and the Falcons need to get a left tackle to at least compete with
Sam Baker
in the short term, and possibly to replace him in the long term. Defensive line also seems to be a possibility for the Falcons.
The NFC South is a little short on third-round picks right now. The Bucs have the fifth pick in the third round. The Falcons have the 21
st
pick in the round, and the Saints finally join the draft with the 26
th
pick.