NFC South:

Dermontti Dawson
August, 4, 2012
8/04/12
8:04
PM ET
CANTON, Ohio --
New Orleans Saints
players gave Cortez Kennedy a standing ovation early in the Pro Football Hall of Fame enshrinement program Saturday.
They won't be sticking around for Kennedy's speech, however.
The Saints, scheduled to open their exhibition season against the
Arizona Cardinals
in the same Fawcett Stadium on Sunday, left their seats and disappeared behind the end zone grandstands once former New Orleans tackle Willie Roaf finished his acceptance speech.
Roaf led off the Hall program. Jack Butler's time is now, followed by Chris Doleman and then Kennedy. Dermontti Dawson and Curtis Martin round out the proceedings.
Kennedy played for the
Seattle Seahawks
, but he works as an adviser to the Saints. He collected a Super Bowl ring with the Saints following the 2009 season.
August, 4, 2012
8/04/12
7:09
PM ET
CANTON, Ohio -- Welcome to Fawcett Stadium for the 2012 Pro Football Hall of Fame enshrinement ceremony.
I'll be blogging throughout the proceedings, as you might have noticed when this post went live
a bit earlier
. First, a look at the order for enshrinement and speeches for the program, which begins at 7 p.m. ET:
Willie Roaf: This one promises to be emotional, as anyone who witness the way Roaf's father, Clifton, hugged him during the Gold Jacket Dinner presentation Friday night. Clifton Roaf is presenting his son. The Hall encourages presenters to limit their comments to eight minutes in duration. That could be tough for the elder Roaf.
Jack Butler: Butler had to wait a record 50 years for enshrinement. He won't have to wait long Saturday night. The Hall has him going second.
Chris Doleman: The former Minnesota, Atlanta and San Francisco defensive end offered some thoughts Friday on the state of the game. I hope to share those a bit later.
Cortez Kennedy: The second career Seahawk to earn enshrinement will have some time to gather his thoughts. He's fourth in the order.
Dermontti Dawson: One of the greatest interior offensive linemen follows one of the greatest interior defensive linemen.
Curtis Martin: Bill Parcells is presenting Martin. Parcells could be back as an enshrinee before long. Parcells does have some star power. Having him go last wasn't a bad idea.
Should be a memorable night.
February, 2, 2012
2/02/12
8:47
AM ET
By the end of the day Saturday, Rickey Jackson could have some company.
[+] Enlarge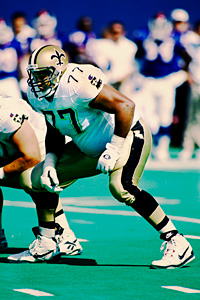 US PRESSWIREWillie Roaf was named All-Pro seven times and was an 11-time Pro Bowl pick in 13 seasons.
At the moment, Jackson is the only player to have spent most of his career with the New Orleans Saints that is in the Pro Football Hall of Fame. That could change very soon because offensive tackle Willie Roaf will be a finalist when the voters gather Saturday.
Roaf also was a finalist last year and reportedly came very close to selection. But Roaf's chances in this class might be even better than they were last year. There is no slam-dunk first-time candidate and that could open the door for Roaf.
His resume already does a pretty good job of that. Roaf played for the Saints from 1993 through 2001 and finished his career with the Kansas City Chiefs, from 2002 through '05. During those 13 seasons, Roaf was an All-Pro seven times and a Pro Bowl choice 11 times. He also was a member of the All-Decade Team for the 1990s.
The biggest obstacle I see for Roaf's selection this year is that Dermontti Dawson and Will Shields also are on the ballot. That makes three strong offensive-line candidates from the modern era, but I'd take Roaf ahead of the other two.
It's hard to quantify offensive linemen because you can't trace their statistics as easily as you can those of skill-position players. You look at things like longevity, All-Pro and Pro Bowl selections and how their teams fared.
If you go by that, I think it backs up my belief that Roaf is the best candidate. First off, he was a tackle. That's a more difficult position than center, which Dawson played, and guard, which Shields played.
Dawson and Roaf each played 13 seasons and Shields played 14, so the longevity issue is basically a draw.
Roaf's seven All-Pro selections might be the strongest argument for his candidacy. Making All-Pro is a much bigger deal than making a Pro Bowl squad because it means you're among the best in the league, not just in your conference. Dawson was All-Pro six times. Shields got the honor three times.
Roaf also made 11 Pro Bowls, while Shields went to 12 and Dawson six.
Some people may look at the fact that Dawson played for the Pittsburgh Steelers and give him a big edge over Roaf and Shields. The Saints and Chiefs were far from dominant teams when Roaf played for them. He was part of a division champion only twice. Shields, who spent his entire career in Kansas City, is in the same boat. Shields played for four division champions. But the Chiefs never won a Super Bowl or an AFC title while he was there.
But the fact Dawson played for Pittsburgh shouldn't give him as much of an edge over Roaf and Shields as some people might think. Although the Steelers have been good for most of their history, they weren't particularly dominant during Dawson's time. They did win five division championships and one conference title. But Dawson never was on a Super Bowl champion.
So the fact Roaf didn't play on great teams shouldn't hurt him. The fact he was one of the best tackles ever should land him in the Hall of Fame.
August, 5, 2009
8/05/09
12:32
PM ET
| | |
| --- | --- |
| | |
| | ESPN.com Illustration |
| | Who's not in the Hall of Fame who should be? ESPN.com's panel makes the case for Dermontti Dawson, Cris Carter, Doug Flutie and Rickey Jackson in future classes. |
Posted by ESPN.com's Pat Yasinskas
The Pro Football Hall of Fame will induct another class Saturday. It will not include Rickey Jackson, Dermontti Dawson, Cris Carter and Doug Flutie.
2009 Hall of Fame Induction Coverage
Saturday in Canton, Ohio, six men will be hailed as the latest members of the Pro Football Hall of Fame. Bruce Smith, Rod Woodson, Ralph Wilson, Randall McDaniel, and posthumous honorees Derrick Thomas and Bob Hayes form the Class of 2009. The ceremonies will air live, beginning at 7 p.m. ET, on ESPN and ESPNHD. Follow ESPN.com's coverage.

• Our future HOF nominees: Story | Podcast


• Chat: Hall of Fame inductee Rod Woodson
• Chat: Hall of Famer Warren Moon
• Wickersham: Wilson valued for impact
• Scouts Inc.: Top 5 CBs in the NFL today


• Walker: Is Rod Woodson the best CB ever?
• Graham: Bruce Smith, Sackmaster
• Blogs: More Hall of Fame coverage

But future classes should.
At least that's the argument our four-man panel (Jeremy Green, Matt Williamson -- each from Scouts Inc. -- Football Today producer Jay Soderberg and myself) makes in this edition of Double Coverage. In this series, we usually debate matters. But we're not going to debate this time. We each make our cases and we're going to make them passionately.
That's because each of us reacted strongly when we were asked to nominate a player who is not in the Hall of Fame but deserves to be. As the NFC South blogger, I instantly threw out Jackson's name because Saints fans have been hitting me with pleas for his case since I've taken this job. I know Green spent a large chunk of his life in Minnesota around Carter and he took all of about three seconds to nominate him.
Williamson was so eager to make his case for Dawson that he sent me his argument the day we were assigned this project two weeks ago. Soderberg owns up to the fact he's a Patriots fan, but claims that's not the only reason he thinks Flutie has been shorted.
Enough with the introduction. Listen to the discussion by clicking here

, and read the presentations below.
RICKEY JACKSON (by Pat Yasinskas)
I started off this project knowing Jackson was a darn good player. I got hit with statistics and passion when I asked Saints' fans for input. But I didn't want to rely just on my own recollections of Jackson's playing career, the numbers or folks who might be biased.
| | |
| --- | --- |
| | |
| Peter Brouillet/NFL | |
| Rickey Jackson piled up some impressive numbers: six Pro Bowl selections and 136 sacks. | |
I wanted to hear from someone up close why Jackson belongs in the Hall of Fame. That's why I turned to the trusted veteran eyes of Carolina Panthers assistant head coach Jim Skipper. He was a New Orleans assistant coach during Jackson's time with the Saints. He saw him in games, in practice and in the locker room.
"The City Champ belongs in the Hall of Fame, no doubt," Skipper said. "He was as good as anyone who's in there. ... He's the guy who made the Dome Patrol (which also featured linebackers Sam Mills,Pat Swilling and Vaughn Johnson) go and some people say they were the best group of linebackers ever. It all started with him. You want to talk about tough? Rickey was so tough, he once got into a car accident and broke his jaw. He still went out and played in that game."
How do you top that?
You don't. You just throw in the numbers -- six Pro Bowl selections and 136 sacks. You can point to the fact that New Orleans is a small market. But Jackson moved onto San Francisco near the end of his career and got a Super Bowl ring. The only thing he's missing is a spot in the Hall of Fame. It's long overdue.
DERMONTTI DAWSON (by Matt Williamson)
I fully understand that the position of center, and the offensive line in general, is not
a glamour position. Arguing for or against such players as potential Hall of Famers is a very difficult chore. But Dawson deserves enshrinement.
A 10-year starter, Dawson followed Mike Webster, one of only six centers in the Hall of Fame, to establish a legacy at the position like none other in the history of the game. During that stretch, Dawson started 171 straight games, went to seven Pro Bowls, was All Pro six times and was selected to the 1990s All-Decade Team. He started 13 playoff games, three AFC Championships and Super Bowl XXX. In comparison, Hall of Fame center Dwight Stephenson played in just 114 games with five Pro Bowls and four All-Pro selections.
Dawson's statistics are surely impressive, but his scouting report is even more extraordinary. In protection, bull rushing him was nearly an impossible chore, as he pass-blocked with tremendous leverage and technique. The ultra-quick upfield defensive tackles rarely beat Dawson. He routinely snapped the ball, pulled with his great athleticism and led an outside run with precision and grace. He also was able to quickly get into a defensive tackle who was lined up over the guard and neutralize that defender's charge while his teammate acted as a pulling guard. You just don't find centers who do that.
Dawson did it all as well as anyone who has ever played the position and he did it with consistency, longevity and class. It is a crime that he has yet to be inducted into the hallowed Hall of Fame.
CRIS CARTER (by Jeremy Green)
One of the biggest oversights in Hall of Fame voting history is former Minnesota Vikings wide receiver and current ESPN analyst Cris Carter.
| | |
| --- | --- |
| | |
| | US Presswire |
| | Cris Carter is third on the all-time receptions list with 1,101 catches. |
If there is ever a player who should be a first-ballot Hall of Famer, it's Carter [who became eligible in 2008). He is arguably the second-best wide receiver to ever play the game behind only one man: Jerry Rice, who has yet to become eligible for the Hall of Fame ballot.
Despite not having blazing speed, Carter adapted into a big-time playmaker in Minnesota. He could play the X and Y positions. He was unbelievable in the slot in the Vikings' 3-deep wide receiver concept during the Dennis Green era [Editor's note: Dennis Green is Jeremy Green's father]. Carter is the second- best route-runner I've ever seen, ranking behind only Rice. I had the pleasure to watch both in numerous practice sessions and live games from both field and coaching box levels.
The numbers do not lie when it comes to Carter. He is third on the all-time receptions list with 1,101, trailing only Rice (1,549) and Marvin Harrison (1,102). Despite playing the majority of his career opposite another receiver who will be in the Hall of Fame in Randy Moss (13,201 career receiving yards), Carter currently ranks seventh on that all-time list with 13,899 yards. Carter is fourth on the all-time touchdown reception list, trailing only Rice (208), Terrell Owens (141) and Moss (136), with 131 receiving touchdowns.
The statistics were there for Carter to be a first-ballot HOF candidate. What I think is almost as important: Carter is a man who changed his life. After battling both alcohol and drug use in his early years with the Philadelphia Eagles and being released, the Vikings were one of the few teams willing to take a chance on him. They picked him up for a $100 waiver claim and Carter rewarded them by changing his life and blossoming. In my mind, he's second-best receiver to play the game.
DOUG FLUTIE (by Jay Soderberg)
We probably should start by saying that my bias for New England Patriots players is well documented, but that is not what has led me to the belief that Doug Flutie belongs in the Pro Football Hall of Fame. What has led me to this conclusion is the name of the shrine in Canton itself: PRO FOOTBALL Hall of Fame, and Doug Flutie was one of the greatest quarterbacks ever in the Canadian Football League.
Flutie, who retired from the NFL in 2006, does not become eligible for Hall Of Fame consideration until 2011. But he's got plenty of ammunition, in my opinion.
His career stats in Canada alone are worth noting: 61.4 completion percentage, 41,355 total passing yards, 270 passing touchdowns and only 155 picks in a pass-oriented league. He was the first quarterback to pass for more than 6,000 yards in a season; he did it twice and came close a third time. He won three Grey Cup championships, and was named the CFL's Most Outstanding Player a record six times.
Flutie was never given a real chance to be a starter in the NFL, whether battling the issue of his height (he's listed as standing 5 feet, 10 inches), battling for a job as a backup (with Rob Johnson in Buffalo, Drew Brees in San Diego), or being labeled a "scab" for crossing the picket lines early in his NFL career with the Patriots. Combine the stats from all three professional leagues he played in (he played one year in the USFL for Donald Trump's New Jersey Generals) and his numbers -- 58,179 total passing yards, 369 passing touchdowns, 6,759 rushing yards and another 82 rushing touchdowns -- are definitely worthy of consideration. Don't forget his numerous, memorable fourth-quarter comebacks.
Just for kicks, let's add that he was the last player to drop-kick an extra point during an NFL game.

Listen to the podcast

for more on our nominees and join the discussion below.

NFC SOUTH SCOREBOARD
Thursday, 9/18
Sunday, 9/21