March, 7, 2014
Mar 7
11:00
AM ET
»
AFC Free-Agency Primer
:
East
|
West
|
North
|
South
»
NFC
:
East
|
West
|
North
|
South
Key free agents:
LB
Adam Hayward
, FB
Erik Lorig
, LB
Jonathan Casillas
and WR
Tiquan Underwood
.

Where they stand
: The Buccaneers don't have any huge names among their own free agents, but they'd like to keep some of them as role players. Hayward is a key special-teams player and Lorig is important as the lead blocker for
Doug Martin
in the running game. If Casillas returns, he's a candidate to start at strongside linebacker. The major need on defense is for a pass-rusher. On offense, the team may look to overhaul its offensive line. Tight end and depth at wide receiver also are big needs.
What to expect:
The Bucs were 4-12 last season and they have a new coaching staff and general manager. That means there will be significant changes. The Bucs have $18 million in cap room, so they're going to be active in free agency, even though they've stated their goal is to build through the draft. Look for connections to the new regime to play into free-agent signings. Return man
Devin Hester
and cornerback
Charles Tillman
played for coach Lovie Smith in Chicago and defensive coordinator Leslie Frazier worked with defensive end
Jared Allen
in Minnesota. All of those players could be prime targets. A veteran quarterback also could be added to the mix, with
Josh McCown
and
Michael Vick
as possibilities.
February, 7, 2014
Feb 7
1:11
PM ET
TAMPA, Fla. -- I listed the
Tampa Bay Buccaneers
' five biggest offseason needs this week, but there is one more position I'd like to touch on.
Hester
That is return man, because it could be an area where the Bucs make a significant move. It might not seem like an area of desperate need since
Eric Page
did an adequate job last season and
Jeff Demps
has great potential.
But, after hearing Lovie Smith talk several times about how much emphasis he puts on special teams, I don't think adequate is good enough. And I don't think Smith is going to be patient enough to wait on potential.
Smith has made it clear that he thinks special teams are extremely important, and there might not be a more important position on special teams than return man. This is where you start connecting the dots.
There are strong indications out of Chicago that
Devin Hester
might not be back with the Bears. Hester just might be the best return man in history. And, oh yeah, Smith used to coach him in Chicago.
This move is logical on many fronts, including the fact that Hester, 31, probably wouldn't command a large salary, which is important when you're talking about a guy whose only role might be returns.
Even if Hester doesn't end up in Tampa Bay, I would expect the Bucs to look to upgrade their return game in free agency or the draft.
October, 5, 2013
10/05/13
11:40
AM ET
The
New Orleans Saints
(4-0) will face arguably their toughest test to date on the road Sunday at the
Chicago Bears
(3-1). Here's What 2 Watch 4:
Who's most improved?
The Bears offensive line and Saints defensive front are two of the leading candidates for the unofficial title of most improved unit in the NFL. The Bears revamped their pass protection by invading the Saints – hiring former Saints offensive line coach Aaron Kromer as their new offensive coordinator and signing left tackle
Jermon Bushrod
in free agency. So far, so good. The Bears have allowed only six sacks, tied for third best in the NFL.
[+] Enlarge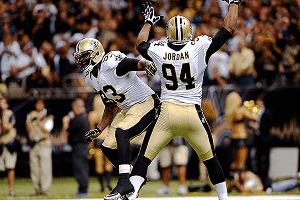 AP Photo/Bill FeigJunior Galette and Cameron Jordan have shined under the tutelage of Saints defensive coordinator Rob Ryan.
The Saints' defensive line, meanwhile, has thrived with up-and-coming young players under the direction of new defensive coordinator Rob Ryan. End
Cameron Jordan
and outside linebacker
Junior Galette
have three sacks each, and the team has a total of 12.
"Their whole line is actually quite surprisingly holding up well," Galette said. "I guess Kromer's doing a great job over there with the turnaround that they've had. They look real solid, and it's one of those games where we're just going to have to keep getting after it and stay consistent and work together as a team, back end and the front seven.
"[Bears quarterback
Jay Cutler
] is getting hit, but he's getting rid of the ball. He's not holding on to the ball as he used to. He still tries to make those plays and he has a rocket for an arm, but he's not holding the ball as much as he used to. I think Kromer's doing a great job over there. That whole line just looks completely different than they did in past years."
Road ready?
The Saints passing offenses is about as locked in right now as it's ever been, with quarterback
Drew Brees
and top targets
Jimmy Graham
,
Darren Sproles
and
Marques Colston
all in peak form. They looked unstoppable in Monday night's 38-17 victory over the
Miami Dolphins
inside the Mercedes-Benz Superdome. But now we'll see if they can take that same show on the road against the Chicago Bears.
There's a chance of rain in Chicago on Sunday. The track will be a bit slower on the grass inside Soldier Field. The crowd noise will be playing against them. And the Bears defense, while vulnerable at times this year, is the best in the NFL at taking the ball away. So the Saints will have some elements to deal with. They do have
the best road record
in the NFL since 2009 (22-11), but they barely squeaked out their one road game so far this year, 16-14 at Tampa Bay in Week 2.
3D weapon:
Sproles took center stage as a dual threat on Monday night, with more than 100 receiving yards and two total touchdowns. But the Bears have a dual threat of their own in running back
Matt Forte
, who barely leaves the field. Forte is tied with Sproles and the Kansas City Chiefs'
Jamaal Charles
for the most catches by a running back in the NFL this year (23). He has 320 rushing yards and three touchdowns, plus 160 receiving yards. He'll test a Saints defense that has been just decent against the run this year.
Although Forte has been doing the same things for years, Saints safety
Malcolm Jenkins
said, "Man, he looks as good as he's been in his career."
Added Saints coach Sean Payton: "He has good balance, good vision. He's a versatile player in that he does a lot of things very well, catches the ball well, good protector when they're throwing it. He's smart, so he's not a one-dimensional player. He's a 3D player. He can block, run and catch."
Still special:
Bears return man
Devin Hester
is 30 years old now, but he remains one of the game's biggest threats. He's averaging 32.4 yards per kickoff return this year, with a long return of 80 yards. He has only four punt returns for 18 yards this year. But the Saints haven't forgotten the way he burned them with a long punt return TD and a long receiving TD in Soldier Field in 2007. Hester has a total of 17 return TDs in his standout career.
"He's arguably the most decorated returner in our leagues history and that's just a fact, both kickoff and punt returns," Payton said. "That's a big deal in this game. That's field position and that is something that he's been exceptionally well at. We've been on the long end of a punt return there. He's outstanding."
November, 18, 2011
11/18/11
3:08
PM ET
Lots of great questions in Friday's NFC South chat. Let's take a look at some of the highlights.
Sam (Decatur, Ga.):
Can the Falcons have a resurgence like the Packers had last year just heading into the playoffs?
Pat Yasinskas:
It's possible. There's a lot of talent on that roster. Things haven't clicked so far. But there's enough talent that they could click at any time.
Ricky G (who dat nation!!):
Pat,I know we need a better group of line backers but ,In your honest opinion, Do you think Gregg Williams defensive play calling is up to par with his reputation as a defensive coordinator? He just seems to be alot of talk and not enough results. Even with the 2009 season,Our defense wasnt great.They just got the ball to bounce their way with take aways.
Pat Yasinskas:
Yeah, but the thing you've got to remember is a Gregg Williams defense is never going to be a shut-you-down defense. It's about getting turnovers or big plays at the right moment. In 2009, that was the classic Greg Williams defense -- lots of turnovers.
Mike (Greensboro):
Pat, loved the column on "best rookie". I think you are right, because as they say, you only have 1 chance to make a fist impression and Cam did so with those first two games! Its hard for anyone to erase those from memory, even if he is cooling off a little. Great article!
Pat Yasinskas:
Thanks. Although he has cooled off lately, 400 yard games are always going to be a possibility for him.
CC (Atlanta):
Aaron (Bay Area) is right. Freeman should get alot more heat. You just make excuses for him. Funny... you have no problem blasting
Matt Ryan
despite a porous OL. And Ryan has been alot better than Josh this season.
Pat Yasinskas:
Yeah, Ryan has been better than Freeman this year. And I don't think I've blasted Ryan very much. My point on Freeman is this -- have you seen what's around him? A very bad team in a lot of ways.
Kirk (Myrtle Beach):
Offensive Coordinator Chudzinski has been great this year for the Panthers, do you think he leaves for a head coaching job next year? And if so, who should the Panthers bring in.
Pat Yasinskas:
Chud's name is surfacing a bit. But I think he might need one more year as a coordinator before he really gets strong consideration.
AJ (Destrehan, LA):
Pat,As crazy as it seems
Drew Brees
is having another MVP type season where he is threatening his own completion % record he set in 2009, total yards record by Marino, consecutive TD streak in games, his own consecutive game strteak with 20+ completions and yet he still won't win the MVP beacuse of Roger's season. Crazy huh? Also, Do you think Brees is a lock for Canton? He has been tghe most prolific passer in NFL the last 6 seasons and in addition a top 3 qb in total wins as well. What are your thoughts Pat?
Pat Yasinskas:
Yeah, I think Rodgers seems to be a lock for MVP. Drew's pretty much set for Canton. Just needs a few more years to really cement his numbers. Another Super Bowl win wouldn't hurt either.
Gabrielle (New Orleans):
What would be the bigger Probowl snub ... no
Darren Sproles
or no
Jimmy Graham
?
Pat Yasinskas:
Both deserve to be there. But I can see a scenario where Sproles doesn't get in. There's a guy named
Devin Hester
who might get more votes as return man. Still, I think Sproles would be one of those guys the coaching staff would add as a "need player" after the voting.
Joel (NC):
I tip my hat to Sean Payton in regards to drafting Jimmy Graham and signing Darren Sproles. Saints D hasn't regained 2009 form, but Payton has made the Saints into a perienally offensive juggernaut by moves like this combined with Drew Brees. Even w/o dominant D, tough to stop the Saints year after year
Pat Yasinskas:
Tip your hat to Mickey Loomis too. He's a quiet guy and doesn't seek attention. But he's done a very nice job.
Charles (High Point):
Just curious, do you think John Fox is atleast a little jealous of the Panthers offense and wishing he would have had this offense when he was here. LOL Thanks for doing a great job.
Pat Yasinskas:
Fox wouldn't have let them run this offense. Cam would be sitting on the bench with Clausen and
Brian St. Pierre
would be giving the ball to
Nick Goings
on draw plays!!!
Here's the
complete transcript
of Friday's NFC South chat.
October, 20, 2011
10/20/11
10:03
AM ET
Time for a look at the morning headlines from around the division.
Atlanta tight end
Tony Gonzalez
has a chance to
move as high as No. 2
in career receptions Sunday. Gonzalez is currently No. 4 with 1,099 catches.
Cris Carter
(1,101) is No. 3 and
Marvin Harrison
(1,102) is No. 2.
Jerry Rice
is the all-time leader with 1,549 catches.
The Panthers will have
another new starter
at weak-side linebacker Sunday. Coach Ron Rivera said
Jason Phillips
will get the start in place of
Jason Williams
. Phillips appeared in nine games for Baltimore last season, but this will be his first career start.
Drew Brees
has had a recent string of interceptions, including several that went off the hands of his receivers. But the New Orleans quarterback said he still
trusts his receivers
.
The Buccaneers might want to take a lesson from Carolina's mistakes and
kick away
from Chicago return man
Devin Hester
on Sunday. Punter/kickoff specialist
Michael Koenen
has been booming the ball, but it might be wise to turn to directional kicking against Hester.
October, 4, 2011
10/04/11
1:00
PM ET
»
NFC Stock Watch
:
East
|
West
|
North
|
South
»
AFC
:
East
|
West
|
North
|
South
FALLING
1. Ron Rivera, coach, Panthers.
I like just about everything this guy has done since he arrived in Carolina and he's got the Panthers on a good track. But I think Rivera flashed a little of the stubbornness John Fox was so famous for on Sunday in Chicago. Rivera had his team kick and punt to
Devin Hester
and it cost the Panthers dearly. Rivera used to be an assistant coach in Chicago. As much as anyone, he should be aware that it's not a good idea to feed the ball to the most dangerous return man in NFL history.
2. Brian VanGorder, defensive coordinator, Falcons.
It's still early and things can straighten out, but Atlanta's off to a very rocky start. Sunday's near disaster in Seattle is being viewed by fans as being almost as bad as a loss. This is a team that entered the season with huge hopes and so did the fans. Most important, owner Arthur Blank also felt that way and he's not the world's most patient man. If things don't straighten out, there will be a scapegoat for this season and, so far, VanGorder is looking like the leading candidate. Atlanta's defense has talent, but the results have not been there.
3. Ray Edwards, defensive tackle, Falcons.
Speaking of Atlanta defensive talent that's not producing, you've got to start with this guy. It's not like Edwards has been a complete bust. He plays the run quite well and has shown he can pick up a fumble and make a nice return. But the Falcons paid him a lot of money and a lot of people thought he was the missing link. He was supposed to help generate a stronger pass rush. Through four games, Edwards has not produced a sack.
[+] Enlarge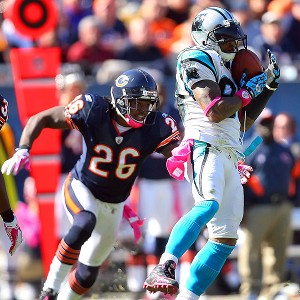 Dennis Wierzbicki/US PresswireSteve Smith recorded 181 yards receiving in Carolina's loss at Chicago.
RISING
1. Steve Smith, wide receiver, Panthers.
You don't have to like everything about him and he does have some of the diva traits that so many great receivers have. But a lot of those guys are still happy if their team loses, as long as they put up big individual numbers. Smith put up big numbers against the Bears (and has been doing that all season), but he was extremely frustrated in the locker room after the game because his team didn't win. You have to respect his competitive desire.
2. New Orleans' offensive line.
Right tackle
Zach Strief
and center
Olin Kreutz
were out with injuries and
Charles Brown
and
Brian De La Puente
had to take their places. Yes, the Saints did allow
Drew Brees
to be sacked three times, but he still had enough time to throw for 351 yards. More important, the running game really worked well with
Darren Sproles
,
Pierre Thomas
and
Mark Ingram
. The Saints finished with 177 net rushing yards. The offensive line has to be doing something right for that to happen.
3. Adrian Clayborn, defensive end, Buccaneers:
Lots of people are talking about Washington's
Ryan Kerrigan
as the potential defensive rookie of the year -- deservedly so. But I think Clayborn at least belongs in the conversation at this point. This guy is showing up every week and getting better. So is second-year defensive tackle
Gerald McCoy
. It might not be too long before Tampa Bay has one of the league's better defensive lines.
October, 2, 2011
10/02/11
4:11
PM ET
Thoughts on Carolina's
34-29
loss to the
Chicago Bears
at Soldier Field:


What it means:
The Panthers lead the league in moral victories, but they're 1-3. They went into a tough venue and kept the game close until the end. That's nice and there's lots of hope for the future. But the Panthers still have a little way to go before they can win games on the road against good teams. High-priced kicker
Olindo Mare
didn't exactly help matters by missing a field-goal attempt and having another blocked.
What I liked:
The Panthers got
DeAngelo Williams
in rhythm in the running game for the first time this season. I know fans have been calling for
Jonathan Stewart
to start ahead of Williams and get the vast majority of the carries. Stewart's a very good running back, but I honestly believe Williams is better. He's more dynamic. Other than
Steve Smith
, he's the most explosive player on this roster.
Cam's calm:
The most encouraging thing about the Panthers is rookie quarterback
Cam Newton
. This guy kept Carolina in the game and he bounced back nicely after throwing an early interception that was returned for a touchdown. His demeanor was impressive and you can't say the same for counterpart
Jay Cutler
. The Chicago quarterback was making faces at teammates and freaking out at every sign of trouble.
What I didn't like:
Ron Rivera knows the Bears pretty well. He should have known better than to ever punt or kick the ball anywhere near
Devin Hester
.
What else I didn't like:
The Panthers couldn't stop the run. Then again, that's not at all surprising. They haven't done that for a few years, and that probably isn't going to change anytime soon with linebackers
Jon Beason
and
Thomas Davis
out for the season.
Mr. Consistency:
Carolina's
Charles Johnson
has a sack in all four games this season. He had a six-game streak last season. This guy has done a nice job of filling the shoes of
Julius Peppers
. Johnson doesn't take over a game the way Peppers sometimes did. But he also doesn't disappear for weeks at a time, the way Peppers often did. Carolina has tried repeatedly to address the defensive tackle position. Nothing's worked. This team has to go out and find a stud defensive tackle in free agency or the draft next year.
What's next:
The Panthers host the Saints next Sunday at Bank of America Stadium.
September, 17, 2011
9/17/11
10:48
AM ET
A look at the top headlines from around the NFC South.
New Orleans defensive coordinator Gregg Williams said the result in the opener against Green Bay could have been different if the Saints had been
able to force just one turnover
.
The Falcons were one of the larger of the creditors when Michael Vick filed for bankruptcy. But the team
reportedly sold its $6.5 million stake
to a company that specializes in collecting debt. Also, Vick, who signed a new contract with the Philadelphia Eagles, reportedly will have all his debt paid off in three years.
Carolina linebacker Jon Beason, who tore his Achilles tendon in the season opener,
had successful surgery
Friday. He's expected to return for the 2012 season.
The Saints plan on making sure running back Darren Sproles has a
significant role
in the offense.
Tampa Bay's Raheem Morris isn't the most patient coach. After an opening loss, he's already
shaking up his lineup
. Jeremy Zuttah will get the start at left guard instead of Ted Larsen.
Paid attendance for Tampa Bay's home games
dropped nearly 25 percent
from 2001 through 2010. The Bucs were the only team not to sell out a single home game last season.
Bradley Handwerger writes that the Saints
need to be aware
of where Chicago's Devin Hester is at all times. He's one of the most dangerous return men in NFL history, but he's also become a regular part of Chicago's offense.
September, 14, 2008
9/14/08
3:14
PM ET
Posted by ESPN.com's Pat Yasinskas

Hester
CHARLOTTE, N.C., -- Just as Carolina scored to cut Chicago's lead to 17-13, there was another very ominous sign for the Bears.
As Jonathan Stewart ran into one end zone, Chicago return man Devin Hester was carted off at the other end of the field. The Bears are saying Hester has an injury to his ribs and won't return.
That leaves Danieal Manning to return kickoffs and Nathan Vasher to handle punt returns.
September, 13, 2008
9/13/08
7:56
AM ET
Posted by ESPN.com's Pat Yasinskas
A quick look at this morning's coverage from the local papers before I catch a flight to Charlotte:
BUCCANEERS
A final decision on the status of linebacker Derrick Brooks won't be made until just before Sunday's game. Brooks hasn't practiced this week because of a hamstring injury. He's started 193 consecutive games, the longest current streak by any NFL defensive player.
FALCONS
Part of the reason for John Abraham's fast start might be his reunion with defensive line coach Ray Hamilton. The two were together when Abraham broke into the league with the Jets in 2000.
SAINTS
The Times-Picayune's Jeff Duncan illustrates how the Saints went from having only one "significant'' injury on Monday to a whole bunch later in the week.
PANTHERS
Carolina is bracing for Chicago return man Devin Hester.