NFC South:

Dexter McCluster
March, 10, 2014
3/10/14
8:00
AM ET
The wide receiver position has become an even greater priority for the
New Orleans Saints
now that they are parting ways with both receiver
Lance Moore
and pass-catching running back
Darren Sproles
.
The draft is probably the Saints' best bet for finding a dynamic young athlete who could develop into a future starter -- and ideally help stretch the field in the short term as part of the rotation. This is a deep class for wide receiver talent, so the Saints could have ample options in Round 1 or the middle rounds of the draft.
But the Saints always prefer to fill their pressing needs in free agency. So I could see them adding a No. 3-type receiver with speed or shiftiness. And an ability to return kicks would be a major plus.
[+] Enlarge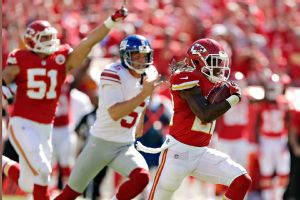 AP Photo/Charlie RiedelVersatile Dexter McCluster could fit with the Saints as a replacement for Darren Sproles.
I picked ESPN Scouting Insider Matt Williamson's brain for a few suggestions that could fit that mold. And I particularly loved his suggestion of
Kansas City Chiefs
receiver/runner/returner
Dexter McCluster
-- a guy who could help fill both voids by himself.
McCluster has taken turns as a running back, receiver, kick returner and punt returner at different times in his first four NFL seasons. Last season he made the Pro Bowl as a punt returner. And he could be a dangerous weapon in the hands of Saints coach Sean Payton.
"I think he would be a good fit," Williamson said. "Most teams, he might turn into nothing. But I think Payton and (Drew) Brees would use him properly."
Williamson also thinks
Carolina Panthers
receiver/return man
Ted Ginn Jr.
could be an interesting fit in New Orleans, especially after Ginn had a bounceback season last year after underachieving for most of his seven-year career.
"He was a bust for a ninth pick in the draft (for the
Miami Dolphins
in 2007). But he played pretty well for Carolina. And he can fly," Williamson said.
If the Saints want to spend a little more money on a receiver/punt returner, they might be interested in the Seattle Seahawks'
Golden Tate
, a yards-after-the-catch threat who could be a lot more dangerous in New Orleans' passing offense.
Maybe they would consider slot receiver/punt returner
Julian Edelman
from the
New England Patriots
or the Pittsburgh Steelers' big-play threat
Emmanuel Sanders
, who has some kick-returning experience. And New Orleans native
Jacoby Jones
is a speedster who has been better so far as a kick returner than a receiver with the
Baltimore Ravens
-- but he could certainly provide that deep threat as a No. 3 or No. 4 receiver.
The Minnesota Vikings'
Jerome Simpson
is another deep threat who could fill that No. 3 role. And Williamson mentioned a deep wild-card possibility in another former first-round underachiever -- the
Indianapolis Colts
'
Darrius Heyward-Bey
.
"Everybody hates the guy, and he isn't a great player. But Darrius Heyward-Bey can still run," Williamson said. "He wasn't that big of a bust. And you could get him streaking down the sideline. And you can get him for nothing."
There aren't many big-name receivers available in free agency this year. The
Denver Broncos
'
Eric Decker
could command the biggest deal, and he might be too costly for the Saints. The
New York Giants
'
Hakeem Nicks
could also be costly, though he's been plagued by injury issues.
Other receivers in the next tier or two include the
Green Bay Packers
'
James Jones
, the
Arizona Cardinals
'
Andre Roberts
, the Seahawks'
Sidney Rice
and the Panthers'
Brandon LaFell
-- plus Lance Moore, of course.
March, 17, 2010
3/17/10
12:45
PM ET
Time for another edition of the NFC South mailbag.
Ian in Metairie, LA writes:
With
Anthony Hargrove
visiting the Lions, if he were to sign there with the Saints tendering him as a 3rd round draft pick would that draft pick be this year's draft or a draft pick to be determined at a later year?
Pat Yasinskas:
This year -- it would be a third-round pick in the 2010 draft.
---
Jesse in Trezevant, TN writes:
Who was the better Super Bowl team both statistically and in your judgment: the 02 Bucs or the 09 Saints? If they could play today, who do you think would win?
Pat Yasinskas:
Hmm, you must have mind-reading abilities. There is something planned for the future on this. Can't reveal all the details now, but that question will be answered on the blog in June.
---
Luke in Tampa writes:
The Bucs have laid out their plans for the next 12-14 months pretty clearly. Loaded draft this year, keep all picks and draft as much as possible. Loaded free agency next year when they will be much more active trading picks for proven talent. Am I the only one who thinks this is a good plan that makes perfect sense? Still, all I hear is complaining from the fans.
Pat Yasinskas:
You're not alone. I can see what the Bucs are doing and I think it makes sense, especially given the climate with the economy and the uncertainty over the labor situation. They've got a long-term plan in place, which is more than they ever had in the Jon Gruden days. Still, it's human nature for fans to want drastic measures to make their team good immediately. I understand that. But the plan is in place and all the yelling and screaming by fans isn't going to make the Bucs suddenly change their plan.
---
Chris in Charlotte, NC writes:
We have watched the Panthers release several players in the off-season. Granted, some cuts were deserved, some unavoidable, and at least one -
Brad Hoover
- is just befuddling. Now, on top of the cuts, the Panthers have announced they are raising ticket prices. Fans have speculated that Jerry Richardson is just trying to insulate himself financially from a lockout. What are your thoughts?
Pat Yasinskas:
A little disclosure here, Chris and I went to elementary school together in Pennsylvania many years ago. Maybe that's part of the reason why we think alike. I think insulating himself from a lockout in 2011 is exactly what Jerry Richardson is doing. I also think he's sending messages to his players and the league-wide union that the gravy train is coming to an end. Although he's had some major health issues, I think Richardson remains very involved in the negotiations with the union and carries a lot more clout in this area than most people realize.
---
Patterson in Atlanta writes:
Do you think that the Falcons would consider going after
Dexter McCluster
or
Montario Hardesty
in the draft due to the history of
Michael Turner
's high ankle sprains?
Pat Yasinskas:
As I've said before, I think the Falcons will go defense -- end or outside linebacker -- with their first-round pick. But I won't totally rule out the possibility of them taking a running back there or with one of their other picks. Turner's health definitely is a concern after last year.
Jason Snelling
did some good things, but
Jerious Norwood
never has fulfilled his potential. I'd like to see the Falcons add a quality running back at some point, but I'm thinking that probably comes after the first round.
---
Carlos in Panama City writes:
Does the
Sean Jones
signing for the Bucs mean that, if hypothetically both
Ndamukong Suh
and
Gerald McCoy
were gone from the board, they wouldn't draft
Eric Berry
?
Pat Yasinskas:
In that situation, I still wouldn't rule out Berry completely. He's a top-flight prospect. I like the Jones signing and think it's definitely an upgrade over
Sabby Piscitelli
. But Jones never has been an elite safety. Berry has that potential. If the Bucs draft Berry and Jones ends up being a backup and special-teams player, they'd have good depth at safety. Still, the Jones signing gives the Bucs some flexibility. If they can't get one of the defensive tackles, they don't have to go with Berry if there is someone they like better at another position.
March, 14, 2010
3/14/10
4:02
PM ET
Dwight in Atlanta writes: Do you know where I could find out which pro days the Falcons have/will attend?

Pat Yasinskas: I can guarantee you the Falcons will have someone at virtually every pro day workout. That's common practice with all NFL teams. Now, it may be just one scout at some workouts. But they'll have scouts, assistant coaches, coach Mike Smith and general manager Thomas Dimitroff at other workouts. Smith and Dimitroff don't publicize their schedule for these things. But keep an eye on the newspapers in the college towns. After the workout, they generally mention who attended.

Bobby in Burlington, NC writes: Please tell me Steve Smith isn't being traded anywhere. The way they have been cleaning house it makes me nervous.

Pat Yasinskas: Understandable, but I think you're safe on this one. With the possible exception of Jon Beason, Smith is the best player the Panthers have. Even though he's 30, he hasn't shown any signs of slowing down. He also is close to owner Jerry Richardson and coach John Fox. I don't see the Panthers parting ways with Smith.

Doc in Charlotte writes: How Cleveland signing Jake Delhomme effect the $12.6 million that Carolina owes him?

Pat Yasinskas: It doesn't impact it at all. That was guaranteed money and Delhomme will get every bit of it. Plus, he'll make a nice chunk of change in Cleveland.

Bryan in Tampa writes: Quick question, as an Ole Miss fan and a Saints fan, what do you think the odds are of the Saints using their first round pick on Dexter McCluster if no big name LBs or SSs are still around? The last big name to come to New Orleans from Oxford turned out to be one of the most beloved players in the history of the Saints. Think of the defensive mismatches you could make with a backfield containing Reggie Bush and Dexter McCluster. Do you think it could happen?

Pat Yasinskas: I'd say it's a long shot because I think the Saints have bigger needs on defense, mainly at outside linebacker and on the defensive line. But you never rule anything out with Sean Payton. McCluster is a unique talent -- part running back and part wide receiver -- and that may intrigue Payton. And you're right, the Saints certainly had great success with Deuce McAllister when they took him from Ole Miss.

Jim in Winston Salem, NC writes: The Panthers have traded away future #1 picks the last two years on draft day in order to move up in the draft. As a result, they are without one this year. If they were to do the same next month, what would they have to give up to get back into the first round?

Pat Yasinskas: That would be a real challenge. The Panthers probably would have to give up their second-round pick, plus one or two more picks. The other option would be to include a player with a pick or two, but that's much easier said than done. Given the way they've approached this offseason, cutting players and not being very active in free agency, I think they'll be content not to have a first-round pick. It will save them from having to pay a first-round salary.