NFC South:

Dolphins-Panthers 111909
November, 19, 2009
11/19/09
11:51
PM ET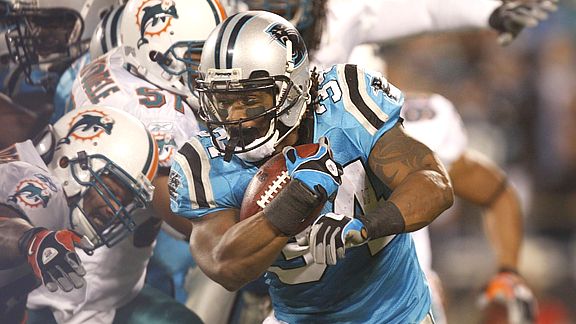 Streeter Lecka/Getty ImagesThe Panthers got a good performance from DeAngelo Williams and the running game.
You can't blame
Jake Delhomme
for this one. Yes, he did throw one interception to end his streak of three games without an interception, but that one didn't crush the Panthers. Overall, Delhomme was fairly efficient and Carolina also had a good night from the running game in
Thursday's 24-17 loss
.
Also, who thought it would be a good idea to have Delhomme throwing the ball 42 times? Hasn't it been well established that Delhomme is a game manager and not the kind of guy you want slinging it 42 times? When you're a team that's supposedly built on the running game, you should stick with the running game.
You can put the blame for this loss on a couple of other things. Let's start with the offensive line. With left tackle
Jordan Gross
out for the season with a broken ankle, the offensive line struggled to protect Delhomme. He was sacked four times and several of those killed drives.
You can also blame the defense and I say that was the biggest culprit of all. A John Fox defense is supposed to be dominant and the Panthers weren't even close. Veteran running back
Ricky Williams
looked like a young Ricky Williams as he ran for 119 yards and two touchdowns. The Dolphins got a very efficient performance from quarterback
Chad Henne
.
Speaking of Henne and the Carolina defense, the Panthers didn't have a single sack.
Julius Peppers
, playing with a broken bone in his hand, was pretty much a non-factor.
November, 19, 2009
11/19/09
11:32
PM ET


You can't quite say the Carolina Panthers are done, but that's mostly because six weeks remain in the season.
But the Panthers are very close to being done. Let's do the math. They're 4-6 and would pretty much have to run the table to have a real chance at a wild-card berth. If they go 5-1 in their final six, they'd be 9-7 and that's not always good enough to get you into the playoffs.
So there's almost no margin for error for the Panthers, but there are plenty of opportunities for errors. Just look at the remaining schedule, which includes the Jets, the Buccaneers, the Patriots, the Vikings, the Giants and the Saints.
Look at that list again and tell me you honestly think the Panthers can win five or six of those games?
The playoffs aren't looking like a good chance to get to the playoffs. You know what that means? Probably the end of the John Fox era. Yeah, I think Fox is a good coach and he's done some great things for the organization.
But the one thing Fox hasn't done is have back-to-back winning seasons and ownership is well aware of that and losing patience. Fox led the Panthers to a 12-4 record in the regular season last year, but was upset in a home playoff game to Arizona.
He could have gotten back into good graces with another winning season and another playoff berth. It doesn't look like that's going to happen.
November, 19, 2009
11/19/09
11:04
PM ET
I said earlier I thought
Vontae Davis
had made a mistake by jawing with
Steve Smith
early in the game. The proof of that just came through as Smith beat Davis for a touchdown catch.
Did you see Smith's initial reaction as he got up after the catch? He quickly looked for Davis and appeared ready to do something to add insult to Davis' injury. But Smith didn't get the chance.
Tight end
Dante Rosario
quickly put his arms around Smith and that kept the little guy from doing any further damage. Smith's touchdown and a two-point conversion by
DeAngelo Williams
has cut Miami's lead to 17-4 with 5:13 left in the game.
November, 19, 2009
11/19/09
8:34
PM ET
I'm pretty sure I just saw Miami rookie defensive back
Vontae Davis
make a huge mistake. He was jawing with
Steve Smith
on Carolina's first offensive drive.
That's not a good move. Just ask
DeAngelo Hall
, who once made the mistake of taunting Smith and got absolutely torched. There's basically one rule that all defensive backs should keep in mind when they're going against Smith.
Don't give the little fellow any more ammunition than he's already got. Smith's at his best when he's angry, and he uses anything he can find to make himself angrier. He already was in a minor car accident on his way to the stadium, so Smith probably is more on edge than usual – if that's even possible.
Let's see how Smith and Davis get along the rest of the way.
November, 19, 2009
11/19/09
7:58
PM ET
November, 19, 2009
11/19/09
7:38
PM ET
Steve Smith
is out on the field at Bank of America Stadium. That's a better spot than he was in an hour or two ago.
Team officials said Smith was late in arriving at the stadium after he was involved in a minor car accident. Smith was not injured and now is in uniform and out on the field warming up.
No word on the status of the person driving the other car.