NFC South:

Dominique-Rodgers Cromartie
October, 12, 2011
10/12/11
11:01
AM ET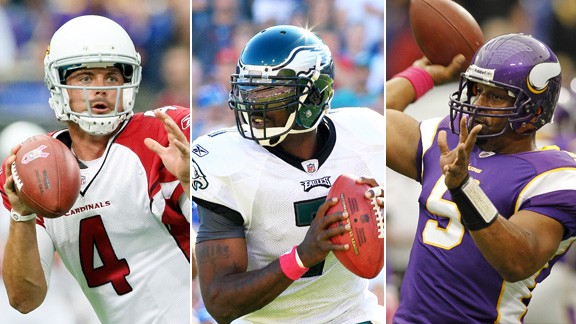 US PresswireBig offseason splashes at the quarterback position haven't paid off for Arizona (Kevin Kolb), Philadelphia (Michael Vick) or Minnesota (Donovan McNabb).
Aside from the drafting of
Cam Newton
, the biggest quarterback news of the offseason was the trade of
Kevin Kolb
to Arizona, the trade of
Donovan McNabb
to Minnesota, and
Michael Vick
signing a new six-year contract with Philadelphia.
How are those moves working out for the Cardinals, Vikings and Eagles?
In one categorical word: Disastrously.
Each team is 1-4, and each quarterback has been a big reason his team has struggled. Consider it proof that even if a guy has played well -- in limited or unlimited experience or has had success in a current system -- the buyer should beware when handing out huge currency for quarterbacks.
The Eagles gave Vick a contract worth $100 million, including $40 million guaranteed. The Vikings voided the remaining four years on McNabb's contract with the Redskins, but still agreed to pay him at least $5.05 million this season. McNabb also can earn an extra $2.25 million if certain playing-time and statistical incentives are met. Once the Cardinals got Kolb, they handed him a $10 million signing bonus and an extension through 2016 that averages $12.4 million per year.
But we're talking currency, not just money, when adding up the full tab on these three quarterbacks. The Cardinals shipped cornerback
Dominique Rodgers-Cromartie
and their second-round draft pick in 2012 to the Eagles. The Vikings sent the Redskins their sixth-round pick in 2012 and a conditional sixth-round pick in 2013. In the case of Vick, the Eagles didn't have to give any player or draft-pick compensation to keep a player already on their team, but they invested a ton of salary-cap room at one position for six years.
What are they getting in return? Not much. Vick, who was better than he's ever been while starting 12 games last season, has been dreadful since leading the Eagles to a season-opening win against Baltimore. Through five games, he's committed 10 turnovers. All last season, he had nine.
Vick has put coach Andy Reid on the hot seat for putting all his eggs in one basket. But McNabb and Kolb seem to be doing their best to make their former coach look smart.
In 2009, McNabb, Vick and Kolb were all property of Philadelphia. Before last season, Reid decided to trade McNabb, his longtime starter, to Washington. He kept Vick and Kolb, and Vick emerged as the starter. That made it seem like Vick was the answer and the Eagles traded Kolb as soon as the lockout was lifted.
Reid knew McNabb better than anyone else and he shipped him off to Mike Shanahan, who knows a thing or two about quarterbacks. Shanahan quickly decided McNabb was washed up. But new Minnesota coach Leslie Frazier didn't heed the warning signs from Reid and Shanahan. He brought in McNabb to be a bridge until first-round draft pick
Christian Ponder
is ready.
McNabb's a bridge over troubled waters. He's thrown only four touchdown passes, been intercepted twice and sacked 11 times. But McNabb's looking like a gem compared to Kolb. In their head-to-head meeting Sunday, Minnesota defeated Arizona 34-10 in a game that had a lot more to do with
Adrian Peterson
and Minnesota's defense than McNabb.
Kolb threw two interceptions and was sacked four times. That's nothing new. In Arizona's first two games, he threw for four touchdowns and one interception. In his last three games, he's thrown for one touchdown and been intercepted five times.
The Eagles, who once seemed to have an embarrassment of riches at quarterback, simply have been an embarrassment. So have the Vikings and Cardinals, who aren't getting anything close to what they paid for.

TRENDING UP

TRENDING DOWN
July, 31, 2011
7/31/11
10:19
AM ET
ESPN's Sal Paolantonio just reported that the
Carolina Panthers
have not shown any interest in trading for Philadelphia cornerback
Asante Samuel
, despite reports to the contrary.
Samuel seemingly is on the trading block after the Eagles signed free-agent
Nnamdi Asomugha
and traded for cornerback
Dominique Rodgers-Cromartie
. A league source said the Panthers are not interested in taking on Samuel's large contract and the Eagles are looking for at least a third-round draft pick or a starting offensive lineman as compensation.
The Panthers are a bit thin at cornerback after losing
Richard Marshall
via free agency.
Chris Gamble
was benched by former coach John Fox last season, but is looking for a fresh start under new coach Ron Rivera.
Captain Munnerlyn
has nine starts in his first two seasons and could be the top candidate to start opposite Gamble. But the Panthers still could target a free agent with a cheaper price tag than Samuel's.
March, 29, 2011
3/29/11
5:58
PM ET
With the very real possibility that cornerback
Aqib Talib
might have played his final game for the
Tampa Bay Buccaneers
and, possibly, anywhere in the National Football League, it's time for a little revisionist history.
Think back to the
first round of the 2008 draft
. The Buccaneers, then run by coach Jon Gruden and general manager Bruce Allen, were sitting at No. 20 (gee, that's a little scary since they're sitting at No. 20 again this year).
When the
Arizona Cardinals
took cornerback
Dominique Rodgers-Cromartie
, who grew up in nearby Bradenton, Fla., off the board at No. 16, a lot of people thought the Buccaneers would turn their focus to another local product. The University of South Florida, a relatively young program, had perhaps its first high-profile draft prospect.
That was cornerback
Mike Jenkins
and he was the favorite among a lot of fans. But Gruden and Allen were looking in another direction. Never known for putting much stock into character during their tenure, they went out and picked Talib, who already had created some background questions while in college at Kansas.
After making the pick, Gruden and Allen came out to the media room and the questions about Talib's background came up. They said they had done their homework and were comfortable with the pick.
A couple of months later, Talib reportedly got into a scrape with a teammate at the rookie symposium. The trail continued with Talib getting into a fight with a teammate in practice and smacking another teammate in the face with his helmet. There also was that incident in which Talib had an altercation with a cab driver that ended up with him being suspended for the first game of last season.
Talib started only two games in his rookie season, and Gruden and Allen were fired after that. Predecessors Raheem Morris and Mark Dominik dealt with Talib's flaws and got some bright moments when he was on the field. He produced five interceptions in 2009 and six in 2010. But, now, he's probably gone.
What about Jenkins? Well, the only real knock on him was he was a little short at 5-foot-10, but the
Dallas Cowboys
scooped him up at pick No. 25. He earned a Pro Bowl berth in 2009.
He struggled in 2010, but coach Jason Garrett
said he expects Jenkins to bounce back
. Did Gruden and Allen make a mistake taking Talib over Jenkins?
Well, let's put it this way, Jenkins has a much better shot of helping a team in 2011 than Talib.