January, 5, 2013
1/05/13
1:34
PM ET
Ron Rivera is staying as the coach of the
Carolina Panthers
, but that doesn't mean he's off the hot seat.
Owner Jerry Richardson's Saturday decision to keep his coach means Rivera will enter the 2013 season on a seat that might be the hottest in the league. Richardson wants to win, and he wants to win immediately.
[+] Enlarge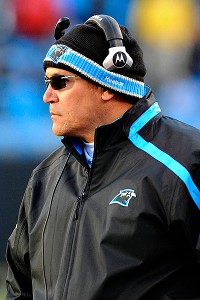 Sam Sharpe/US PresswirePanthers coach Ron Rivera will have to win next season with a roster that won't be bolstered much in free agency.
The only NFL owner to have played in the league is very impatient because the Panthers haven't had a winning season since 2008 and haven't won a playoff game since 2005. So why does Richardson think Rivera can get the job done in 2013?
There's no doubt Richardson likes the fact that Rivera and the Panthers finished 2012 on a four-game winning streak. Richardson also must believe that Rivera can turn around his early-season trend of losing close games.
I can see Rivera turning things around and getting the Panthers to the playoffs, which would be the only way he'll keep his job for 2014. But it's not automatic.
Rivera probably will have to tweak his coaching staff a little bit. I've heard the chemistry on the offensive coaching staff wasn't great. Rivera also is going to have to change his ways a little bit, perhaps becoming a bit more aggressive, and it wouldn't hurt him in the eyes of the fans to become just a bit more animated on the sideline.
But the biggest thing Rivera needs to do is get more out of the players who stay on his roster. The Panthers face a
salary-cap nightmare
, and lots of veterans are going to have to depart just to get the Panthers under the cap in mid-March.
The Panthers aren't going to be players in free agency. Their cap situation means the only way they can add any talent to the roster will be through the draft.
That means they have to get more out of the players who stay on the roster. But I still can see the nucleus for a playoff team.
Guys such as quarterback
Cam Newton
, linebacker
Luke Kuechly
, defensive end
Charles Johnson
, center
Ryan Kalil
and running back
Jonathan Stewart
still are going to be around. They'll have to step up and be better than ever, and so will some other guys.
If that happens, Rivera will be just fine. If not, the Panthers will be looking for his replacement at this time next year.
Now that Rivera is set, the Panthers have to hire a new general manager. There's talk that Dave Gettleman, Marc Ross and Lake Dawson are candidates from the outside, and there could be others.
But I think there's at least a decent chance interim general manager Brandon Beane could become the permanent general manager, although that might come with some restructuring of the personnel department. The Panthers already have pro personnel director Mark Koncz, college scouting director Don Gregory and salary-cap manager Rob Rogers in place, and each is competent. But fans might not be very happy if the Panthers simply elevate Beane and stick with what they have. I can see a situation in which Beane is promoted but someone with a strong personnel background is brought in to oversee the personnel department.
However the Panthers structure things, they have to win in 2013 because Richardson isn't going to be patient any longer.
March, 31, 2011
3/31/11
12:00
PM ET
»
NFC Draft Watch
:
East
|
West
|
North
|
South
»
AFC
:
East
|
West
|
North
|
South
Each Thursday leading up to the NFL draft (April 28-30), the ESPN.com NFL blog network will take a division-by-division look at key aspects of the draft. Today's topic: decision-makers.
Atlanta Falcons

Make no mistake, general manager Thomas Dimitroff is the man running the draft room in Atlanta. He comes with a heavy personnel background from his days as a scout with the
New England Patriots
and this is the time of year he enjoys most. Dimitroff has a good working relationship with coach Mike Smith and the two often watch film together. That gives Dimitroff a strong feel for what his coach wants in players. So far, this arrangement has worked very well, with the Falcons producing winning records in each of the three seasons Dimitroff and Smith have been together. One last thing on Dimitroff -- he's not a dictator. He values the opinions of those around him and that includes more people than you'd expect. Even though the Falcons were almost certain they were going to take quarterback
Matt Ryan
in 2008, Dimitroff was asking an Atlanta staffer who was at some of the pre-draft media events in New York for updates on the quarterback's demeanor.
Carolina Panthers

In the early years of the regime of coach John Fox and general manager Marty Hurney, there was a lot of talk about them running an equal partnership, and that was very true. But Fox is gone and Ron Rivera is in his place. Even before Fox left, the partnership stopped being equal. I can't pinpoint the exact moment, but Hurney has been calling the draft shots for at least a couple of years. That was extremely evident last year when the Panthers used a second-round pick on
Jimmy Clausen
, a quarterback Fox wanted no part of. Rivera and his coaching staff will have input and college scouting director Don Gregory is an important cog. But more than ever, Hurney is the person running the draft in Carolina.
New Orleans Saints

General manager Mickey Loomis isn't a real public person and that probably prevents him from getting the full recognition he deserves. He and coach Sean Payton are very much in this together and their track record has been very impressive. Loomis is at his best as an administrator. He knows what Payton and his staff are looking for and he matches up that knowledge with what his scouts give him. Anybody can hit on first-round picks, but the Saints have had some big success in the middle (
Jahri Evans
and
Jimmy Graham
) and later (
Marques Colston
) rounds. That's the mark of a machine that's working well.
Tampa Bay Buccaneers

Mark Dominik is the general manager and he prides himself on being a person who carries (the best) parts of people like Rich McKay, Jerry Angelo, Tim Ruskell, Bruce Allen, Tony Dungy and Jon Gruden in his thinking. So far, it has worked out pretty well. In his first draft, Dominik landed
Josh Freeman
, who has turned out to be the first true franchise quarterback this team has ever had. Amid a lot of distractions, Dominik never has taken his eye off the fact that the Bucs are building everything around Freeman. Coach Raheem Morris and scouting director Dennis Hickey play big roles in the process, but you started to see Dominik's blueprint take hold last season when the Bucs went 10-6.
January, 26, 2011
1/26/11
5:21
PM ET
Time for a Wednesday afternoon look at what's going on across the NFC South.
Carolina college scouting director Don Gregory, who isn't in the public eye often,
answered some questions
from Joseph Person at the Senior Bowl. The most interesting thing might be the fact Gregory said the Panthers are using their time in Mobile, Ala. To gather background information on Auburn defensive tackle Nick Fairley, who is not participating in the game because he is not a college senior. But Fairley grew up Mobile and the Panthers are talking to some people close to him.
Here's a detailed look at the second phase of
the overhaul of the Superdome
, which is taking place now.
Tampa Bay general manager Mark Dominik
talked at length to reporters at the Senior Bowl
. No huge news, but Dominik covered a lot of ground. The two highlights were him talking about the importance of getting the right guy when the team hires a new defensive line coach and about the possibility of re-signing some potential free agents before a possible March lockout. The defensive line coach is hugely important because he'll have to continue to develop tackles Gerald McCoy and Brian Price in their second year. Although Dominik says he'll stay in touch with the agents for potential free agents in the coming weeks, I wouldn't expect many deals by Tampa Bay or teams around the league. Most teams want to wait until there is a new labor deal in place before doing any big contracts.
Carolina team president Danny Morrison sent out a
letter to season-ticket holders
. It had a pretty optimistic tone about the arrival of new coach Ron Rivera and the Panthers holding the top pick in this year's draft. But Morrison echoed the previous comments of owner Jerry Richardson and said there has not been a lot of progress in talks toward a new labor deal. You can take that part how you want. Richardson is leading the owners in this talk and the repeated words about a lack of progress could be a way of preparing fans for tough times. Or you could view it as Richardson negotiating and trying to put the pressure on the players and their union.
June, 18, 2009
6/18/09
6:00
AM ET
Posted by ESPN.com's Pat Yasinskas
Time to look at the front offices as we continue our series of NFC South position rankings. We've been through the offense, defense and special teams (we'll get to coaches soon), but it's time to rank those who put the rosters together.
We're going to put emphasis on the general managers, but we're also going to factor in the personnel and salary-cap guys.
1. Carolina. When Marty Hurney was promoted to general manager in 2002, he said his goal was to build a team that would contend for the playoffs each year. He's done exactly that, even though the Panthers haven't made the playoffs each year. Personnel guys Mark Koncz and Don Gregory are good at what they do and Rob Rogers is the best salary-cap guy you've never heard of. Hurney gets the nod because of success over a lengthy period of time. Bottom line: He's the glue that has held together a franchise that was on a roller coaster before he took power. (Side note: We imagine Hurney's face is turning red right about now and my phone should be ringing shortly. Much like coach John Fox, he likes to fly under the radar and prefers to be in the role of underdog.)
2. Atlanta. It was very tempting to go with general manager Thomas Dimitroff and Atlanta's front office over Hurney and Carolina. You can basically make a case that Dimitroff has yet to make a mistake. He got Matt Ryan and put Michael Vick behind the Falcons. But let's give him at least a second year on the job before we boost him to No. 1.
3. Tampa Bay. As we wait for Dimitroff to do it again, we're going to give a little slack to Tampa Bay general manager Mark Dominik and factor in his upside. He's a rookie at this job, but he's got pedigree. He's worked under Rich McKay, Jerry Angelo, Tim Ruskell and Bruce Allen. If he learned from each of their strengths and weaknesses, he could be a success. In his previous role as a personnel guy, Dominik was the driving force behind the signings of Antonio Bryant and Chris Hovan, who have revived their careers with the Bucs. He's also got Doug Williams to help him out on the personnel side. Oh, we're also giving Dominik points for having the courage to make moves like cutting Derrick Brooks and drafting Josh Freeman. Not sure that either of those moves were right, but they were gutsy.
4. New Orleans. It's hard to argue with the moves general manager Mickey Loomis has made this offseason. I really like what he's done with the defense and the way he got it done without having a lot of salary-cap room. On paper, he's probably had the best offseason of any general manager in the division. But Loomis' moves always look good in June and the Saints have underachieved the last two seasons. The jury still is very much out on last year's trade for Jeremy Shockey. There's potential for Loomis' ranking to improve and he could even vault to the top of the division if this year's moves work out. But let's see how they look in December.