January, 11, 2013
1/11/13
10:09
AM ET
With Rob Chudzinski leaving to become the head coach of the
Cleveland Browns
, a lot of Carolina fans have been clamoring for Norv Turner to become the new offensive coordinator.
But that might not even be possible. There are reports out there that Turner is likely to join Chudzinski in Cleveland.

If the Panthers don't get Turner, who is close with Carolina coach Ron Rivera, it might not be as catastrophic as Carolina fans think. Maybe the best guy for the job already is on staff.
I say the Panthers simply should promote quarterbacks coach Mike Shula.
He knows Chudzinski's offense. He has a close relationship with franchise quarterback
Cam Newton
and, now in his mid-40s, Shula is more than ready for the job.
Shula has his detractors, who point to his time as Tampa Bay's offensive coordinator and as the University of Alabama's head coach. Those people say Shula got those jobs simply because he was the son of Hall of Fame coach Don Shula.
I don't think that was the case either time, but I can see where that perception came from. That kind of talk is only natural when you're the son of Don Shula. A lot of people said Shula was too young to be the offensive coordinator in Tampa Bay back in the 1990s, and too young to be the head coach at Alabama.
I don't buy into that either. I covered Shula in his Tampa Bay days, and he was mature and studious. He just wasn't in a good situation. Tampa Bay coach Tony Dungy didn't want a flashy offense, and the Bucs didn't have the personnel to run one.
Shula ran an offense that was heavy on the running game and he got labeled as conservative, but I think that was only because his hands were tied by Dungy and the personnel he had to work with. Shula eventually was fired.
Shula then went to work as quarterbacks coach for the
Miami Dolphins
. But he was thrust back into the spotlight in 2003 when he was hired as Alabama's coach. That came on the heels of the Mike Price fiasco, Dennis Franchione's departure and NCAA sanctions. It was an impossible situation.
Shula lasted four seasons at Alabama. He then did a stint as the quarterbacks coach in Jacksonville before moving to Carolina in 2011.
There are a lot of people out there that say Shula is just fine as a quarterbacks coach, but shouldn't be anything more.
I'm not one of those people. I think Shula can succeed as an offensive coordinator -- under the right circumstances.
And I think Shula is a natural fit as Carolina's offensive coordinator. He would provide continuity for Newton, and that might be the best thing you can do for a young quarterback. The current Panthers have way more offensive weapons than the Bucs did when Shula was calling their plays, and I don't think he'd be nearly as conservative.
Unlike Tampa Bay and Alabama, this job would be a good situation for Shula.
It would be a situation where a good coach finally would have a chance to thrive.
January, 20, 2012
1/20/12
10:13
AM ET
A quick reminder that the weekly NFC South chat will be held Friday at 1 p.m. ET.
We can talk about Tampa Bay's coaching search -- is it getting closer to ending or are the Buccaneers waiting to talk to New York Giants defensive coordinator Perry Fewell or some other coaches still involved in the postseason? Or could they be looking at other mature coaches? I have heard Don Shula was seen in Florida recently.
We can chat about who got the better defensive coordinator -- the Falcons with Mike Nolan or the Saints with Steve Spagnuolo.
Atlanta fans can say what a bad hire offensive coordinator Dirk Koetter was, because that's what Atlanta fans seem to be doing, and I'll defend him.
And Carolina fans can vent their frustration about the possibility of losing offensive coordinator Rob Chudzinski and I'll try to comfort them, but can't make any guarantees. And just about anything else related to the four NFC South teams is fair game as well.
If you can join us, here's
the link
.
August, 19, 2011
8/19/11
10:55
PM ET


Since the big story was the competition for the starting quarterback job between
Cam Newton
and
Jimmy Clausen
, and we've
already covered that
, we're going to do just a few other observations on the
Carolina Panthers
.
The
Miami Dolphins
won Friday's game
20-10
, and there weren't many bright spots for the Panthers. Here are the observations:
I thought Carolina's defense was going to be a lot better. Now, I'm not so sure. Reggie Bush, who never was able to run between the tackles when he was with New Orleans, ran right through Carolina's defensive line. With some of that cap space the Panthers freed up by signing franchise player Ryan Kalil to a long-term contract Friday night, I think the Panthers need to go out and sign the best defensive tackle they can find. I thought they solved that problem when they signed Ron Edwards at the start of free agency. But Edwards got hurt. The Panthers need to go out and find somebody to replace him. Oh, and the rest of the defense helped Chad Henne look like Dan Marino.
Nice to see linebacker Thomas Davis playing for the first time in 21 months. He had two major knee injuries and missed some camp time with a foot injury. I didn't notice him a lot, but I did see him doing a nice job in coverage on two different plays.
I was watching the broadcast from a Miami station. One of the announcers was former Miami quarterback Bob Griese. He obviously has strong ties to the Shula family because he played for legendary coach Don Shula. Shula's son Mike is now Carolina's quarterbacks coach. Griese said he met with Mike Shula before the game and said he's been impressed by Newton's progress. Griese also pointed out that Newton never had to call a play or go into a huddle at Auburn. In college, the plays were signaled in from the sidelines, and Newton just lined up in the shotgun and the center snapped the ball on a silent count. Shula told Griese that Newton has done a good job adjusting to all his new duties.
August, 4, 2011
8/04/11
8:49
AM ET
SPARTANBURG, S.C. -- You've heard plenty about the lockout over the past few months, but it actually was in effect in Charlotte since 2008.

The moment owners opted out of the previous labor agreement,
Carolina Panthers
owner Jerry Richardson realized there were tough financial times ahead. He immediately decided he wasn't going to spend big money on long-term deals for players or coaches (the Panthers didn't add a single unrestricted free agent in 2009 or 2010) because Richardson wanted to protect everyone else who worked for his franchise during these tough times.
That's why defensive end
Julius Peppers
was allowed to walk in free agency last year. That's why John Fox was allowed to be a lame-duck coach entering a 2010 season that turned into a nightmare. Despite having a roster filled with a reasonable amount of individual talent, the Panthers went 2-14 and fan apathy reached an all-time high.
But Richardson's entire philosophy changed the moment the labor situation was resolved. He took the lock off his checkbook and began paying huge money to keep players such as defensive end
Charles Johnson
, running back
DeAngelo Williams
and linebackers
Jon Beason
,
James Anderson
and
Thomas Davis
. He added free agents such as kicker
Olindo Mare
and traded for tight end
Greg Olsen
. Including rookies, Richardson already has written checks for more than $100 million in signing bonuses.
Throw in the fact that Ron Rivera has replaced Fox and the Panthers chose quarterback
Cam Newton
with the first pick of the draft, and there suddenly is optimism the Panthers can quickly escape the label of being one of the league's worst teams.
"That's the one thing I've learned from being a Carolina Panther for going on nine years is that you never know what kind of a team we're going to field from year to year,'' veteran left tackle
Jordan Gross
said. "Things can change dramatically, and I think they are going to here. I love Coach Rivera's philosophy and the staff he's put together. They're committed to winning, and the organization has shown that as well with what it has done with getting new guys and re-signing our own guys. I think we can be as good as we want to be.''
[+] Enlarge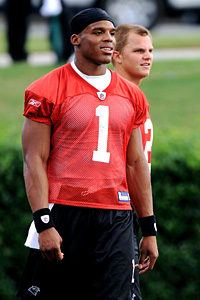 Streeter Lecka/Getty ImagesAs the No. 1 overall pick in April's draft, it is inevitable that Cam Newton will at some point start for the Panthers at quarterback.
THREE HOT ISSUES
1. Will Newton be the savior of this franchise?
It's way too early to even have a clue if the guy who played only one full season at Auburn will succeed in the NFL. But the most important thing to keep in mind is that the Panthers aren't asking Newton to be their savior -- at least not right away.
The hope in Carolina is that Newton will get a reasonable grasp of the offense in training camp and show it in preseason games. If he does, he'll be the opening-day starter. The Panthers don't want to prolong the inevitable and start the season with
Jimmy Clausen
because Newton clearly is their future.
The playbook can expand as time goes on, but the organization believes that Newton can step right in behind an offensive line that should be good and can take advantage of a strong running game, very good tight ends and wide receiver
Steve Smith
.
2. What will the new offense look like?
The popular thing to do in Carolina is assume that the departure of Fox and offensive coordinator Jeff Davidson means the Panthers are suddenly going to start throwing the ball all over the field.
They will throw more, but the Panthers won't pass as often as people think. That would be foolish with a rookie quarterback and it would border on insanity to keep the ball out of the hands of running backs Williams and
Jonathan Stewart
. Under new offensive coordinator Rob Chudzinski, there will be significant differences from the Fox/Davidson era.
Chudzinski came from San Diego and plans to use an offensive scheme that's based on what the Chargers do. You'll see more passes to the tight ends, a big reason the Panthers brought in Olsen and
Jeremy Shockey
. You'll see plays designed to get Smith away from double coverage. But don't expect Newton to step right in and immediately be
Philip Rivers
.
3. What will the defense look like?
Rivera has a defensive background. His coordinator is Sean McDermott, who spent time in Philadelphia. Some personnel changes in the middle of the defensive line will allow Beason, Anderson and Davis to again become play-making linebackers. That's going to make this defense look a little like Fox's defense of a few years back. But the real change will be a new philosophy that involves taking risks and being aggressive. The Panthers didn't blitz much last year and didn't have much success when they did. That's going to change. McDermott's going to use those athletic linebackers as blitzers, and with Johnson and
Greg Hardy
already up front, Carolina suddenly could have a dynamic and disruptive pass rush. The secondary is not loaded with big-time talent, but it could look a lot better if quarterbacks are forced into mistakes.
BIGGEST SURPRISE
[+] Enlarge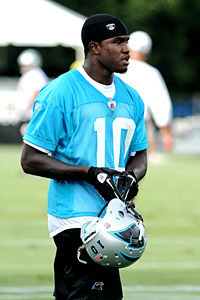 Joshua S. Kelly/US PRESSWIREArmanti Edwards reached out to punter Jason Baker during the offseason to work on fielding punts.
Granted, it's early, but the Panthers are hopeful receiver/return man
Armanti Edwards
will make an impact. A second-round pick last year, Edwards was a nonfactor as a rookie. That was largely because Fox believed the former college quarterback did not belong in the NFL. He barely let Edwards on the field as he made a statement to an owner and front office that wanted the lame-duck coach to embrace a youth movement. But Fox is gone and there's sudden optimism about Edwards. The team didn't know it until after the lockout ended, but it was delighted to find out that Edwards reached out to veteran punter
Jason Baker
during the offseason. The two worked out together frequently and Edwards made dramatic improvement in his ability to catch punts. There's a good chance he could be the main punt and kickoff returner this season. He also could be involved in certain packages as a wide receiver.
BIGGEST DISAPPOINTMENT
The perception is the Panthers have done just about everything they've wanted to in free agency. But that's not quite reality. According to a league source, the team made a strong play for free-agent receiver
Santana Moss
, offering him a three-year deal worth $15 million. Moss took the deal back to the Redskins, who matched it, so he elected to stay in Washington. That one shook the Panthers a bit. Although they have high hopes for young receivers
Brandon LaFell
and
David Gettis
, they want to pair a proven veteran with Smith to start the season. Look for them to bring in another veteran at some point before the start of the regular season.
OBSERVATION DECK
Keep your eye on the cornerbacks who remain on the market or come available over the next few weeks. The Panthers let Richard Marshall leave via free agency. They still have Chris Gamble and Captain Munnerlyn, but a team that has been so aggressive this offseason isn't going to sit still at this position. The Panthers will sign a cornerback with starting experience at some point. They're just waiting for the right guy at the right price.

The Panthers pushed veteran kicker John Kasay out the door and handed Mare a $4 million signing bonus. Kasay, 41, remained accurate on field goals, but the feeling was that he no longer had the leg strength to make long kicks. Mare's 38 and still can make long field goals. But the biggest reason the change was made wasn't about field goals. It was about kickoffs. The Panthers carried a kickoff specialist the past few years and didn't want to waste a roster spot by doing that again. With the league moving kickoffs up 5 yards this year, the team believes Mare can produce a lot of touchbacks.

Don't overlook running back Mike Goodson. As long as Williams and Stewart are healthy, he's not going to get a bunch of carries. But Goodson was one of the few bright spots from last season and the new coaching staff noticed him on film. He can do a lot out of different things out of the backfield, and the coaching staff believes there's a role for Goodson. Think of a scaled-down version of what New Orleans did with Reggie Bush and plans to do with Darren Sproles.

Perhaps the most unsung move the Panthers made all offseason was hiring Mike Shula, the son of legendary coach Don Shula, as quarterbacks coach. He's had ups and downs as an NFL coordinator and college head coach at Alabama. But Shula has grown from it all and is a very good quarterbacks coach and teacher. If Shula can develop Newton or Clausen into a big-time quarterback, the world finally might give this guy his due.

The return of right tackle Jeff Otah is more significant than many realize. Otah missed all of last season with a knee injury but is fully healthy now. That's going to have a huge impact on the running game.

Ryan Kalil signed his $10 million franchise tender and the team hasn't talked to him about a long-term deal. But that's simply because the front office has been so tied up making other moves. This team realizes Kalil is still young and already considered one of the best centers in the game. As soon as things settle down a bit, expect Kalil to be offered a big long-term deal.
January, 21, 2011
1/21/11
5:10
PM ET
The
Carolina Panthers
just announced what might be their most important hire of the offseason.
They just named Mike Shula as their quarterbacks coach. He's going to be the guy in charge of making
Jimmy Clausen
-- or whoever else the Panthers bring in -- into a legitimate quarterback. I think the Panthers might have found the right guy, even though I know there are some Shula critics out there.
I've known Shula since he was Tampa Bay's offensive coordinator back in the 1990s and I think he's had a tough career road due to his last name. It's easy to say the guy is only coaching because his father is Don Shula.
That refrain frequently was heard in Tampa Bay and Shula wound up taking a fall, simply because he was running the offense the way Tony Dungy told him to run it. Shula's gone on and been a head coach at the University of Alabama and has done some decent work in Jacksonville in recent years.
He's a smart guy and I think he's taken a lot of lessons with him out of his past experiences, even though they weren't all pleasant. Shula has a big job ahead of him, but I think he might be the right guy for this.
December, 21, 2010
12/21/10
11:12
AM ET
Although he is always, at the very least, courteous, it's fair to say Atlanta's Mike Smith isn't the most quotable coach in the NFL.

His frequent quotes about "the process'' aren't all that enthralling and, like most NFL coaches, Smith isn't going to give you a lot of information about injuries or his plan for an upcoming game. That's why it was kind of surprising to look at the transcript of Smith's meeting with the media on Monday and see a pretty good line.

Smith was asked if he's feeling the excitement around the Atlanta area that's come with the Falcons' 12-2 start.

"Driving from Suwanee to Flowery Branch at six in the morning and 10:30 p.m. or dark thirty in the evening, I don't get a whole lot of opportunities to really feel or see the buzz that's going on here in the city of Atlanta,'' Smith said. "I'm just glad that we've got the support that we do. I think you definitely see it every Sunday when we go to the dome when we come out as a football team you can hear the crowd and the passion that they have and the support that they give us."

That made me think about the brutal hours coaches put in. I remember former Carolina defensive coordinator Mike Trgovac once, almost tearfully, telling me how he only got to spend time with his children on Fridays during the season. Trgovac said, on all the other days, he would walk into the rooms of each of his children and give them kisses as the slept when he got home at night and as he left in the morning. Trgovac also talked about how he tried to make up for that by spending extra time with his children in the offseason.

There is no question the life of a coach is a tough one and a lot of these guys go through life (or, at least, the season) with blinders on. Smith and the rest of the current NFC South coaches do about as good a job as possible at balancing their lives and they all stay plugged into the outside world to some degree.

It's not that way everywhere and it's been that way for a long time. There's a legendary story about legendary Miami coach Don Shula, who might have been more disconnected from the outside world more than any coach in history.

Back in the 1980s, when "Miami Vice'' was in its heyday, actor Don Johnson came out to watch the Dolphins practice in training camp one day. After practice, the actor went up to Shula and introduced himself and it went something like this, "Hey coach, Don Johnson from Miami Vice.''

According to multiple eyewitnesses and repeated telling of the story through the years, Shula warmly embraced Johnson and thanked him for the work he and his colleagues did in protecting the city. Johnson, not fully realizing the road he was going down, then asked Shula if he'd like to come out on a "shoot'' sometime.

Shula politely declined, telling Johnson that was too dangerous for his tastes.

Writers who covered the Dolphins during the Shula years, used to try to subtly test the coach on pop culture and current events. One of my favorite stories in this area comes from a former Dolphins' media relations employee.

According to him, during a casual conversation one day, a writer made reference to musician Bruce Springsteen. Yeah, you guessed it. Shula asked who Springsteen was.
July, 27, 2009
7/27/09
4:15
PM ET
Posted by ESPN.com's Pat Yasinskas
Just moments after he walked into One Buccaneer Place (the old dump out on the airport runway) in 1996, Tony Dungy showed Lamar Thomas and Tyji Armstrong the door.
Thomas was going through some ugly domestic issues and Armstrong had run up a lengthy rap sheet under former coach Sam Wyche. That was Dungy's way of telling his team he wasn't going to put up with trouble.
He never went out and sought guys with character questions, and he even kept Warren Sapp in check. In the early days of Dungy's regime in Tampa, watching practice often gave you the feel you were at a church league flag football game. I think it stayed that way into his later days in Tampa and on to Indianapolis.
If a player played for Dungy or a coach coached under him, he was almost always a nice, well-behaved guy with no character issues.
So what is Dungy doing now? He's reaching out to Michael Vick.
Dungy and Vick is a mismatch if ever there was one, it seems. But this pairing could turn out to be great.
Dungy is going to work as Vick's mentor as the former Atlanta quarterback tries to get fully reinstated into the league. When Dungy left coaching last year, he said it was partly because he wanted to do something more than coach. The fact is, Dungy always was a mentor while he was a coach, maybe even more of a mentor than a coach.
Here comes his next challenge. I've got no doubt about what Dungy brings to the table. I had the pleasure of covering him for The Tampa Tribune and learned a lot about life just by watching how the man conducts himself. That was from a distance.
Vick's going to get the up-close class and they're going to be cramming. It's actually a wonderful opportunity for Vick. Say what you want about the horrible things he did to put himself in this spot. They were despicable and then some.
But if Vick really is contrite and really wants to straighten out his life, there's no one better to help him than Dungy. I've had a chance to talk with former Atlanta coach Dan Reeves several times and some other people who have been with the Falcons. They're all sour on what Vick did, but they also say he's a young man with some good qualities if he can just make better decisions and stay away from some of his friends who drag him down.
If Vick can just reach out to Dungy, the coach is going to pull him up higher than he's ever been. I've long said Dungy should be in the Hall of Fame when his time comes. If he gets Vick to fly right and resurrect his career, Dungy's got an automatic pass to Canton.
Virginia Tech coach Frank Beamer talks about Vick's conditional reinstatement.