April, 19, 2012
4/19/12
10:03
AM ET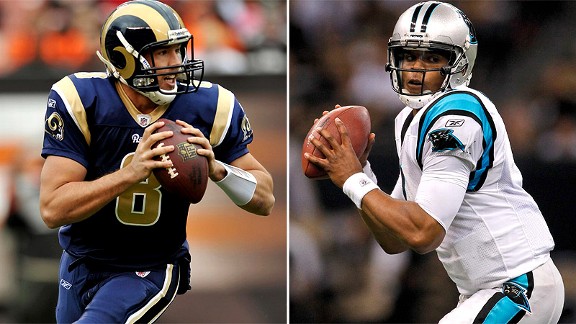 US PresswireSt. Louis' Sam Bradford, left, and Carolina's Cam Newton have helped change the thinking that a Heisman Trophy-winning quarterback won't be successful in the NFL.
There was a time -- like pretty much the last 50 years -- when a Heisman Trophy wasn't a very good thing for a quarterback to have on his résumé as he entered the NFL.
When Baylor's
Robert Griffin III
gets taken early in next week's NFL draft, he could be the latest piece in the trend of turning around the apparent curse on quarterbacks who won the Heisman. It has started to change only recently, but all of the sudden it's looking like the trophy isn't an anchor guaranteeing NFL mediocrity or obscurity for a quarterback.
Look back at 2010 winner
Cam Newton
. He was last year's offensive rookie of the year for the
Carolina Panthers
and set all sorts of rookie passing (and rushing) records. There's big hope in St. Louis that 2008 winner
Sam Bradford
can get back to the promise he showed as a rookie after struggling through a rough 2010 season. Then there's 2007 winner
Tim Tebow
. He couldn't throw spirals in Denver, but he won games. That at least created a market for Tebow to get traded to the
New York Jets
, where it remains to be seen if he'll ever be able to win the starting job away from
Mark Sanchez
.
But there's at least hope that Griffin, Newton, Bradford and Tebow can go on to have long and prosperous NFL careers. Before they came along, there were decades of evidence that suggested quarterbacks should just quit the game after winning the Heisman.
Remember
Troy Smith
,
Eric Crouch
,
Danny Wuerffel
, Charlie Ward and
Gino Torretta
? How about
Ty Detmer
,
Andre Ware
or Pat Sullivan?
They had little to no success in the NFL.
And remember Jason White?
I honestly did not at first. I had to go back and look up White, who won the trophy not all that long ago. He won it in 2003 while putting up some gaudy numbers at the University of Oklahoma. White didn't even get drafted and quit football altogether after a short training-camp stint with the
Tennessee Titans
. He never even played in a regular-season NFL game.
[+] Enlarge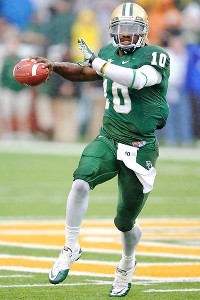 Jerome Miron/US PresswireRobert Griffin III threw for 4,293 yards and 37 touchdowns on his way to winning the Heisman Trophy last season.
Guys like White, Smith, Crouch, Wuerffel, Ward, Torretta, Detmer, Ware and Sullivan all had some things in common. In general, they were able to win the Heisman because they put up big statistics at programs where they were surrounded by elite players. They also had limitations -- usually in size, speed or arm strength -- that prevented them from being taken very seriously by NFL talent evaluators.
But those same evaluators also missed on some Heisman winners who seemed to have what the NFL wanted. Remember
Matt Leinart
?
He came from one of those football factories (USC), where he was surrounded by guys like
Reggie Bush
, but Leinart was supposed to be the one whose college success could transfer to the NFL. That's why the
Arizona Cardinals
drafted him in the first round. But Leinart was nothing short of a tremendous disappointment.
When he flopped, it looked like there really was something to the Heisman Curse.
Prior to Tebow, Bradford, Newton and Griffin, you've got to look at a list of 18 quarterbacks who won the Heisman before you find one who really made it big. You've got to go all the way back to Roger Staubach, who won it for Navy in 1963. He went on to have a great career for the
Dallas Cowboys
and earned a spot in the Pro Football Hall of Fame. Since Staubach won the Heisman, other quarterbacks have had to settle for just getting into the College Football Hall of Fame.
Sure, there have been a few Heisman winners to come out and have some success. Jim Plunkett won two Super Bowls, but his career didn't really take off until he landed with the Raiders after mediocre stints in New England and San Francisco.
Vinny Testaverde had an extremely long NFL career and the longevity led to some impressive career statistics. But Testaverde never had the kind of career so many people imagined when he was coming out of the University of Miami and taken No. 1 overall by the
Tampa Bay Buccaneers
in 1987.
Guys like Steve Spurrier and
Doug Flutie
bounced around and had some success. Then there's
Carson Palmer
, who has had some bright moments, but still is trying to fully live up to the Heisman hype.
But Newton, Griffin, Tebow and Bradford finally might be able to put a stop to the near-half-decade drought of Heisman Trophy winners truly excelling in the NFL.
"Cam Newton is the best thing to ever happen to Robert Griffin III,'' former NFL quarterback
Chris Weinke
said as we discussed this year's crop of quarterbacks back in February. "Just like
Drew Brees
is the best thing to happen to [Wisconsin draft prospect Russell Wilson]. Cam showed that a big, athletic quarterback that can run can be great in the NFL. Brees showed that a guy that's not 6-foot-4 or 6-foot-5 can throw for 5,000 yards in an NFL season. We all know the NFL is a copycat league. Cam's success and Drew's success helps the draft stock of guys like Robert and Russell.''
Ironically, Weinke's name is another one on that
Heisman list
. His story might be the most unique of all the Heisman-winning quarterbacks. Weinke enrolled at Florida State after giving up a minor-league baseball career. He won the Heisman in 2000 and seemed to have the talent of a classic drop-back passer, but the fact he would turn 29 in his rookie training camp, pushed him into the fourth round of the 2001 draft. The Carolina Panthers took him and he started under coach George Seifert as a rookie, but never could quite won over John Fox, who took over the next year.
Weinke spent the next five seasons as a backup in Carolina and finished his career in 2007 with San Francisco.
These days, Weinke has carved a niche as a quarterback guru. He is the director of football operations at IMG Academies in Bradenton, Fla. He has worked extensively with Newton and some other quarterback prospects over the past few years.
Weinke says he's seen the game change just since his playing days ended. Like just about everyone else, he says the NFL has become more driven by quarterbacks. He says natural talent is a prerequisite for NFL success and he points to guys like Newton and Griffin, saying they could be a new prototype. And he goes back to his point about the NFL being a copycat league.
"People are always looking for what works,'' Weinke said. "Cam obviously had a fantastic rookie season. So people look at Robert and say he can do the same thing because the skill sets are similar.''
For Griffin, Newton and Bradford -- and perhaps even Tebow in his own way -- maybe the skill sets are so good that it no longer matters if a quarterback is lugging around a Heisman Trophy.
April, 29, 2011
4/29/11
9:28
AM ET
Nice nugget from ESPN Stats & Information on multiple Heisman Trophy winners selected in the same draft and this one has big NFC South implications.
With
Cam Newton
and
Mark Ingram
both selected in the first round Thursday night, the 2011 draft marked just the seventh draft since 1967 in which more than one Heisman Trophy winner has entered the league in the same year.
Newton was picked No. 1 overall and he was college football's Heisman Trophy winner last season. Ingram was taken at No. 28, after the Saints traded back into the first round to get him. Ingram won the Heisman in the 2009 college season.
The feat also happened in last year's draft, when
Sam Bradford
and
Tim Tebow
both came with the trophy. Prior to that,
Reggie Bush
and
Matt Leinart
came in together in 2006.
Beyond that, there was a much bigger gap in the time frame. Desmond Howard and Ty Detmer came in the 1992 draft. Vinny Testaverde and Bo Jackson were picked in the 1987 draft. Herschel Walker and Doug Flutie were selected in 1985. Billy Sims and Charles White were drafted in 1980.
December, 11, 2010
12/11/10
12:00
PM ET
Earlier this week, I asked readers to name the
quarterback they least would like to take a hit from
. The question was prompted after Tampa Bay's
Josh Freeman
got fined $5,000 for a late hit on Atlanta cornerback
Brent Grimes
last week.
Here are some of the best answers that showed up in my mailbag, followed by my thoughts on the matter at the bottom.
Jamie in Kennar, La.
: If
Jared Lorenzen
were still in the league, that would be the easy choice. But I might have to go with
Derek Anderson
, he hasn't been looking too happy lately.
Richard in New Orleans:
I know he doesn't have the size, but I would not want to take a hit from
Michael Vick
. If he was going full speed and caught someone who wasn't ready for it, he could really lay someone out. Other than that, I would say Freeman and maybe
David Garrard
.
Jerry in Pensacola, Fla.:
You're right Pat. I wouldn't want to take a shot from Freeman. He's a beast and can get running at full speed in a few steps.
Matt Ryan
could give a good hit, he has decent size.
Drew Brees
and that shoulder wouldn't go for a hit, and
Jimmy Clausen
,
Tony Pike
,
Brian St. Pierre
and
Matt Moore
are a revolving door of failure
Hunter in Austin, Texas:
Tim Tebow
tops the list of QBs that I don't want to hit me. David Garrard is also on this list somewhere. Good call on Freeman though.
Jack in Washington, D.C.
: Taking a different approach I would like to look at the most embarrassing QBs to be hit by:
Peyton Manning
,
Doug Flutie
,
Brett Favre
of today,
Eli Manning
(just because he constantly looks confused),
Jay Cutler
(because he would look all smug afterwards since, after all, he is the most important player in the world, at least I'm pretty sure that's how he thinks), and maybe
Ryan Fitzpatrick
.
My take:
Good stuff all the way around and I particularly got a good laugh out of Jack's different approach on QBs that would be the most embarrassing to take a hit from. I thought purely in terms of size when I wrote the first post and Freeman was mentioned because he's bigger than a lot of linebackers. I definitely wouldn't want to take a hit from Freeman, especially if he has any sort of running start.
Speaking of Lorenzen, if he were still playing, I'd take my chances. Yes, he's huge. But, even at my advanced age and with a left knee that's going to need cleanup after the season, I think I could still outrun him. Guys like Matt Ryan, Drew Brees and Jimmy Clausen … well, I wouldn't particularly want to get hit by either one because they're younger and in much better shape than I am. But, as far as size, I'm just slightly smaller than Ryan, reasonably bigger than Clausen and definitely bigger than Brees. I might be hurting a bit, but I think I'd at least be able to get up after taking a hit from them -- after an hour or so.
Now, the guys that readers brought up that I really wouldn't want to take a hit from are Vick, Tebow and Garrard. Maybe even Derek Anderson because Jamie is right about his recent demeanor. But let's stick with Vick, Tebow and Garrard. Vick isn't huge, but he's one of the best athletes on the planet. If he had wanted to, he probably could have been a top-notch defensive back. Give him a few steps and he's going to be able to run down and put a nice hit on anybody.
Tebow, well, going back to before the draft, I said the guy should be a linebacker, tight end, fullback or H-back. I still think that. He doesn't have Freeman's size, but he's athletic and strong. Garrard's the surprise guy on this list, in my eyes. Once I saw several people mention him and thought about it, I had to agree. Garrard's not particularly tall, but the guy is solidly built and he could put a hurting on somebody.
September, 29, 2010
9/29/10
6:28
PM ET
It seems like everybody's got a little advice for New Orleans kicker
Garrett Hartley
after he missed a short field-goal attempt in overtime against Atlanta.

Hartley
Former New Orleans kickers are
talking about the obstacles
he's facing. The Saints went out and brought back
John Carney
, although they're holding onto Hartley, at least for now.
But maybe the guy Hartley should listen to most is quarterback
Drew Brees
. After all, Brees is the leader of this team and he's also a guy who went through some hard times earlier in his career. Brees told the New Orleans media on Wednesday that he has sat down and talked to Hartley about getting through a rough period.
"I told him I've been benched three times,'' Brees said. "I said, it's all part of the process. Every young player has to learn it. There's no shortcut to it. There's no easy way to it. You just have to learn it the hard way. You're learning it the hard way. Make the most of it. Absorb everything you can from John Carney. John Carney's a Hall of Fame kicker. I've lost track of how many years he's played. He's played more years than Hartley's been alive probably. Really, we should look that up. Is that true?''
For the record, it's not quite true. Carney, 46, appeared in his first NFL game in 1988. Hartley, 24, was born in 1986. But you get Brees' point, which is to learn from your elders.
"How many opportunities do you get like that,'' Brees said. "When I had the opportunity to play with
Doug Flutie
when I was a rookie and then
Mark Brunell
, you constantly are a sponge and take in everything you can. Garrett Hartley has a ton of talent and he's already made some big kicks in his career and there are plenty more that he has to make in the future. This is just one of those times where he has to gut it out a little bit."
August, 5, 2009
8/05/09
12:32
PM ET
| | |
| --- | --- |
| | |
| | ESPN.com Illustration |
| | Who's not in the Hall of Fame who should be? ESPN.com's panel makes the case for Dermontti Dawson, Cris Carter, Doug Flutie and Rickey Jackson in future classes. |
Posted by ESPN.com's Pat Yasinskas
The Pro Football Hall of Fame will induct another class Saturday. It will not include Rickey Jackson, Dermontti Dawson, Cris Carter and Doug Flutie.
2009 Hall of Fame Induction Coverage
Saturday in Canton, Ohio, six men will be hailed as the latest members of the Pro Football Hall of Fame. Bruce Smith, Rod Woodson, Ralph Wilson, Randall McDaniel, and posthumous honorees Derrick Thomas and Bob Hayes form the Class of 2009. The ceremonies will air live, beginning at 7 p.m. ET, on ESPN and ESPNHD. Follow ESPN.com's coverage.

• Our future HOF nominees: Story | Podcast


• Chat: Hall of Fame inductee Rod Woodson
• Chat: Hall of Famer Warren Moon
• Wickersham: Wilson valued for impact
• Scouts Inc.: Top 5 CBs in the NFL today


• Walker: Is Rod Woodson the best CB ever?
• Graham: Bruce Smith, Sackmaster
• Blogs: More Hall of Fame coverage

But future classes should.
At least that's the argument our four-man panel (Jeremy Green, Matt Williamson -- each from Scouts Inc. -- Football Today producer Jay Soderberg and myself) makes in this edition of Double Coverage. In this series, we usually debate matters. But we're not going to debate this time. We each make our cases and we're going to make them passionately.
That's because each of us reacted strongly when we were asked to nominate a player who is not in the Hall of Fame but deserves to be. As the NFC South blogger, I instantly threw out Jackson's name because Saints fans have been hitting me with pleas for his case since I've taken this job. I know Green spent a large chunk of his life in Minnesota around Carter and he took all of about three seconds to nominate him.
Williamson was so eager to make his case for Dawson that he sent me his argument the day we were assigned this project two weeks ago. Soderberg owns up to the fact he's a Patriots fan, but claims that's not the only reason he thinks Flutie has been shorted.
Enough with the introduction. Listen to the discussion by clicking here

, and read the presentations below.
RICKEY JACKSON (by Pat Yasinskas)
I started off this project knowing Jackson was a darn good player. I got hit with statistics and passion when I asked Saints' fans for input. But I didn't want to rely just on my own recollections of Jackson's playing career, the numbers or folks who might be biased.
| | |
| --- | --- |
| | |
| Peter Brouillet/NFL | |
| Rickey Jackson piled up some impressive numbers: six Pro Bowl selections and 136 sacks. | |
I wanted to hear from someone up close why Jackson belongs in the Hall of Fame. That's why I turned to the trusted veteran eyes of Carolina Panthers assistant head coach Jim Skipper. He was a New Orleans assistant coach during Jackson's time with the Saints. He saw him in games, in practice and in the locker room.
"The City Champ belongs in the Hall of Fame, no doubt," Skipper said. "He was as good as anyone who's in there. ... He's the guy who made the Dome Patrol (which also featured linebackers Sam Mills,Pat Swilling and Vaughn Johnson) go and some people say they were the best group of linebackers ever. It all started with him. You want to talk about tough? Rickey was so tough, he once got into a car accident and broke his jaw. He still went out and played in that game."
How do you top that?
You don't. You just throw in the numbers -- six Pro Bowl selections and 136 sacks. You can point to the fact that New Orleans is a small market. But Jackson moved onto San Francisco near the end of his career and got a Super Bowl ring. The only thing he's missing is a spot in the Hall of Fame. It's long overdue.
DERMONTTI DAWSON (by Matt Williamson)
I fully understand that the position of center, and the offensive line in general, is not
a glamour position. Arguing for or against such players as potential Hall of Famers is a very difficult chore. But Dawson deserves enshrinement.
A 10-year starter, Dawson followed Mike Webster, one of only six centers in the Hall of Fame, to establish a legacy at the position like none other in the history of the game. During that stretch, Dawson started 171 straight games, went to seven Pro Bowls, was All Pro six times and was selected to the 1990s All-Decade Team. He started 13 playoff games, three AFC Championships and Super Bowl XXX. In comparison, Hall of Fame center Dwight Stephenson played in just 114 games with five Pro Bowls and four All-Pro selections.
Dawson's statistics are surely impressive, but his scouting report is even more extraordinary. In protection, bull rushing him was nearly an impossible chore, as he pass-blocked with tremendous leverage and technique. The ultra-quick upfield defensive tackles rarely beat Dawson. He routinely snapped the ball, pulled with his great athleticism and led an outside run with precision and grace. He also was able to quickly get into a defensive tackle who was lined up over the guard and neutralize that defender's charge while his teammate acted as a pulling guard. You just don't find centers who do that.
Dawson did it all as well as anyone who has ever played the position and he did it with consistency, longevity and class. It is a crime that he has yet to be inducted into the hallowed Hall of Fame.
CRIS CARTER (by Jeremy Green)
One of the biggest oversights in Hall of Fame voting history is former Minnesota Vikings wide receiver and current ESPN analyst Cris Carter.
| | |
| --- | --- |
| | |
| | US Presswire |
| | Cris Carter is third on the all-time receptions list with 1,101 catches. |
If there is ever a player who should be a first-ballot Hall of Famer, it's Carter [who became eligible in 2008). He is arguably the second-best wide receiver to ever play the game behind only one man: Jerry Rice, who has yet to become eligible for the Hall of Fame ballot.
Despite not having blazing speed, Carter adapted into a big-time playmaker in Minnesota. He could play the X and Y positions. He was unbelievable in the slot in the Vikings' 3-deep wide receiver concept during the Dennis Green era [Editor's note: Dennis Green is Jeremy Green's father]. Carter is the second- best route-runner I've ever seen, ranking behind only Rice. I had the pleasure to watch both in numerous practice sessions and live games from both field and coaching box levels.
The numbers do not lie when it comes to Carter. He is third on the all-time receptions list with 1,101, trailing only Rice (1,549) and Marvin Harrison (1,102). Despite playing the majority of his career opposite another receiver who will be in the Hall of Fame in Randy Moss (13,201 career receiving yards), Carter currently ranks seventh on that all-time list with 13,899 yards. Carter is fourth on the all-time touchdown reception list, trailing only Rice (208), Terrell Owens (141) and Moss (136), with 131 receiving touchdowns.
The statistics were there for Carter to be a first-ballot HOF candidate. What I think is almost as important: Carter is a man who changed his life. After battling both alcohol and drug use in his early years with the Philadelphia Eagles and being released, the Vikings were one of the few teams willing to take a chance on him. They picked him up for a $100 waiver claim and Carter rewarded them by changing his life and blossoming. In my mind, he's second-best receiver to play the game.
DOUG FLUTIE (by Jay Soderberg)
We probably should start by saying that my bias for New England Patriots players is well documented, but that is not what has led me to the belief that Doug Flutie belongs in the Pro Football Hall of Fame. What has led me to this conclusion is the name of the shrine in Canton itself: PRO FOOTBALL Hall of Fame, and Doug Flutie was one of the greatest quarterbacks ever in the Canadian Football League.
Flutie, who retired from the NFL in 2006, does not become eligible for Hall Of Fame consideration until 2011. But he's got plenty of ammunition, in my opinion.
His career stats in Canada alone are worth noting: 61.4 completion percentage, 41,355 total passing yards, 270 passing touchdowns and only 155 picks in a pass-oriented league. He was the first quarterback to pass for more than 6,000 yards in a season; he did it twice and came close a third time. He won three Grey Cup championships, and was named the CFL's Most Outstanding Player a record six times.
Flutie was never given a real chance to be a starter in the NFL, whether battling the issue of his height (he's listed as standing 5 feet, 10 inches), battling for a job as a backup (with Rob Johnson in Buffalo, Drew Brees in San Diego), or being labeled a "scab" for crossing the picket lines early in his NFL career with the Patriots. Combine the stats from all three professional leagues he played in (he played one year in the USFL for Donald Trump's New Jersey Generals) and his numbers -- 58,179 total passing yards, 369 passing touchdowns, 6,759 rushing yards and another 82 rushing touchdowns -- are definitely worthy of consideration. Don't forget his numerous, memorable fourth-quarter comebacks.
Just for kicks, let's add that he was the last player to drop-kick an extra point during an NFL game.

Listen to the podcast

for more on our nominees and join the discussion below.

NFC SOUTH SCOREBOARD
Thursday, 9/18
Sunday, 9/21