August, 5, 2010
8/05/10
2:27
PM ET
July, 2, 2010
7/02/10
12:00
PM ET
By
Scouts Inc.'s Matt Williamson
| ESPN.com
»
NFC South Weaknesses
:
Falcons (6/29)
|
Panthers (6/30)
|
Saints (7/1)
| Bucs (7/2)
Only a few defenses were as poor as Tampa Bay in defending the run in 2009. But to their credit, the Bucs attacked the problem head on with the drafting of
Gerald McCoy
and
Brian Price
with their first two selections. Both youngsters are fine prospects -- especially McCoy -- but defensive tackles can take time to mature as they adjust to the NFL, and until we see glimpses of improvement, I have to say that the Bucs' run defense is a weakness.
[+] Enlarge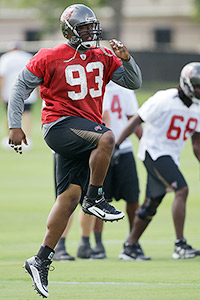 AP Photo/Chris O'MearaThe Bucs are counting on Gerald McCoy to help shore up their run defense.
McCoy is a tremendous fit in this Tampa 2 scheme. He is extremely explosive and has the makings of a wonderful upfield disruptor. Price also is impressively physically, but is more suited for the one-technique role. He has more girth and should be able to handle the interior run a little better. But both players are very promising and you have to commend the Buccaneers for being so proactive in their approach to correcting this problem. Surely, playmaking middle linebacker
Barrett Ruud
is excited about the two rookies' arrival, but again, how much of an impact will these two youngsters have right out of the starting gate?
Tampa Bay also used a third-round pick in the 2009 draft on
Roy Miller
. Miller better fits the Price mold than the McCoy mold, but he found out last season that transitioning to the NFL isn't a walk in the park. Ideally, he progresses in Year 2 and rotates into the game with regularity. I could see that happening, especially because he reportedly lost some weight to better fit this system. While the position could be a liability in 2010, it probably won't be long before these three youngsters are the envy of the league at defensive tackle.
Dre Moore
is yet another talented, young defensive tackle. He too has yet to excel since entering the league, but he could be primed to at least take a step forward. These four youngsters should give Bucs fans an awful lot of hope at defensive tackle, but the production just hasn't been there as of yet.
Ryan Sims
started every game last season, but in doing so proved once again that he was not worth the very high selection that Kansas City used on him. He is a depth player at best.
But defensive tackle is not the only problem spot with Tampa's run defense.
Stylez White
is one of the more underrated players in this league and was excellent at one end spot in 2009. That level of play should continue, but he will soon be getting a reputation, and without anyone formidable at the other end spot, opposing offenses will concentrate more on slowing him down both as a run defender and especially as a pass-rusher.
This brings us to the combination of
Tim Crowder
and
Kyle Moore
. Like the tackles on the roster, these two have some upside and could improve, but overall, they are good-sized base ends who just do not have enough dynamic playmaking ability to make much of a difference. Although this is especially true from a pass-rushing standpoint, their run-stopping prowess is far from overwhelming either.
In the Tampa 2 system, speed at linebacker is preferred over bulk. That makes the defensive line extremely important. As teams like Indianapolis have shown, you don't have to be massive up front to be potent, but there must be threatening defensive linemen to help free up the faster linebackers. Along with Ruud, Tampa has two little-known outside linebackers in
Geno Hayes
and
Quincy Black
. Both are excellent young playmakers, and if the youngsters up front can progress as the Bucs hope, Hayes and Black will be household names before long.
Lastly,
Sean Jones
was signed to challenge
Sabby Piscitelli
at strong safety. If Jones stays healthy, he also will help this ailing run defense.
Tampa Bay's run defense should be better in 2010. It almost has to be. And obviously the franchise dedicated serious resources to its improvement. But until I see it, run defense has to be considered a weakness, and I worry that massive improvement will not come overnight.
November, 22, 2009
11/22/09
11:50
AM ET
September, 27, 2009
9/27/09
12:09
PM ET

Posted by ESPN.com's Pat Yasinskas
TAMPA, Fla. -- We just got the list of today's inactives and it's pretty interesting for both the Bucs and the Giants.
Each team has declared a key injured player active. Tampa Bay receiver
Antonio Bryant
is on the active list. So is New York defensive end
Justin Tuck
, although I suspect the Giants will use him cautiously.
Tampa Bay's inactives include running back
Earnest Graham
, center
Jeff Faine
, offensive lineman
Marc Dile
, receiver
Maurice Stovall
, defensive tackle
Dre Moore
and defensive end
Kyle Moore
. Josh Freeman is the inactive third quarterback.
New York's inactives are running back
Danny Ware
, cornerback
Aaron Ross
, cornerback
Kevin Dockery
, tackle
Adam Koets
, receiver
Domenik Hixon
, receiver
Hakeem Nicks
, linebacker Clint Stintim and defensive lineman
Chris Canty
.
August, 18, 2009
8/18/09
1:00
PM ET
| | |
| --- | --- |
| | |
| | J. Meric/Getty Images |
| | One of the largest questions Tampa Bay needs to answer is who will be their starting QB from among Luke McCown (12), Byron Leftwich (7) and Josh Freeman (5). |
Posted by ESPN.com's Pat Yasinskas
TAMPA, Fla. -- Take a look at any preseason magazine or watch any television show. The verdict is unanimous.
Everybody's got the Tampa Bay Buccaneers picked to finish fourth in the NFC South. If you want to know where they're projected in the whole league, look somewhere between No. 25 and No. 32.
When you've got a new coach, a new general manager, uncertainty at quarterback and part ways with some of the biggest names in franchise history, you're going to be anointed as one of the NFL's worst teams.
"That's not a bad thing," middle linebacker Barrett Ruud said with a laugh. "That's the mindset we have going into this year. There may be no expectations for us from the outside. But, as a group, we think we can be pretty good.''
Why?
To understand what Tampa Bay has, you have to understand what the Bucs don't have. They don't have coach Jon Gruden, linebacker Derrick Brooks, receiver Joey Galloway, running back Warrick Dunn and quarterback Jeff Garcia back from the only NFC South team that's had a winning record each of the last two years.
That's been enough to drop expectations from prognosticators and fans to the lowest level since Sam Wyche and company were piling up double-digit losses in the mid 1990s. But maybe -- just maybe -- it doesn't have to be this way.
Maybe the Bucs aren't as bad as everyone thinks. They do have some positives.
| | |
| --- | --- |
| | |
| | Cliff Welch/Icon SMI |
| | Barrett Ruud (right) is one of the Bucs' building blocks on defense. |
"We've got a nice core group of players,'' Ruud said. "We've got a really good offensive line. We've got four or five really good running backs. We've got two quarterbacks that are really hungry and they're battling to be the starter. And we've got a defense that kind of had our pride taken away at the end of last year and we're trying to get back to where a Tampa Bay defense is supposed to be.''
Ruud has some valid points. Forget the quarterback situation for a second. The rest of the offense looks pretty good. The offensive line is solid, Derrick Ward and Earnest Graham are quality running backs and receivers Antonio Bryant and Michael Clayton and tight end Kellen Winslow might be able to make whoever is the quarterback look good.
The defense needs some work, but the Bucs have players like Ruud, cornerback Ronde Barber and safety Tanard Jackson to build around.
But, more than anything, the Bucs have new coach Raheem Morris. Yes, he's the youngest coach in the league and that's one reason for the low expectations outside the organization. But Morris is the reason the expectations are high within the organization.
"We were 9-3 last year and had a rocky ending because the atmosphere wasn't right,'' Clayton said." But the team we've put together this year is a whole lot better than last year. You know the energy is going to be in the right place because of the atmosphere. Raheem maximizes you. Raheem does a good job of maximizing everybody's effort and we didn't have that last year.''
Key Questions
Who will be the quarterback? Even the Bucs don't know the short-term answer to this one yet. They'll pick a starter after Saturday night's preseason game in Jacksonville. It will be either Luke McCown or Byron Leftwich; they have been basically even through camp and one preseason game.
The Bucs will go with the quarterback they think can be more efficient because they believe the rest of their offense is solid. But it's no secret that the quarterback who opens the season is merely a stopgap. It's blatantly clear that Josh Freeman is the quarterback of the future.
Since drafting Freeman, Morris has gushed about the quarterback he coached
at Kansas State. The selection went against the wishes of many fans, who believed the Bucs should have focused on a defensive player. But that's history now because Morris and general manager Mark Dominik are committed to building this team around Freeman.
They want to bring Freeman along slowly and that's why they'll open the season with one of the veterans. But Freeman isn't going to sit forever. If McCown and/or Leftwich struggle, the same fans who booed Freeman's selection will be calling for him to start.
What's the defense going to look like without Brooks? It's going to be completely different and that's not just because the best player in franchise history is gone. Coordinator Monte Kiffin, the man who made the "Tampa Two'' scheme famous also is gone. The Bucs have a new coordinator in Jim Bates and a whole new defense.
There will be more bump coverage, but the emphasis still will be on speed. This isn't a very big defense. Former safety Jermaine Phillips has moved into Brooks' old spot on the weak side. Ruud's the only proven star in his prime and the veteran Barber will try to ease the transition.
But the Bucs believe they can develop some new stars and they're hoping guys like defensive end Gaines Adams and cornerback Aqib Talib can become core players very quickly.
What will the offense look like without Gruden? Again, things will be totally different. Coordinator Jeff Jagodzinski brings in an offense that's focused on ball control and the Bucs have the parts in place to be a run-first team. Led by center Jeff Faine and guard Davin Joseph, the offensive line might be the team's biggest strength.
One of the first moves Morris and Dominik made was to bring in Ward. He's going to be used in tandem with Earnest Graham. Jagodzinski's first goal is to establish the running game, but he's also got big plans for the passing game.
Gruden relied mostly on a horizontal passing game, but those days are gone. Although the Bucs may not have a true speed receiver, they'll use play action to try to create opportunities for Bryant, Winslow and Clayton down the field.
Market Watch
| | |
| --- | --- |
| | |
| | Cliff Welch/Icon SMI |
| | The Bucs took a risk in trading for Kellen Winslow and signing him to a new, long-term contract. |
Without much depth at wide receiver, camp was a golden opportunity for Dexter Jackson to redeem himself after a horrible rookie season. Jackson's been given a lot of chances, but hasn't been able to take advantage of him. A second-round pick from a year ago, there's a very real chance Jackson won't even make the roster. ...The move of Phillips to weakside linebacker is working out nicely and it comes with another component. Part of the reason the Bucs decided to move Phillips was because they wanted to get Sabby Piscitelli into the starting lineup at strong safety. He's embraced that chance and showed he can make big plays in the preseason opener.
The Bucs have known for months that they might have to go without starting guard Arron Sears, who hasn't reported to camp because of a "private matter." Sears was a very solid player the past two years, but there shouldn't be much drop off. The Bucs already were high on Jeremy Zuttah, who showed some promise as a rookie last year. He's had the entire offseason to work with the first unit. The Bucs would welcome Sears back, but they're not counting on that happening any time soon.
The Bucs knew what they were getting into when they traded for Winslow and turned around and gave him a huge contract. The tight end comes with enormous talent and baggage. Winslow had injury problems and often was the center of controversy in Cleveland. Morris is trying to light a fire under Winslow and already has criticized him. But that's all part of a plan to try to get the most out of Winslow's talents.
The Bucs also took a gamble by drafting wide receiver Sammie Stroughter in the seventh round. Stroughter has had some personal problems in the past. But all indications are he's put those behind him. Stroughter has been one of the stars in camp. At the moment, he's probably the leading candidate to be the No. 3 receiver. He's shown the ability to go across the middle and he also has return skills.
Observation Deck
The Bucs had pictured Angelo Crowell as their starting strongside linebacker when they signed him as a free agent. But injuries have held Crowell back and Quincy Black appears to have locked up the starting job. Backup Adam Hayward also has had a strong preseason and can do a lot on special teams. Crowell no longer is a lock to make the roster. ... Defensive tackle was a big concern in the offseason because Chris Hovan is aging and Ryan Sims never has been dominant against the run. The Bucs will use those two as the starters, but they feel a lot better about this position as they prepare to break training camp. Third-round pick Roy Miller has had a strong preseason. So has Dre Moore, who did little as a rookie last year. Moore has kept himself in shape after struggling with weight issues last year. The Bucs plan to use a four-man rotation and play Miller and Moore a lot. Miller could emerge as a starter before long. ... Defensive end Jimmy Wilkerson has been a backup throughout his career. But the new coaching staff penciled him in as a
starter from the very beginning and he hasn't disappointed. The coaches believe Wilkerson can play the run and rush the passer. They'll also rotate Stylez White into the lineup, but Wilkerson will get the majority of the snaps.
May, 13, 2009
5/13/09
2:30
PM ET
Posted by ESPN.com's Pat Yasinskas
Ray Hamilton, Brian Baker, Bill Johnson, Todd Wash and Robert Nunn have more in common than being defensive line coaches in the NFC South.
They also might face the biggest challenges of any coach on their individual staffs this season. There's a common theme through all the NFC South teams this year -- the defensive lines have to get better.
That's going to be largely up to the guys in charge of the defensive lines. Here's a look at the NFC South defensive line coaches and the challenges they face.
ATLANTA FALCONS

Ray Hamilton. He's a veteran and has long been recognized as being one of the best in the business. Hamilton did a fine job last year as veteran end John Abraham had a huge season and the Falcons were able to get by with the aging Grady Jackson in the middle of their line. But the Falcons had almost no pass rush outside of Abraham and Jackson is now gone. That brings new challenges for Hamilton. He's worked very hard this offseason with underachieving end Jamaal Anderson and there's hope Anderson can emerge in his third year. But the Falcons have Chauncey Davis as an insurance policy and drafted a project in Lawrence Sidbury. In a perfect world, Anderson steps up, Davis plays a role and Sidbury can be groomed as an eventual replacement for Abraham. Hamilton's also got a lot of work to do in the interior. Jonathan Babineaux has emerged as a very solid tackle, but Hamilton will have to break in rookie Peria Jerry next to him.
CAROLINA PANTHERS

Brian Baker. He's new to the Panthers and so is most of the defensive staff. Baker has a fine resume and has gotten big results out of Leonard Little, Robert Porcher, Luther Elliss and Kevin Williams in his previous stops. That's a good start because the coaching of the defensive line has been a controversial issue for the Panthers for most of John Fox's tenure. Once upon a time, the Panthers had Julius Peppers, Mike Rucker, Kris Jenkins and Brentson Buckner up front and they were coached by Mike Trgovac, who was regarded as one of the best defensive line coaches in the game. But Trgovac moved up to coordinator in his second season. That led to the hiring of Sal Sunseri as defensive line coach and some raised eyebrows around the league. A lot of people thought Sunseri, who was new to the NFL and had a background with linebackers, wasn't ready for the position and was hired because he was Fox's friend. Some players on the defensive line also held that view and the perception never went away. For reasons that haven't been fully explained, Jenkins asked out and got traded to the Jets, and Peppers still is asking out. Sunseri left after the season to coach at Alabama. Baker inherits a group that doesn't have nearly the talent level the Panthers once did, even if Peppers stays. He's going to have to coach up rookie Everette Brown very quickly and get some role players to overachieve. In the old days, Fox's teams were built around the defensive line. That's no longer the reality, but Baker has to bring this unit up to a respectable level.
NEW ORLEANS SAINTS

Bill Johnson. This was a critical hire as the Saints, once again, overhauled their defense and brought in coordinator Gregg Williams and a bunch of new personnel. Johnson's inheriting a group with lots of talent, but some players who haven't consistently lived up to their potential. It's Johnson's job to draw that from them and he'll start with defensive ends Charles Grant and Will Smith. In his first season with Denver, Johnson helped second-year pro Elvis Dumervil get 12.5 sacks. There's no reason why Smith and Grant both shouldn't be around the double-digit mark in sacks. One way Johnson will try to help those two is to give them some help from the inside, and the Saints have the potential to get that from second-year pro Sedrick Ellis, who had a solid rookie season. But Johnson's not counting on just Ellis. He helped bring veteran Rod Coleman out of retirement. There's history with Johnson and Coleman. They worked together in Atlanta and Coleman produced 28 sacks in their time together. Coleman's age may prevent him from being the force he once was, but he gives Johnson another guy who can make things happen up front.
TAMPA BAY BUCCANEERS

Todd Wash and Robert Nunn. Wash is coaching the defensive ends and Nunn is handling the defensive tackles. That combo approach is probably a good thing because the Bucs need all the help they can get up front. The defensive line was a major player in last year's late-season collapse, and there will be at least two new starters as end Kevin Carter and tackle Jovan Haye have left the team. Wash's main task is to get third-year end Gaines Adams to be more productive. There's talent there, but Adams needs to add some moves to go with his physical skills. Nunn's got to get young tackles Roy Miller and Dre Moore ready quickly because Chris Hovan didn't look like he had a lot left at the end of last season, and Ryan Sims and Jimmy Wilkerson are role players. New coordinator Jim Bates is bringing a whole new scheme to the Bucs, but that transition should be helped by the fact that Nunn worked with Bates in Miami and Green Bay.
May, 4, 2009
5/04/09
12:47
PM ET
Posted by ESPN.com's Pat Yasinskas
The Tampa Bay Buccaneers are next in our series of team-by-team mailbags.
Patrick in Tampa writes: hi pat, i know the Glazers look at raheem morris and see a young mike tomlin. how long of a leash do you think he is on and how long do you think he has to put a championship team on the field?
Pat Yasinskas: I know there are some out there who think Raheem Morris might only be around for one season. I disagree and I'll point out a couple of reasons for that. First, the Glazers had to sign off on the selection of quarterback Josh Freeman. When you make a move like that, you're committing a minimum of two to three years for a young quarterback to develop. Second, the Bucs still have to pay Jon Gruden for three seasons. I don't think they want to be paying Gruden, Morris and another coach.
---
Ryan in parts unknown writes: I hear there is a lot of talk concerning the Bucs picking up Jason Taylor to help there defensive rush game. Its sad when Miami wont even consider the dancing star thats lost his shine but it would be even sadder if Tampa took a chance on him at this point. I'd rather see Tampa bring in a few less expensive risks like some defensive players from south Fl teams like South FL or FIU. Which do you find to be the biggest risk, gambeling on old dogs or new ones that can still learn new tricks?
Pat Yasinskas: Defensive coordinator Jim Bates has said the Bucs have at least talked about Taylor, but that doesn't mean it's going to happen. The Bucs have set a clear precedent that they're going with youth by releasing Derrick Brooks and some other veterans. They've followed that plan throughout the offseason. They asked veteran defensive end Kevin Carter to hang loose until after the draft. But after addressing the defensive line in the draft, they told Carter to move on. Although there could be an exception made for Taylor, I think the Bucs plan to stick closely to their plan.
---
Sonny in Las Vegas writes: I have a dozen things that I WANT to ask, but this is what I WILL ask: In the spirit of Coach Morris' new regime with regards to open competition, which of these first and second year players--E.J. Biggers, Geno Hayes, Dexter Jackson, Josh Johnson, Elbert Mack, Roy Miller, Kyle Moore, Dre Moore, Sammie Stroughter, Josh Vaughn, DeAngelo Willingham--could plausibly develop into a situation where they see significant playing time? The D Linemen seem like a safe bet, especially inside, but any surprises? P.S. What's the status of Hayes' injury? Thanks Pat!
Pat Yasinskas: I'm with you on the defensive linemen. I think Roy Miller starts right away and Kyle Moore and Dre Moore each play a role. The two other guys on your list that I like are Elbert Mack and Sammie Stroughter. The Bucs are very high on Mack and I think they view him as the third corner behind Aqib Talib and Ronde Barber right now and can envision him becoming a starter in time. Stroughter looked very good in this weekend's minicamp and has a real shot to make the team.
---
Eric in Paris writes: Do you think the Bucs will really take time for Freeman to develop? With a hard schedule ahead, lots of coaching change and few veterans gone, they can be pressed by the losses to put Josh into the starting line-up to give fans something to look at.
Pat Yasinskas: Here's my best guess right now: I say Luke McCown opens the season as the starter. The Bucs play a midseason game in London against the Patriots and have a bye after that. I say that Freeman's starting in the game after the bye.
---
Dylan in Las Vegas writes: Pat, There has been some talk that Alex Smith was just as productive as Jeremy Stevens over the same stretch. If that is the case, do you think it was wise to keep Stevens over Smith since Smith is 5 years younger and without the character issues?
Pat Yasinskas: I think it came down to the Bucs wanting to get something in return for their tight ends and Smith was the most marketable of the group.
---
A.J. in Dallas, TX writes: What is the Bucs best case scenario this season? Optimistic fans might say we can make the playoffs, but is that too far-fetched? What would be considered a succesful season, in your opinion, and what should us Bucs fans realisticly expect? Thanks alot!
Pat Yasinskas: Nothing's far-fetched anymore. At this time last year, a lot of people were wondering if the Atlanta Falcons could even win a game. They won 11 and made the playoffs. But I think the Bucs can have a successful season if they continue to improve as the year goes on and they get Freeman some playing time and experience.
January, 8, 2009
1/08/09
11:09
AM ET
Posted by ESPN.com's Pat Yasinskas
The Bucs announced the signing of a group of players to future contracts for 2009. Defensive tackle Dre Moore, a fourth-round pick in 2008, highlights the list.
The Bucs also signed tackle Anthony Alabi, kicker Shane Andrus, cornerback Kyle Arrington, defensive tackle Chris Bradwell, cornerback Greg Fassitt, defensive end Louis Holmes, linebacker Jamall Johnson, tight end Jason Pociask and guard Julius Wilson.