NFC South:

Drew Brees signs
July, 16, 2012
7/16/12
11:20
AM ET
When New Orleans quarterback
Drew Brees
signed a five-year contract that averages $20 million a season, Atlanta's
Matt Ryan
, Tampa Bay's
Josh Freeman
and Carolina's
Cam Newton
each fell a rung on the ladder of average salaries for NFL quarterbacks.
They probably all smiled. Despite their temporary tumbles, all three will benefit from Brees' new deal at some point.
Brees passed
Peyton Manning
's previous league-high average of $19.2 million. He's also $1.8 million ahead of
Tom Brady
and nearly $4 million ahead of
Eli Manning
. No quarterback is going to benefit more than Green Bay's
Aaron Rodgers
. He's been averaging a relatively meager $12.7 million a season and it's already well known that he'll have an extension coming sooner rather than later. When Rodgers' extension comes, look for his average per year to be worth as much as or more than what Brees got.
Rodgers has similar statistics, a lot of victories and is a lot younger than Brees. Obviously, not every quarterback is as good as Rodgers, Brees, Peyton Manning or Brady. But every quarterback who gets a contract extension going forward is going to get more money than he would have before because the salary bar has been raised significantly.
Ryan is
tied for No. 14
at $11.25 million per year. You can argue whether Ryan is truly elite, but I feel pretty confident in saying he's better than the 14th-best quarterback in the league. There already have been some rumblings that the Falcons would like to get a contract extension done with him sooner rather than wait until his current deal runs out in 2013.
If they do it soon, I look at the list and don't think it's a stretch for Ryan to be in the top five when it comes to average salary per year. Philadelphia's
Michael Vick
is No. 5 at $16 million per year. I think Ryan's a better quarterback and has a better future than Vick. Funny, but the Falcons already reached a similar conclusion back in 2008, when they drafted Ryan to take over for Vick.
If the Falcons wait until after this season to work an extension, they run the risk of Ryan driving up the price tag. His statistics have improved steadily and the only knock is that he hasn't won a postseason game. Suppose this is the year Ryan suddenly wins some postseason games, maybe even a Super Bowl? Then the price tag suddenly jumps closer to $20 million a season.
Freeman's contract also is up after the 2013 season. He's averaging $5.24 million a season (No. 22 overall). There was some talk early last year that the Bucs would try to extend Freeman after a very strong 2010 season. That didn't happen and Freeman and the Bucs took several big steps back last year. It might be wise for the Bucs to wait a bit and see how Freeman is fitting in with the new system brought by coach Greg Schiano. But the coaching staff already sounds like it's very high on Freeman. If he gets off to a fast start, I say go ahead and try to sign Freeman to a deal that averages $10 million to $12 million a year. If they wait an entire season and Freeman truly does bounce back, he could be looking at somewhere around $15 million.
Then there's Newton. He's No. 21 at $5.506 million. The Panthers caught a bit of a break last season when they drafted Newton No. 1 overall and new limits went into place on what rookies can earn on their first contract. Newton's current deal runs through 2014. That means there's no rush to extend him. But let's say Newton goes out this season and improves on a stellar rookie season -- and Carolina plays a little defense and wins a few more games. Then Newton becomes one of those players who eventually could be looking at $20 million or more per season.
July, 13, 2012
7/13/12
6:01
PM ET
The deal is finally done. After two years of haggling, the
New Orleans Saints
and
Drew Brees
have reached common ground. Let's go inside the deal, looking at the numbers provided by a league source:
Year 1
[+] Enlarge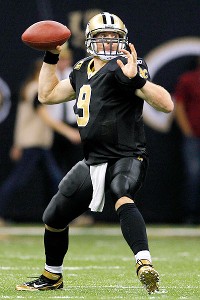 Derick E. Hingle/US PresswireDrew Brees will earn up to $40 million for his 2012 earnings.
Brees was carrying a one-year franchise tag number of $16.371 million. That is no longer.
Brees will receive a staggering $37 million signing bonus, to be paid in full over the next six months. And for the 2012 season, Brees will receive a salary of $3 million, bringing his 2012 earnings to $40 million. This represents the highest one-year earnings in the NFL.
As the signing bonus is prorated over the contract term of five years, Brees' cap number this year consists of the prorated bonus amount ($7.4 million), plus the salary ($3 million). This $10.4 million compares favorably to the $16.371 cap number that the Saints were carrying on Brees, a savings of almost $6 million to the Saints' tight cap.
Year 2
When the 2013 waiver period begins after the Super Bowl -- held in New Orleans this year -- the Saints will have three days to release Brees. Should they do so (highly unlikely), he will become a free agent with $40 million in his pocket for his 2012 services.
If the Saints do not release him, a $15 million guarantee activates -- $10 million in 2013 and $5 million in 2014.
Thus, Brees' two-year earnings are $50 million, but the functional amount is really $55 million as an additional $5 million for 2014 is guaranteed with no offset. That means if Brees is released before 2014 and signs with another team, he would keep the entire $5 million from the Saints in addition to his earnings from a new team.
Year 3
Similar to 2013, the Saints will have three days to either release Brees -- letting him walk with $55 million earned over two seasons -- or activate another $5 million guaranteed. That would put Brees' total guarantee at $60 million, another NFL record. And, for good measure, he has a $1 million salary in 2014, bringing his three-year earnings to $61 million.
The $61 million over three years is -- technically -- not the highest three-year amount in the history of the NFL. That honor goes to the contract signed 11 months ago between the Colts and
Peyton Manning
, with three-year earnings of $70 million. However, as we know, that contract never saw Manning play a game and was terminated in March, allowing Manning to become a free agent and sign with the Broncos.
Years 4 through 5
There are similar triggers relating to the remaining $39 million of the contract -- $19 million in Year 4 and $20 million in Year 5. Of course, these triggers become more relevant than the earlier ones in the contract, as there is more risk later in the deal. It is hard to forecast the future, but the deal sets up for another negotiation three years from now, with perhaps a different leverage equation.
The Manning factor
In any negotiation there is always a contract that becomes a focal point for the talks. In this case it is the freshest data point in the marketplace, the contract in March between the Broncos and Manning. Manning makes "only" $18 million in the first year, but he is coming off a season where he didn't play due to a neck injury.
The fulcrum of Manning's contract is for Manning to pass a 2013 physical, activating $40 million of guarantees for Years 2 and 3, meaning Manning, if healthy, will make $58 million over the first three years of his deal, all guaranteed. Now Brees, 33, who is three years younger than Manning and obviously healthier, will make $61 million over the same period.
Outlook
We knew this deal was going to get done and we knew the magic number of $20 million per year was a target for the Brees camp. The devil was always in the details -- Year 1 money, guarantee triggers, three-year value, etc.
Brees, who was discarded by the Chargers in 2006 and turned down by the Dolphins in free agency that year, now becomes the highest-paid player in the history of football. And no one is arguing that he shouldn't.
July, 13, 2012
7/13/12
4:30
PM ET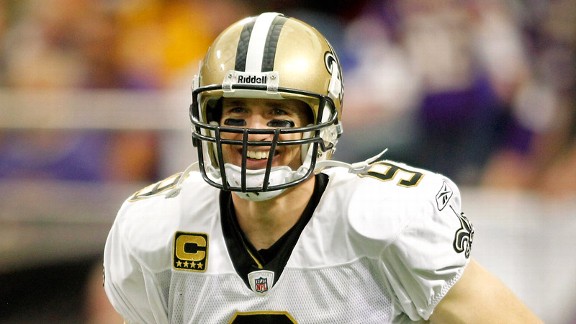 Bruce Kluckhohn/US PresswireDrew Brees passed for 5,476 yards and 46 touchdowns last season for New Orleans.
Now the healing can start.
Now that
Drew Brees
has
agreed to a five-year, $100 million contract
, the
New Orleans Saints
-- and I'm talking players, coaches, owner Tom Benson, everyone else who works for the team and all of Who Dat Nation -- finally can start moving on.
Yes, there's going to be some sense of "the new normal'' in a season in which coach Sean Payton and linebacker
Jonathan Vilma
are suspended for the year, interim head coach Joe Vitt must hand off his temporary title for the first six games and general manager Mickey Loomis must step aside for the first eight. But simply having Brees happy and showing up for training camp provides a huge degree of normalcy, and that's going to make a big difference.
Since his arrival in New Orleans with a chip on his shoulder in 2006, Brees has made the Saints look like a model franchise. No organization is perfect, and fans have found out plenty that they didn't want to know about the Saints this offseason. But problems in New Orleans go back further than that. The defense wasn't very good in Brees' early years in New Orleans. In 2009, Payton brought in Gregg Williams to fix it. On the surface, Williams did. The Saints won a Super Bowl that season. But not everything was spectacular behind the scenes. Payton and Williams never were the best of friends, and that led to dysfunction that was masked nicely until the whole bounty drama unfolded.
That dysfunction was masked almost exclusively by one man -- Brees.
With a quarterback like Brees, you can have dysfunction in a lot of areas and still prosper. Brees has played like a machine the past few years, making everyone from left tackle
Jermon Bushrod
to the people who draw yard lines at Mercedes-Benz Superdome look good. With a quarterback like Brees, you can take a franchise that had never really had sustained success and make it seem like the Saints have been a dynasty forever.
Cracks in the Saints' foundation started forming in March, when NFL commissioner Roger Goodell first made public allegations of a three-year bounty program. Things only got worse during the ensuing months when Goodell handed out suspensions to Payton, Williams, Loomis, Vitt and players. You needed a law degree just to follow the Saints through the spring. The summer started to look even worse as Brees' contract negotiations stalled. There were reports that Brees would not sign his franchise tag. There were hints that Brees would hold out, and the Saints appeared to be staring straight at
Chase Daniel
and a 5-11 or 6-10 season.
There was panic from Bourbon Street to Bogalusa as the clock ticked toward Monday's 4 p.m. deadline for Brees to work out a long-term contract. Even die-hard Saints fans who still don't believe their team ran a bounty program started to turn on Brees, whom some perceived as greedy. But this was just the art of negotiation.
I have to believe that Loomis and Benson knew all along that they couldn't afford to go into this season without Brees, no matter how much he'll impact the salary cap. I have to believe that Brees truly wouldn't have sat out an entire season.
Both sides were simply playing the game. They played it far too long and made it much more dramatic and bitter than it had to be. But none of that matters now, and I'm sure Loomis, Brees and Saints fans will quickly forget this chapter of their history. That's a great thing, because it's going to be largely up to Brees to help this franchise forget -- or at least move on from -- the bounty scandal.
Brees knows how to work the media and fan base as well as he knows how to run the offense. Sometime in the next few days, he'll talk about his new contract and on July 26 he'll throw the first pass of training camp. It's pretty safe to assume he'll talk about how the Saints can still challenge for the NFC South title, maybe even win a Super Bowl championship, despite all that's happened this offseason.
Thing is, Brees will be right. It's not going to be easy without Payton, but the Saints still are following the coach's system and running his offense. It's not going to be easy with Vitt running training camp then handing the whistle off to someone else (reportedly offensive line coach Aaron Kromer) for the first six games. But this Saints team is mature and has dealt well with adversity, and you can bet it's going to enter this season with an us-against-the-world attitude. It's not going to be easy with Loomis having to step away at the same time as Vitt. But Loomis has a staff of experienced and competent underlings who can fill his shoes for eight games.
The whole scenario just got a lot easier, because the Saints and Brees agreed to a deal.
The quarterback once took a below-market deal to sign with the Saints because there were huge questions about the health of his right shoulder. Brees clearly outplayed his first Saints contract. This time, the money is doing more than just pushing the envelope. The Saints broke the bank for Brees. They already lost guard
Carl Nicks
in free agency this year, and they'll lose more players whom they would like to keep because of cap concerns. That still beats the alternative. Without Brees, the Saints would have crumbled. With Brees, they have legitimate hope of succeeding even when it seems like everything has been stacked against them.
Brees once patched over almost every flaw this franchise had. That's why no one should doubt he can do it again.
July, 13, 2012
7/13/12
1:51
PM ET
Chris Mortensen has just reported that
Drew Brees
and the
New Orleans Saints
have agreed to a
five-year contract
worth $100 million. The deal includes $60 million in guaranteed money for the first three years. Mortensen
also talks with Scott Van Pelt about Brees' new deal

.
My first reaction is the Saints did what they had to do. They signed the face of their franchise and the leader of their team. Brees earned that contract and the Saints will need him more than ever as they head into a unique season.
But, given the fact these are pretty much the same numbers that have been thrown around for months, it makes me wonder why this deal didn't get done a long time ago. The Saints could have made the offseason a lot less painful and nerve- wracking for their fans. But the flip side to that is general manager Mickey Loomis had to work this deal from a business angle and structure it so it doesn't ruin the Saints' salary cap over the next few years.
I'll be back with more analysis on the Brees deal in a bit.