December, 9, 2013
12/09/13
8:00
AM ET
TAMPA, Fla. -- A review of four hot issues from the
Tampa Bay Buccaneers
' 27-6
victory
against the
Buffalo Bills
on Sunday.
[+] Enlarge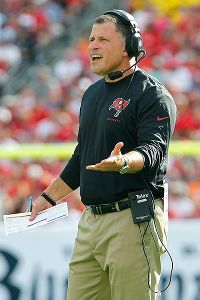 Kim Klement/USA TODAY SportsWith three wins in Tampa Bay's past four games, Greg Schiano is making a case for keeping his job.
The Schiano watch:
It still is more than fair game to speculate about whether Greg Schiano will get a third season as coach. But even the anti-Schiano bandwagon, which has been overloaded most of the season, has to look at Sunday's win and see some positives. The Bucs have won four out of their past five games. Ownership likes the way Schiano has cleaned up the locker room and ownership is very aware Schiano has three more years on his contract. If the Bucs can play well in their final three games, ownership might decide to keep Schiano.
The dominant defense:
Let's preface this by acknowledging the fact the Bucs were playing a mediocre team with rookie quarterback
EJ Manuel
. But still, look at what the defense did -- seven sacks and four interceptions. At least for one day, the Tampa Bay defense looked a lot like it did in the franchise's glory years.
Rainey-mania returns:
Running back
Bobby Rainey
, who is only playing due to injuries to
Doug Martin
and
Mike James
, finished with 127 yards on 22 carries. The numbers are a little skewed because 80 of those yards came on Rainey's first carry of the game. But think ahead to next year and picture a backfield with a healthy Martin, a healthy James and Rainey.
Glennon's bumpy day:
Rookie quarterback
Mike Glennon
had one of his worst outings. He completed just 9 of 25 passes for 90 yards with two interceptions and a 40.4 passer rating. But Glennon did complete two touchdown passes and got lots of help from the defense and special teams.
December, 8, 2013
12/08/13
6:19
PM ET
TAMPA, Fla. -- Take a look at the stat sheet from the
Tampa Bay Buccaneers
' 27-6
victory
against the
Buffalo Bills
on Sunday at Raymond James Stadium.
It will show you that the Bucs had seven sacks, four interceptions, nine tackles for loss and 13 quarterback hurries. It will show you that the Bucs played a dominant defensive game.
It might even have made you flash back to the Tony Dungy or Jon Gruden years, when Monte Kiffin still was running the defense. But this wasn't Dungy, Gruden or Kiffin football.
[+] Enlarge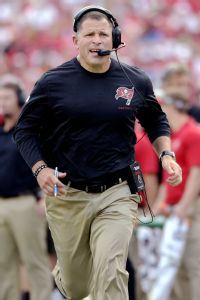 AP Photo/Phelan M. EbenhackGreg Schiano said the Bucs "invented ways to lose some games" early in the season. They've now won four of five.
This, believe it or not, is what Greg Schiano football is supposed to be like.
"This game is really what the Bucs are about," rookie cornerback
Johnthan Banks
said.
Maybe, without knowing it, Tampa Bay fans would like to see a lot more Schiano-coached football games. Schiano is down to three games left to determine if he'll be back for a third season. When the Bucs were 0-8 at midseason, it seemed a certainty Schiano would be fired.
Now, and I'm just reading the tea leaves here, it seems like Schiano has at least a chance to stick around. He has won four of his past five games. Another win or two and maybe the Glazer family, which owns the team, will decide it wants to see more Schiano football.
By definition, Schiano football is supposed to be about playing aggressive defense, running the ball on offense and taking some deep shots in the passing game. The Bucs only had a few flashes of running and passing against the Bills, but the defense carried the day.
Go ahead and rain on the parade and point out that the Bills are pretty mediocre and this was a game the Bucs should have won. The difference is this is precisely the kind of game the Bucs would have lost early in the season. Why have things been going differently the second half of the season?
"I don't know if it's that much of a difference really," Schiano said. "I think we're finding ways to win the game. Against good football teams, we were in games and found ways to lose games. Literally, you look at it and you say we invented ways to lose some games."
There's no doubt about that. Just think about linebacker
Lavonte David
's late hit on
Geno Smith
in the season opener as one quick example. Maybe, in the end, the Glazers will decide that Schiano already has invented too many ways to lose.
Or maybe the Glazers, who also might factor in that
Josh Freeman
's repeated tardiness prompted his benching and eventual release, will keep their coach. For that to happen, the Bucs have to finish the season playing the way they did Sunday.
"We challenged each other, coaches and players alike, to really make sure that we had the details," Schiano said.
The Bucs host the 49ers next Sunday. Then they close the season by going on the road to St. Louis and New Orleans.
Play like they did against the Bills and the Bucs can finish this season with some positive momentum and, more importantly, some hope for the future.
"This week was just go play our game," safety
Dashon Goldson
said. "Make them one-dimensional. Stop the run and make them beat us with the pass and we knew we weren't going to do that."
The Bucs held Buffalo to 67 rushing yards and they harassed rookie quarterback
EJ Manuel
into a bunch of mistakes.
"I think it all comes down to making the quarterback just a little uncomfortable," Schiano said. "It's not always sacks. Sometimes it's just getting that hand in the quarterback's face so he has to alter his release just a little bit."
The Bucs did more than just make Manuel uncomfortable. They held the Bills to two field goals. And they got an 80-yard touchdown run from
Bobby Rainey
on the second play of the game and two touchdown passes from rookie quarterback
Mike Glennon
.
Rainey and Glennon didn't do much besides that. But each has had bright moments in recent weeks. Get Rainey and Glennon back to that and keep the defense playing the way it did against Buffalo, and Schiano's version of football could be enough for him to keep his job.
December, 8, 2013
12/08/13
4:20
PM ET
TAMPA, Fla. -- A few thoughts on the
Tampa Bay Buccaneers
'
27-6 victory
over the
Buffalo Bills
on Sunday.

What it means:
The competition undoubtedly had something to do with it, but the Bucs played their best all-around game of the season. There were bright spots on offense, defense and special teams. The Bucs now have won four of their past five games, and that could help coach Greg Schiano's cause. I think Schiano still needs another victory or two to keep his job, but he at least has set the stage for a strong finish.
Stock watch:
Running back
Bobby Rainey
is back on the rise. After averaging just 49 yards in the previous two games, Rainey broke loose on an 80-yard touchdown run on Tampa Bay's first series. That touchdown set the tone of the day, and the Bucs never trailed. The run was the longest in franchise history and represented the fastest score in Tampa Bay history.
A mixed bag:
It's a good thing Rainey was able to break off a big run because rookie quarterback
Mike Glennon
had an up-and-down day. Glennon threw two touchdown passes but was intercepted twice.
Pro Bowl push:
When the early results of fan voting for the Pro Bowl came out last week,
Lavonte David
barely was in the top 10 among outside linebackers. After coming up with a sack and two interceptions against the Bills, maybe David will pick up some more votes.
Sack attack:
The Bucs sacked Buffalo quarterback EJ Manuel seven times.
What's next:
The Bucs host the
San Francisco 49ers
next Sunday.
December, 6, 2013
12/06/13
10:00
AM ET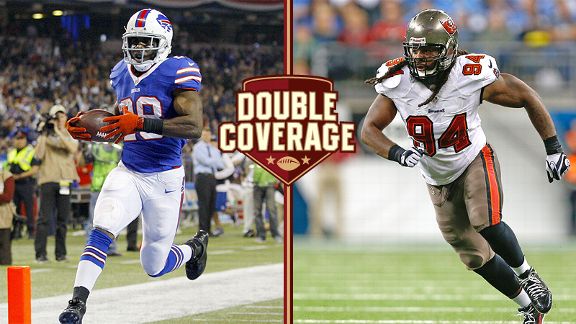 USA Today Sports; AP PhotoC.J. Spiller's Bills and Adrian Clayborn's Bucs are playing for pride -- with draft positioning at stake.
Aside from 2014 draft position, Sunday's game between the
Buffalo Bills
and
Tampa Bay Buccaneers
doesn't have a lot of obvious meaning.
At the moment, the Bucs (3-9) would hold the No. 5 overall pick in next year's draft, while the Bills (4-8) would hold the No. 9 pick. But Sunday's result could shake that order up.
ESPN.com Bills reporter Mike Rodak and Buccaneers reporter Pat Yasinskas examine the matchup.
Yasinskas:
Mike, this game features two rookie quarterbacks. Tampa Bay's
Mike Glennon
and Buffalo's
EJ Manuel
. Glennon is coming off his worst game of the season against Carolina. But, other than that, he has been fairly efficient. What's your assessment of how Manuel has played so far?
Rodak:
Manuel has been up and down, both before his knee injury and after it. The 16th overall pick of the 2013 draft missed four games in the middle of the season after he took a shot to the side of his knee against the Browns in Week 5. The Bills' brass has liked to say that Manuel was on the right track before the injury, but the reality is that he had a completion rate below 50 percent in Weeks 3 and 4 and had three turnovers in that Week 4 win over the
Baltimore Ravens
. When Manuel came back in Week 10, he had perhaps his worst game of the season, in Pittsburgh. Those have been the low points.
On the other end of the spectrum, Manuel led the Bills on a game-winning drive over the
Carolina Panthers
in Week 2 and posted a passer rating of 121.9 against the Jets in Week 11. Those have been the high points. But on average, he has been a below-average NFL quarterback to this point, posting a 45.5 QBR for the season.
Pat, the Bucs looked like a disaster about two months ago. Now they have won three of their past four games. What has changed for them?
Yasinskas:
The Bucs were in utter disarray at the start of the season. But, aside from Sunday's loss to Carolina, they've played much better over the past month or so. Part of it has to do with Glennon's steady improvement. He has shown signs he can be more than just a game manager. The other thing that has stood out has been how this team has stuck together. Despite some speculative reports to the contrary, coach Greg Schiano never lost the locker room. His players still believe in his system and have been playing hard for him. Finally, the defense, which has a lot of individual talent, has started to click and that coincided with the turnaround.
Speaking of defense, the Bills lead the league with 43 sacks, but they're allowing 25.6 points a game, which ranks 24th. What has gone wrong with this defense?
Rodak:
Earlier in the season, much of the problem was with the secondary. The Bills battled through some injuries -- safety
Jairus Byrd
and cornerback
Stephon Gilmore
both missed time -- and they got torched by some teams early. But they've been healthy back there for a while now, and the results have been better.
The problem recently has been with the run defense. The Bills rank 24th in the NFL, allowing 121.5 rushing yards per game, and allow 4.18 yards per carry. Some of that has to do with time of possession. The Bills' offense ranks 31st in the NFL, which has put some stress on the defense. More alarmingly for Buffalo, the run defense has gotten worse as the season has gone on. The Bills allowed 5.83 yards per carry to the Jets and 5.03 yards to the Falcons, including two long touchdown runs. There's a lot of talent on this defense, but the consistency isn't there.
Pat, there was a lot of talk this offseason about the moves the Buccaneers made in their secondary. They drafted
Johnthan Banks
in the second round, traded for
Darrelle Revis
and signed
Dashon Goldson
. How have those moves paid off?
Yasinskas:
The Bucs went overboard making moves in the secondary because they had the league's worst pass defense in 2012. There has been a noticeable improvement this year. But it hasn't been all roses. Banks has looked good at times, but also has had some rookie moments. Goldson missed two games due to injury and was suspended for another game for an illegal hit. Revis has been solid, although the Bucs brought him along slowly early in the year because he was coming off knee surgery. Overall, this is a decent secondary, but it has yet to approach its true potential.
Mike, what's your read on
C.J. Spiller
? He seems to be having an up-and-down season to this point. How much has his ankle injury been a factor?
Rodak:
He has been a tough one to pin down. This much is for certain: He hasn't lived up to the expectations many on the outside had for him entering this season, and his ankle is a big factor in that. But even after coach Doug Marrone removed Spiller from the injury report about a month ago, things still weren't right. He had disappointing games in Weeks 10 and 11, rushing a combined 21 times for 29 yards. But then, out of the blue, he broke open a 77-yard run Sunday, the longest of his career. He followed that with a 36-yard touchdown run and finished with one of the best games of his career, tallying 149 yards.
Going forward, I'm not really sure what to expect with Spiller. This could be his identity within this offense: a home run hitter who is prone to more strikeouts than the norm.
Pat, speaking of running backs,
Bobby Rainey
seems to have cooled off since his huge game against Atlanta a few weeks ago. What has happened to the Bucs' running game?
Yasinskas:
Rainey rushed for 163 yards against the Falcons, but has averaged just 49 yards in the two games since then. What's happening is that opposing defenses are loading the box to stop the running game. They're daring Glennon to beat them and he hasn't really done that. Until Glennon starts having more luck with the downfield passing game, defenses are going to continue to focus on bottling up the running game.
April, 20, 2013
4/20/13
10:39
AM ET
Time for a Saturday morning run through the headlines from around the NFC South:
TAMPA BAY BUCCANEERS
There seems to be a good chance the Bucs will draft a quarterback sometime after the first round. Stephen Holder runs through
the possibilities
and mentions Florida State's E.J. Manuel. I like Manuel a lot. I think he could fit Tampa Bay's offensive system and could turn into an eventual starter if Josh Freeman, who is headed into a contract year, doesn't have a good season.
NEW ORLEANS SAINTS
Although much of the pre-draft speculation has the Saints taking a pass-rusher in the first round, Mike Triplett writes
not to rule out
cornerbacks Xavier Rhodes and Desmond Trufant. Even after adding Keenan Lewis in free agency, I think cornerback is at least a possibility because the Saints might not have a lot of confidence in Patrick Robinson.
CAROLINA PANTHERS
Oklahoma offensive tackle Lane Johnson's first pre-draft visit was with the Panthers. But Joseph Person writes that it's
unlikely
Carolina will have a chance to get Johnson, who is likely to be gone before No. 14. But, if Johnson somehow slips a bit the Panthers would have to consider him. He could be an instant upgrade over Byron Bell on the right side and eventually switch to the left side as the successor to Jordan Gross.
ATLANTA FALCONS
More and more teams are turning to analytics to predict success of draft prospects. General manager Thomas Dimitroff said the Falcons are using analytics to
supplement
their scouting work. In other words, the Falcons aren't going overboard with analytics; they're only using them as part of the puzzle.