December, 26, 2014
12/26/14
8:00
AM ET
CHARLOTTE, N.C. -- "TWO THOUSAND DOLLARS!" yelled a voice from the back of the room as
Carolina Panthers
strong safety
Roman Harper
conducted a recent charity auction at an uptown restaurant.
Heads turned.
The boisterous announcement of the bid on an autographed jersey from middle linebacker
Luke Kuechly
came from running back
Jonathan Stewart
.
The seventh-year player out of Oregon typically is soft-spoken and often downright quiet to the point of seeming shy. He doesn't offer much in terms of elaboration to reporters with what normally are short answers.
So when he yelled, it seemed out of character.
"He is quiet around me," offensive coordinator Mike Shula said. "But when he's quiet and you see that look in his eye, he has a fire. And when that gets lit, and it is lit right now, it is fun to be around him and watch him."
[+] Enlarge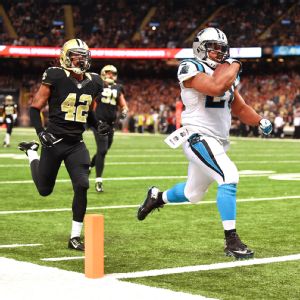 Stacy Revere/Getty ImagesJonathan Stewart's 437 yards rushing in the last four games are the most in the NFL.
Stewart's 437 yards rushing in the last four games are the most in the NFL. Because of injuries, he had only 516 yards in the previous two seasons combined.
He had 122 yards on 24 carries in Sunday's 17-13 victory over Cleveland. He also caught the game-winning touchdown, a 9-yard pass from
Cam Newton
with 7:07 left.
One could argue he's been Carolina's most valuable player in the team's playoff run. The Panthers (6-8-1) certainly will need him at his best in Sunday's showdown at Atlanta (6-9) for the NFC South title.
"He is running well and is tough to bring down," Shula said. "I know he will be ready to go this weekend, and we will have to utilize him as well as those other guys."
Stewart didn't do much in a 19-17 loss to Atlanta in Week 11. He had seven carries for 24 yards, splitting duties with
DeAngelo Williams
.
Williams suffered a broken hand in the first half of the next game against Minnesota. That's when Stewart took over and, as Shula said, caught fire.
He's running so well that, judging from social media, it might start a riot locally if the Panthers went back to Williams as the starter.
There's really no reason to go back. Stewart, 27, is the future. Williams, who will be 32 before next season, is at the end of his career.
The two-headed monster known as "Double Trouble'' when the two became the first backs from one team to top 1,100 yards in a single season (2009) is now a one-headed monster.
Few in the NFL are tougher to bring down than Stewart. Defensive backs, including his own, cringe when he's running at them with a full head of speed.
"I call him little Ninja Turtle," Carolina cornerback
Josh Norman
said. "It's unbelievable how that little man runs the freaking football. Every footstep he has, it's just a will that he has to not go down and be defeated."
That Stewart is completely healthy for the first time since ankle injuries forced him to miss 17 of 32 games the past two seasons makes his will to succeed even stronger. He's found a comfort running the ball that he finds only one other place -- on the piano.
Stewart doesn't read music like he reads defenses. He plays by ear. But he's an accomplished pianist. You'll often hear him in training camp tickling the ivory on the baby grand in the lobby outside the Wofford College cafeteria.
He has a studio in his high-rise apartment that gives him a spectacular view of Charlotte when playing and recording.
"Happy as he is, he's happiest when he's in his lab," fullback
Mike Tolbert
said. "His lab is making beats and playing the piano and producing music. When I see him in a zone, that's the Jonathan Stewart I know.
"He's got a lot of beats. He makes a lot of songs. He's definitely got a lot of talent in that area."
Tight end
Ed Dickson
went to college with Stewart, so he's been listening to the running back on the piano since their freshman season.
"He's definitely got a second career in music once he's done with football," Dickson said. "He's a very good artist."
Stewart also can sing. He shared a few Christmas notes with his fellow running backs on Wednesday, then disappeared before reporters made their way to him.
"He's got a creative side to him," coach Ron Rivera said.
For the moment, the Panthers simply need Stewart to create first downs the way he did to close out Sunday's game with a 30-yard run. As good as he is on the piano, he's better on the football field.
"I can't say that for sure in music because I'm not a guy that has an ear for it," Tolbert said. "But he's great in football."