January, 10, 2012
1/10/12
11:00
AM ET
Let's take a run through the top headlines around the NFC South.
Here's a
good column
that asks if the Falcons already have reached their peak. That's a very valid question. They've had four winning seasons, but haven't won a playoff game under Mike Smith. I think it's fair to say the Falcons have reached their peak with what they've got. But I also think there is upside. This is a team with lots of talent. But some changes are needed as Atlanta moves forward. I'm not just talking about adding and subtracting a few players. I'm talking about some pretty significant tweaks to the offense and defense. The defense needs to come up with more big plays. The offense needs to find an identity. Quarterback
Matt Ryan
isn't the type to spout of publicly. But he needs to have a good talk with Smith. Ryan hasn't been able to hit his full potential. He needs to tell Smith what he's most comfortable doing, and the Falcons need to do a better job of putting their franchise quarterback in position to succeed.
There's a lot of talk about how the Saints aren't as good on the road as they are at home as they get ready to head to San Francisco this weekend. No doubt there's some truth in that. But I think this is getting overblown a bit. The Saints
were 5-3 on the road
in the regular season. That's not bad. It might not be great, but the Saints are capable of winning on the road.
Tampa Bay's entire coaching staff was let go when coach Raheem Morris was fired last week. But one member of that staff already has found a job. Receivers coach Eric Yarber has
landed the same position
at UCLA.
Veteran cornerback
Ronde Barber
has been
selected as the winner
of Tampa Bay's Ed Block Courage Award.
In his
weekly film study
, Jeff Duncan writes that New Orleans rookie linebacker
Martez Wilson
is likely to continue getting more playing time. Wilson is athletic and can make an impact if the Saints use him on blitzes.
March, 8, 2011
3/08/11
10:22
AM ET
People always point to Pittsburgh coach Mike Tomlin as the mentor for Tampa Bay coach Raheem Morris.
There's plenty of truth in that. The two spent time together as assistants on Tampa Bay's staff and you frequently will hear Morris quoting Tomlin's philosophies or sayings. But Tomlin isn't the only guy Morris looks up to or quotes.
In fact, Morris frequently steps outside the football world and points to his baseball counterpart on the other side of Tampa Bay. That's Rays manager Joe Maddon.
The two talk frequently and
they'll get together Tuesday as the Rays host the Toronto Blue Jays
. Morris won't get to take batting practice because has a morning obligation that won't allow him to arrive until close to game time.
But Tampa Bay receivers coach Eric Yarber will arrive earlier and the Rays plan to put him in uniform, let him take batting practice and get a little pre-game work at shortstop.
October, 8, 2010
10/08/10
1:00
PM ET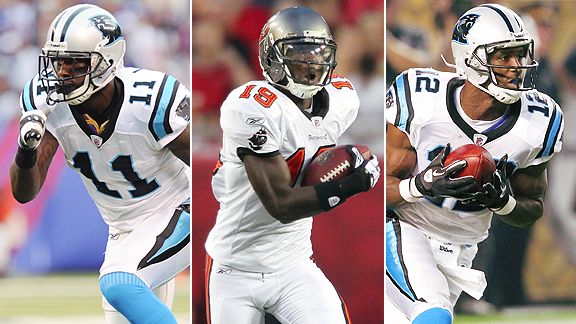 Icon SMI, AP PhotoRookie receivers Brandon LaFell, Mike Williams and David Gettis are expected to start this Sunday.
TAMPA, Fla. -- When you're watching NFC South teams this Sunday, keep an eye on the wide receivers. By choice and by circumstance, you're going to see something rare.
You're going to see a whole bunch of rookie wide receivers starting or playing a lot. That's rare because there's a school of thought, and most NFC South teams have backed it up through the years, that you shouldn't ask too much of rookie receivers too soon.
We're almost certainly going to see at least three rookies start at receiver for NFC South teams on Sunday and a fourth will get considerable playing time. A fifth might even be active for the first time in his career. In Week 5 of the NFL season, it's kind of amazing that NFC South teams are leaning so heavily on rookie wide receivers, especially when not a single one of them was a first-round draft pick.
Tampa Bay's been starting
Mike Williams
, a fourth-round pick, since the start of the season. Tampa Bay coach Raheem Morris hinted strongly during the bye week that second-round pick
Arrelious Benn
will get increased playing time going forward, probably splitting time with second-year pro
Sammie Stroughter
. The Bucs play at Cincinnati on Sunday.
In Carolina, it appears highly likely the Panthers will start two rookies at receiver on Sunday against Chicago. They likely will go with third-round pick
Brandon LaFell
and sixth-round pick
David Gettis
as the starters.
Armanti Edwards
, who is converting from playing quarterback in college, might be on the game-day active list for the first time this season.
In Carolina, this wasn't exactly the plan. The Panthers, who traditionally have been very patient in playing young receivers, wanted LaFell starting as a rookie, but they thought Gettis and Edwards would have time to develop. But that's all changed because the Panthers are likely to be without
Steve Smith
due to an ankle injury. They cut veteran
Dwayne Jarrett
after he was charged with driving while impaired Tuesday morning. The rookie receivers will be working with rookie quarterback
Jimmy Clausen
.
While putting rookie receivers around a young quarterback might sound like a formula for disaster, that's actually the plan the Buccaneers have had since draft day.
"We made the conscious decision to draft these young guys and let [quarterback] Josh [Freeman] grow with them," Morris said.
Morris then pointed to the
New Orleans Saints
and how they let a young crew of receivers grow up around
Drew Brees
. Not a bad example, although Brees had been a starter in San Diego before coming to New Orleans in 2006. Freeman's only been starting since the second half of last season.
"They, and I'm talking the wide receivers and Josh, always talk about growing up together," Tampa Bay receivers coach Eric Yarber said. "We talk about that as a staff. We've got a lot of young guys, but eventually these guys are going to become big-time players in this league."
Williams already has shown promise. In three games, he has 12 catches for 139 yards and two touchdowns. Although Benn was the higher draft pick, he hasn't been much of a factor so far after missing some preseason time with an injury. But the Bucs are saying that's about to change.
[+] Enlarge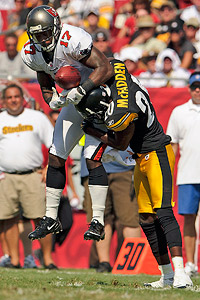 AP Photo/Paul AbellSecond-round pick Arrelious Benn is expected to see more playing time for the Bucs.
"Arrelious is coming on very well," Yarber said. "Early on, he had to spend a lot of time in the playbook. But now that he's got the plays down, he's playing much faster and we're seeing the real Arrelious Benn now."
Still, is it wise or even productive to rely on rookie receivers so early? History has shown it's a position that often takes time to grow into. Atlanta's
Roddy White
, now the best receiver in the NFC South, didn't really produce until his third year and he was a first-round pick. Smith spent a year as a kick returner before even getting a chance at wide receiver. Then, there's a pretty lengthy list of guys who never really developed.
Carolina drafted Jarrett,
Keary Colbert
and
Drew Carter
and got very little from them. Tampa Bay used early picks on
Michael Clayton
and
Dexter Jackson
. Clayton had a big rookie year, but did nothing after that. Jackson never even made an impact and couldn't make Carolina's roster in the preseason.
Yarber admits there are challenges to playing rookie receivers right away.
"It is difficult because of the physicality on the outside against bump and run," Yarber said. "The guys in college are going against maybe one good DB that's physical. On this level, every DB they face is physical and good at rerouting you. They've got to get used to the physicality on the outside.''
But it's far from just being a physical thing. The Panthers have been historically hesitant to play rookie receivers too much because they believe the mental adjustment takes time. In four seasons, Jarrett never was able to grasp the playbook. They don't have much choice but to go with rookies now.
In Tampa Bay, the choice was made deliberately. The Buccaneers let veterans
Antonio Bryant
and
Mark Bradley
go to clear the way for Williams and Benn. They held onto Clayton through the preseason, but cut him once they were comfortable with the way the rookies were progressing.
Still, the Bucs admit their receiving corps is very much a work in progress and that affects the entire offense.
"You have to scale back a little bit," Yarber said. "You want to get them out there, but you don't want to give them too much. That's when you get to paralysis by analysis. They're thinking so much that they can't play fast. You need a happy medium that you don't taper the offense down too much, but you don't want to put too much in so that they're thinking too much and they don't play fast.
"One thing that can be a detriment to young guys early on is if you give them too much, they can lose confidence. You don't want to give them too much too soon. You want them to have some success that they can build on and develop confidence and play better."
For better or worse, much of the NFC South is turning to rookie wide receivers.
February, 4, 2010
2/04/10
12:53
PM ET
MIAMI -- Before jumping back into Super Bowl stuff, time for a quick update on the Buccaneers.
They sent out a release this morning announcing they finalized their 2010 coaching staff. Most of the moves were reported over the past few weeks. But if you missed any of them, here's a look at how Tampa Bay's coaching staff now stands:
Raheem Morris -- Head Coach
Greg Olson -- Offensive Coordinator
Richard Bisaccia -- Associate Head Coach/Special Teams Coordinator
Joe Baker -- Linebackers Coach
Tim Berbenich -- Assistant Wide Receivers Coach
Tim Holt -- Offensive Assistant Coach
Jay Kaiser -- Assistant to the Head Coach
Chris Keenan -- Assistant Strength and Conditioning Coach
Jimmy Lake -- Defensive Backs Coach
Steve Logan -- Running Backs Coach
Pete Mangurian -- Offensive Line Coach
Chris Mosley -- Defensive Assistant Coach
Alfredo Roberts -- Tight Ends Coach
Kurtis Shultz -- Head Strength and Conditioning Coach
Dwayne Stukes -- Assistant Defensive Backs Coach
Alex Van Pelt -- Quarterbacks Coach
Todd Wash -- Defensive Line Coach
Eric Yarber -- Wide Receivers Coach