NFC South:

ESPN The Magazine
December, 28, 2011
12/28/11
12:45
PM ET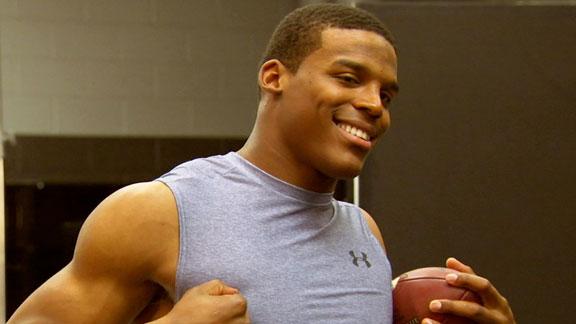 I highly recommend you read
this fine story
on
Cam Newton
by David Fleming in the latest issue of ESPN The Magazine.
Since 1998, ESPN The Magazine has been recognizing athletes poised for greatness. The theme of this issue is
NEXT
, as in the next great ones and Newton is on the cover. He's also featured on a billboard in Times Square and you can see a picture of that along with the story.
Newton's rookie year has been an eye-opening experience, especially after many questioned if he could succeed in the NFL. He's done more than that. He's already thrown for more yards than any rookie quarterback in history and has run for more touchdowns in a season than any quarterback. But Newton wants much more than that.
"Some people are afraid to say what they want, but I'm not," Newton said. "I want to be the symbol of success in this league. I want to win multiple Super Bowls. To get there, you have to have a relentless will to be something far greater than what you are. You gotta have that edge."
There's little doubt Newton has an edge. It's shown throughout the season and what we've seen so far might only be the early stages of greatness. That's why Newton is the perfect choice to represent the NEXT concept.
"I know I have the talent to change this game, and I don't see no ceiling,'' Newton said. "So I'm not knocking on the door, like tap-tap-tap. I'm gonna kick that door in, like SWAT."
June, 15, 2011
6/15/11
3:48
PM ET
The
New Orleans Saints
are the third-best franchise in all of sports. That's according to ESPN The Magazine's ninth annual "Best In Sports'' issue, which will be on newsstands Friday.
The rankings are determined by a multi-tiered analysis that examines a team's efficiency in spending fan money as compared to its on-field performance. It also factors in feedback in 21 categories from more than 70,000 fans nationwide.
The
Green Bay Packers
were the overall winner and the runner-up came from NFC South territory, although it's not a football team. It's the National Hockey League's Tampa Bay Lightning.
I'm not going to argue that one at all. I live in Tampa and am not a hockey guy, but found myself becoming one as the Lightning had a deep playoff run this year. I even went to a playoff game and it was one of the best non-football events I've been at in years.
Back to football, I think the No. 3 ranking says a lot about the Saints. They're four spots ahead of the
Pittsburgh Steelers
who, by any measure, are generally considered a "model'' franchise.
Most of the rest of the NFC South didn't fare too badly. The
Atlanta Falcons
came in at No. 20. That kind of brings to mind Mark Bradley's
column
, which asks if Atlanta is a "lousy sports city'' at a time when it looks like hockey's Thrashers are headed to Canada. Bradley makes the point that Falcons owner Arthur Blank is the only Atlanta owner fans really trust these days. With three straight winning seasons, I think the Falcons are finally poised to take over an Atlanta market that has been dominated by the Braves and college football.
The Buccaneers came in at No. 59. That's actually not bad for a franchise that failed to sell out a home game last year.
The
Carolina Panthers
are No. 97. To borrow a phrase from an old friend I'll call "John Fox'', it is what it is. That's what happens when you go 2-14.