NFC South:

ESPN's Wide World of Sports
December, 4, 2010
12/04/10
1:37
PM ET
There was lots of good stuff, from a lot of different directions, when I looked at the mailbag today. So let's get to it.
Allan in Florida writes
: I
read your article regarding the no-shows at Bucs' games
. The economy has nothing to do with it. Look at the Saints. They sell out and have a waiting list.
Pat Yasinskas:
I respectfully beg to differ on that one. The economy isn't the entire issue in Tampa Bay because there are a lot of different factors at work. But the economy absolutely is a factor in the lack of attendance. I live in Tampa and I can tell you the economy has been hit harder here than a lot of places. I've got a lot of friends out of work, I see foreclosure signs on houses in my neighborhood and I know a lot of people who used to have season tickets, but gave them up because they no longer could afford them. Is the economy tough in other places? Absolutely. It's interesting that you point to New Orleans and that's a valid comparison that demonstrates some strong differences. Louisiana hasn't been immune to the economic downturn and that state has suffered several natural and unnatural disasters. But, yes, the Saints sell out and have a long waiting list. I think that's largely because the Saints simply are a way of life in New Orleans. Before the Hornets arrived, the Saints were all New Orleans had. The Bucs certainly have their share of die-hard fans, but I don't think they are a way of life the way the Saints are in New Orleans.
---
Nate in Huntsville, Ala.,writes
: Wondering your thoughts on the Saints and
Al Woods
? Has any more information come out to why he was released? Not saying Al Woods will turn out to be a Pro Bowl caliber player but you'd think a guy you traded up to get in the fourth round would make the team. Granted, the Bucs are hurting on the D-line right now but how can you go from not being able to make a team to starting on another team?
Pat Yasinskas
: The story on Woods in New Orleans, as I've heard it, goes like this. The Saints drafted the defensive tackle with high hopes. They didn't view him as an instant starter, but thought he could play in their rotation and maybe develop into a starter down the road. Woods, in his eagerness to be a good player, decided he wanted to come to camp and show some quickness, so he spent much of the early summer trying to shed weight. Problem was, when he got to camp, the Saints saw a guy who was too light and was getting shoved around. That's why they let him go and they're also in a position where they are trying to defend a Super Bowl title and don't have the time to carry a guy who they don't think can help them for several years. The Bucs are in a completely different position, where they're going through a youth movement and building for the long term. Woods has put some of that weight back on and he's making a contribution in Tampa Bay. Like you said, I don't think he's going to be an elite player, but he's shown enough that the Bucs were willing to cut veteran
Ryan Sims
healthy. With
Brian Price
returning from injury next year,
Gerald McCoy
emerging as a force, Woods and
Roy Miller
could help give the Bucs a very nice rotation at defensive tackle for the future.
---
Bobby in Burlington, N.C., writes:
Your comments on the Panthers are dead on! Thought it was hilarious you listed
Chris Gamble
on
injury report for fractured relationship
!
Pat Yasinskas:
Thanks. Injury reports aren't the most exciting thing to write about and neither are the Panthers these days. So I try to jazz it up with humor or sarcasm whenever I can and it fit in the Gamble situation. Fact is, this is a guy who was a first-round pick and was a good player for a long time. But he clearly has fallen out of favor with coach John Fox (and probably lots of others in the organization) by walking out of a practice.
---
Joseph in Athens, Ga., writes:
I don't know how many people have realized this but I think it is pretty crazy that there are four starting and very good quarterbacks in the NFL that were all drafted by the Falcons. I don't know if anything like that has ever really happened before. That is 12.5 percent of the league.
Matt Ryan
,
Matt Schaub
,
Michael Vick
and
Brett Favre
.
Pat Yasinskas:
Interesting point. We all know the Favre story in Atlanta and how that never was going to work out unless he changed his lifestyle. But it's more interesting to think about the three more recent guys you mentioned. Had things gone a little differently, Vick or Schaub could be the starter for the Falcons right now and Ryan never would have been drafted. I salute Vick for resurrecting his career in Philadelphia, but he recently admitted he short-changed the Falcons by never really dedicating himself to the game when he was in Atlanta. Too late to change that. And too late to change the Schaub trade. He was a guy the Falcons liked, but they also had Vick at the time and decided they could get a nice trade for Schaub. It all worked out in the end. I'm not saying Ryan will have a better career than Favre or that he's better than Vick right now. But he's the right guy for the Falcons right now.
---
Karl in Valdosta, Ga., writes
: Diehard Falcons fan,
just read the chat
, wanted to reiterate that your coverage of all the teams (well, good teams) is really balance, and I learned a lot about the Bucs this year- a good team I would have otherwise totally ignored. In fact, the mass sports media is now making the same commentary about
Josh Freeman
that you made months ago.
Pat Yasinskas:
Thanks. I don't pretend that I can see the future and I'm not a talent evaluator like Mel Kiper or Todd McShay. But I go with what I see and hear in the present and build opinions on that. On Freeman, I saw some very encouraging things when he got to play late last season. But the most profound moment in my assessment of Freeman came when I
interviewed him at Disney's Wide World of Sports
back in February. At that point, he'd had a chance to look back at his rookie season and relax a bit. That day, I saw a completely different demeanor out of Freeman than I had in his rookie season. He was suddenly polished, mature and comfortable. I already knew the physical ability was there, but that showed me the intangibles were coming. Then, in the next few months, I started hearing the stories from the coaching staff and front office about how Freeman was at One Buc Place working almost every day during the offseason. I got the sense he was about to really take control of this team. That's precisely what has happened.
April, 1, 2010
4/01/10
12:45
PM ET
Josh Freeman
met
with the Tampa Bay media
Thursday morning. Much like he did when I
met with him
over at ESPN's Wide World of Sports back in late February, Freeman is saying all the right things.
He also is saying he's doing all the right things. He's spent much of the offseason at One Buccaneer Place, even before there were any official workouts. He's been watching film, lifting weights and getting familiar with new quarterbacks coach Alex Van Pelt.
That's all very good and it's always a nice thing when a rookie quarterback heads into his second year because he gets to spend a whole offseason with the team. Freeman's talking like a leader and that's a positive.
I know some of you think coach Raheem Morris made a mistake (like that would be a first?) at the owners meetings last week when he said he expects Freeman to elevate the players around him. The thinking from some of you was that Morris was putting too much pressure on Freeman.
I'll disagree with that school of thought. First off, isn't a franchise quarterback supposed to elevate the people around him? Second, Freeman's a man now and he gets paid a lot of money to deal with pressure. Third, and most importantly, look at Tampa Bay's roster right now – who else is there that's capable of elevating others? Who else is capable of being a leader?
Nobody really. This is Freeman's team and it's his time to start stepping up. Yes, there still will be some growing pains along the way and it would be nice if the Bucs can give him a respectable receiver or two. But, basically, Freeman is saying – and appears to be doing – exactly what the Bucs expected when they drafted him.
March, 19, 2010
3/19/10
1:00
PM ET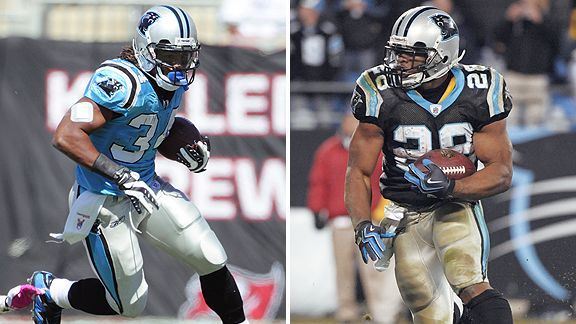 US Presswire, Getty ImagesCarolina running backs DeAngelo Williams and Jonathan Stewart split carries last season and both eclipsed 1,100 yards rushing.
This really happened and I've still got the tape to prove it.
During a winter in which everyone has been bashing coach John Fox and GM Marty Hurney, there actually is someone singing their praises. It's Carolina running back
DeAngelo Williams
.
"I think the front office and coaching staff are single-handedly prolonging my career and (
Jonathan Stewart
's) career,'' Williams said a few weeks ago when he was attending festivities at ESPN's Wide World of Sports in Lake Buena Vista, Fla.
Yes, praise for Fox and Hurney, the same two guys who have had their sanity questioned after letting
Julius Peppers
walk away as a free agent, releasing quarterback
Jake Delhomme
and parting ways with just about every player over 30 years old. Aside from kicker
John Kasay
and punter
Jason Baker
, wide receiver
Steve Smith
and defensive end
Tyler Brayton
are the only Panthers over 30.
"Thirty is like the new 50 in the NFL, especially when it comes to tailbacks,'' Williams said.
Williams is 26 and will turn 27 on April 25. He's also one of the smartest and most observant players in the NFC South. But that sometimes goes unnoticed because Williams often tries to keep a low profile with the media.
That day at Disney was different, though. Williams was letting it flow and his wisdom and philosophies are something that should be shared more often. Williams talked at length about Carolina's two-headed backfield, sometimes called "Double Trouble'' or "Smash and Dash.''
He put it into a perspective that you don't often hear, but it's the perspective Fox and Hurney hold and it's why they believe so strongly in a two-back system.
"We're each about 220 or 230 carries a year,'' Williams said. "I'd rather have that than 300-plus carries a year. That wears on your legs and you're not going to last long doing that. With me and Jonathan back there and sharing it the way we do, that's a real treat and neither one of us is going to get worn out.''
Williams is pretty accurate in his numbers. Last season he carried 216 times for 1,117 yards and seven touchdowns. Stewart carried 221 times for 1,133 yards and 10 touchdowns. Williams missed three games because of injuries, but said that didn't really have a big impact on the carry totals for him and Stewart.
"It's going to be close to a 50-50 split no matter what," Williams said. "That's what the coaching staff and the front office wants and it's also what Jonathan and I want. It's good for both of us. We're at our best when it's that way."
Funny that Williams realizes that when some running backs with more ego and some Carolina fans can't quite grasp the fact that less is more in this situation. Williams is a restricted free agent this year. He's carrying the highest tender and that means the Panthers would receive a first- and a third-round pick as compensation if another team were to sign Williams away.
With the Panthers not holding a first-round pick this year, a lot of Carolina fans started throwing out rumors or theories that the Panthers should let Williams go and pick up some more draft picks. Even if an offer sheet comes from another team, that's not going to happen. The Panthers can match any offer and they're not letting Williams go anywhere.
In fact, there have been reports that the Panthers are working to sign Williams to a long-term contract. Nothing has happened on that yet, but don't be surprised if something gets done before too long.
[+] Enlarge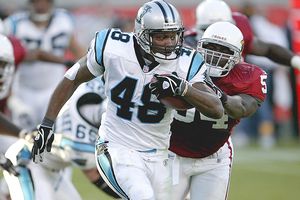 Stephen Dunn/Getty ImaStephen Davis rushed for 1,444 yards in 2003 for the Panthers, but he gained just 818 the remaining three seasons of his career.
The recent purge of veterans has left a lot of Carolina fans questioning the sanity of Fox and Hurney. But the way they use Williams and Stewart as a tandem should be Exhibit A that the coach and general manager have a long-term plan in place. They saw a running back get used too much one season and break down the next.
That was
Stephen Davis
, who carried the Panthers to the Super Bowl in the 2003 season. After that, the carries and age caught up to Davis and he never was the same again. Williams and Stewart already have dealt with some minor injuries and part of the master plan is to be very careful not to overuse them and the other part of that plan is to keep them together for the long haul.
"It's easy to say that either one of us could run for 1,500 or 1,600 yards if we were getting more than 300 carries," Williams said. "But that's not really true. We're best the way we are because we can keep doing what we're doing every year for a long time. Yeah, if you went with just one of us for one year, you might get 1,500 or 1,600 yards. But you might have a broken down car the next year and we'd both be done by the time we're 30, which is still a ways down the road for both of us. The way it is now, is perfect for both of us."
Williams and Stewart both had surgeries after the season. Williams had his right ankle cleaned up. Stewart had some work done on his foot. Both are expected to be fully healthy for training camp. And, contrary to some of the fan-generated rumors out there, both are expected to be back in Carolina.
The Panthers haven't revealed their exact plan for going on after their purge of veterans. They'll be going with a new quarterback,
Matt Moore
, and they're likely to be looking for wide receiver help in the draft or what's left of free agency.
But there's going to be one constant on the offense. Williams and Stewart are going to remain the focal points and they're going to keep doing that with a healthy split of carries.
"I don't want to be one of those tailbacks that's washed up at 30,'' Williams said. "I think, in the system we have, I can be productive for a few years past 30. I'm not there yet and we'll find out for sure in a few years. But, right now, I love what we're doing. Jonathan and I both have low mileage on our cars and that's great. We're running on supreme and the gas is cheap right now. We're going to enjoy the ride.''
February, 26, 2010
2/26/10
5:27
PM ET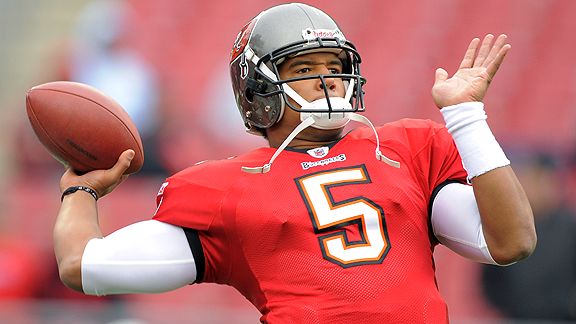 Scott A. Miller/US PresswireQuarterback Josh Freeman is helping the Bucs prepare for the upcoming draft.
LAKE BUENA VISTA, Fla. -- There's a new guy helping the
Tampa Bay Buccaneers
as they scout the prospects for this year's NFL draft.
It's quarterback
Josh Freeman
-- the same guy their drafted with their top pick. Yes, he's part franchise quarterback and part scout and he'll even tip his hand and tell you some of the guys he thinks the Bucs should take.
"I've been in watching film of different receivers with the offensive coordinator and the quarterback coach,'' Freeman said Friday. "You might not have the
Michael Crabtree
or the Darius Heyward-Bey, but it's a pretty talented receiver group coming out this year. There's
Dez Bryant
and I'm a big fan out
Jordan Shipley
out of Texas.''
Along with "The Fabulous Sports Babe'' of ESPN Radio Tampa, I got to spend about 20 minutes chatting with Freeman on Friday afternoon as he attended "ESPN The Weekend'' and the re-branding of ESPN's Wide World of Sports. It was just a momentary break for Freeman, who soon will be back in Tampa, working out and scouting.
Yes, the Bucs really are asking Freeman for his opinions. That may sound a little bit out of the ordinary, but it's actually a very smart move. Freeman, after all, is the franchise quarterback and the most positive thing the Bucs have going for them at this moment. It only makes sense to hear his thoughts.
You might be a little surprised to hear that Freeman's first choice isn't to get a wide receiver. Freeman said, if the draft were today and he was in the shoes of general manager Mark Dominik, he would take Nebraska defensive tackle
Ndamukong Suh
.
"I would love to see Suh here,'' Freeman said.
The Bucs would be wise to listen to Freeman's thoughts on Suh because their quarterback knows the defensive tackle very well. They first became friends as teammates in a high-school all-star game, saw each other frequently as college foes and were hanging out together at the Super Bowl in Miami a few weeks ago.
"He basically lived in my backfield every time I played against Nebraska,'' said Freeman, who played at Kansas State. "The drive that that guy has is unbelievable. He's going to be a great teammate for whoever he goes to. The guy makes plays. He gets in the backfield and nobody can block him. They're trying to figure out what's going to help our team the most. If it's a receiver, it's a receiver. If it's get Suh, it's getting Suh. Anyway you look at it, I'm excited.''
Freeman should be excited. After a 3-13 season in which Freeman took over as the starter near the halfway point, the Bucs have 10 picks in this year's draft, including five in the top 99. If they can get Suh with the third overall pick, wide receiver could be a target area for one of their two second-round picks.
The Bucs already have made it clear they'll let last year's No. 1 wide receiver,
Antonio Bryant
, leave as a free agent.
"Antonio's a great player,'' Freeman said. "He makes a lot of plays. Obviously, the franchise -- the owners, GM and the coaches -- didn't feel like he'd be able to help us next year. The time I got to spend with Antonio Bryant, I treasured it and he made a lot of great plays for me. I wish him luck with the rest of his career even though he's not going to be in Tampa next season.''
Freeman praised Bryant, but that formula didn't always work in reverse. At one point last season, Bryant said his lack of production was due to playing with a rookie quarterback. That may be part of the reason why Bryant is on his way out of Tampa Bay.
You don't criticize the franchise and Freeman is the franchise here. Freeman also praised
Michael Clayton
,
Maurice Stovall
and
Sammie Stroughter
, but he made no secret of the fact the Bucs are looking for a No. 1 receiver in the draft or free agency.
"Looking at our roster right now, we've got a lot of guys that can make plays,'' Freeman said. "But we really don't have that burner, the guy you can just send him on a Go (route), throw it up 70 yards and let him run under it.''
The Bucs have that guy who can throw it up 70 yards in Freeman and they're going to try to get him every toy possible because he is the franchise. At very least, Freeman's going to have some say in who that guy is and, listening to him talk Friday, he's more of a student of the game than I ever realized. Freeman talked extensively about college players at all positions and sounded a little like a draftnik.
That's a good thing and talk about the draft wasn't the only positive thing coming from Freeman. Although team offseason workouts don't start for nearly another month, Tampa Bay fans will be happy to know that Freeman already has been working (not just scouting) for the last few weeks.
"You take a little break and after about two weeks, I was kind of like, "Man, I'm kind of tired of this. I'm ready to get back into the football mood,''' Freeman said. "I've started working out with our new quarterbacks coach Alex Van Pelt and our offensive coordinator (Greg Olson). I've been working. I can't wait for the second season.''
Freeman has seemed pretty poised ever since the Bucs drafted him. But I thought he seemed even more mature Friday. That may be because he already has seen so much. The Bucs fired offensive coordinator Jeff Jagodzinski just before the season and the team struggled under first-year coach Raheem Morris for much of the season.
But there was some hope later in the season, after Freeman started playing. He had some good games and led a victory over Super Bowl champion New Orleans. Freeman said the game slowed down for him as the season went on and he's looking forward to having an entire offseason working in Olson's offense.
He also said he's looking forward to Morris returning for his second season.
"It was kind of evident during the early part of the season, he was feeling his way around just like any rookie,'' Freeman said. "They did the stuff with the coordinators and you could see later in the season we were playing better and better. You could tell he's getting the grasp for it and he's getting it fast. I'm excited to see him coach this year.''
Funny, but that sounds a lot like the scouting report on the quarterback. Freeman went through a lot of the things rookie quarterbacks do. Late in the year, he did some really good things. You could tell he was grasping it and maybe he's right about Morris grasping it.
Maybe the Bucs are just a few pieces from turning the corner. Maybe, with Freeman helping as a scout, the Bucs will figure out exactly what to put next to their franchise.
February, 26, 2010
2/26/10
5:25
PM ET
LAKE BUENA VISTA, FLA. -- We've got a lot happening around the NFC South, not only at the re-opening of ESPN's Wide World of Sports, but also up in Indianapolis at the scouting combine. Let's take a look at some of the headlines around the division.
I caught up with Carolina running back DeAngelo Williams and Tampa Bay quarterback Josh Freeman earlier today. I didn't see New Orleans kicker Garrett Hartley here personally, but he was here on the
Disney grounds
.
The Bucs
have made tenders
to restricted free agents Donald Penn, Barrett Ruud, Cadillac Williams and Jeremy Trueblood.
Mike Triplett has the
complete list
of tenders the Saints made to their restricted free agents.
Atlanta coach Mike Smith
met with the media
at the combine. He didn't have anything really newsy to say and he sidestepped the question when asked if the Falcons would pursue Julius Peppers in free agency (I don't think they will make a strong run at Peppers). I also caught a few minutes of Smith on Sirius NFL Radio as I was driving over to talk to Williams and Freeman and the most interesting thing he had to say was that he made a mistake by allowing running back Michael Turner to come back from an ankle injury too early last season. Smith said he should have let Turner sit out another game or two. Not often you hear an NFL coach second guess himself.
February, 26, 2010
2/26/10
6:30
AM ET
Just a quick note to let you know there won't be an NFC South chat this Friday. I've got a schedule conflict because I'm slated to interview a prominent NFC South player over at ESPN's Wide World of Sports at the same time we normally do our chat.

You'll find out who the player is later today. We'll get back on our regular chat schedule next week.

NFC SOUTH SCOREBOARD
Friday, 8/22
Saturday, 8/23