NFC South:

Eugene Robinson
August, 29, 2013
8/29/13
7:26
PM ET
CHARLOTTE, N.C. -- Former NFL safety Eugene Robinson called the $765 million settlement the league reached with retired players suffering from concussion-related brain injuries "a huge deal."
Now a member of the
Carolina Panthers
' radio broadcast team, Robinson said he suffered at least two concussions he was aware of during his career from 1985 to 2000 with Seattle, Green Bay, Atlanta and Carolina.
He said that as recently as two years ago, he went to a neurologist in Raleigh, N.C., because of "a little memory loss" he associated with the concussions. Robinson was not a part of the lawsuit filed by more than 4,500 ex-players.
"I was up there like eight hours," Robinson told ESPN.com of his visit to the neurologist. "She would read me a story. I could tell her the beginning and the end. But the middle part, I had no clue."
A three-time Pro Bowl selection, Robinson said his first concussion occurred in the early 1990s when he was with the Seahawks playing the Cardinals.
"I saw stars," he said. "I got kicked in the side of the head. As I was getting up, I saw those little stars and I just knew I was going to go out, and I called the signals. I went out.
"[Then] I looked and there was 1:28 on the clock in the first quarter. I said, 'What's 1:28? What's 1:28?' They said, 'Hey, call a play.' I said, 'Oh, my goodness, I'm in a football game.'"
Robinson, 50, said he knows several players whose careers were affected by concussions, including former Panthers linebacker Dan Morgan. Morgan, now the assistant director of pro personnel for Seattle, had at least five reported concussions dating back to his college days at Miami that factored into his retiring in 2008 after only seven NFL seasons.
Robinson said "there's no doubt" the settlement was huge for those involved but added that just how huge will depend on where it leads.
December, 23, 2010
12/23/10
11:45
PM ET
Thoughts from Carolina's
27-3 loss
to the Steelers.
What it means
: I don't know. I mean, I really don't know. I'm at a loss for words at this point and I am open to suggestions. So we'll just play it totally straight. The Panthers, a bad team, went up to Pittsburgh and got thumped by a very good team. Did anyone really expect anything else? The Panthers had their one-game winning streak ended and fell to 2-13. On the bright side, they held onto their lead for the first overall pick in the 2011 draft.


What I liked:
At some point in the second half, I went out and got my satellite radio. After watching and listening to the brutal first half on television, I needed to turn to someone familiar, someone who could really feel the pain of how bad this season has been for the Panthers. I got Carolina's radio broadcast and listened the rest of the way to Mick Mixon, Eugene Robinson and Jim Szoke. They are three guys I've known for a very long time, three guys I genuinely like and three guys who are very good at their jobs. I wound up feeling really bad for them and felt better that I wasn't the only one at an absolute loss for words. At various points in the second half, Mixon, Robinson and Szoke were reduced to talking about how the game was being played in Heinz Field and the importance of ketchup in Pittsburgh and the "bright spot'' that was
Captain Munnerlyn
's nice punt return.
What I found humorous and sad at the same time:
On Sunday, I joked that general manager Marty Hurney might use the trip to make a
side visit to try to talk University of Pittsburgh quarterback Tino Sunseri
into entering the draft early. Amazingly, that sailed right over the head of one writer to my mailbag, who asked if I thought Sunseri might be willing to enter the draft early and if he could be anything more than a fourth- or fifth-round pick. Look, I've known Tino since the days when he was a ball boy at training camp and his father, Sal, was coaching Carolina's defensive line. Tino is a great kid and I hope he has a nice finish to his career at Pittsburgh, but my reference was a total joke at the time. Tino's got a bit of an arm, but I'm closer to the stereotypical size for an NFL quarterback than he is. I wrote that item thinking that even if Tino was thinking about coming out of college early, he had no chance as an NFL prospect. But after watching another episode of the
Jimmy Clausen
Show, I'm seriously thinking Hurney should explore every quarterback on the planet.
What's next:
Although the extra days off might seem like torture to the players, the bright spot is that John Fox's final game as coach of the Panthers will come on the final day of the regular season at Atlanta. Even if the Falcons have clinched home-field advantage and decide to rest their starters, the Panthers have no chance. Once this mess of a season is over, the Panthers need to turn the page, forget about Fox and decide who will be the next coach.
June, 28, 2010
6/28/10
11:00
AM ET
Notable players:
QB Chris Chandler, RB Jamal Anderson, WR Terance Mathis, LB Jessie Tuggle, K Morten Andersen, LB Cornelius Bennett.
[+] Enlarge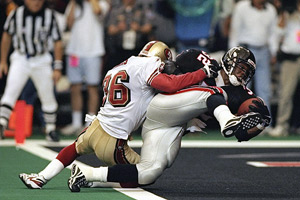 Getty ImagesJamal Anderson rushed for 1,846 yards and 14 touchdowns in 1998.
If ever there's been a one-year wonder, it was the 1998
Atlanta Falcons
. For the better part of three months, this team was as hot as any team ever and it really didn't matter who was coaching.
With coach Dan Reeves having open-heart surgery late in the season, Rich Brooks took over as the interim coach and the Falcons just kept on winning with a great defense and Anderson having a huge year. The Falcons went from Oct. 25, 1998, until the Super Bowl on Jan. 31, 1999, and didn't lose a game.
During a Dec. 13 victory in New Orleans that made the Falcons 12-2, Reeves began experiencing chest pains. When he mentioned it to team doctors the next morning, they took a look and quickly rushed him into surgery. Without Reeves, the Falcons won the next two regular-season games to finish a franchise-best 14-2.
With some help from a first-round bye, Reeves was able to return for two very narrow playoff victories against San Francisco and Minnesota. The NFC Championship Game was in Minnesota, but Atlanta upset the Vikings. That also put the Falcons into the Super Bowl for the first -- and only -- time. The opponent was Denver.
That set up a great subplot as Reeves went against
John Elway
, the quarterback he had clashed with when they were together with the Broncos. Things didn't go well for the Falcons even before the game.
Safety
Eugene Robinson
was arrested the night before the game and that created turmoil for Reeves and the Falcons. In the end, Robinson played, but it didn't really matter. Elway and the Broncos had the upper hand, winning 34-19.
Most impressive win:
The Nov. 1 game against St. Louis gets an honorable mention because it came after the Falcons got trashed by the Jets and it started the long winning streak. But people who were with the team then said the most important game was on Dec. 20 at Detroit. With Brooks coaching the team, the Falcons overcame three deficits to win 24-17 and clinched the NFC West title (this was before the NFC South was formed in 2002).
Research room:
The 1998 Falcons led the NFL in takeaways (44), fumble recoveries (25 ) and time of possession (33:10).
Honorable mention
1980:
With quarterback Steve Bartkowski and running back William Andrews leading the way, the Falcons won a division title for the first time in franchise history.
2008:
In the aftermath of Bobby Petrino and
Michael Vick
, coach Mike Smith came in and took over a team that was expected by many to be horrible. With rookie
Matt Ryan
at quarterback, the Falcons went to the playoffs.
2002:
This team made history by going into Lambeau Field and handing the Packers their first home playoff loss in franchise history.
January, 6, 2009
1/06/09
10:41
AM ET
Posted by ESPN.com's Pat Yasinskas
Here's all the broadcast information for Saturday night's game between Arizona and Carolina. Kenny Albert will be the play-by-play man on FOX with Daryl Johnston as the analyst and Tony Siragusa as the sideline reporter.
In the Carolinas, the Panthers Radio Network will carry the game with Mick Mixon doing play by play and Eugene Robinson as the analyst. Nationally, the game will be carried on Westwood One Radio with former Panthers' radio voice Bill Rosinski handling play by play while Dan Reeves provides analysis.