March, 7, 2013
3/07/13
1:00
PM ET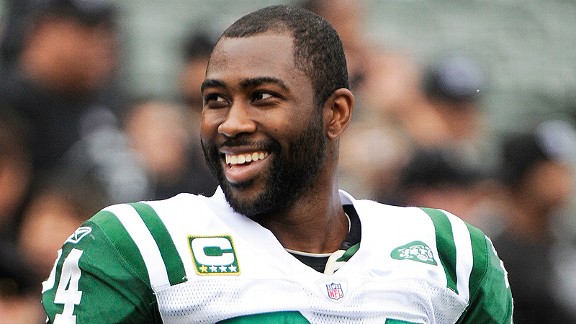 Thearon W. Henderson/Getty ImagesCornerback Darrelle Revis certainly has the star power that would get Bucs fans fired up.
While seemingly every NFL team is denying interest in
New York Jets
cornerback
Darrelle Revis
, there is one team that should be going after him.
I say put Revis Island on Davis Islands.
That's the tandem of islands in the shadows of downtown Tampa, Fla., and just down the road from Raymond James Stadium. It's on those islands that New York Yankees legend Derek Jeter built a mansion, and he could use some company.
The
Tampa Bay Buccaneers
also could use a shutdown corner.
Revis and the Bucs would be a perfect match on every level. Other teams are citing the cost of a trade and the salary cap as reasons why they don't want the guy who might be the best cornerback of his generation. But none of those excuses works for the Bucs.
In fact, the things that work against those other teams work for the Bucs.
Let's start with the price of getting Revis and keeping him for the long term. It will probably take a couple of draft picks to pry Revis from the Jets. The Bucs have some flexibility there because they have an extra fourth-round pick this year. Even if the Bucs had to give up this year's first-round pick (No. 13 overall) as part of the package, so what?
They're not going to find a better cornerback than Revis in the middle of the first round.
Then, there's also the realistic fear that trading for Revis would be only a one-year solution because he's heading into the final season of his contract. But the Bucs are in a unique spot there. They are more than $32 million under this year's salary cap and have plenty of cap room in upcoming years.
They could trade for Revis, immediately sign him to a huge extension and still have plenty of cap room to work with now and in the future.
But the Bucs have more than just the means to get Revis. They have a glaring need.
Did you happen to catch Tampa Bay's secondary last season?
The Bucs were so bad they allowed more passing yards than the
New Orleans Saints
, which is saying a lot. The Bucs were so bad that they had the league's top-ranked run defense but still managed to finish No. 31 in total defense.
[+] Enlarge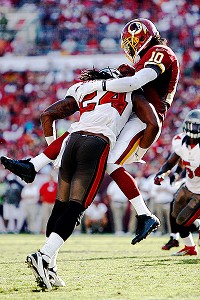 Matt Stamey/USA TODAY SportsYoung Tampa Bay safety Mark Barron could benefit in a big way if the Bucs managed to acquire star CB Darrelle Revis.
In the process, they traded away their top cornerback,
Aqib Talib
, mainly because he was a perpetual headache.
Eric Wright
, the free agent they signed to a big contract last year, didn't really work out. He ended up getting suspended for violating the league's policy on performance-enhancing substances. That suspension voided his guaranteed base salary for this year, and the Bucs may end up releasing Wright.
This is a team that can't afford to go into next season counting on
Leonard Johnson
and
E.J. Biggers
as anything more than role players. This is a team that needs a big-time cornerback, and those don't come any bigger than Revis.
He instantly would make the Bucs better, and that would be a huge plus for a franchise that hasn't been to the playoffs since the 2007 season. Put Revis with second-year safety
Mark Barron
and add another cornerback and a safety behind a front seven that has some talent, and Tampa Bay's defense suddenly could become very good.
There were hints last season that the offense could be pretty good. Get a little more consistency out of quarterback
Josh Freeman
, let Revis bolster the defense, and Tampa Bay could be in the playoff hunt.
That brings us to another point. The Bucs need to win and they also need to excite a fan base that hasn't had a lot to be excited about in recent years.
Winning can cure a lot of that, but so can an injection of charisma. Revis has charisma. He trademarked the "Revis Island" name and he has star power.
That's something the Bucs desperately need as they try to get fans into a stadium that rarely has sold out in recent years.
The arrival of running back
Doug Martin
and wide receiver
Vincent Jackson
gave the Bucs some star power last year. But, still, Tampa might be the rarest of NFL markets.
Hockey's Steven Stamkos and baseball's Evan Longoria might be more popular in Tampa than any of the Bucs. Jeter might even be Tampa's most famous resident from the sports world, and he plays his home games more than 1,000 miles away, not far from where Revis has spent his NFL career.
But maybe it's time for the Bucs to step up and take Revis out of New York. If they do, they can give themselves a true superstar, fill their stadium and maybe turn into a playoff team.
March, 13, 2012
3/13/12
8:32
PM ET
TAMPA, Fla. -- Desperate for fans, victories and a No. 1 wide receiver, the
Tampa Bay Buccaneers
might have purchased all three in one very expensive package.
The Buccaneers opened free agency with one of the boldest moves in franchise history. They've
agreed to terms
with former San Diego receiver
Vincent Jackson
on a five-year deal worth more than $55 million.
At 6-foot-5 and 230 pounds, Jackson is more than just a big receiver. Throughout his career, he's shown surprising speed and an ability to get open down the field. If he can bring all that to Tampa Bay, things suddenly could look better for a franchise that ended last season on a 10-game losing streak and has seemed to lose its connection to fans in recent years.
But the move to sign Jackson should help silence critics that have accused the Glazer family, which owns the Bucs, of being cheap and not wanting to win. Jackson was considered one of the top five free agents and the premier wide receiver and that's why the Bucs are making him one of the highest-paid players in franchise history. Defensive tackle Gerald McCoy's five-year contract could be worth up to $63 million, but only if he hits all incentives and escalators.
[+] Enlarge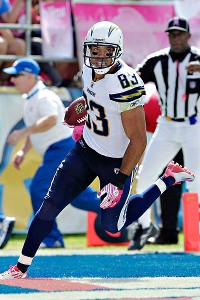 AP Photo/Gregory BullVincent Jackson caught 60 passes last season for 1,106 yards and nine touchdowns.
Team co-chairman Joel Glazer said in January that the Bucs would spend whatever it takes to win going forward and the team backed that up by going all out for Jackson as soon as free agency opened.
Jackson instantly gives the Bucs a drawing card. That's something desperately needed in a town where you see more people wearing replica jerseys of Evan Longoria, of baseball's Rays, and Steven Stamkos, of hockey's Lightning, than you see wearing
Josh Freeman
jerseys.
Jackson's presence could help the Bucs sell tickets at Raymond James Stadium, where only two home games have been sold out in the past two seasons. Fans might have reason to show up because Jackson is more than just a name.
As a football player, he seems like the perfect complement for Freeman, the quarterback who struggled mightily in his third year. The front office and Greg Schiano's new coaching staff believe Freeman has all the skills to be a franchise quarterback, but was held back by his supporting cast last season.
Jackson, 29, should help tremendously in solving that. He's shown the ability to get open downfield, something Tampa Bay's receivers failed to do last season. Jackson averaged 18.4 yards per catch last season and that should make him the focus of opposing defenses.
Jackson's arrival also should allow
Mike Williams
and
Arrelious Benn
to be what they are -- No. 2 or No. 3 receivers.
The Bucs have made it clear they're building this team around Freeman. They're not done yet. ESPN's John Clayton reports the Bucs also are talking to New Orleans guard
Carl Nicks
. If the Bucs are able to add the All-Pro Nicks to an offensive line that already includes
Davin Joseph
,
Jeremy Zuttah
and
Donald Penn
, Freeman suddenly could have excellent protection. There also are rumblings the Bucs may be interested in Atlanta linebacker
Curtis Lofton
and a few role players on defense. After that, all the Bucs might need is a running back. But it's a pretty safe bet the Bucs will add that in free agency and the draft.
They've already tipped their hand and shown they're willing to spend and they want to win. There's no guarantee it will all work, but fans no longer can say the Glazers won't spend money.
May, 4, 2011
5/04/11
10:43
AM ET
The man who got the biggest ovation at Tuesday's NHL playoff game between Tampa Bay and Washington might not have been a hockey player.
It might have been
Tampa Bay Buccaneers
coach Raheem Morris. His appearance was brief, as his faced flashed on the scoreboard for maybe 10 seconds as the Lightning showed video greetings of Tampa Bay dignitaries and MC Hammer, who has no formal ties to the area that I'm aware of. Tampa Bay Rays third baseman Evan Longoria drew big applause.
But the cheer when Morris' face appeared was much bigger. In fact, much of the crowd probably wasn't able to hear what Morris said. I couldn't make it out entirely. But it was some play off the Lightning's "All In'' marketing campaign and Morris wished success to the local hockey team.
This was significant on several levels. It shows Morris' popularity is growing. There was a time when he was first hired, when not many people would have recognized him. There were times during his first season, a 3-13 campaign in 2009, when people didn't want to recognize him.
But it's amazing what the Bucs' 10-6 record last season has done. It's helped make Morris into a very popular figure in Tampa Bay and it's a good thing that he's not just staying in his lane. He's gone out to Rays' games and formed a close bond with Rays' manager Joe Maddon. That's great because their jobs allow them to relate to each other.
Speaking of relating, the willingness of Morris and the Bucs to film the spot that was shown last night was a very smart move. The Lightning are selling out right now. But that's largely because they're deep in the NHL playoffs. They haven't always sold out.
That's been a problem for the Rays and Buccaneers as well. The Bucs were unable to sell out Raymond James Stadium a single time last season. Kind of surprising that attendance figures have lagged at home games for all three of Tampa Bay's major sports franchises at a time when all three have had some recent success.
Yeah, they all may be competing for the same disposable-income dollars. But it's nice to see the teams working together (running back
Cadillac Williams
and linebacker
Adam Hayward
were in the stands as fans Tuesday night) and building good relationships. Bucs co-chairman Joel Glazer talked at the NFL owners meeting in March and one of the topics was how the team has had talks with the Rays and Lightning about the challenges they face in selling tickets and how they've shared ideas with each other.
That's a great thing. The Bucs, Lightning and Rays don't need to view each other as competitors. They need to view each other as teammates because they're all in the same boat and the economic water in these parts is choppy right now.