NFC South:

Fabian Washington
September, 1, 2011
9/01/11
6:45
PM ET
A couple of quick roster notes before we watch each NFC South team play its final preseason game.
The Falcons announced Thursday that they've waived quarterback
Adam Froman
and offensive linemen Matt Murphy. Both were signed as undrafted free agents this summer.
A little bit bigger news out of New Orleans. The Saints
have placed
cornerback
Fabian Washington
on the injured-reserve list. Washington, who has been a starter at several spots around the league, was signed to give the Saints some depth in the secondary. But Washington suffered a hamstring injury that forced him to miss most training camp and the preseason.
I'll be back with brief observations after the games.
August, 19, 2011
8/19/11
12:00
PM ET
Let's catch up on the headlines around the NFC South.
The Falcons have
reached an injury settlement
with tight end
Justin Peelle
. This one's no surprise. Peelle injured his knee and the Falcons signed veteran
Reggie Kelly
a few days ago to fill the role as the blocking tight end.
Tony Gonzalez
remains the starter and will be used mostly as a pass-catcher. Kelly is considered a strong blocker and should get lots of playing time.
Michael Palmer
has had a nice camp and could be in the mix for some playing time.
The Saints
added some cornerback depth
by signing
Quincy Butler
. They've had some injury problems at the position throughout camp, with
Tracy Porter
,
Fabian Washington
and
Johnny Patrick
each missing some time.
Joe Henderson puts Tampa Bay's ugly loss to New England in
proper perspective
. There were plenty of negatives on both sides of the ball. But, really, preseason games don't mean very much. I seem to recall the Bucs having some pretty good preseasons under Sam Wyche and the Panthers doing the same under George Seifert and it didn't come close to translating into regular-season success.
Scott Fowler
has an overview
of what undoubtedly will be the most important game throughout the NFC South this preseason. It's Carolina at Miami.
Cam Newton
and
Jimmy Clausen
are competing for the right to be the starting quarterback in the regular season. One way or another, this thing is going to sort itself out Friday night.
August, 12, 2011
8/12/11
11:10
PM ET
We know the
New Orleans Saints
can play offense and there's no doubt that will happen when the regular season comes along. But the Saints didn't even need their offense in a
24-3 victory
against the
San Francisco 49ers
in their preseason opener at the Superdome.

The defense and special teams gave the Saints a fast start as
Drew Brees
and most of the first-team offense didn't even stay in long enough to get a first down.
New Orleans defensive coordinator Gregg Williams looked like he was prepared for a playoff game, not an exhibition. He blitzed like crazy and the first-team defense was all over San Francisco starting quarterback
Alex Smith
. Safety
Roman Harper
spent as much time in the backfield as any of San Francisco's running backs. Heck, Williams was even calling run blitzes.
The Saints also got a big boost from undrafted rookie
Joe Morgan
, who returned a punt 78 yards for a touchdown. People thought
Darren Sproles
would make everyone forget
Reggie Bush
, but Morgan might be making a case to stay on the roster to handle some returns.
Some other observations on the Saints.
Brees left the game with about five minutes left in the first quarter and only completed one of four passes for six yards. Smart move by Sean Payton to get Brees out of there quickly. When you have a quarterback like that, you don't need to take any chance of getting him hurt in a preseason game.
Brees did throw one perfect deep pass, but Robert Meachem dropped it.
Backup Chase Daniel took a big hit out of bounds soon after replacing Brees. He got up, holding his side. Made me wonder for a second if the Saints have a phone number for Jake Delhomme? He's a Louisiana guy and, if he's going to play again, the Saints would be a tempting option. But Daniel seemed to shake off the hit and completed 13 of 21 passes for 129 yards.
The Saints didn't even need the blitz all the time. With a bit of help from defensive tackle Sedrick Ellis, Will Smith had a nice sack on Smith.
Nice debut by rookie running back Mark Ingram. He had a 14-yard touchdown run at the end of the first half that brought back memories of Deuce McAllister.
Linebacker Jonathan Casillas hasn't been getting much work with the first-team defense. But he had a strong outing and that could earn him some work with the starters as camp goes on.
Rookie cornerback Johnny Patrick went down near the end of the third quarter with what appeared to be a leg injury. It was unclear how serious the injury is, but the Saints already are thin at cornerback. Tracy Porter and Fabian Washington already have missed camp practices with injuries.
August, 12, 2011
8/12/11
10:45
AM ET
METAIRIE, La. --
Jonathan Vilma
grabbed the question and treated it much the same way he would a running back.
He grabbed it forcefully and drove it straight to the proper destination.
"It's really very, very simple,'' the middle linebacker for the
New Orleans Saints
said. "If we want to get back to being the Super Bowl champions, we have to play defense the way we played it in 2009, not the way we did in 2010. We have to go out there and start making turnovers happen again.''
[+] Enlarge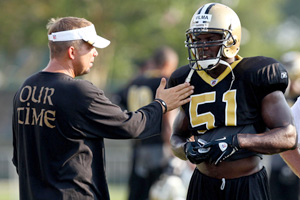 Derick E. Hingle/US PresswireJonathan Vilma, right, wants the Saints' defense to return to its 2009 playmaking form.
It's not as though the 2010 season was a complete disaster for the Saints. They went 11-5 and made the playoffs. But they went out to Seattle for the first round of the postseason and got upset by a team that didn't even have a winning record. That ended New Orleans' defense of its first Super Bowl championship, and Vilma put the reason for that squarely on the defense.
"Look, we still had [quarterback]
Drew Brees
and all sorts of weapons on the other side of the ball,'' Vilma said. "Last year's problem wasn't our offense. It was our defense. We just didn't make things happen the way we did in 2009. We played well at times, but we also left a lot of big plays on the field because, for whatever reason, we just didn't make the same plays we did the year before.''
Vilma pointed to one statistic to demonstrate his point. In 2009, the Saints were plus-11 in turnover ratio. In 2010, they were minus-6.
They have the personnel to reverse that trend, and Vilma said a little more help from the defense could be all it takes to get back to the Super Bowl.
"You think of McDonald's and you think of Burger King, you know what you're going to get across the world,'' Vilma said. "So we want people to think of Saints defense, you know what you're going to get. You're going to get takeaways, hitting, relentlessness, running to the ball. I think we're starting to build that brand, we are still working toward it, and one thing we won't do is take a step back."
THREE HOT ISSUES
1. Can the defense really get back to 2009 form?
Yes, it's very possible. Gregg Williams is one of the league's best and most aggressive defensive coordinators. When I visited camp recently, the defensive players were picking up every loose ball, even well after plays were done. That's something Williams brought when he arrived in 2009. It didn't really stop in 2010. But you can tell the Saints are approaching loose balls with much more gusto in this camp.
That's great, but just taking that mental approach won't be enough. The Saints have made some personnel moves that should make the overall defense better and should help produce turnovers. The Saints added defensive tackles
Shaun Rogers
and
Aubrayo Franklin
and suddenly are much bigger on the defensive line. Rotate Rogers and Franklin with a healthy
Sedrick Ellis
, and the Saints suddenly could be much stronger than they've been in the middle of the line in recent years.
That should help the pass rush, particularly
Will Smith
,
Alex Brown
and rookie
Cameron Jordan
. Smith and Brown didn't get as much pressure on opposing quarterbacks as the coaches would have liked last season. Pressure is the key to a Williams' defense. If the Saints can get pressure, the turnovers will come naturally.
2. Is the defense really to blame for last year?
Not quite as much as Vilma claims. He's right that the defense wasn't the turnover machine it was in 2009. But the offense wasn't exactly the perfectly tuned machine it was in the Super Bowl season. The Saints scored 64 touchdowns in 2009 (and five of those came on interception returns by the defense), but that number dropped to 44 last season. Maybe the defense could have helped a bit more with field position, but this offense had some flaws.
It's tough to criticize Brees, who has carried the Saints since his arrival in 2006. But numbers don't lie, and they'll tell you Brees had an off year last season. His passing yardage and touchdowns were similar to 2009, but the huge difference was interceptions.
Brees threw only 11 interceptions in 2009 but had a career-high 22 last season. He never missed any playing time or complained about it, but Brees never seemed to be quite the same after injuring his knee in a Week 3 game with Atlanta. That might have had more to do with his "slump'' than we'll ever know.
But Brees has had a whole offseason to recover, and I expect him to bounce back. His cast of receivers remains largely the same, and replacing center
Jonathan Goodwin
with
Olin Kreutz
should not hurt an offensive line that already is very good.
[+] Enlarge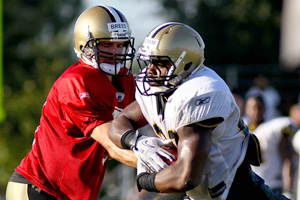 Derick E. Hingle/US PresswireMark Ingram, right, should become a workhorse for the Saints right away.
3. How will the Saints use their running backs?
Whether you loved him or not,
Reggie Bush
is gone, and that's going to have an impact. Although he never put up huge numbers, Bush was the kind of player who made defenses account for him every time he was on the field.
It's easy to say the Saints will try to replace Bush by committee and, to some degree, that's true. They brought in
Darren Sproles
to do a lot of what Bush did -- run outside, catch passes out of the backfield and work as a return man. They also have
Pierre Thomas
and
Chris Ivory
, who are pretty solid all-around backs.
But the biggest offensive move the Saints made this offseason was drafting
Mark Ingram
. He's a running back who can do everything well, and he'll probably be used the way
Deuce McAllister
was in the early years of coach Sean Payton's tenure. Sproles will inherit the packages Bush was in on, but Ingram's going to get most of the playing time -- and carries.
BIGGEST SURPRISE
Nobody got very excited when the Saints added
Will Herring
. That's understandable, because he spent four seasons in Seattle as a backup linebacker and special-teams player. Herring has only seven career starts, but a coaching staff and front office that have been known to find some steals might have another one. Herring has been getting most of the first-team work on the strong side in training camp, and the coaches have been raving about him. He's quick and he's smart, and the change of scenery apparently has him playing better than ever.
BIGGEST DISAPPOINTMENT
When he's healthy and on the field,
Tracy Porter
is a solid cornerback. But Porter hasn't been on the field this training camp. He's been walking around the sidelines with his left knee wrapped as he recovers from offseason surgery. There's hope Porter will be ready for the regular season, and there is even higher hope he'll be motivated to have a huge year because he can become a free agent after the season.
But there's also some skepticism, because this isn't the first injury for Porter. He missed four games last year and four the year before. Fellow starter
Jabari Greer
also has a history of injury problems. If Porter and Greer have more problems, the Saints could be thin at cornerback. They signed veteran
Fabian Washington
, but he has missed some camp time with an injury.
The upside is the absence of Porter and Washington has given second-year pro
Patrick Robinson
and rookie
Johnny Patrick
more work. Williams has been praising both of them. If either or both continue to impress and Porter's recovery lingers, we could see a change in the lineup. That also wouldn't help Porter's chances of earning a big contract and staying with the Saints next season.
OBSERVATION DECK
Wide receiver Robert Meachem was a close runner-up for the biggest-surprise category above. Meachem is coming off ankle surgery for an injury that slowed him last year, and he's having an excellent camp. He has caught just about every pass thrown his way and seems to be moving much better than a year ago. Meachem was a force as a deep threat in 2009, and it looks as if he might be returning to that form.

Herring has been working on the strong side and Scott Shanle on the weak side. But nothing's settled yet. Herring appears headed for a starting job, but Shanle is aging. The Saints have liked what they've seen from Clint Ingram and Jonathan Casillas, and they know what they have in Jo-Lonn Dunbar. They'll probably go through several preseason games before deciding firmly on their starting linebackers. Even then, they could still rotate linebackers because the coaches view all of them as pretty close to equal.

One linebacker who is struggling a bit is third-round pick Martez Wilson. You can see he has good athleticism, but he looks lost at times during team drills. The Saints aren't anywhere close to being ready to give up on him, because he has lots of upside. But a lot of fans thought he'd be an instant starter. That's not going to happen.

The Saints never have been afraid to take a shot on a reclamation project, and that's what they did with Rogers at defensive tackle. He came into the league with a lot of hype back in 2001 but has spent his career stuck with some pretty bad teams in Detroit and Cleveland. Rogers even lost his starting job with the Browns last year, and there have been questions about his conditioning and attitude throughout his career. But this might be a perfect fit. Rogers is on a good team for perhaps the first time in his career, and Williams is a master motivator. Even if Rogers doesn't work out, I like how the Saints hedged their bet by bringing in Franklin.

The Saints also took a shot on another former first-round pick. That's offensive tackle Alex Barron. But he's not off to a great start. He has been sidelined by injury, and unless he comes back soon and makes a big impression, he probably won't make the roster.

Since entering the league in 2009, punter Thomas Morstead has been known as a guy with a big leg. That hasn't changed. But Morstead put in a lot of work on his directional punting in the offseason, and you can see the results in practice. That should help the defense with field position.
July, 31, 2011
7/31/11
9:06
PM ET
SPARTANBURG, S.C. -- I just arrived in "Sparkle City'' and will be doing interviews and watching the
Carolina Panthers
practice Monday afternoon and Tuesday morning.
I'll provide some live updates and notes and also will be gathering information for our Camp Confidential series and our season previews.
Updating our
earlier item
on guard
Justin Blalock
returning to Atlanta, his six-year contract is worth $38 million with $16 million guaranteed.
Now, on to some links about the day's happenings around the division.
The Saints, who are assembling one of the league's deepest defensive backfields,
signed
former Baltimore cornerback
Fabian Washington
.
Tampa Bay safety
Cody Grimm
admitted he's
not fully recovered
from the leg injury that ended his rookie season. But Grimm said he expects to be 100 percent by the start of the regular season.
New Orleans coach Sean Payton said he believes defensive end
Will Smith
finally will have to
serve the four-game suspension
for violating the league's rules on performance-enhancing substances that was tied up by the legal system since 2008.
Safety
Roman Harper
said he really
didn't want to leave
New Orleans. But he might have if the Saints hadn't stepped up with a four-year, $28.5 million contract.
Carolina coach Ron Rivera said the Panthers are very much
in the market for another quarterback
. Presumably, they want a veteran to help mentor
Cam Newton
and
Jimmy Clausen
. Makes you wonder if
Jake Delhomme
, who was released by Cleveland, could be up for a return to Carolina.
June, 24, 2011
6/24/11
11:42
AM ET
We already have talked quite a bit about players from the NFC South who are expected to become unrestricted free agents. We're going on the assumption that players not under contract who have at least four accrued seasons can become unrestricted free agents.
With that in mind, and with some help from ESPN Stats & Information, let's take a look at some of the more prominent potential free agents from the rest of the league.
QUARTERBACKS:
Marc Bulger
,
Kerry Collins
,
Rex Grossman
,
Matt Hasselbeck
,
Patrick Ramsey
,
Alex Smith
,
Billy Volek
,
Kellen Clemens
,
Brodie Croyle
,
Trent Edwards
,
Bruce Gradkowski
, Tarvaris Jackson,
Matt Leinart
,
Troy Smith
and
Tyler Thigpen
.
RUNNING BACKS:
Cedric Benson
,
Ronnie Brown
,
Kevin Faulk
,
Mewelde Moore
,
Sammy Morris
,
Clinton Portis
,
Dominic Rhodes
,
Tony Richardson
,
Kevin Smith
,
Darren Sproles
,
Fred Taylor
,
Brian Westbrook
,
Ricky Williams
,
Joseph Addai
,
Ahmad Bradshaw
,
Jerome Harrison
,
Brandon Jackson
,
Laurence Maroney
and LeRon McClain.
WIDE RECEIVERS
:
Mark Clayton
,
Braylon Edwards
,
T.J. Houshmandzadeh
,
Randy Moss
,
Santana Moss
,
Terrell Owens
, Donte' Stallworth,
Steve Breaston
,
Malcom Floyd
,
Santonio Holmes
,
James Jones
,
Sidney Rice
,
Mike Sims-Walker
,
Brad Smith
and
Steve Smith
(of the
New York Giants
, not the Steve Smith of Carolina).
TIGHT ENDS:
Desmond Clark
,
Donald Lee
,
Randy McMichael
,
Bo Scaife
,
Kevin Boss
,
Owen Daniels
,
Daniel Fells
,
Zach Miller
,
Ben Patrick
and
Matt Spaeth
.
OFFENSIVE LINEMEN:
David Baas
,
Jammal Brown
,
Robert Gallery
,
Adam Goldberg
,
Kyle Kosier
,
Olin Kreutz
,
Matt Light
,
Sean Locklear
,
Casey Rabach
,
Chris Spencer
,
Langston Walker
,
Casey Wiegmann
,
Floyd Womack
,
Damien Woody
,
Chris Chester
,
Jeromey Clary
,
Daryn Colledge
,
Willie Colon
,
Doug Free
,
Jared Gaither
,
Charlie Johnson
,
Deuce Lutui
,
Samson Satele
,
Lyle Sendlein
and
Marshal Yanda
.
DEFENSIVE TACKLES:
Aubrayo Franklin
,
Tommie Harris
,
Chris Hoke
,
Chris Hovan
,
Kris Jenkins
,
Bryan Robinson
,
Gerard Warren
,
Jamal Williams
,
Pat Williams
,
Alan Branch
,
Barry Cofield
,
John McCargo
and
Brandon Mebane
.
DEFENSIVE ENDS:
Jason Babin
,
Dave Ball
,
Raheem Brock
,
Andre Carter
,
Shaun Ellis
,
Cullen Jenkins
,
Travis LaBoy
,
Trevor Pryce
,
Marcus Spears
,
Ray Edwards
and
Mathias Kiwanuka
.
LINEBACKERS:
Akin Ayodele
,
Keith Bulluck
,
Kevin Burnett
,
Dhani Jones
,
Kirk Morrison
,
Julian Peterson
,
Matt Roth
,
Takeo Spikes
,
Jason Taylor
,
Mike Vrabel
,
Stewart Bradley
,
Bobby Carpenter
,
Manny Lawson
,
Paul Posluszny
,
Ernie Sims
and
Stephen Tulloch
.
CORNERBACKS:
Nnamdi Asomugha
,
Phillip Buchanon
,
Chris Carr
,
Drayton Florence
,
Ellis Hobbs
,
Carlos Rogers
,
Lito Sheppard
,
Ike Taylor
,
Fabian Washington
,
Drew Coleman
,
Antonio Cromartie
,
Chris Houston
,
Johnathan Joseph
,
Dimitri Patterson
,
Josh Wilson
and
Eric Wright
.
SAFETIES:
Aaron Francisco
,
Ken Hamlin
,
Michael Lewis
,
Brandon McGowan
,
Quintin Mikell
,
Lawyer Milloy
,
Brodney Pool
,
Gerald Sensabaugh
,
Roy Williams
,
Gibril Wilson
,
Atari Bigby
,
Melvin Bullitt
,
Abram Elam
,
Dashon Goldson
,
Michael Huff
,
Dawan Landry
,
Danieal Manning
,
Bernard Pollard
,
Eric Weddle
and
Donte Whitner
.