December, 23, 2012
12/23/12
7:02
AM ET
DETROIT -- With some help from ESPN Stats & Information and the Falcons' media relations department, let's take a by-the-numbers look back at how Atlanta defeated Detroit, 31-18, Saturday night at Ford Field.
The Falcons won for the fourth time on prime-time television this season. Since 2008, the Falcons are 8-4 in prime-time games.
Coach Mike Smith posted his 56th career win. Smith's record is 56-23. That's the second-best record in five seasons in NFL history. Former San Francisco coach George Seifert is No. 1 at 62-18.
Quarterback Matt Ryan completed 25 of 32 passes for 279 yards with four touchdowns and a 142.6 passer rating. That's the exact same passer rating Ryan posted in last week's win against the New York Giants.
The Falcons are 32-1 when Ryan has a passer rating of 100 or better. His passer rating is 100.2 for the season and he has a chance to become only the second quarterback in franchise history to post a passer rating of at least 100 for a season. Chris Chandler had a 100.9 passer rating in the 1998 season -- the only time the Falcons reached the Super Bowl.
The four touchdowns matched Ryan's career high and he now is tied for the franchise record for touchdown passes in a season (31) with Steve Bartkowski.
Ryan was especially good on play-action passes. He completed all seven of his attempts for 109 yards and three touchdowns.
Only three of Ryan's passes (excluding throwaways) were incomplete due to an overthrow or underthrow. Ryan leads the NFL with only 13.4 percent of his passes falling off target.
Receiver Roddy White joined Marvin Harrison, Torry Holt, Jerry Rice, Tim Brown and Reggie Wayne as the only players in NFL history to record six straight seasons with 80 catches and 1,000 yards.
White finished with eight catches for 153 yards and two touchdowns. It marked the 35th 100-yard game of his career, and White tied his franchise record for 100-yard games in a season (seven).
With one game remaining, White is 81 yards shy of breaking the franchise record for receiving yards in a season (1,389) that he set in 2010.
Detroit's Matthew Stafford didn't have a passing touchdown. That marked the fifth time in the last six games the Falcons have not allowed a touchdown pass.
The defense had three takeaways and the Falcons produced points each time. Atlanta now has 96 points off 29 takeaways this season.
December, 23, 2012
12/23/12
1:40
AM ET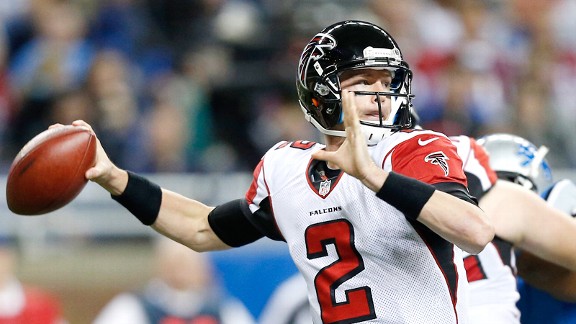 AP Photo/Rick OsentoskiMatt Ryan again demonstrated his value to the Falcons with another sparkling performance.
DETROIT -- Quite unintentionally, the
Atlanta Falcons
made the strongest case yet for
Matt Ryan
's most valuable player award candidacy Saturday night.
Ryan did his part by completing 25 of 32 passes for 279 yards and four touchdowns in a
31-18 victory
against the
Detroit Lions
at Ford Field.
But this isn't a story about numbers. It's a story about how Ryan is the dominant force for the first NFL team to win 13 games this season.
That was obvious from the start as the Falcons put the game in Ryan's hands early, and Atlanta seemed on the way to a blowout. It became even more obvious in the fourth quarter when the Falcons put the game back in Ryan's hands and made sure they clinched home-field advantage throughout the playoffs.
"They're not talking about him, but he's my MVP," Atlanta linebacker
Sean Weatherspoon
said. "Who's playing better than him? In my mind, nobody. I'd definitely vote for him."
Peyton Manning
,
Tom Brady
and
Adrian Peterson
are getting all the attention when it comes to MVP talk. But maybe Weatherspoon has a point.
Why not Ryan for MVP?
For the moment, he's the best player on the only team to win 13 games this season, and isn't it all about winning? He tied Steve Bartkowski's franchise record for touchdown passes in a season (31) and he's at or on his way to career highs in every statistical category.
But, again, this isn't about numbers. It's about how valuable Ryan is to the Falcons, who, once and for all, need to realize they aren't the same old Falcons. And coach Mike Smith and offensive coordinator Dirk Koetter need to realize they should stop even attempting to be anything close to the same old Falcons.
Let's be honest. Running back
Michael Turner
has had a wonderful run with Atlanta, but his days as the backbone of the offense are long gone. The Falcons are a pass-first team now, and Smith and Koetter need to lose the stubborn streak that's prompting them to force a running game that just isn't there anymore.
They almost learned that the hard way against the Lions.
After Ryan played a nearly flawless first half (15 of 16 for 184 yards and three touchdowns) and led Atlanta to a 21-6 halftime lead, the Falcons took the ball out of Ryan's hands in the third quarter.
They got conservative and tried to force feed Turner at the start of the third quarter. That got them nowhere, and it almost got them into deep trouble. The Lions followed a three-and-out by Atlanta with a touchdown. Early in the fourth quarter, a Detroit field goal cut the lead to 21-16 and all the momentum seemed to shift to the Lions at a time when
Calvin Johnson
was chasing (and, eventually, breaking)
Jerry Rice
's record for receiving yards in a season.
But that's when the Falcons put the game back into Ryan's hands and he made his case for MVP. On a drive that featured only two runs by Turner, Ryan led the Falcons on an 11-play, 77-yard drive that was capped by a touchdown pass to backup tight end
Michael Palmer
.
"Matt made some big time throws on that drive," Smith said. "That's what he's been doing all season."
The people who vote for MVP should look long and hard at that drive, and so should Smith and Koetter. Ryan is the reason the Falcons are 13-2.
"There's a lot of politics that come along with being MVP and things like that," said Atlanta receiver
Roddy White
, who caught Ryan's first two touchdown passes and finished with eight catches for 153 yards. "But the guy has been here five years and he's won a lot of games. Come on. He's won 13 already this year and put us into this position going into the playoffs. And his numbers are up there with everybody else's. I don't see anybody else out there that's better than him."
Neither do I. But White's got a point about the politics. Brady and Manning have won Super Bowls. Ryan hasn't even won a playoff game. The reality is Brady or Manning or Peterson, who's putting up huge rushing numbers, probably will win the MVP this season, no matter what Ryan does.
But there's a way Ryan can get more heavily involved in the conversation in the future. There also is a way for Smith to stop everyone from talking about what he and Ryan have yet to do.
That would be to go out and win a playoff game.
"This is a different team from last year or two or three years ago," White said. "Our players are more mature. I think we're ready to go."
They'll be ready and they'll be a different team in the postseason only if Smith and Koetter grasp the fact that they're not going to get anywhere with the running game. They need to grasp the fact that this team can only go a long way if it's riding Ryan's arm.
The Falcons can win in the playoffs, maybe even the Super Bowl, if they just let Ryan go out and play like an MVP.
December, 22, 2012
12/22/12
11:37
PM ET
DETROIT -- Thoughts on the
Atlanta Falcons
'
31-18 victory
against the
Detroit Lions
on Saturday night at Ford Field:


What it means:
The Falcons improved to 13-2 and clinched the home-field advantage in the NFC playoffs. I know what you're thinking -- the Falcons went 13-3 and had the home-field advantage two seasons ago and they lost to the
Green Bay Packers
in the Georgia Dome. It's a valid point. But would you prefer the Falcons didn't have the home-field advantage?
Almost perfect:
Atlanta quarterback
Matt Ryan
flirted with the NFL record book in the first half. He completed his first 12 passes. Throw in the fact that Ryan completed his final 10 passes in a victory against the
New York Giants
and he completed 22 consecutive passes. His 13
th
attempt of the game fell incomplete, leaving him just shy of Donovan McNabb's NFL record (24 straight completions).
What I liked:
Ryan's performance overall. At least in my book, he has put himself back in the conversation for the Most Valuable Player award.
What I didn't like:
The way the Falcons insist on continuing to try to establish
Michael Turner
and the running game. Look, it just isn't working. Either make
Jacquizz Rodgers
the feature back or just scrap the run totally and put everything in Ryan's hands. The Falcons had a 21-6 halftime lead, but they were stubborn about Turner and the running game early in the second half and that gave the Lions a chance to get back into the game.
Milestone time:
Ryan now has 31 touchdown passes on the season. That ties him with Steve Bartkowski for the franchise record for touchdown passes in a season.
More milestone time:
Detroit's
Calvin Johnson
broke Jerry Rice's record for
receiving yards in a season
. It came with the Falcons in command of the game. Strangely, though, the Falcons also were the defense that
Drew Brees
broke the record for passing yards in a season against last year.
What's next:
The Falcons wrap up their regular season next Sunday, hosting the
Tampa Bay Buccaneers
in the Georgia Dome. Coach Mike Smith has to make a decision on if he's going to rest his starters.
December, 22, 2012
12/22/12
9:58
PM ET
DETROIT -- I think I've just witnessed the most efficient half ever by an NFL quarterback.
Matt Ryan
was one throw away from being flawless. He completed 15 of 16 passes for 184 yards and three touchdowns as the
Atlanta Falcons
cruised to a 21-6 halftime lead against the
Detroit Lions
at Ford Field.
Ryan has had a little help from his defense setting him up with good field position with two fumble recoveries. Ryan has hit
Roddy White
with two touchdown passes and
Julio Jones
with another.
The Falcons are clearly in control of this one. If it stays that way in the second half, the Falcons will clinch home-field advantage throughout the playoffs.
I'll be back with Rapid Reaction as soon as the game ends
December, 22, 2012
12/22/12
6:15
PM ET
DETROIT -- I'm here in the press box high above Ford Field.
There are only a handful of
Atlanta Falcons
out on the field loosening up. Two other buses were waiting for more players and coaches when I left the team hotel.
I'll be back with inactives (and the status of injured safety
William Moore
) roughly 90 minutes before kickoff.
And here's another invitation to join us in the
Countdown Live chat
we'll be conducting throughout the game.
December, 22, 2012
12/22/12
1:14
PM ET
DETROIT -- I'm counting down the hours to Saturday night's game and so are the
Atlanta Falcons
.
By pure coincidence, I'm staying at the same hotel as the Falcons. I was just downstairs and had a brief chat with quarterback
Matt Ryan
as he headed to the team lunch. I also ran into general manager Thomas Dimitroff, and we had an informal chat about football and other things.
My plan is to head over to Ford Field about three hours before game time. I'll get you the inactives about 90 minutes before kickoff. I'm also scheduled to help preview the game on ESPN Radio at about 7:30 p.m. ET.
Please feel free to join us for the Countdown Live chat that will go on throughout the game. Countdown Live will pop up as a separate post on this blog prior to the game.
November, 20, 2011
11/20/11
4:23
PM ET
Thoughts on the
Carolina Panthers
'
49-35 loss
to the
Detroit Lions
on Sunday at Ford Field:


What it means:
Remember when the Panthers were scoring moral victories every week early in the season? Well, they're back at it. But this one had the potential to be so much more. This was a chance for a young team and first-year head coach Ron Rivera to turn a big corner. A victory in Ford Field would have sent a firm message to the rest of the league that the Panthers will be a force to be reckoned with next season and a potential spoiler the rest of this season. The Panthers went toe-to-toe with the Lions much of the day. But they couldn't quite turn the corner. On the bright side, there were plenty of promising things that emerged, and the Panthers seem to be putting themselves in nice position for next year's draft.
What I liked:
Carolina's offense. Yeah,
Cam Newton
was intercepted four times, but he had some great moments. The whole offense did. Even though they're losing, the Panthers are so much more exciting on offense than they ever were under former head coach John Fox.
What I didn't like:
Carolina's defense. It's been a problem all year, and it's not getting any better. You can't allow
Matthew Stafford
to throw for five touchdowns, and you can't allow 49 points. No matter how good your offense is, it's pretty tough to match 49 points. Wherever the Panthers end up in the draft order, they'd better use their first pick on a defensive player. They'd better use just about all their picks on defensive players.
Sign of progress:
The Panthers have made it clear they're going to look at their young players a lot down the stretch. One guy who stood out Sunday was rookie return man
Kealoha Pilares
. He took a kickoff back for a touchdown.
What's next:
The Panthers play at Indianapolis next Sunday.
November, 18, 2011
11/18/11
11:15
AM ET
ESPN's
panel of experts
is pretty much unanimous in its NFC South predictions this week.
All 10 of them have Tampa Bay losing to Green Bay. Hard to argue with that one. The 4-5 Bucs aren't playing well and they're heading into Lambeau Field to play an undefeated team. Unless LeGarrette Blount suddenly learns to pass block and Tampa Bay receivers stop dropping passes, it's tough to imagine the Bucs having any chance to keep up with Aaron Rodgers and the Green Bay offense.
The panel also is unanimous in picking the Detroit Lions over the Carolina Panthers. Again, tough to argue that one. I was thinking the Panthers would show improvement in the second half of the season and pull some upsets. That still might happen. But it's tough to see the Panthers going into Ford Field, which suddenly has become one of the league's toughest road venues, and winning.
The only game where the panel isn't unanimous is Tennessee at Atlanta. But this was only one vote off. The Falcons were picked nine times, with Mike Golic taking the Titans. I think the Falcons have the better team, but I'm a little curious to see how they respond after last week's overtime loss to New Orleans. They could bounce back strong. But there's also the possibility the Falcons still might be emotionally and physically drained from the loss to the Saints.
November, 13, 2011
11/13/11
7:50
PM ET
Thoughts on the
Carolina Panthers' 30-3 loss
to the
Tennessee Titans
on Sunday at Bank of America Stadium:


What it means:
A few weeks ago, when the Panthers defeated the
Washington Redskins
, it looked like this young team had a great opportunity to turn the corner. Home games with the Vikings and Titans were coming up and they looked winnable. Instead, the Panthers lost them both. They're 2-7 and the early hope that rookie quarterback
Cam Newton
brought is fading a bit. Earlier in the season, it looked like the Carolina offense could score against anyone. But the Panthers couldn't even get into the end zone against the Titans.
Slump busters:
There will be a lot of stories about how Tennessee running back
Chris Johnson
snapped out of a season-long funk as he rushed for 130 yards and a touchdown. I wouldn't go declaring that Johnson's slump is over. I'd make the case that he was simply going up a defense that can't stop the run.
Nobody's coming to the rescue:
Perhaps the most discouraging thing about the rest of the Carolina's season is that it's highly unlikely the defense is going to show any signs of improvement. Season-ending injuries to linebackers
Jon Beason
and
Thomas Davis
and defensive tackle
Ron Edwards
were beyond devastating. The Panthers simply didn't have much depth behind him. The defensive problems can't be fixed until next year, when some of the injured players return and the Panthers have a full offseason to reload their defense.
This is never a good sign:
Legedu Naanee
led the Panthers with eight catches for 75 yards. Naanee's not a threat.
Steve Smith
, who is a huge threat, was held to five catches for 33 yards. He's been outstanding all season, but Smith didn't have a catch go for more than 15 yards on Sunday.
What's next:
The Panthers travel to Detroit next Sunday to play the Lions at Ford Field.
October, 23, 2011
10/23/11
5:32
PM ET
Thoughts on the Atlanta Falcons'
23-16 win
against the
Detroit Lions
at Ford Field:


What it means:
The Falcons finally looked a little like the team that many expected at the start of the season. It wasn't a perfect game by any means, but the Falcons went on the road and beat a very good team. That's what a playoff team is supposed to do. After it looked as though the Falcons were about to squander their season before it really got started, they have climbed back to 4-3. That's good enough to keep them very much in contention in the NFC South as they head into a bye week and hope to get some injured players back.
What I liked:
Atlanta's defense. It held a Detroit team that had averaged almost 30 points a game to a season-low 16 points. Although the Lions came on later, they had minus-1 total yards and zero first downs in the first quarter. That allowed the Falcons to get out to a 10-3 lead.
What else I liked:
I keep saying it, and I'll say it again. The Falcons need to remember that
Michael Turner
is the backbone of their offense. They remembered against the Lions, and Turner gave them 122 yards on 27 carries. When you have that kind of ground game, plays like the 17-yard touchdown pass to
Roddy White
at the end of the first half are going to come naturally.
What I didn't like:
In a morbid sort of way, a lot of Atlanta fans were hoping left tackle
Sam Baker
would sit out the game with a back injury. He did sit out and was replaced by
Will Svitek
. It didn't make any difference.
Matt Ryan
still was sacked three times and threw three interceptions. Baker has struggled, but this is proof that he's not the entire problem on the offensive line.
What's next:
The Falcons have a bye next week. They return to action Nov. 6 against the Colts at Lucas Oil Stadium.
September, 14, 2011
9/14/11
1:48
PM ET
Let's turn to ESPN Stats & Information for some notes and nuggets for Week 2.
New Orleans Saints vs. Chicago Bears
The Saints lost their Thursday opener to Green Bay. The last time the Saints lost the Thursday season opener was in 2007, when they began the season 0-4.
The Bears are trying for the their second straight 2-0 start. Each of the past two times the Bears started 2-0, they've advanced to at least the NFC Championship game (2010 and 2006).
Chicago has won its last four games against New Orleans, including the playoffs. The Bears have been a thorn in the Saints' side, especially in postseason play. They ended the Saints 1990 season with a Wild-Card victory and advanced to Super Bowl XLI with a win in the 2006 NFC Championship.
Chicago quarterback Jay Cutler completed four screen passes for a league-high 116 yards and a touchdown against the Falcons Sunday. Cutler ranked second in the league in passing yards on screen passes in 2010 and the Saints have allowed a higher percentage of screens to be completed than any other team in the NFL over the past two seasons (90.9). Cutler also came out of the gate firing on screen passes in 2010. Cutler went 6-for-6 with 126 yards and a touchdown on screens Week 1 against the Lions. Cutler threw for just 176 yards and no touchdowns on screen passes after Week 1.
Carolina Panthers vs. Green Bay Packers
In Week 1, Cam Newton became the first player in NFL history to throw for 400 yards in his debut, and second rookie (Peyton Manning in 1998) to throw for 300+ yards in his team's season opener.
ESPN's Total Quarterback Rankings measure all facets of a quarterback's play (passing, rushing, sacks, fumbles, penalties) and accounts for when each play happens in a game. The final rating is on a 1-100 scale. In Week 1, both Aaron Rodgers (second at 91.1) and Newton (fifth at 75.7) were among the league leaders.
Newton completed nine of 13 attempts for a league-high 279 yards and 2 touchdowns on passes thrown 15 yards or more downfield Sunday. The nine completions were the second-most in the NFL in Week 1 (Drew Brees, 10) and the Packers have allowed the third-most completions 15 yards or more downfield since 2008.
Tampa Bay Buccaneers vs. Minnesota Vikings
Tampa Bay has won each of its last four games against Minnesota. The Buccaneers' win streak is their longest against the Vikings in team history. Prior to this run, the Bucs had not won more than two straight against their former divisional rival. It's the first game between the teams in Minnesota since Week 1 of the 2005 season.
This is the first regular-season game back at the Metrodome since the roof collapse from a snow storm on December 12. The Vikings played their final two home games in Detroit at Ford Field (lost 21-3 to Giants) and at TCF Bank Stadium in Minneapolis (lost 40-14).
The Donovan McNabb era got off to a rocky start as he was seven for 15 for 39 yards with a touchdown and an interception in a 24-17 loss to the Chargers in Week 1. McNabb has lost four straight starts dating to last season.
Atlanta Falcons vs. Philadelphia Eagles
Michael Vick returns to Atlanta as a starting quarterback for the first time after spending six seasons with the Falcons from 2001-06. He started 67 regular-season games and five playoff games with the Falcons and was selected to three Pro Bowls. When Vick played in Atlanta with the Eagles in 2009, he was a backup quarterback but did record a rushing touchdown and a passing touchdown in the Eagles' win.
Since finishing the 2010 regular season with the NFC's best record at 13-3, the Falcons have lost two straight games (including last season's Divisional Playoffs loss to the Packers) by a combined score of 78-33. Over that span, the Falcons' 23 offensive possessions have resulted in eight punts, seven turnovers, three touchdowns, two field goals, one turnover on downs and the end of the half/game twice.
The Falcons are 1-6 against the Eagles since 2000 with their only win coming in the 2005 season opener in Atlanta. Among teams the Falcons have played at least four times since 2000, their 1-6 record against the Eagles is their worst against any team.