NFC South:

Gartrell Johnson
September, 2, 2011
9/02/11
4:42
PM ET
The
Atlanta Falcons
just announced some roster moves and there are no major surprises.

There is, however, one big name with one big salary. That's defensive end
Chauncey Davis
. As expected, his $3.75 million cap figure and the signing of
Ray Edwards
made Davis expendable. The Falcons will clear up the entire $3.75 million in salary-cap space.
There were a couple of other veterans released -- defensive tackle
Trey Lewis
and linebacker
Coy Wire
. The release of Lewis is a sign the Falcons firmly believe the
Peria Jerry
's knee is now healthy. If there's anyone in the Bank of America Stadium offices reading this, please go tell Marty Hurney that Lewis has been released. He's better than any defensive tackle the Panthers have at the moment.
Wire's release is a sign the Falcons are happy with some younger linebackers who can give them more speed on special teams.
The Falcons also waived tight end
Marquez Branson
, fullback
Lucas Cox
, center
Paul Fenaroli
, safety
Matt Hansen
, wide receiver
Brandyn Harvey
, running back
Gartrell Johnson
, defensive end
Tom McCarthy
, cornerback
Kamaal McIlwain
, center
Ryan McMahon
, safety
Rafael Priest
, defensive end
Kiante Tripp
, safety
Suaesi Tuimaunei
and linebacker
Bear Woods
. The team also reached an injury settlement with wide receiver
Andy Strickland
.
June, 9, 2011
6/09/11
12:00
PM ET
Scouts Inc.'s Matt Williamson examines the state of the running back corps for each NFC South team.
Personally, I have mixed feelings about
Michael Turner
. Atlanta loves to use heavy run-oriented offensive personnel groupings and very much wants to be the more physical team with a power rushing attack. Turner fits that mold very well. He is a load to bring down and can batter a defense. Turner is also excellent in short yardage and near the goal line. He takes and dishes out a lot of punishment.
[+] Enlarge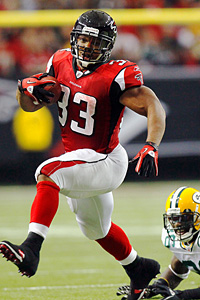 Kevin C. Cox/Getty ImagesMichael Turner has been a workhorse for the Falcons when healthy, but are his best days behind him?
But on the other hand, I see a back whose best days might already be behind him and someone who will never be an asset in the passing game. And Atlanta is sure to feature its passing attack more and more as
Matt Ryan
continues to rapidly develop. Turner needs a lot of carries to flourish. He ran for over 100 yards six times last season, but also failed to reach the 50-yard barrier on five other occasions. So, in the end, I now see Turner as an above-average starting NFL running back, but not a guy who is as valuable as he once was. And the arrow is probably going down.
Turner's backup is
Jason Snelling
. Depending on the collective bargaining agreement, Snelling could hit the open market. This is a very good all-around player who probably views himself as a starter somewhere in this league. Snelling is a big-bodied running back who also fits Atlanta's scheme very well, but he offers much more in the passing game than Turner. Snelling caught 44 passes in 2010. But Snelling isn't quite the sledgehammer that his measurables would suggest. And Snelling also has very little wear on his tires.
Jerious Norwood
will become a free agent, but the drafting of
Jacquizz Rodgers
seems to have sealed Norwood's fate as playing for someone else next season. Rodgers is a much more physical runner than Norwood. He is built very low to the ground and has some power in his short frame. Rodgers is extremely quick and tough to lay a good hit on, while also having the skill set to be a prominent member of the Falcons' passing attack. He doesn't have Norwood's long speed, but Rodgers was a steal in the fifth round.
One player to keep an eye on if Turner were to go down is
Gartrell Johnson
. Johnson very well could end up not making this roster, but if he were to stick and be thrust into a prominent role, this hard-nosed power back might surprise.
The Falcons also have one of the better run-blocking offenses in the league -- and that extends to every position on the field.
Julio Jones
also fits the mold of a big physical wideout who can help spring running backs for long runs with perimeter blocks. But there could be some reshuffling of the offensive line during free agency.
Scouts Inc. watches games, breaks down film and studies football from all angles for ESPN.com. Follow Matt Williamson on Twitter @WilliamsonNFL.
December, 10, 2010
12/10/10
4:25
PM ET
The injury reports are in for all four teams, so that means it's time to take a look at the significant injuries in the NFC South.
Buccaneers
. The Bucs have had more than their share of injury problems lately and it's continuing. Defensive end
Tim Crowder
was added to the injury list Friday with a shoulder problem and the Bucs say he's questionable for Sunday. Linebacker
Quincy Black
(ankle) also is questionable, but the good news there is backup
Dekoda Watson
(hamstring) is probable.
Panthers
. Cornerback
Chris Gamble
(hamstring) and guard
Travelle Wharton
(toe) are doubtful and did not participate in Friday's practice. On the plus side, linebacker
Jon Beason
(knee) returned to practice after missing two days. Beason was limited in practice and is listed as questionable for Sunday.
Falcons.
It looks like the Falcons will be without backup running back
Jason Snelling
(hamstring) for a second straight game. He's listed as questionable and did not participate in practice Friday. That means a full workload for starter
Michael Turner
and maybe a few carries for backup
Gartrell Johnson
. Linebacker
Curtis Lofton
(knee) is listed as questionable, but he practiced Friday and that's a sign he should be able to play unless he has a setback.
Saints.
Running back
Pierre Thomas
(ankle) is listed as probable and coach Sean Payton said he expects Thomas to play Sunday for the first time since he suffered the injury in the third game of the season. But I think the Saints will work Thomas in gradually, like they've been doing with
Reggie Bush
the last two weeks. If you have
Chris Ivory
on your fantasy team, he still is a good guy to start.
December, 5, 2010
12/05/10
3:12
PM ET
December, 3, 2010
12/03/10
4:11
PM ET
It's Friday afternoon, so that means it's time to check in on the most significant injuries across the NFC South.
Falcons.
If you have
Michael Turner
on your fantasy team, be sure to start him. Reserves
Jason Snelling
and
Antone Smith
are questionable with hamstring injuries. That probably means Turner will get even more carries than usual. Another bit of fantasy advice, even if you never have heard of
Gartrell Johnson
, you might want to pick him up and play him. Johnson probably will get some carries as Turner's backup. He's an unknown, but the Falcons like Johnson and he could give them some production this week.
Buccaneers.
Here's another reason to go heavy on Atlanta running backs this week. Tampa Bay linebackers
Quincy Black
(ankle) and
Dekoda Watson
(hamstring) are both listed as questionable. Neither practiced Friday.
Saints
. Running back
Pierre Thomas
(ankle) officially is questionable and Sean Payton wouldn't rule out playing him. But the game is outdoors in Cincinnati and snow is possible. Thomas only practiced on a limited basis this week. I'm thinking we still are at least a week away from seeing Thomas.
Panthers.
There's nothing official yet because the Panthers are practicing at the University of Washington this afternoon as they adjust to the time zone. But indications from a team official are that cornerback
Captain Munnerlyn
(shoulder) probably will play and start ahead of
Chris Gamble
(fractured relationship with coach John Fox) for the second straight game. Guard
Travelle Wharton
(toe) looks likely to miss another game.
November, 21, 2010
11/21/10
3:20
PM ET
November, 6, 2010
11/06/10
9:00
AM ET
Time for the weekend edition of the NFC South mailbag.
Larry in Gastonia, N.C., writes:
What is John Fox smoking? Why in the world is such a hapless offensive team not playing the best FCS football player in history? Fox says that the team has it's schemes and is working on execution and getting better when asked about
Armanti Edwards
. I'm all for the Panther's execution! The groundswell of support to just DO SOMETHING different is unbelievable and yet Fox does the same thing every week and expects different results.
Pat Yasinskas:
Your fellow Carolina fans have been filling up the mailbag with similar questions. I don't really have an opinion on whether Edwards should be a quarterback or a receiver. But I'll tell you this much, he's not going to get to play quarterback while Fox is still coaching the Panthers. Although that probably will be only for a couple more months, Fox is going to go down with the ship doing things his way. Fox never has shown much willingness to change. That's part of the reason why he had a nice long run in Carolina, but it's also part of the reason that run is ending.
Dylan in Athens, Ga., writes:
What do you think of
Gartrell Johnson
and do you see him developing into a bigger role player with the Falcons offense?
Pat Yasinskas:
Saw Johnson have one very nice run the last time I covered an Atlanta game. That should help his stock a bit. He's behind
Michael Turner
and
Jason Snelling
on the depth chart. But it's a long season and guys can get banged up. Thomas Dimitroff and the scouting department do an excellent job and Johnson wouldn't be on the roster if the Falcons didn't think he could contribute.
Kenneth in Boston writes:
Can we talk about a couple young guys on the Saints' thriving defense right now?
Patrick Robinson
and
Sedrick Ellis
are/have been playing phenomenal, wouldn't you agree? It doesn't seem like they're getting enough attention right now, though.
Pat Yasinskas:
Sure, let's talk about them. Let's start with Ellis. I've liked him since the Saints drafted him and thought he was pretty good when on the field his first two years. Problem was, he had some injuries and couldn't stay on the field. He's been healthy so far this year and is showing why he was a first-round pick. I also agree on Robinson. I don't think the Saints wanted to play him so much right away. But
Randall Gay
,
Jabari Greer
and
Tracy Porter
got hurt and that got Robinson some heavy playing time. He responded well. Looks like Greer and Porter are healthy or close to it, but Robinson has shown he's ready to be a very good nickel back right now and a possible starter in the future.
Adam in Milledgeville, Ga., writes:
Early in the year (after the first game) I was fairly upset with your harsh words towards the Falcons. Now after seeing the praise you have given them, I can actually set my fandom aside and realize that you truly just write what you see. I know Panthers fans may feel like you are ragging on them, but what else can you really say? They can look at the Falcons after the Steelers game, or the Saints after the Browns game to see the exact same thing. You are one of the most honest analysts in the NFL who shows loyalty to the division, but not a particular team in the division. This is why I love your blog and will continue reading for a long time.
Pat Yasinskas:
Thank you for understanding the nature of my job. Some people always look for conspiracy theories. Truth is, if there's one team in the division that I'd probably be inclined to favor just on human nature, it's the
Carolina Panthers
. I spent nine seasons covering them on a daily basis in my newspaper days. There are many people (coaches, players, front-office workers) that work in that building that I have the utmost respect for. I talk to them frequently and there is a part of me that is pained to see them struggling. But my job is to write about what's going on. When a team is 1-6, that's not going to include many positives.
October, 17, 2010
10/17/10
11:45
AM ET
PHILADELPHIA -- I just got the list of inactives for the Falcons.
On the plus side, defensive end
John Abraham
will play. On the minus side, linebacker
Sean Weatherspoon
will not.
Having Abraham should be a big boost for the Falcons, because he'll have a favorable matchup with tackle
King Dunlap
, who is playing for an injured
Jason Peters
. While Weatherspoon's absence takes away a bit of speed from the Atlanta defense, there's not a huge drop off because the Falcons will turn to
Stephen Nicholas
, a former starter.
The rest of the inactives for the Falcons are cornerback
Dominique Franks
, running back
Gartrell Johnson
, offensive tackle
Garrett Reynolds
, guard
Mike Johnson
, defensive end
Lawrence Sidbury
and defensive tackle
Trey Lewis
.
John Parker Wilson
is the third quarterback.
October, 3, 2010
10/03/10
12:17
PM ET
September, 26, 2010
9/26/10
11:40
AM ET