September, 27, 2012
9/27/12
3:42
PM ET
Former Tampa Bay stars Warren Sapp and John Lynch and former Atlanta and New Orleans kicker Morten Andersen have taken the first step toward the Pro Football Hall of Fame.

They still have a long way to go, but Sapp, Lynch and Andersen are among the 13 first-year-eligible candidates from the modern era for the Class of 2013, the Hall of Fame announced Thursday afternoon.

Those 13 join a list that totals 127 nominees. Hall of Fame voters will narrow that list to 25 in late November. The list will be further reduced to 15 modern-era finalists in early January and the final voting will take place the day before the Super Bowl.

I think all three will eventually get into the Hall of Fame, but Sapp may have the best chance of getting there on the first ballot.

Part of it is because he had an outstanding career and part of it was because he played defensive tackle. When it comes to the Hall of Fame, there's more of a premium place on defensive tackles than there is for safeties (Lynch's position) and kickers like Andersen.

Defensive end Michael Strahan figures to go in on the first ballot. But, outside of him, I'd put Sapp up against any of the other defensive linemen that are in their first year of eligibility -- Sam Adams, Ted Washington and Bryant Young.

The other defensive lineman among the 127 nominees are Carl Hairston, Charles Haley, Ed "Too Tall'' Jones, Joe Klecko, Dexter Manley, Charles Mann and Fred Smerlas.

Lynch is the only defensive back in his first year of eligibility. But Steve Atwater, Joey Browner, LeRoy Butler, Nolan Cromwell, Dennis Smith and Darren Woodson are the other true safeties among the nominees. Aeneas Williams is listed as a cornerback/safety and he was a semifinalist last year. Cornerbacks usually have an easier route to the Hall of Fame. Besides Williams, Eric Allen, Albert Lewis, Troy Vincent and Everson Walls are the cornerbacks listed among the nominees and they could delay Lynch's selection for a bit.

Although Andersen left the game as the NFL's all-time leading scorer and was the on the NFL's All-Decade Team for the 1980s and '90s, there's no guarantee he'll go in on the first ballot.

The only other punters and kickers among this year's nominees are Gary Anderson, Sean Landeta and Nick Lowery. Andersen has better numbers than them, but it's a challenge for a kicker to get into the Hall of Fame.

The only kickers in the Hall of Fame are George Blanda, Lou Groza and Jan Stenerud. Blanda also played quarterback and Groza also was an offensive tackle.

Wide receiver Keenan McCardell, who spent part of his career with the Bucs, also is among the first-year-eligible nominees. But I think McCardell is a long shot to make the cut to the next round.
June, 16, 2011
6/16/11
1:00
PM ET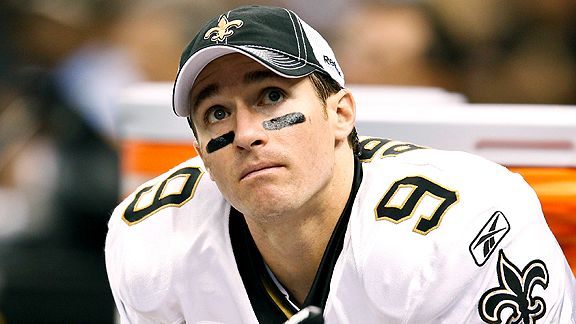 Derick E. Hingle/US PresswireDrew Brees will need to separate himself from quarterbacks like Vinny Testaverde and Drew Bledsoe.
He already has thrown for 7,000 more yards than Terry Bradshaw, completed one fewer touchdown pass than George Blanda and won one more Super Bowl championship than
Jim Kelly
and Fran Tarkenton combined.
So they already should be carving
Drew Brees
from the shoulders up in Canton, Ohio, right? The quarterback of the
New Orleans Saints
could retire tomorrow and waltz straight to the Pro Football Hall of Fame in five years, correct?
Well, it's not quite that easy. At least not yet.
Brees has 35,266 career passing yards. He should soar past Kelly in the first game of this season and should end the year somewhere pretty close to Johnny Unitas, who ranks No. 12 all-time with 40,238 passing yards.
If Brees throws 33 touchdown passes this season, the same number he threw last season, he'll have 268 for his career. That number would put him in the top 10, just behind
Joe Montana
at 273.
If you're putting up numbers like Unitas and Montana, shouldn't you be an automatic Hall of Famer? Yes, if Brees had played in the same era as Unitas or Montana.
But times have changed, and if you don't believe me, let me throw out three names:
Vinny Testaverde
,
Drew Bledsoe
and
Kerry Collins
. All three rank well ahead of Brees in career passing yards, and Collins might not be done yet. Bledsoe and Testaverde also rank ahead of Brees in career touchdown passes.
Bledsoe, Testaverde and Collins are pretty good quarterbacks, and their stats were helped by longevity. That's not a bad attribute, but nobody is ever going to argue that Testaverde, Bledsoe or Collins belongs in the Hall of Fame.
What they represent is the middle ground of the last generation. Brees has to cross that -- and then some -- to assure himself a spot in Canton.
Testaverde had 46,233 career passing yards, which ranks seventh. Bledsoe is one spot behind him at 44,611 yards. Collins is No. 11 at 40,441 yards. Testaverde is No. 8 in career touchdowns with 275, and Bledsoe is No. 14 with 251.
As a member of this generation of quarterbacks, Brees has to go beyond the numbers of guys like that. The bar has been raised, and it's still rising.
Assuming
Brett Favre
stays retired this time, he finished his career leading in passing yards (71,838) and touchdown passes (508). Then, you've got guys like
Peyton Manning
, who is 34, still going strong with 54,828 passing yards and 399 touchdowns and
Tom Brady
, who is 33, with 34,744 yards, 251 touchdowns and a handful of Super Bowl rings.
Manning and Brady are going to continue to increase their numbers, and Brees has to stay on a similar pace. I've had the honor to vote for the Hall of Fame twice, and I can assure you voters pay very close attention to a player's contemporaries. Brees isn't going to get in simply by putting up numbers close to Testaverde, Collins and Bledsoe.
He's got to stay somewhere close to Manning and Brady. It would help if Brees could avoid seasons like last year when he threw a career-high 22 interceptions and the Saints got bounced by Seattle in the first round of the playoffs.
I'm not trying to cast gloom on Brees' Hall of Fame chances. I seriously think he'll get there, but I'm just saying there's some work left to be done.
Brees had some knee problems last season but still threw for 4,620 yards and 33 touchdowns. Those numbers are pretty comparable to an average of the two seasons before that.
Let's assume the knee is healthy and say Brees goes out and plays four more seasons with numbers like that. It's fairly realistic, as long as Sean Payton's calling the plays,
Marques Colston
is catching the passes and
Jahri Evans
and
Carl Nicks
are blocking up front.
That would put Brees at 53,746 passing yards and 367 touchdown passes. That would put him fourth on the all-time passing yards list and fourth on the list of all-time touchdown passes, as they now stand.
That would be an automatic pass into Canton. Brees doesn't even need to reach those numbers to get there. He just needs to move ahead of the middle-of-the-pack guys, and a few more playoff wins wouldn't hurt. Brees is approaching the doors to Canton. He just needs to keep going straight up a few more steps.
October, 3, 2010
10/03/10
6:59
PM ET
NEW ORLEANS -- The Saints' media relations staff just sent out a list of statistical superlatives following
a 16-14 win over Carolina
. Let's take a look at some highlights.

The Saints ran 79 offensive plays and held the ball for 38 minutes, 22 seconds. The time of possession is the third highest total in Sean Payton's tenure.
Drew Brees moved past Aaron Brooks into second place on the team's all-time passing yardage list. Brees now has 19,427 yards since joining the Saints. He trails only Archie Manning (21,734 yards).
John Carney became just the third player in an NFL game at age 46. The late George Blanda played until he was 48 and former New Orleans kicker Morten Andersen played until he was 47.
Backup quarterback Chase Daniel got his first NFL playing time. Daniel served as the holder on place kicks, a role previously held by punter Thomas Morstead.
If you're looking for a breakout player, it might be defensive tackle Sedrick Ellis. He had a sack and leads the team with three. Ellis also batted down two passes at the line of scrimmage.
The Saints went more than 37 minutes before their first penalty. That came on a holding call in the third quarter.