August, 4, 2010
8/04/10
5:29
PM ET
When I got back to NFC South Blog headquarters and picked up a week's worth of mail, there was something in there I was much happier to see than routine bills and advertisements. The NFL's annual Kickoff Guide was waiting.
It's prepared by the NFL's media relations office and includes all sorts of information about the past, present and future. I'll share some relevant bits and pieces with you over the next few weeks. One item I caught was a listing of retired numbers for each franchise.
The NFC South is comparatively light in this area because these teams didn't even exist in the days of George Halas. For the record, there are only eight retired jerseys in the NFC South.
The guys who have earned that honor are Atlanta's Steve Bartkowski (No. 10), William Andrews (No. 31), Jeff Van Note (No. 57) and Tommy Nobis (No. 60), Carolina's
Sam Mills
(No. 51), New Orleans' Jim Taylor (No. 31)and Doug Atkins (No. 81) and Tampa Bay's Lee Roy Selmon (No. 63).
Made one question pop into my mind "Who will be the next player for each franchise to get his number retired?'' I'd like to hear your candidates, so discuss it below or send a note to my mailbag.
I'll share my list and I'm going to make it really elite because I think only the greatest of the great should have their numbers retired:
Buccaneers: Derrick Brooks.
No question on this one. This guy's the best player in franchise history. He just needs to officially admit he's retired, get over the fact the Bucs ended his career before he thought he was ready. The moment he does that, his jersey will be retired in glorious fashion. I've said it before and I'll say it again, Brooks is the best player in NFC South history, although I think there's a quarterback in New Orleans, who has a chance to claim that honor in time.
Panthers: John Kasay.
This guy's been with the franchise since its start. No player has ever been closer to owner Jerry Richardson. Oh, by the way, Kasay also has been a pretty remarkable kicker and has done great things in the community.
Saints: Drew Brees.
You can make cases for
Willie Roaf
and
Morten Andersen
and that could happen before Brees is even done playing. But I'd pretty much bet the farm that No. 9 will be retired the moment Brees is.
Falcons: Matt Ryan.
Yeah, I'm projecting here as the quarterback enters the third year of his career. But I expect greatness for a long time. I'm sure I'll hear some suggestions for
Keith Brooking
. He was a very good player for a long time and I respect that, but was Brooking ever truly dominant?
March, 18, 2010
3/18/10
3:47
PM ET
Time for another edition of the NFC South mailbag.
Matt in Calhoun, Ga., writes:
If
Deon Grant
came cheap enough, is that a veteran player the Falcons could possibly bring in to add depth and experience to the defensive backfield?
Pat Yasinskas:
Only if the price tag is really cheap. The Falcons spent a big chunk of their free-agent budget on cornerback
Dunta Robinson
. They really are committed to building through the draft. They also have safety
William Moore
coming back after missing most of last season with an injury. Grant would be nothing but depth, and I suspect there would only be interest if his price tag is very low.
---
Kyle in Chapel, Hill N.C., writes:
Now that the Panthers have re-signed
Tyler Brayton
, do you believe they will sign a DT in free agency or go for one in the draft to fill the holes at that position?
Pat Yasinskas:
I think you might see them do both. They need more than one defensive tackle. I think they'll sign some mid-level free agent and also use one of their earlier picks on a defensive tackle. Last year showed the importance of depth at that position.
---
Lee in Columbia, S.C., writes:
Charlotte now has two pro sports teams owned by locally grown former players. I know the Bobcats are the first NBA team to be owned by a former player, are any other NFL teams owned by former players?
Pat Yasinskas:
Good trivia question there. Jerry Richardson is the only former player to be a majority owner in the NFL. Warrick Dunn just joined the Falcons, but that is as a limited partner. Prior to Richardson, the last former player to be a majority owner was George Halas.
---
Kyle in Bossier City, La., writes:
Can you explain why some restricted free agents are worth a draft pick and some are not? Example:
Mike Bell
v.
Anthony Hargrove
?
Pat Yasinskas:
Sure. As restricted free agents, players receive tenders from their current teams. It's up to the team to decide the tender and it's tied to price. Bell received the lowest tender and no draft-pick compensation comes with that tender, but the Saints do have the right to match any offer he receives elsewhere. Hargrove received a higher tender and the compensation would be a third-round pick, the same round he came out of in the draft. The Saints also can match any offer he receives. There are five different tenders this year and the compensation can go as high as a first- and a third-round pick.
---
Maurice in Charlotte writes:
The other day I was at the airport and I saw the
Philadelphia Eagles
jet. Could this have some significance given the
Michael Vick
rumors or is it common place?
Pat Yasinskas:
Don't get too excited. Not sure that it was the actual team plane. Having lived in Charlotte and knowing it's a USAirways hub, I've seen lots of planes at that airport with logos for the Eagles, Panthers and Steelers. They're just regular passenger planes, but USAirways has marketing deals with some teams and uses their logos.
---
Keith in Schafter, Calif., writes:
Do you think there is any truth to the rumors that the Browns are paving the way for John Fox to be head coach in 2011 (more likely '12)? Some are suggesting recent personnel movements, particularly the signing of QB Delhomme, indicate Eric Mangini is no longer in charge. Also, I understand Fox,
Jake Delhomme
and Mike Holmgren all have the same agent.
Pat Yasinskas:
I think you're getting way ahead of the game there. If Fox wins this year, he could get a long-term deal with the Panthers. If Mangini wins, he suddenly is very safe in Cleveland. Besides, do you really think Fox would be anxious to take a job where Delhomme at 36 or 37 is his quarterback? Also, it's true Fox and Holmgren have the same agent. But Delhomme has another agent with no ties to Fox or Holmgren.
---
JP in Inverness, Fla., writes:
I know that the Bucs just signed
Sean Jones
and we may still get some secondary help in the draft, but with the Bears releasing Nathan Vashar, might we take a look at him? I worked in restaurants for a time and am one of those that when you're starting out (rebuilding) you hire everyone you can and then weed through them. What do you think?
Pat Yasinskas:
Like your philosophy. Haven't heard anything about the Bucs showing interest in Vasher at this point. You never rule anything out, and Vasher played for Lovie Smith, who runs a defense similar to Tampa Bay's. But the Bucs are pretty committed to building through the draft, and I think that mainly will be where anymore secondary help comes from.
---
Mark in Orlando writes:
I saw that Raheem Morris was in attendance for Tim Tebow's pro day do you know what that is about or was he just there for late-round prospects like Riley Cooper?
Pat Yasinskas:
Yes, but don't read too much into Morris showing up. Florida had a lot of other prospects working out and I'm sure Morris was there mainly to watch them. Morris got his quarterback,
Josh Freeman
, last year.
March, 12, 2010
3/12/10
1:00
PM ET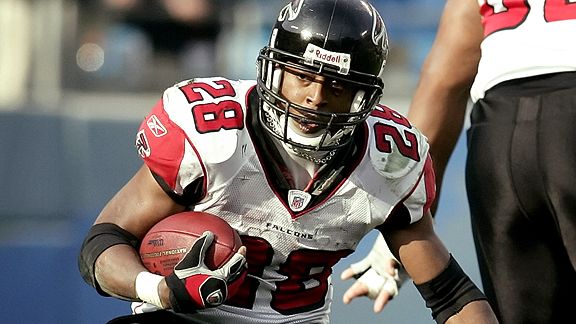 Todd Kirkland/Icon SMIWarrick Dunn is hoping to transfer his success on the field to the business world.
If you have ever been to an
Atlanta Falcons
practice, you know that team owner Arthur Blank has a strong presence.
He's out there on the sideline, mostly observing, but sometimes chatting with his players. It all looks very casual, but it was out there on the practice field a few years back that the seeds were planted for a very big business deal.
"I used to make little comments to Mr. Blank and [team president and former general manager] Rich McKay about how I wanted to someday be an owner," former Atlanta running back Warrick Dunn said.
What might have seemed like a joke at the time wasn't. Dunn was very serious about his desire to own an NFL team and Blank was listening. Now, it has all happened.
Dunn recently completed a deal to become a limited partner with Blank. He'll join six other limited partners and Blank and help run the Falcons. He'll also serve on the Atlanta Falcons Board of Advisors, which includes heavy hitters like Hank Aaron and Ambassador Andrew Young.
It might sound like a nice token gesture for one of the best players in franchise history and a guy who has been known for his charitable and community work throughout his career. But it's much more than that.
Dunn is taking his new role very seriously. If you know anything about Dunn, that's no surprise. He's very serious about anything he does.
"The deal really just became official, but I've already been studying up," Dunn said. "We've got a meeting of the partners later this month and that will be my first real test and I'm trying to get ready for it. But I really feel like I'm blind in a sense because I don't really know the business end."
That may be true, but it's going to change quickly. Keep in mind, Dunn spent his entire playing career with the Falcons and
Tampa Bay Buccaneers
constantly followed by the question, "Can he do it every down?" because he was 5-foot-9 and about 185 pounds.
Three Pro Bowls and almost 11,000 rushing yards later, Dunn had emphatically answered that question by the time he stopped playing after the 2008 season. Now comes the next question: Can he succeed as an owner?
Don't be against it. The terms of Dunn's investment in the Falcons haven't been revealed, and Blank controls 90 percent of the team. But Dunn made a lot of money as a player and was known by teammates for being a bit frugal.