August, 9, 2014
Aug 9
11:45
AM ET
CHARLOTTE, N.C. -- "Smoo" or "Schmoo" or whatever
Carolina Panthers
quarterback
Cam Newton
called rookie wide receiver
Kelvin Benjamin
after Friday night's amazing catch, it's a keeper.
Think about it. Every time Benjamin makes a big catch the crowd can shout "Smoooooooooo" or "Schmooooooo." It will sound like a boo just like it does when the crowd screams "Luuuuuuuuuu-ke'' when middle linebacker
Luke Kuechly
makes a big play.
[+] Enlarge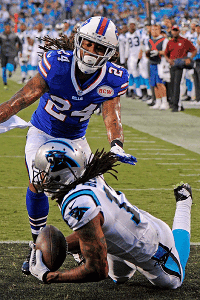 AP Photo/Mike McCarnKelvin Benjamin showed the ability to make key catches on Friday.
And if Friday night and training camp are good indicators, Benjamin will make plenty of big catches.
If you missed the one in the 20-18 preseason loss to the
Buffalo Bills
, the former Florida State standout stepped on the heel of cornerback
Stephon Gilmore
as he approached the goal line, stumbled to the ground, gathered himself and sprawled his 6-foot-5, 240-pound body out as he went to the ground for the catch.
"Smooooooooooo!!!"
"Schmooooooooo!!!"
We may never know what "Smoo" or "Schmoo" means. Benjamin has no idea and Newton says "the world may never know."
When pressed if perhaps it could be short for "Smooooooth," Newton replied to the reporter, "Mr. Newton, you are too impatient."
No arguments here.
Regardless, "Smoo" or "Schmoo" is a keeper.
Here are a few other leftover thoughts from Carolina's preseason opener:
Third-string quarterback Joe Webb did about everything the Panthers imagined when they signed him to imitate starter Cam Newton. He completed 16 of 28 pass attempts for 180 yards and a touchdown. He led the team in rushing with 30 yards on four carries. Unfortunately, when all is said and done I just don't see the Panthers keeping three quarterbacks even though coach Ron Rivera says it's a possibility.

With Benjamin, Jerricho Cotchery and Jason Avant locks at wide receiver, the other two or three spots remain up for grabs. Tavarres King helped his stock with four catches for 50 yards. He had another long reception negated by a holding call. Undrafted rookie Philly Brown caught three passes for 23 yards. Marcus Lucas had a costly drop. Brenton Bersin, who has impressed in camp, was targeted four times but caught only one pass for 19 yards. Stay tuned.

Tight end Brandon Williams deserves a spot on the final roster. The former college basketball player has been impressive in camp, and he backed that up with three catches for 50 yards and a touchdown against Buffalo.

Cornerback Josh Norman continues to be a training camp phenom. The former Coastal Carolina star, who had four interceptions during one practice in 2012 and led the Panthers in picks during the 2013 preseason, had another in the end zone against Buffalo to draw praise from Rivera.

How valuable is kicker Graham Gano, who did not play with a sore lower back? His replacement, Jordan Gay, missed the first extra point from 33 yards. That forced Carolina to go for two after its next two touchdowns. Had Gano played and made the first, Carolina kicks the last two and wins 21-20.

Newton didn't get the "official" word he was being held out until he was getting treatment before kickoff even though Rivera and company never had serious plans to play him. As I said on Friday, it was the right call. No need to rush him back until he's turned fully loose to run in practice, which should be soon. "It's not how I felt, it's about my progression," Newton said. "It's a plan that's in place for me to be back there. Do I want to be out there? Absolutely I do. But have to be smart. Have to be coachable, too."

Sunday's 6:10 p.m. ET practice at Wofford College in Spartanburg, S.C., has been moved to 3:10 p.m. The 3:10 p.m. Monday and Tuesday practices will be moved to 9:25 a.m. as the Panthers wrap up camp.
February, 5, 2014
Feb 5
1:00
PM ET
CHARLOTTE, N.C. -- The World Champion
Seattle Seahawks
don't have much of an advantage over the
Carolina Panthers
when it comes to undrafted players.
Much was made prior to Sunday's Super Bowl blowout about how smart the Seahawks were in building the team, because they had 19 undrafted players, including five starters.
Well, the Panthers had 16, or 30.1 percent of their final 53-man roster. Seven -- offensive tackle
Byron Bell
, outside linebacker
Chase Blackburn
, guard
Nate Chandler
, defensive tackle
Colin Cole
, strong safety
Quintin Mikell
, fullback
Mike Tolbert
, and cornerback
Melvin White
-- were starters.
Add to that, defensive end
Mario Addison
started two games and safety
Robert Lester
started four.
Blackburn
And don't forget placekicker
Graham Gano
, long snapper
J.J. Jansen
, and linebacker
Jordan Senn
all were key contributors on special teams.
In the salary-cap era, finding diamonds in the rough has become more important than ever. It allows teams to fill the roster with solid role players -- some that become stars -- and give high-dollar contracts to key impact players.
It's why the next few months are important as teams evaluate players leading into the draft. Quarterback
Cam Newton
, for example, was the only player from Carolina's 2011 draft class on this year's final roster. Two players that were undrafted in 2011 were among the 53.
The Panthers didn't discover all 16 of their undrafted players, but they saw the value in each when building their roster.
Here's a closer look, and their contributions to this year's 12-5 record:
DE Mario Addison: Undrafted rookie by Chicago 2011
Comment:
Started two games when
Charles Johnson
was out with an injury. Finished the season with 21 tackles, 2.5 sacks and a forced fumble.
OT Byron Bell: Undrafted rookie by Carolina in 2011
Comment:
Started 14 games at right tackle. Helped anchor the line for an offense that averaged 126.6 yards rushing per game.
LB Chase Blackburn: Undrafted rookie by N.Y. Giants 2005
Comment:
Much of Carolina's success came after Blackburn was made the weakside starter over
Jon Beason
, who was traded to the
New York Giants
. Blackburn started seven games and was key to the team ranking second in the NFL in stopping the run. A foot injury sidelined him for three games.
TE Richie Brockel: Undrafted rookie by San Diego in 2010
Comment:
Used as part of Carolina's jumbo package.
OG Nate Chandler: Undrafted rookie by Carolina in 2012
Comment:
A former defensive tackle, he became a pleasant surprise when he took over the starting right guard position after
Chris Scott
suffered a knee injury in the eighth game. Chandler kept the job when Scott was ready to return.
DT Colin Cole: Undrafted rookie by Minnesota in 2003
Comment:
Started 13 games at defensive tackle after missing nearly two full seasons after being cut by Seattle prior to the 2011 season. His veteran leadership and run-stopping ability was key.
C Brian Folkerts: Undrafted rookie by New Orleans 2012
Comment:
Backup to Pro Bowler
Ryan Kalil
.
PK Graham Gano: Undrafted rookie by Baltimore in 2009
Comment:
Had the league's highest touchback percentage (79.7) and converted 24 of 27 field goal attempts, including all six from 50-plus yards.
DE Wes Horton: Undrafted rookie by Carolina in 2013
Comment:
Had two sacks as a backup end.
LS J.J. Jansen: Undrafted rookie by Green Bay in 2008
Comment:
A coach's selection to the Pro Bowl.
SS Robert Lester: Undrafted rookie by Carolina in 2013
Comment:
Elevated from the practice squad after Week 2 because of injuries and started four games. Had three interceptions and a fumble recovery.
SS Quintin Mikell: Undrafted rookie by Philadelphia in 2003
Comment:
Started 13 games. Finished sixth on the team in tackles with 62. Also had two fumble recoveries.
LB Jordan Senn: Undrafted rookie by Indianapolis in 2008
Comment:
One of the leaders on special teams.
FB Mike Tolbert: Undrafted rookie by San Diego in 2008
Comment:
Selected to his first Pro Bowl. Rushed for 361 yards and five touchdowns, the most by a Carolina running back. Also caught 27 passes for 184 yards and two scores. A key to the offense because of his ability to play fullback, running back and H-back.
CB Melvin White: Undrafted rookie by Carolina in 2013
Comment:
Started 11 games at left cornerback. Finished eighth on the team with 45 tackles. Had two interceptions, including one returned for a touchdown that was key to Carolina winning the NFC South in the season finale at Atlanta.
TE Brandon Williams, Undrafted by Carolina in 2013
Comment:
Was discovered in one of the NFL's nine regional combines.
January, 6, 2014
Jan 6
6:01
PM ET
CHARLOTTE, N.C. --
Carolina Panthers
placekicker
Graham Gano
majored in criminology at Florida State, which means he has a pretty good understanding of criminal behavior.
On Monday, he put that to good use, sneaking into the Carolina locker room before most players arrived, hanging an FSU sweatshirt on quarterback
Cam Newton
's locker and then
tweeting a picture of it
with this message:
Wow this is crazy! I didn't know Cam was pulling for FLORIDA STATE today! pic.twitter.com/JWAppslhqd

— Graham Gano (@GrahamGano) January 6, 2014
Newton led the Auburn Tigers, which plays Florida State for the BCS National Championship on Monday night, to the 2011 championship with an undefeated season.
He wasn't available to defend himself, and he's not on Twitter, but Newton made his allegiance pretty clear with an Auburn-colored orange shirt under his jersey during practice.
Remember, this is the same person who has opened several news conferences recently with "War Eagles."
But the moment showed just how loose the locker room atmosphere was as the Panthers (12-4) began preparation for Sunday's NFC divisional playoff game against the
San Francisco 49ers
.
Gano was pretty excited that the picture was retweeted by ESPN's SportsCenter, telling wide receiver
Steve Smith
: "I sent a tweet of my Florida State hoody on Cam's locker and it was all over SportsCenter."
As a group of reporters gathered, Gano pointed to the hoody now crumpled up in his locker and said, "Here it is. Come and question me everyone."
Then he put his criminology background to work.
"Who put the jersey in there?" a reporter asked.
Gano: "I think that's Cam's. I don't know how it got in my locker. No idea."
"How early did you have to get here to take the picture," a reporter asked.
Gano: "I don't know what you're talking about."
Then it was suggested that Gano's Twitter account was hacked and somebody else took the picture to frame Newton.
Gano: "Exactly. Then they took [the hoody] down and threw it in my locker."
For the record, Gano showed the picture to Newton and Newton allegedly laughed.
The two allegedly didn't bet on the game, though.
"No, we can't bet," Gano said with a smile. "You know that."
December, 8, 2013
12/08/13
11:30
PM ET
NEW ORLEANS -- A few thoughts on the
Carolina Panthers
' 31-13
loss
to the
New Orleans Saints
:
What it means:
That the winning streak ends at eight. That the Panthers (9-4) got a taste of what New Orleans got from the Seahawks six days ago on "Monday Night Football." Nobody should be surprised. The Saints (10-3) have been doing this to almost every team in the Superdome this season. The key for Carolina will be to bounce back next week the way New Orleans did after its 34-7 loss to Seattle. The Panthers likely need to win at least two of their three final games to get into the playoffs as a wild card. Arizona is lurking at 8-5, and the Cardinals own the tiebreaker based on a 22-6 victory over the Panthers on Oct. 6. Winning the NFC South is almost out of the question now. It would take New Orleans losing two of its final three -- including in Charlotte on Dec. 22 -- and Carolina winning out.

Stock watch:
The defense that was ranked No. 2 in the league, No. 1 in scoring with 13.1 points allowed per game, was made to look very average by Saints quarterback
Drew Brees
& Co. The Saints had 21 points at halftime -- more than any other team scored against Carolina during the eight-game winning streak. Wide receiver
Marques Colston
looked uncovered much of the game, particularly over the middle, where he caught a couple of touchdowns. The front four got little pressure on Brees, who completed 30 of 42 pass attempts for 313 yards and four touchdowns. The Panthers hadn't given up but three touchdowns period in the past four games and hadn't given up more than two in a game all season. They were allowing only 289.8 yards total per game.
Stock watch II:
Cam Newton
really wasn't a factor, which is something you haven't read for eight straight games. The Saints kept him bottled up, sacking him five times and holding him completely in check until a late-game touchdown pass. He got back into his habit of holding the ball way too long, which led to a few of the sacks.
Missed opportunities:
The Panthers had two opportunities in the red zone in the first quarter and got only two field goals out of it. On the second they had first-and-goal from the 10 with a 3-0 lead and a chance to make a statement. When they didn't, New Orleans did.
No good:
The Panthers were so out of sync that place-kicker
Graham Gano
, who had missed only two field goals all season, missed a 49-yarder in the third quarter that he normally makes with his eyes closed in ideal conditions like this.
What's next?
The Panthers return home to face the
New York Jets
. It will be the first time the teams have met since 2009, when the Jets won 17-6 at home. The Jets lead the series 3-2.
November, 24, 2013
11/24/13
2:43
PM ET
MIAMI -- A look at the first half between the
Carolina Panthers
and
Miami Dolphins
:


Miami looked like the team on a six-game winning streak and Carolina the team facing a week's worth of distractions as it went into halftime with
a 16-6 lead
.
The Panthers were sluggish on offense and the secondary looked more like the one that began the season with a lot of questions marks instead of the one ranked fifth against the pass.
Here's how it unfolded:
•
Bad omen I:
First the Panthers failed to turn an interception into a touchdown on the game's first series. Then
Graham Gano
had a 50-yard field goal attempt blocked, the first this season and first for the Panthers since last season against Washington.
•
Bad omen II:
Quarterback
Cam Newton
was hit hard on Carolina's first play and was slow getting up, appearing to spit out blood. He was hit hard more times than the Panthers probably care to have in the first quarter.
•
Bad omen II:
Carolina's secondary, that has played exceptionally well the past two months, was beaten for a 21-yard completion and 53-yard touchdown pass during a three-play stretch midway through the first quarter. Cornerback
Melvin White
, who struggled against the Patriots, was beaten on the first. Corner
Captain Munnerlyn
was beaten badly by
Mike Wallace
on the second.
•
Bad omen III:
Newton was given a yard and first down on the last play of the first quarter. Miami challenged and it was ruled Newton's knee was down short of the first down.
•
Bad omen IV:
The Panthers challenged a 57-yard reception by Wallace, again against Munnerlyn, and lost. The Dolphins turned that into a 32-yard field goal and a 10-3 lead.
•
Bad omen V:
Newton threw an interception with just over two minutes left in the first half, setting up Miami for another field goal and a 16-3 lead.
•
Good omen I:
Newton dropped the snap on the next-to-last play of the first half, picked it up and found
Brandon LaFell
for a 29-yard gain that set up Gano's 46-yard field goal to end the first half.
November, 22, 2013
11/22/13
8:00
AM ET
CHARLOTTE, N.C. -- The top 10 players in fan voting for the 2014 Pro Bowl were released this week and -- not a big surprise -- not one was a
Carolina Panther
. When it comes to household names, outside of quarterback
Cam Newton
, there aren't many on this roster.

But the hottest team in the league, with six straight wins and seven in the last eight games, has several players worthy of strong consideration as the Dec. 26 deadline for online voting gets closer.
Here are my Carolina candidates:
I won't get into whether Ron Rivera deserves consideration for coach of the year. He shook his head no adamantly early in the week at the mere suggestion. That will take care of itself if the Panthers (7-3) continue to win.
While Rivera doesn't get into self-promotion, he doesn't hesitate to say Davis deserves Pro Bowl consideration.
"I'm very biased," he said of the player who has overcome three ACL surgeries on his right knee. "I hope he gets the opportunity to go. He's playing at a very high level, as is Luke."
November, 11, 2013
11/11/13
8:00
AM ET
SAN FRANCISCO -- An examination of five hot issues from the
Carolina Panthers
' 10-9 victory over the
San Francisco 49ers
:
Just how big was the win?
This was the first time the Panthers (6-3), winners of five straight and six of their past seven, have beaten a team with a .500-or-better record this season. It was the first time they have won a game decided by three or fewer points since Week 7 of the 2010 season, which happened to be a 23-20 victory over San Francisco in Charlotte.
Cam Newton
had been 0-5 in games decided by a field goal or less, which according to ESPN Stats & Information was the worst record for any quarterback in the NFL since he entered the league in 2011.
Josh Freeman
was second at 1-5, followed by
Matt Moore
at 1-4 and
Philip Rivers
at 3-6.
[+] Enlarge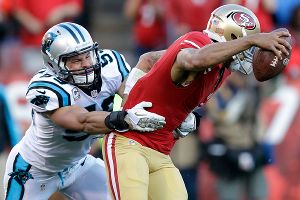 AP Photo/Marcio Jose SanchezLuke Kuechly led the way in shutting down Colin Kaepernick and the San Francisco offense.
Just how well did the defense play?
The 151 yards allowed was the fewest San Francisco has gained since Week 9 of 2006, when the Vikings held the 49ers to 133 yards. The 49ers had scored 30-plus points in five straight games and in all six of their wins. It was absolute domination. And here's an early vote for middle linebacker
Luke Kuechly
for NFL Defensive Player of the Week. The second-year player had a team-best 11 tackles, a sack and two tackles for losses.
Safety valve:
Newton's numbers were dreadful in the first half as he completed 5 of 14 pass attempts for 54 yards, an interception and a passer rating of 18.2. His top target on the season,
Steve Smith
, was shut out. Newton adjusted in the second half and completed 6 of 8 attempts to Smith for 63 yards, including 4-of-5 on third down. None was bigger than his 9-yard completion on third-and-8 with 2:18 to play and the Panthers trying to run out the clock. Newton, who had the NFL's top third-down passer rating coming into the game, was 1-for-4 with an interception on third down in the first half.
Ginn's return:
Nobody wanted to impress the 49ers more than
Ted Ginn Jr.
, who had only two catches for his former team in 2012. Ginn only caught two passes for 19 yards after being targeted four times on Sunday, but he made a huge contribution with his punt returns. After averaging fewer than 11 yards a return in the first eight games, he averaged 21.7 yards on three returns Sunday, almost breaking a couple. He was so excited that he developed cramps and had to go into the locker room for an IV at one point.
It was a fumble:
I asked coach Ron Rivera why the officials didn't overturn the incomplete pass call on a play to San Francisco tight end
Vernon Davis
in the second quarter to a catch and fumble. It appeared to the Panthers and almost everyone at Candlestick Park that Davis had possession, was stripped of the ball and Carolina's
Thomas Davis
recovered. Rivera's explanation from the officials: "Well, apparently, there are three phases as to what has to happen on a catch and he hit two out of three." He didn't sound convinced. None of the Panthers did, either. "He took three steps. He took three steps. Ball out,'" safety
Mike Mitchell
said.
Bonus observation:
Rivera was asked whether he had any hesitation on sending kicker
Graham Gano
out for the game-winning 53-yard field goal in the fourth quarter. Really? Gano's missed 48-yarder in the third quarter was his first after going 12-for-12. He is now 5-for-5 on field goals of 50 or more yards, the most in the league from that range. Rivera, by the way, had no hesitation.
November, 4, 2013
11/04/13
8:00
AM ET
CHARLOTTE, N.C. -- An examination of five hot issues from the
Carolina Panthers
'
34-10 victory
over the
Atlanta Falcons
:
[+] Enlarge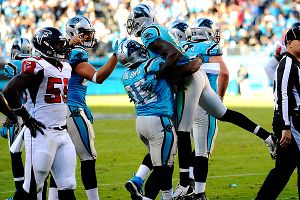 David T. Foster III/Charlotte Observer/MCT via Getty ImagesBrandon LaFell and the Panthers found the ball bouncing their way in Sunday's victory.
Lucky bounce:
When wide receiver
Brandon LaFell
fumbled inside the Atlanta 10-yard line with a 17-10 lead in the fourth quarter, Carolina coach Ron Rivera had a flashback to the season opener against Seattle. The play was eerily similar to the fourth-quarter fumble running back
DeAngelo Williams
had inside the 10 against the Seahawks with the Panthers driving for the potential winning touchdown. The difference? Seattle recovered, ending Carolina's upset bid. On Sunday, LaFell recovered when an Atlanta player knocked the ball back into his arms. Panthers quarterback
Cam Newton
scored on an 8-yard run on the next play to extend the lead to 14 points. The ball often bounces your way when things are going good, and things are going good for a Carolina team that has won four straight.
Fourth-and-1:
The Panthers are so effective on fourth-and-1 now that they have defenses totally guessing. For the second time in four games they scored a touchdown on a fourth-and-1 pass. This one was a 14-yard toss to wide-open tight end
Greg Olsen
on a rollout by Newton to make it 14-3 in the second quarter. Last month at Minnesota, Carolina scored on a 2-yard pass to
Steve Smith
. The Panthers now have been successful on five of six fourth-and-1 calls. No other team had converted more than five coming into Sunday. Carolina's opponents are 1-for-7 on fourth down.
Lockdown on Gonzalez:
Carolina intercepted the first pass intended for tight end
Tony Gonzalez
because
Matt Ryan
threw into triple coverage. For the rest of the first half it appeared the Panthers forgot to cover the future Hall of Famer as he caught five passes for 77 yards and a touchdown. On most he was wide open. But the Panthers got more physical with Gonzalez coming off the line in the second half and defensive coordinator Sean McDermott made some coverage adjustments to hold Ryan's favorite target to one catch for 4 yards over the last two quarters.
Fresh legs:
Without
Jonathan Stewart
the Panthers were averaging 3.99 yards per carry and 130 yards through seven games. With the team's No. 2 all-time leading rusher on Sunday, they averaged 4.0 yards per carry for a total of 131 yards. They averaged 32.57 rushes a game without Stewart and 33 with him. In other words, the Panthers didn't alter their approach just because they added another piece to the puzzle. But they did keep fresh legs in the game, which over the course of a 16-game schedule should help.
How far is too far?
That's what Rivera is trying to determine when it comes to kicker
Graham Gano
. The coach didn't hesitate to attempt a 55-yard field goal early in the third quarter, and Gano rewarded him with a successful line-drive kick. "He said he over-swung and hit it right in the middle of the ball, which is kind of scary,'' Rivera said. What's scary is Gano is 12-for-12 on field goals, including 4-for-4 from 50 yards or longer. He also is perfect on all 24 extra-point kicks.
October, 20, 2013
10/20/13
4:13
PM ET
CHARLOTTE, N.C. -- A few thoughts on the
Carolina Panthers
'
30-15 victory
against the
St. Louis Rams
:

What it means:
Carolina (3-3) has a chance Thursday night at Tampa Bay to get above .500 for the first time under third-year coach Ron Rivera and the first time since 2008. The Panthers, who started 1-5 each of the past two seasons, didn't win a close one, which has plagued them. But they did win an ugly one in which the Rams constantly shot themselves in the foot with penalties and turnovers in an oh-so-familiar way. Knowing it can play a subpar game and still get away with the victory at least has to be encouraging for a Carolina team trying to build an identity.
Stock watch:
Running back
Mike Tolbert
scored on a 1-yard run in the first half to give him three touchdowns in the past two games. He has become the go-to guy in short-yardage situations, although he was stopped on two plays from the St. Louis 1 in the third quarter and then drew a personal foul. It will be interesting to see how his carries change when
Jonathan Stewart
, the team's second all-time leading rusher, returns from the physically unable to perform list. Rivera indicated that could be this week.
Inconsistent O-line:
The Panthers did a poor job run and pass blocking, particularly in the first half when quarterback
Cam Newton
was sacked twice and Carolina ran for only 28 yards against the league's 30th-ranked run defense. Sixteen of that came on runs by Newton.
DeAngelo Williams
, the team's leading rusher, had seven yards on five carries in the first half. The Panthers couldn't move the Rams out of the way on two carries from the St. Louis 1-yard line in the third quarter.
Weakness in secondary:
Left cornerback
Josh Thomas
was beaten for a 73-yard catch in the third quarter and a 63-yarder in the first half that was called back for a tripping penalty on the Rams. He is solid against the run but way too soft against the pass. Don't be surprised to see
Melvin White
or
Drayton Florence
get more time there.
Early team MVP:
There are a lot of candidates on defense, but you can't overlook kicker
Graham Gano
. He is 9-for-9 on field goals after going 3-for-3 on Sunday -- including a 50-yarder that made him 3-for-3 from that range.
What's next?
The Panthers travel to Tampa, Fla., for a Thursday night game. This will be the NFC South opener for Carolina, which lost both games to the currently winless Bucs a year ago.

NFC SOUTH SCOREBOARD
Friday, 8/22
Saturday, 8/23