April, 25, 2011
4/25/11
11:05
AM ET
Time for a trip through the NFC South headlines.
Pete Dougherty writes about Alabama quarterback Greg McElroy as a
late-round prospect with a chance to be a sleeper
. I've thrown out the suggestion the Atlanta Falcons should take a shot on Delaware's Pat Devlin a bit later in the draft. But McElroy also could also be a fit. He'd be an instant upgrade over former Alabama teammate John Parker Wilson as the No. 3 quarterback and could challenge Chris Redman for the backup job. I could also see New Orleans taking a look at McElroy.
Atlanta tight end Tony Gonzalez has earned the right to say just about anything he wants. In a recent radio interview, Gonzalez said he's strongly
in favor of a rookie wage scale
.
Joe Person tracked down a bunch of Cam Newton's former coaches, including Urban Meyer, who had the quarterback at Florida. Read into it whatever you want, but Meyer was
willing to talk about Newton as a football player
. When asked to talk about him as a person, Meyer said, "I'm going to pass on that one."
Take a look at this
pre-draft synopsis
and go straight to Carolina. I get a little tired of people saying the Panthers need help everywhere and I know general manager Marty Hurney turns red every time he hears or sees something like that. Fact is, Carolina was 2-14 last season and it's easy to say their roster is bare. But that's simply not the case. Last year was about a lot of other things. But Carolina's roster still has plenty of talent -- Jordan Gross, Steve Smith, DeAngelo Williams, Jonathan Stewart, Ryan Kalil, Jon Beason, Chris Gamble and Charles Johnson.
Rick Stroud writes that troubled cornerback Aqib Talib
is all but gone from Tampa Bay
. I agree and have been saying that since Talib was charged with a crime in a March incident in Texas. Yes, the legal system hasn't played out and there is the chance Talib can be exonerated. But the mere fact Talib, who has a long history of off-field problems, was even involved in an incident with a gun didn't exactly flatter the NFL or the Bucs. The only thing remaining is sorting out the exit strategy. The Bucs can't do anything until after the lockout. If they don't cut or trade Talib right away, the NFL could beat them to the punch and suspend Talib.
Mike Triplett has an
interesting chat with some of the veteran Saints
who potentially could be free agents when the lockout ends and gets them talking about the uncertainty surrounding their futures.
April, 15, 2011
4/15/11
10:11
AM ET
Time for a quick stroll through the NFC South headlines.
Georgia linebacker Akeem Dent
worked out for the Falcons
on Thursday. He previously made a visit to the Buccaneers.
Southern California offensive tackle Tyron Smith visited
with the Buccaneers
on Thursday.
Tampa Tribune columnist Joe Henderson
is critical of the Bucs traveling to London
again this season. He writes that he hopes this isn't a response to last year's sea of empty seats at Raymond James Stadium. That's exactly what it is. The Bucs have said season-ticket sales have been going strong this offseason. But when your season ticket base was probably somewhere in the low 30,000s last season, that leaves a lot of tickets to be sold. And they'd end up being sold to Chicago fans, who would take over the stadium and cause an embarrassing scene like the Pittsburgh game last year.
Pro Football Weekly has a look at
the top 21 Wonderlic test scores
among draft prospects. Alabama quarterback Greg McElroy tops the list.
D. Orlando Ledbetter has his
latest mock draft
and he has the Falcons taking Notre Dame tight end Kyle Rudolph at No. 27. Makes some sense. Although most experts see the Falcons taking a defensive end or wide receiver, I'm not seeing one there I really like as Ledbetter's draft shakes out. It wouldn't surprise me if the Falcons take Rudolph as the heir apparent to Tony Gonzalez.
Draft experts say it's unlikely the Carolina Panthers
will trade the No. 1 pick in the draft
. That's largely because no other team seems willing to trade up.
March, 17, 2011
3/17/11
11:00
AM ET
My longtime friend and former co-worker Tom Sorensen created quite a stir Wednesday when he wrote that
all signs are pointing to the Carolina Panthers
taking Auburn quarterback
Cam Newton
with the first overall pick.
He also added a couple qualifiers that said the Panthers at least seem to be trying to convince the NFL world of that fact and maybe they're hoping to trade down.
A lot of people took this to mean Sorensen was reporting the Panthers are -- almost absolutely -- taking Newton. But a lot of those people were taking things too literally and not getting what Sorensen was really saying.
[+] Enlarge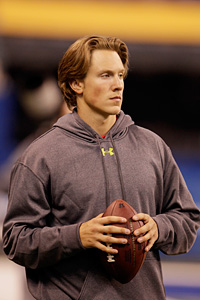 AP Photo/Darron CummingsBlaine Gabbert hasn't thrown in public since the Insight Bowl.
Let's start with a little lesson in the world of newspapers and journalism. Beat writers cover the facts. Columnists provide analysis of the news and opinions. The lines have blurred in some cases as the journalism world has restructured itself extensively in recent years. A certain blog network took a group of former newspaper beat writers and essentially asked us to stop being traditional beat writers and start using our past experience to write mostly analysis and opinion.
Sorensen's a great columnist, capable of crossing lines some columnists, who write off the top of their heads, don't. He's got some good sources, so he sometimes ends up writing news or columns that contain some strong hints at the news.
I think his Wednesday piece fell into the latter category. Sorensen was analyzing what's already known. There's no doubt the Panthers have been doing extensive homework on Newton, and that's basically what he wrote. Does he have some vibe that the Panthers are leaning in that direction? I don't know for sure, but Tom's not the kind of guy to just throw things out without having some insight.
But let's remember, this wasn't written as a flat-out news story, and Tom didn't definitively say whom the Panthers will be drafting No. 1. He just said the signs seem to be pointing in that direction.
The draft doesn't start until April 28, and a lot of signs can change direction between now and then. Heck, that could even start happening Thursday.
You're going to see all sorts of stories that Missouri quarterback
Blaine Gabbert
is having his pro day today and is scheduled to have a
private workout with the Panthers this weekend
.
Will the signs suddenly switch to the Panthers drafting Gabbert? Maybe so, or maybe it will just appear that way. Don't read too much into that, because if you really think about it, it's highly unlikely the Panthers have made any firm decision on either quarterback or even if they'll take one with the first pick.
That's largely because they'd be foolish if they didn't wait until now to take a hard look at Gabbert. Today will be the first time he's thrown publicly since he concluded his career in the Insight Bowl. He didn't throw at the combine. Sure, the Panthers probably have watched hours of tape on him from college. But it wouldn't be wise to make any decision until seeing Gabbert.
The Panthers will get two chances to see him throw extensively the next few days, and it's likely they'll at least narrow their thinking on quarterbacks after an up-close look.
Oh, by the way, there's a little more on the quarterback front this morning. Our Chris Mortensen reports that Gabbert scored a 42 on the Wonderlic. That's a great score and only one point behind Alabama's
Greg McElroy
, who turned in the highest score of all the quarterbacks. Newton's score was 21. That's rather mediocre and only one point ahead of Washington's
Jake Locker
, who had the lowest score of the high-ranking quarterback prospects.
Is the Wonderlic going to make Carolina's final decision? Is Gabbert's workout going to be the one deciding factor?
No, this is a process, and general manager Marty Hurney is a methodical guy. His signs have pointed toward Newton so far, but Hurney and the Panthers aren't going to be done until they read all the signs.
January, 24, 2011
1/24/11
6:18
PM ET
The
Carolina Panthers
, just like every other team in the NFL, are out in force this week in Mobile, Ala. They're there to watch Senior Bowl practices and they have coaches, front-office people and scouts watching the quarterbacks closely.
But it's not very likely the Panthers are seeing anyone worth taking with the first overall pick in the draft at the Senior Bowl. Washington's
Jake Locker
is probably the biggest name there and he's considered a first-round pick by some draft experts, but he would need a huge week at the Senior Bowl and strong showings at the combine and in private workouts to have any shot at being No. 1 overall.
The top quarterbacks in this year's draft are all coming out of college early and the Panthers will have to wait to see Missouri's
Blaine Gabbert
, Auburn's
Cam Newton
and Arkanas'
Ryan Mallett
in person because only seniors are allowed to participate in the college all-star games. Carolina officials will have to wait until the combine or private workouts to see Gabbert, Newton and Mallett in action.
The other quarterbacks at the Senior Bowl are Iowa's
Ricky Stanzi
, Nevada's
Colin Kaepernick
, TCU's
Andy Dalton
, Alabama's
Greg McElroy
and Florida State's
Christian Ponder
.
The Panthers also were at the East-West Shrine Game last week. The quarterbacks in that game were Delaware's Patrick Devlin, Navy's
Ricky Dobbs
, Virginia Tech's
Tyrod Taylor
, Texas A&M's
Jerrod Johnson
, Idaho's
Nathan Enderle
and Wisconsin's
Scott Tolzien
.