August, 1, 2013
8/01/13
12:42
PM ET
TAMPA, Fla. -- Cornerback
Darrelle Revis
continues to take steps in his recovery from a major knee injury, but Tampa Bay Buccaneers coach Greg Schiano isn't ready to say if the team's biggest offseason acquisition will appear in any preseason games.
"How do you know?" Schiano asked rhetorically. "Because anyone of these thresholds could -- I'm hoping not and I don't expect it to -- but could push back on you and then you've just got to slow down. We're not going to rush it."
[+] Enlarge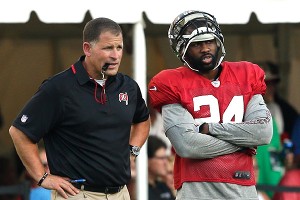 AP Photo/Chris O'MearaBucs coach Greg Schiano, left, said the team is "not going to rush it" with Darrelle Revis' knee rehabilitation.
The goal all along has been to have Revis ready for the season opener against the
New York Jets
, the team Revis used to play for, and the Bucs clearly are following a plan.
"It's clear, logical steps," Schiano said. "You do all your footwork drills on air. Then you step him up against a receiver, without a ball, without an end result. Then, you step it up a notch against a receiver with a quarterback and a play and a result. Then you get him into team work where he's hitting somebody because that's the thing when you press and you torque, your hands are on a guy and your legs are twisting. That's different than just running football drills or just covering a guy on air, shadowing a guy. I think there are steps and we just have to keep taking those steps."
Revis completed the footwork drills against air in the first week of camp. Now, he's lining up against receivers and shadowing them. The team work is obviously the next step. My best guess is the Bucs will hold Revis out of next week's preseason opener against Baltimore and, if all continues to go well, try to play him in either the second or third preseason game.
Schiano also had some positive news on defensive end
Adrian Clayborn
, who had to leave Wednesday's practice with a groin injury.
"Adrian is going to be a few days," Schiano said. "It wasn't as bad as I initially thought, so that's good.''
Schiano also said that tight end
Luke Stocker
's calf injury is taking longer than expected to heal. He said Stocker's return could be a matter of days or weeks.
January, 18, 2013
1/18/13
3:22
PM ET
As has been expected since the
Arizona Cardinals
cleaned out their coaching staff at the conclusion of the season, John McNulty has joined the
Tampa Bay Buccaneers
as the quarterbacks coach, general manager Mark Dominik said Friday afternoon.

The Bucs tried to interview McNulty for their offensive coordinator spot last season, but Arizona refused to grant permission. McNulty previously worked for coach Greg Schiano at Rutgers.
"It's an exciting hire for our coaching staff,'' Dominik said. "He has a lot of respect in coaching circles. Coach Schiano knows him personally. He'll work closely with (offensive coordinator)
Mike Sullivan
and (quarterback)
Josh Freeman
. He's another great mind to work with our offense. He's been a quarterbacks coach before, he's been a receivers coach before and he's called plays before. He's a well-rounded offensive mind.''
McNulty has previously spent time with Jacksonville, Dallas as well as Rutgers and Arizona.
Dominik also said that reports that defensive line coach Randy Melvin had been fired were inaccurate.
"Randy Melvin is our defensive line coach,'' Dominik said. "He has never been fired or terminated from his contract. He's handled this extremely well. Randy Melvin is our defensive line coach for 2013.''
Dominik said the Bucs still are looking to hire a wide receivers coach and a defensive backs coach. He said he hopes to have those spots filled next week.
October, 16, 2012
10/16/12
10:23
AM ET
The
Tampa Bay Buccaneers
could soon have defensive end
Da'Quan Bowers
back on the field.

After tearing an Achilles tendon in May, Bowers has been on the physically unable to perform list. But he's eligible to begin practicing this week, and coach Greg Schiano made it sound like Bowers will start getting a look Wednesday.
"We need to see how he responds to doing that and then we will act accordingly,'' Schiano told the media Monday. "As I said, if there is any question, we are going to wait. We are not going to put him in harm's way. He is excited to play. He is chomping at the bits. We got to hold him back until we know it is all good."
It would be wise to be cautious, because Bowers is coming back fast after a serious injury. Once he begins practicing, the Bucs have a three-week window in which to decide if they want to activate him or shut him down for the season.
If Bowers is healthy enough to return, it could be a huge boost for the defensive line. Bowers was expected to start at defensive end along with fellow second-year player
Adrian Clayborn
. But, after Bowers' injury,
Michael Bennett
took over the starting job.
Bennett has played well, but the Bucs lost Clayborn to a season-ending injury.
The Bucs have been using
Daniel Te'o-Nesheim
in Clayborn's place, with
George Johnson
as the third defensive end. Even if Bowers comes back as only a part-time player this season, he could make a big impact as a situational pass-rusher.
May, 22, 2012
5/22/12
2:41
PM ET
TAMPA, Fla. -- Less than 24 hours after officially parting ways, Greg Schiano and
Kellen Winslow
will be back together again. Sort of.
Schiano, the coach of the
Tampa Bay Buccaneers
, is scheduled to appear on NFL32 on Tuesday at 6 p.m. ET on ESPN2. Winslow, the tight end that Schiano and the Bucs traded to the
Seattle Seahawks
on Monday night, is scheduled to appear on the same show.
Schiano and Winslow will be interviewed individually. We don't have the exact times on their appearances or what order they will come in. But, if you tune in promptly at 6, you should be able to hear both Schiano and Winslow.
April, 23, 2012
4/23/12
10:04
AM ET
Time for a look at the Monday morning headlines from around the NFC South.
Just when it seemed like the offseason couldn't get any more bizarre for the Saints, it has. Jeff Duncan reports that executive vice president Rita Benson LeBlanc, who had been viewed as the likely successor to her grandfather, Tom Benson, has been away from the team for several months. Duncan writes that LeBlanc was placed on
unofficial administrative leave
.
The Falcons open their offseason program Monday, but cornerback Brent Grimes is
not expected to attend
. Grimes is carrying the franchise tag and has not signed his tender. There haven't been any recent talks about a long-term contract, because Grimes' agent and the team have been busy getting ready for the draft. But talks should resume after the draft.
Richard Walker writes that the Carolina Panthers
should trade down
from the No. 9 overall pick in the draft. I don't think that's a bad idea, because the Panthers could add an extra draft pick or two. But, as I always say, it's easy to talk about trading down. But it's hard to actually make it happen. There aren't offers to trade down at every stop in the first round, and the Panthers might be sitting past the point where teams are looking to jump up to.
The Saints reportedly have
restructured the contract
of middle linebacker Jonathan Vilma. No surprise there. Vilma had been scheduled to count nearly $7.7 million against this year's cap. He's aging and is coming off an injury, and the Saints had to knock his cap figure down because they have very limited cap room. Vilma also is facing a possible suspension for his role in the Saints' bounty program.
Scott Reynolds writes that defensive tackle Amobi Okoye, a first-round pick by Houston in 2007, has
a chance to shine
with the Buccaneers. At worst, Okoye should be able to contribute as part of a rotation with Gerald McCoy, Brian Price and Roy Miller. At best, Okoye could be a starter if McCoy and Price, who each have struggled with injuries, continue to have problems.
After going through their first minicamp, the Buccaneers don't seem to have
any problems
with new coach Greg Schiano's more structured approach. They shouldn't. Raheem Morris' laid-back approach didn't work. The Bucs are coming off a 4-12 season, and that's not going to earn anyone the right to have easy practices in training camp or minicamp.
Former Atlanta safety Ray Easterling was
the lead plaintiff
in the first wave of concussion-related lawsuits against the NFL. He died last week, and police said his death was a suicide. For all those who say the NFL came down too hard with punishments on the Saints' bounty program, I point to this and other similar situations as to why the NFL acted the way it did. As these lawsuits move through the court system, the NFL can't afford to have the impression out there that it tolerates things like bounty programs.
February, 6, 2012
2/06/12
11:01
AM ET
The Buccaneers have been silent on assistant coaches since hiring head coach Greg Schiano.

Now that the Super Bowl is over and Schiano's had time to work quietly behind the scenes, I think it's just a matter of days (maybe even hours) before we start getting official announcements on the hiring of assistants.
Word already leaked out that former P.J. Fleck, a former Schiano assistant at Rutgers, will be
joining the Bucs
as the wide receivers coach.
There have been rumblings from the moment Schiano was hired that former NFL and college head coach Butch Davis would join him as defensive coordinator. Makes sense, because Schiano worked for Davis at the University of Miami.
There also have been reports that Rutgers offensive coordinator Frank Cignetti and defensive coordinator Bob Fraser could be joining Tampa Bay's staff, although it's possible they would come as position coaches and not coordinators.
I know there's some concern among Tampa Bay fans that Schiano's staff could basically be a reunion of the Rutgers staff, leaving the Bucs with a shortage of assistants with NFL experience.
But I say it's wise not to jump to any conclusions. Soon enough, we'll find out who the Bucs are hiring. My guess is there will be some assistants with Rutgers backgrounds, but you'll also see some with NFL experience on their resumes.