NFC South:

Hartsfield-Jackson International Airport
November, 30, 2012
11/30/12
6:02
PM ET
As I was traveling back to NFC South Blog headquarters, the Pro Football Hall of Fame announced its list of 27 semifinalists, which includes three players with deep NFC South ties.
Former Tampa Bay defensive tackle Warren Sapp, former Tampa Bay safety John Lynch and former New Orleans and Atlanta kicker Morten Andersen all made the cut. The list will be trimmed to 15 before voters make their decision the day before the Super Bowl.
This is the first year of eligibility for all three players. I think all three will get into the Hall of Fame at some point, but I'm thinking Sapp is the most likely to make it on the first ballot. Say what you want about how he could be charming or rude to the media and wasn't always nice to fans. The fact is that stuff isn't part of the criteria for the Hall of Fame. On-field production is all that's supposed to matter and Sapp was a force in the middle of the line for some of the best defenses in history.
Andersen and Lynch might not get in on the first ballot because it's not easy for kickers and safeties to get into the Hall of Fame, but I think they'll get there at some point.
Now, let's move onto a quick tour of the afternoon headlines from around the division:
ATLANTA FALCONS
Officials at Hartsfield-Jackson International airport say they believe one employee was responsible for
throwing eggs
at the New Orleans Saints' team bus Wednesday evening. The officials would not identify the employee, but said they will take appropriate action to make sure similar incidents don't happen in the future.
CAROLINA PANTHERS
Coach Ron Rivera said running back Jonathan Stewart (ankle) is
very doubtful
for Sunday's game at Kansas City. That likely means more playing time for DeAngelo Williams. Carolina's backfield has been overcrowded all season and I still think Williams has the talent to thrive if he's getting enough carries.
NEW ORLEANS SAINTS
Linebacker Jonathan Vilma and defensive end Will Smith were present as former defensive coordinator Gregg Williams testified in the
appeals hearing
for Vilma's season-long suspension and Smith's four-game suspension. It's unclear what Williams had to say and when former NFL commissioner Paul Tagliabue will rule on the appeals. But I'm not counting on a quick resolution because nothing about the whole bounty saga has been quick.
TAMPA BAY BUCCANEERS
Chris Low reports that former Tampa Bay coach Jon Gruden informed the University of Tennessee he's
not interested
in its head coaching job.
November, 30, 2012
11/30/12
2:08
AM ET
ATLANTA -- Not even the
New Orleans Saints
, whose recent history shows a fondness for challenging everything, can appeal this one.
The
Atlanta Falcons
really are a good football team.
The signature win that every skeptic seemed to be waiting for came Thursday night in the Georgia Dome. The Falcons defeated the Saints
23-13
in a game that was about much more than positioning themselves for the playoffs.
The Falcons (11-1) ended
Drew Brees
' streak of consecutive games with a touchdown pass at 54 games and also forced the New Orleans quarterback into a career-high five interceptions. The Falcons also probably ended the Saints' playoff hopes as New Orleans tumbled to 5-7.
More important, the Falcons showed they can win a big game.
"We didn't come out to break any streak," said Atlanta cornerback
Dunta Robinson
, who said he wasn't aware Brees' streak had ended until the media informed him. "We came out here to dominate and we did."
There's truth and irony in the second part of Robinson's statement. For one of the few times this season, the Falcons, who often seemed to be playing just well enough to win, did dominate -- at least on the defensive side.
"We never felt like we were going to lose this game," said veteran defensive end
John Abraham
.
That's the irony of it all. Throughout most of the five seasons Mike Smith has been Atlanta's coach and
Matt Ryan
has been the quarterback, the Saints had dominated the series. Entering Thursday night, the Falcons had won only twice against New Orleans in the Smith/Ryan era.
It got so bad after the Saints ended Atlanta's unbeaten streak in New Orleans earlier this month, it seemed like the Falcons had some sort of inferiority complex about their division rivals. After that game, New Orleans linebacker
Scott Shanle
referred to the Falcons as the Saints' "little brother."
It got even worse that same day, and again on a Tuesday conference call, when New Orleans linebacker
Curtis Lofton
, who spent the first four seasons of his career with Atlanta, repeatedly questioned if the Saints and Falcons really had a rivalry.
His logic was simple -- it's not a rivalry when one team dominates.
But there is no doubt the Saints and Falcons are bitter rivals. They've had some games where emotions spilled out on the field in recent years. And those emotions frequently have seeped off the field.
[+] Enlarge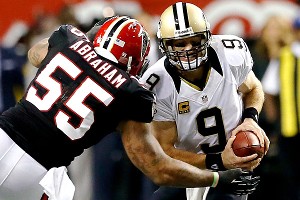 Kevin C. Cox/Getty ImagesJohn Abraham's sack of Drew Brees in the fourth quarter pushed the Saints out of field goal range.
The latest example came Wednesday evening when the Saints said
their charter bus was egged
by what appeared to be airport workers on the tarmac of Hartsfield-Jackson International Airport.
But it was the Falcons who were serving Eggs Benedict (Arnold?) to Lofton, who was beaten in coverage by tight end
Tony Gonzalez
on a 17-yard touchdown pass that gave the Falcons a 14-0 lead with 14:08 left in the second quarter. A little more than five minutes later, the Falcons had a 17-0 lead and appeared to be on the verge of blowing the Saints out of the building.
But Brees, who finished the game with 341 passing yards, rallied his team and cut the lead to as little as 17-13 in the third quarter. That's when the Falcons of past years -- even earlier this season -- might have panicked.
That didn't happen.
"That's a very good quarterback that's normally very efficient," Smith said. "We did a nice job of taking the ball away."
The Falcons intercepted Brees, who completed 28 of 50 passes, three times in the second half, including third- and fourth-quarter interceptions by strong safety
William Moore
. With cornerback
Asante Samuel
aggravating a shoulder injury early in the game, the Falcons were forced to play backups
Robert McClain
and
Christopher Owens
extensively.
"We're a big family and we feel like we have a lot of guys back there that can play," Robinson said. "We feel like we are one of the best secondaries in the league and I think this showed something."
Abraham, who put steady pressure on Brees most of the night, also ended a New Orleans drive with Atlanta's only sack of the game. With a third-and-5 at the Atlanta 36 and the Falcons holding a 20-13 lead with 10:40 left in the game, the Saints had the momentum. They seemed poised to tie the game or at least kick a field goal. But Abraham sacked Brees to take the Saints out of field-goal range and force a punt.
But Abraham said this wasn't about revenge. He wouldn't reflect on the past and wouldn't talk about an embarrassing loss in New Orleans last season, a game in which Brees broke the NFL record for passing yards in a season and some of the Falcons implied the Saints were running up the score.
"No question we've got the upper-hand right now," Abraham said when asked about the rivalry. "But I came here strictly to win this game. We've got a long year left and we still have a lot to do."
The Falcons, who have yet to win a playoff game in the Smith/Ryan era, have made it clear all season that simply getting to the playoffs is no longer good enough. They want to win in the postseason and they want to win the Super Bowl (which, by the way, will be played in New Orleans).
"Hopefully, as we move forward, we can start to play our best football collectively and I think we can," said Ryan, who completed 18 of 33 passes for 165 yards with one touchdown and no interceptions.
The performance wasn't perfect. The passing offense was unspectacular and the running game went quiet after a fast start. The Falcons' defense won this game.
But this still was a huge win for the Falcons -- their most complete and satisfying so far this season. They got a rare victory against the Saints and also pretty much made sure their rivals won't be joining them in the playoffs.
Now, it's time for the Falcons to move onto bigger and better things.
November, 29, 2012
11/29/12
6:26
PM ET
ATLANTA -- By now, I'm sure you've heard about the
New Orleans Saints
' team bus getting
egged
at Hartsfield-Jackson International Airport on Wednesday night.
Well, now you can actually see the aftermath.
FOX 5 has some
photos
that show a bus with some yolk on it. If you want to suggest captions for the photos, hit the comments section below.
November, 29, 2012
11/29/12
9:17
AM ET
ATLANTA -- The rivalry between the
New Orleans Saints
and
Atlanta Falcons
has reached a new level.

The teams have played some intense games and traded a lot of verbal jabs in recent years. But what happened Wednesday goes beyond the teams.
Several New Orleans players claim that their bus was
egged by airport workers
after they landed Wednesday at Hartsfield-Jackson International Airport.
Tight end
Jimmy Graham
wrote on Twitter: "Bus just got egged after landing in ATL by the ramp workers. Classy!"
We've known for several seasons that the Saints and Falcons don't like each other, and that has made for some healthy drama when the teams have played.
But I don't think fans getting involved, at least in this way, is healthy for anyone. I can't imagine that airport officials have been very happy as they've heard about the way the Saints were greeted in Atlanta.