November, 14, 2011
11/14/11
10:17
AM ET
ATLANTA – Let's take a look at some statistical highlights from the Saints'
26-23
overtime victory against the Falcons on Sunday.
Drew Brees now leads the NFL with 3,326 passing yards. That's the most through 10 games by any player in NFL history, according to ESPN Stats & Information. Brees had the previous record (3,251) in 2008.
Brees broke a tie with Brett Favre by throwing a touchdown pass in his 37th consecutive regular-season game. Brees now has sole possession of second place in NFL history. The record is 47 by Johnny Unitas.
Brees had the 51st 300-yard passing game of his career. That puts him in a tie with Dan Fouts for fifth in NFL history. Peyton Manning and Dan Marino are tied for the record at 63.
Tight end Jimmy Graham caught his sixth touchdown pass. The only New Orleans tight end to record more touchdown passes in a single season was Henry Childs, with nine in 1977.
Marques Colston came up big on third downs Sunday. He caught four of four third-down passes for 59 yards. All four of those passes went for first downs. Entering the game, Colston was tied for 49th in the league with just six third-down conversions. Brees was 3-of-9 for 7 yards with no first downs when targeting other receivers on third down.
Brees was particularly effective on play-action passes against the Falcons. He completed 17 of 19 play-action passes for 212 yards and two touchdowns. That's the most play-action completions Brees has had in a game since the 2008 season and his yardage total tied his high in that time frame. Brees averaged 11.2 yards per attempt on play-action passes and 4.6 yards without play action. On play-action throws of more than 10 yards, Brees completed 9 of 10 for 185 yards and two touchdowns.
May, 17, 2011
5/17/11
3:33
PM ET
There will be two new members inducted into the Saints Hall of Fame this fall. Former safety Sammy Knight and longtime radio and television announcer Bruce Miller have been
named as the newest selections
.
Each NFC South team has some way of honoring its former players. For instance, the Bucs do it with their Ring of Honor, which, so far, includes only Lee Roy Selmon and John McKay.
We'll see how long this lockout lasts, but I'm thinking if it drags into the middle of June or later, we might go ahead and do some Call It polls to let you select who belongs in the NFC South Hall of Fame. There's no such thing right now, but, even if it's just for fun, it might be a good time to start one.
Here's a list of past inductees into the Saints Hall of Fame.
1988 -- Archie Manning and Danny Abramowicz
1989 -- Tommy Myers and Tom Dempsey
1990 -- Billy Kilmer
1991 -- Tony Galbreath and Derland Moore
1992 -- George Rogers, Jake Kupp and John Hill
1993 -- Joe Federspiel
1994 -- Henry Childs and Jim Finks
1995 -- Doug Atkins and Bob Pollard
1996 -- Dave Whitsell and Dave Waymer
1997 -- Stan Brock and Rickey Jackson
1998 -- Dalton Hilliard and Sam Mills
1999 -- Bobby Hebert and Eric Martin
2000 -- Pat Swilling and Vaughan Johnson
2001 -- Jim Wilks and Hoby Brenner
2002 -- Jim Mora and Frank Warren
2003 -- Jim Dombrowski and Wayne Martin
2004 -- Rueben Mayes and Steve Sidwell
2006 -- Joel Hilgenberg
2007 -- Joe Johnson
2008 -- William Roaf
2009 -- Morten Andersen
2010 -- Joe Horn
February, 4, 2010
2/04/10
4:25
PM ET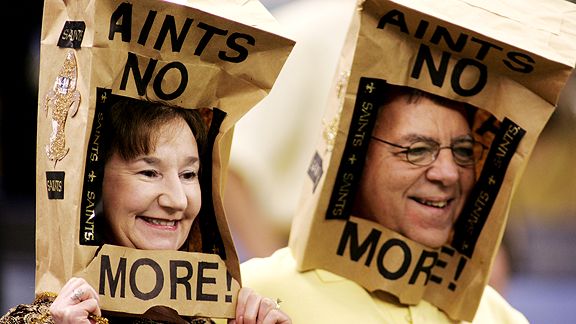 John David Mercer/US PresswireAfter over 40 years of waiting for a Super Bowl team -- and suffering through some painful seasons -- Saints fans can finally celebrate making it to Super Sunday.
MIAMI -- How far have the
New Orleans Saints
come as an organization?
From their first season in 1967 to the paper-sack-wearing Aints days, the franchise has endured a lot to win their first NFC championship and finally reach the Super Bowl.
"It didn't take us but 43 years to figure it out," said Archie Manning, a local icon who quarterbacked the Aints and still resides in New Orleans.
To get an idea of how much pride Saints alumni are feeling in the days leading up to Super Bowl XLIV, I asked Danny Abramowicz, Conrad Dobler, Henry Childs, Bobby Hebert and Manning to share their memories of some not-so-pleasant days.
Abramowicz (an original Saint -- drafted in the 17th round -- and Pro Bowl receiver and later a Saints broadcaster)
: "I can remember running out on the field the first day, opening game at Tulane Stadium in front of 85,000 people. We ran the kickoff back for a touchdown, and it went downhill."
Hebert (a Baton Rouge, La., native and Saints quarterback from 1985 through 1992)
: "It was always 'Wait 'til next year.' They didn't have a winning record their first 20 years."
Abramowicz
: "We were involved with one of the biggest fights of all time [Oct. 8, 1967 against the
New York Giants
at Yankee Stadium]. All the fans were pouring out onto the field. We had a guy on our team named Doug Atkins, who really was a freak of size. The last pass to me in the game against the Giants was a Hail Mary-type thing, and it was incomplete. I look up the field, and they had Doug pinned down and were beating him with helmets.
"I thought 'Well, I better get out of there.'
"In Yankee Stadium, you had to go through dugouts. I looked back one last time to see what was going on and missed the top step. My head hit the top of the dugout. I had to go back to the locker room and sit down in a chair. Guys were coming in with their shirts torn, and they were bleeding. A lot of silly stuff happened in those times."
Manning
: "You never get used to losing. The Saints can tell you, the Colts can tell you, when you win those games, the next Sunday comes around too quick. It's such a great feeling. The atmosphere is so good. But when you lose, that next Sunday almost won't get there."
Abramowicz
: "People came to our games for the halftime shows. We had Al Hirt, Pete Fountain. There were some great times, but an awful lot of bad times, a lot of butt-whippings."
Abramowicz
: "The lowest time in the franchise for me was in 1973. We opened the season, and everyone's fired up. Everyone thinks we're going to the Super Bowl on opening day. If you don't feel that way, then get the hell out of the game.
"We opened against the
Atlanta Falcons
, and that was our big rivalry at the time. They beat us that opening game, 62-7, just whipping the you-know-what out of us. This wasn't the
Dallas Cowboys
. This was the Atlanta Falcons. That was, in my time, the lowest."