February, 1, 2013
2/01/13
3:10
PM ET
NEW ORLEANS -- The recent promotion of Mike Shula from quarterbacks coach to offensive coordinator by the
Carolina Panthers
got its most important endorsement Friday.
[+] Enlarge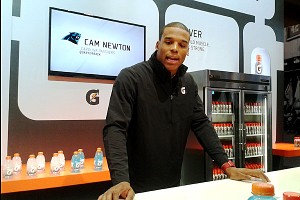 Pat Yasinskas/ESPN.comPanthers QB Cam Newton says he's excited to see what wrinkles Mike Shula will bring to the offense.
"I don't think there was a better person that could come in and take over,'' quarterback
Cam Newton
said Friday after a Gatorade Sports Science Institute news conference to talk about nutrition. "I'm excited about taking the next steps in the process with him.''
Don't underestimate the importance of Newton's opinion on Shula. It might have had a lot to do with the promotion after Rob Chudzinski left to become the head coach of the
Cleveland Browns
.
Newton, after all, is the franchise in Carolina. Coach Ron Ron Rivera ultimately made the decision on the hire. But I have little doubt that Newton's thoughts mattered.
I asked Newton if he and Rivera talked during a process, during which Hue Jackson and Pat Shurmur also were interviewed. Newton said he and Rivera chatted and shared thoughts.
Newton said he and Shula have talked multiple times since the promotion.
"I believe it will be similar (to Chudzinski's scheme), but you always have to evolve,'' Newton said. "You can't stay the same. If you do, you're going to get schemed up. I'm looking forward to (Shula's) twist on the offense. I'm as curious as everyone else to see what we're going to be as far as an identity.''
January, 18, 2013
1/18/13
4:34
PM ET
In the end, the
Carolina Panthers
wound up selecting the right offensive coordinator.

Joseph Person reports that quarterbacks coach Mike Shula has been
promoted
to fill the offensive coordinator spot that came open when Rob Chudzinski was hired as head coach of the
Cleveland Browns
.
The Panthers interviewed Pat Shurmur and Hue Jackson from the outside. But staying inside was the smartest thing they could have done.
Shula knows the Chudzinski offense and isn't likely to stray from it. He also has a good relationship with quarterback
Cam Newton
, and that might be the most important dynamic, because Newton is the franchise.
I know Shula has his detractors from his days as a head coach at the University of Alabama and as offensive coordinator in Tampa Bay. But those situations were dramatically different, and Shula was pretty much destined to fail.
At Alabama, he came into a program that was dealing with NCAA issues and still reeling from the Mike Price fiasco. In Tampa Bay, Shula was running the conservative offense that coach Tony Dungy demanded, and he didn't have much talent to work with.
Getting this job is Shula's first legitimate chance to succeed. He has a talented quarterback in Newton, an offensive line anchored by
Ryan Kalil
and
Jordan Gross
, a deep backfield, a top receiver in
Steve Smith
, and a solid tight end in
Greg Olsen
.
This time, Shula's hands aren't tied. This time, he has a chance to succeed.
January, 18, 2013
1/18/13
9:37
AM ET
Time for a look at the top Friday morning headlines from around the division:
ATLANTA FALCONS
Tight end Tony Gonzalez has been saying for months that he's 95-percent certain he'll retire after this season. He admitted that figure
went up
a couple of percentage points after getting the first playoff victory of his career. The implication is that Gonzalez would walk away if the Falcons win the Super Bowl, because he'd get a chance to go out on top. But Gonzalez still is playing at such a high level that it wouldn't be a surprise to see him return for another year.
San Francisco's Aldon Smith had a franchise-record 19.5 sacks this season. But he
hasn't produced a sack
in the past four games. Still, the Falcons have to be aware of where he is on every play.
Mayor Kasim Reed continues to
show his support
for a new stadium for the Falcons.
CAROLINA PANTHERS
Joseph Person reports the Panthers will choose their new offensive coordinator from a list of
three finalists
-- Pat Shurmur, Hue Jackson and Mike Shula. Nothing against Jackson or Shurmur, but I think Shula is the logical choice. He's been the team's quarterbacks coach the past two seasons. He knows the system installed by Rob Chudzinski, and he has a close relationship with quarterback Cam Newton.
Erik Spangberg has some
details
on the proposed deal between the Panthers and the City of Charlotte for funding for renovations for Bank of America Stadium. One thing that jumps out is that part of the deal would require the Panthers to make a commitment to stay in Charlotte for 10 years. But it would take the city 15 years to pay off the $125 million the Panthers are looking for.
NEW ORLEANS SAINTS
Mike Triplett writes that there have been
no winners and no losers
in the Saints' bounty scandal. He's right. The latest, and perhaps final, example of that came Thursday when a federal judge dismissed linebacker Jonathan Vilma's defamation lawsuit against NFL commissioner Roger Goodell. Nobody won there either. Vilma lost his suit, but the judge had some harsh words for Goodell's handling of the bounty case.
Jeff Duncan has a fine
column
on former New Orleans player Steve Gleason, who is battling ALS. But Gleason continues to fight to help others with the disease. His latest effort is to open a living facility for those with the disease.
TAMPA BAY BUCCANEERS
Ira Kaufman has
a feature
on how cornerback Aqib Talib has fared well since his trade to New England. I know a lot of Tampa Bay fans think it was a mistake to trade away the team's best cornerback at midseason, and the statistics of Tampa Bay's pass defense certainly support that argument. But I still think the Bucs made the right move in unloading a player who had given them nothing but trouble and would have walked away as a free agent in March. At least the Bucs got a fourth-round draft pick for Talib.
January, 15, 2013
1/15/13
5:53
PM ET
Time for an afternoon run through some odds and ends from all around the division:
ATLANTA FALCONS
Former NFL running back and current broadcaster Marshall Faulk says the pressure is only going to
intensify
for the Falcons in the NFC Championship Game. I get the point that pressure increases with each level of the postseason. But I also think that, in some ways, just getting a playoff victory against Seattle eased the pressure on the Falcons. At least they don't have to spend the week talking about past playoff woes.
D. Orlando Ledbetter takes a look at
the matchup
between Atlanta's passing offense and San Francisco's pass defense. I give the nod to the Falcons here. It's tough to beat a receiver tandem of Roddy White and Julio Jones and we don't even need to start talking about the other options in the passing game.
Here's
a photo
of the loudest decibel level recorded during the playoff win against Seattle. The Falcons are hoping the Georgia Dome crowd can be even louder during the NFC Championship Game.
The Falcons have announced they've promoted Marvin Allen to national scout. He has spent the past four years as the team's scout for the Eastern region.
CAROLINA PANTHERS
Charlotte City Council
voted in favor
of giving the Panthers $125 million to help renovate Bank of America Stadium. The facility, which opened in 1996, was built without any public funding.
Joseph Person reports that the Panthers
have interviewed
veteran special teams coach Bobby April. The team also is looking for an offensive coordinator and has
interviewed
Hue Jackson and Pat Shurmur.
Quarterback Cam Newton is
enrolled
at Auburn this semester and is working toward a degree in sociology.
NEW ORLEANS SAINTS
New Orleans is getting ready to host the Super Bowl and the fact that it's possible the Falcons could be coming to town has to bother Saints' fans. But Mike Triplett points out that tight end Tony Gonzalez is one Atlanta player
worth rooting for
. Gonzalez is the best tight end in history, a model citizen and it's possible the Super Bowl could be the final game of his spectacular career.
Speaking of the Super Bowl, here's
a picture
of the game tickets. It's not hard to spot a New Orleans theme.
TAMPA BAY BUCCANEERS
General manager Mark Dominik is
a finalist
for the USAA "Salute to Service'' award. In a city with a large military presence, Dominik initiated a community outreach program for active and retired military personnel.
January, 12, 2013
1/12/13
8:47
AM ET
Let's take a look at some odds and ends from around the division:
ATLANTA FALCONS
Atlanta linebacker Sean Weatherspoon said in this
radio interview
that he doesn't believe the team's recent playoff struggles bring added pressure. Instead, Weatherspoon said the Falcons will use what happened in past playoff games as motivation.
ESPN Stats & Information has four
statistical reasons
why Atlanta quarterback Matt Ryan is ready to get his first playoff victory.
Jeff Schultz writes that the Falcons need to
ride their offense
if they're going to win a playoff game. I couldn't agree more. The Falcons have a lot invested in their offense, and it's the strength of their team -- well, at least the passing game is the strength of this team. The Falcons have to come out throwing the ball against the Seahawks.
Winning brings attention, and Atlanta's 13-3 regular season did that. The Falcons'
television ratings
were up 13 percent over the previous season in the Atlanta market.
CAROLINA PANTHERS
The team
plans to interview
Cincinnati assistant Hue Jackson for the vacancy at offensive coordinator. I think there also will be some other outside candidates interviewing, and I think quarterbacks coach Mike Shula is going to get serious consideration.
NEW ORLEANS SAINTS
In this
Insider post
, Mel Kiper Jr. has a re-do of the 2007 NFL draft. The Saints used the No. 27 overall pick on receiver Robert Meachem and he never lived up to his potential. With the benefit of hindsight, Kiper gives the Saints running back Ahmad Bradshaw. I'm not sold on that, because it's pretty similar to drafting Mark Ingram in 2011. When you're a pass-happy team like the Saints, I don't think you need to use first-round picks on running backs. If the Saints had used a first-round pick on a defensive player in 2007, they might not have had as many problems as they did on that side of the ball this past season.
TAMPA BAY BUCCANEERS
Defensive backs coach Ron Cooper left the Tampa Bay Buccaneers for a
similar position
at the University of South Florida. This wasn't termed a firing, but I think it was something close to that. The Bucs almost set an NFL record for passing yards allowed in 2012. Someone had to take the fall for that, and it turned out to be Cooper.