NFC South:

IMG Football Academy
April, 27, 2012
4/27/12
11:24
AM ET
As I drove down to Bradenton, Fla., back in February to interview some draft prospects at IMG Football Academy, I thought a lot about Carolina's 2001 draft class. That's because I was about to see a member of that class --
Chris Weinke
, who now is IMG's director of football operations.
[+] Enlarge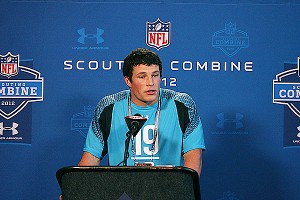 Brian Spurlock/US PresswireLuke Kuechly possesses many of the same on-field qualities as former Panthers LB Dan Morgan.
I also was about to meet Boston College linebacker
Luke Kuechly
, who was preparing for the scouting combine under Weinke's guidance. The Panthers used their first-round pick on Kuechly on Thursday night, but we'll get back to Kuechly in just a minute. Let's stick to the 2001 class for now.
As I drove, I thought about how that class might have been the best in franchise history (although the 2007 class that included
Jon Beason
,
Ryan Kalil
and
Charles Johnson
certainly is in the argument). But the 2001 draft is different in one regard. If not for a few twists of fate, it could have gone down as one of the greatest draft classes in NFL history.
Let's start with the Panthers' third-round choice of
Steve Smith
, a wide receiver who is still with the Panthers and is still going strong. He at least has a shot at the Pro Football Hall of Fame. Weinke was the fourth-round choice. He got thrown into a bad situation as a rookie starter and never was "the guy'' once John Fox took over the next year.
Safety
Jarrod Cooper
(a fifth-round choice) and running back
Dee Brown
(sixth round) also contributed as special-teams players and offensive lineman
Louis Williams
(seventh round) hung around for a bit, even though his claim to fame was his willingness to pick up a couple hundred bucks from teammates for practicing in shorts and a t-shirt on one of the coldest and snowiest days in Charlotte history.
Then, there was second-round choice
Kris Jenkins
. For a brief period, he was the best defensive tackle in the game. He was a major reason the Panthers went to the Super Bowl in the 2003 season. Jenkins' career got sidetracked by two major knee injuries and he grew unhappy in Charlotte. He later went to the
New York Jets
and, for a short time, looked like the best defensive tackle in the game again. Then, he got hit with more injuries.
Had Jenkins been able to stay healthy and happy, he might be in Hall of Fame discussions with Smith. Then, there's the star-crossed case of
Dan Morgan
, the linebacker Carolina took in the first round of that draft.
"The best football player I've ever played with,'' Jenkins told me last summer, soon after he announced his retirement.
People tend to forget how great Morgan was. That's because his career was overshadowed by injuries, mostly concussions. Morgan spent seven seasons with Carolina, but never was able to play in more than 13 games in a season. In his last two years, he played in only four games.
But, in the few moments he was healthy, Morgan might have been the best player in this class. Remember Super Bowl XXXVIII? Morgan officially was in on 18 tackles in that game, but Carolina coaches put the number at 25. When Morgan was healthy, he was spectacular. Without all the injuries, Morgan might still be playing and he easily could be ahead of Smith and Jenkins in that hypothetical Hall of Fame conversation.
Through the years, I've discussed Morgan many times with Carolina general manager Marty Hurney. Coach George Seifert had the general-manager powers in that draft, but Hurney was part of the Carolina brain trust and moved into his current role the next year. When Hurney talks about Morgan, you hear bittersweet tones. Like everyone else in Carolina's building that spent time around Morgan, Hurney talks glowingly about Morgan's talent and how he was a true pro's pro. Then, the injuries come up and that's when the tone becomes sad. Hurney saw Morgan as a player that could have been truly special.
That's why I have to wonder if Hurney was thinking about Morgan (and what he could have been) as he went through the draft process with Kuechly. I sure was. When Carolina's pick was announced, my first thought was "Hurney just drafted a healthy Dan Morgan."
Kuechly is like Morgan in so many ways – a sideline-to-sideline linebacker who lives for football. Like Morgan, Kuechly had a highly-productive career from a strong college program.
Kuechly is coming in young, fresh and healthy. If he can stay that way, he could end up being the player Morgan never quite was able to become. That would make Hurney and a lot of Carolina fans very happy.
Keep Kuechly on the field for a decade and he could become a Pro Bowl regular. Maybe even, someday, a Hall of Famer.
March, 20, 2012
3/20/12
6:18
PM ET
Offseason programs don't start until April this year. That's a change from years past when the programs started in March and a huge change from last year when the lockout prevented all offseason work.
Newton
But one significant NFC South player already is back to work. That's Carolina quarterback
Cam Newton
.
He recently spent some time working out under the guidance of
Chris Weinke
, the director of football operations at IMG Football Academy in Bradenton, Fla. Newton's recent visit was confirmed by an IMG spokesperson, who said the quarterback has said he will be back for more workouts with Weinke soon.
That's significant. Weinke, a former Carolina quarterback, worked out with Newton a large part of last offseason. Newton received a playbook when the lockout briefly was lifted and he and Weinke spent about two months going over it. Carolina officials have said there's no doubt Weinke played a significant role in Newton winning Offensive Rookie of the Year honors. In April, Newton can begin his first true offseason program with Carolina's coaching staff.
Newton also will be back in Bradenton in late June. His foundation will run the Cam Newton Skills Challenge at the IMG Madden 7-on-7 National Championships from June 29 through July 1. The event is open to high school teams and club teams. For information or to register, click
here
.
February, 23, 2012
2/23/12
12:00
PM ET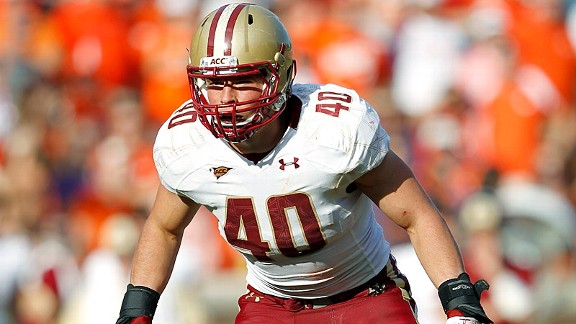 Joe Robbins/Getty ImagesLuke Kuechly has the opportunity, given a solid combine performance, to be a top-10 draft pick.
BRADENTON, Fla. — Look at any mock draft or any list of player rankings and you'll find Boston College's
Luke Kuechly
ranked near the top of the linebackers.
On Monday, he might be able to put himself alone at the very top of every team's linebacker list. When the linebackers work out for NFL scouts and coaches, Kuechly will be out to disprove the only two knocks against him.
Too small and too slow are the common criticisms of Kuechly. He was listed at 6-foot-3 and 237 pounds in college, but NFL types would like to see his weight north of 240. There's also a suspicion that Kuechly won't wow the audience with his time in the 40-yard dash.
But those scouts and coaches haven't seen Kuechly since the final game of his college career. They might be in for a surprise because there have been some major changes.
Kuechly, who could not play in any of the college all-star games because he left school after his junior season, has been working on bulking up and getting faster at IMG Football Academy.
"Let me tell you something, he's plenty big enough,'' said former NFL quarterback Chris Weinke, who directs IMG's football operations. "He plays with great instincts. What I've seen from Luke is a consistent approach every single day. This is a guy that's honed in on what he can do to get better. In terms of his physical skills since he's been here, he's bigger and stronger. He's faster. I can tell you this, there are going to be people excited at the combine when he runs. He's more fluid when he runs.''
Kuechly has been working with IMG director of speed and movement Loren Seagrave, a former speed coach for the
Atlanta Falcons
who also has worked with multiple Olympians. Kuechly's not about to predict his 40 time, but he said he has gotten faster in recent weeks.
"A lot of the stuff we do is called explosive movements,'' Kuechly said. "We talk about having our feet under our body. If your feet are outside your body, you can't move as well. You're going to slip and you're going to have your feet fall out from underneath you. What they teach us here is having your feet underneath you makes you take direct steps. That stuff translates into quickness.
[+] Enlarge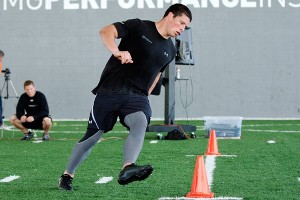 IMG Madden Football AcademyLuke Kuechly has been preparing for the NFL combine by working out at IMG Football Academy.
"The first week, it didn't make sense because it's something new and something I hadn't heard before, but as the weeks progressed, I was like 'Wow, this actually is working for me.'''
If Kuechly can show good speed and size at the combine, his stock could rise and that could put him on the radar of some NFC South teams. The
Tampa Bay Buccaneers
, who pick No. 5, and the
Carolina Panthers
, who will pick either No. 8 or No. 9 (depending on a Friday coin flip), have needs at linebacker. So do the Falcons and
New Orleans Saints
, who are without first-round picks at the moment.
Tampa Bay could use help at any of the linebacker positions, while Carolina should be set in the middle with the return of a healthy
Jon Beason
, but could be looking for an outside linebacker to pair with
James Anderson
. The Falcons could lose middle linebacker
Curtis Lofton
in free agency. The Saints need help on the outside, but also could be looking for a successor to middle linebacker
Jonathan Vilma
, who had knee problems last season.
Kuechly currently is projected by most draft gurus to go about midway through the first round. The Saints and Falcons are without first-round picks. It might be a stretch to project Kuechly as a top-10 pick right now, but a good workout at the combine could change that.
Kuechly played outside linebacker in his first college season before moving to the middle.
"Anywhere I can play is fine with me,'' Kuechly said.
While the size and the speed remain questions, at least until Monday, Kuechly's production has never been in doubt. In his three-year career, Kuechly finished with 532 tackles. Since the NCAA began counting tackles as an official statistic in 2000, only one player has had more tackles than Kuechly. That was Northwestern's
Tim McGarigle
, who had 534 tackles in a four-year career.
Boston College coach Frank Spaziani frequently called Kuechly "the Human Eraser'' for his tackling ability.
"Luke's going to show the physical skills they're looking for at the combine,'' Weinke said. "Add all that onto what he was able to accomplish in college. The guy made a bunch of tackles and it's not like people are running the ball 60 times a game in the ACC. They're throwing the ball and he's still making tackles. He's got the warrior mentality. Whoever gets him is getting a big-time player.''
February, 22, 2012
2/22/12
2:04
PM ET
We already went through a
primer on NFC South needs
as teams head to the scouting combine. Now, let's give you some material that might show which college prospects could fill those needs.
All of the following are Insider posts. Here's Mel Kiper's
latest Big Board
. Here are the
top five prospects at each position
and here is a list of Kiper's
most intriguing players
at the combine.
Also, I'll have a Thursday column on Boston College linebacker Luke Kuechly. I caught up with him at IMG Football Academy last week. All four NFC South teams could be in the market for a linebacker and a lot of people are saying Kuechly is the best linebacker in this draft.
February, 16, 2012
2/16/12
10:15
AM ET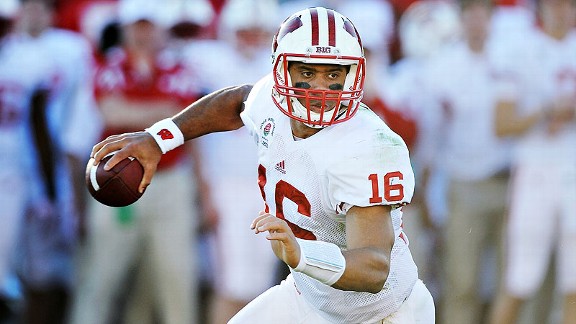 Harry How/Getty ImagesRussell Wilson had a fantastic season at Wisconsin, throwing 33 TD passes and just four picks.
BRADENTON, Fla. -- What you are about to hear is the answer that any NFL coach or front-office employee is going to get at next week's scouting combine when they ask Wisconsin quarterback
Russell Wilson
about his height.
"The height issue is not a factor," Wilson said. "There is no issue."
Wilson said those words from a golf cart Tuesday at IMG Madden Football Academy, where he's been prepping for the combine since January, except for a brief vacation to get married. There was no anger in Wilson's voice as he responded to a question he knows he'll hear frequently in Indianapolis. If anything, as he continued, his answer sounded more like a matter of fact.
"That's the way I look at it, to be honest with you," Wilson said. "I started over 50 games in college and did well. I played behind the fourth-biggest offensive line in the entire country and that's including the NFL. I think that's really important. The fact that those guys average 6-foot-5 and 325 pounds, shows I can play behind them and be very efficient and effective."
The more you listen to Wilson state the facts, look at the facts for yourself and talk to those around him, the more you want to believe the NFL should be able to look beyond the fact he's 5-11. He's won a lot of games at two different major colleges, completed better than 72 percent of his passes last season, has all sorts of physical skills and an intellect that jumps out at you as soon as he starts talking or the moment you start watching his film.
Still, the mocks and draft projections from just about every media outlet are saying Wilson probably will be a mid-round pick.
"If he was 6-5, he'd probably be the No. 1 pick in the draft," said former NFL quarterback Chris Weinke, who now runs the football program at IMG and worked with No. 1 overall pick
Cam Newton
last year. "Listen, Russell's a smart guy. He knows what the talking heads are saying. He doesn't let it bother him. He really doesn't. What I've seen from him is huge improvement just in small mechanical things.
"He's been told his whole life that because he's a little smaller, he's got to stand up to throw the football. Well, what he's learning now is he doesn't have to do that. He can drive the football with his legs and still keep an erect torso. Back when I was a kid, the coaches always said you had to stand tall in the pocket. That's not true or not correct because then you're not driving the football with your legs."
[+] Enlarge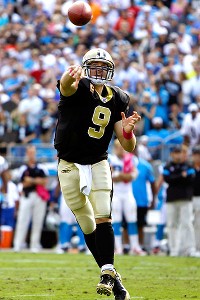 Bob Donnan/US PresswireAs a shorter quarterback who has succeeded in the NFL, Drew Brees has been something of a role model for Wilson.
Weinke's point sounds very valid. He says the game has changed and believes NFL people realize it. Weinke said two quarterbacks who have changed the game reside right here in the NFC South.
"Luckily for these guys under 6-feet,
Drew Brees
has had success," Weinke said. "The NFL is a copycat league and whoever has success, people are going to try to mirror that. Cam Newton had success as a big quarterback so that puts
Robert Griffin III
in a great position. Drew Brees has won a Super Bowl and has thrown for over 5,000 yards in a season. Guess what, Russell Wilson? That's good for you."
Wilson realizes Brees' success could make NFL people willing to overlook age-old stereotypes about height. That's why Wilson has kept a close eye on the New Orleans quarterback.
"I watch a lot of film on him," Wilson said. "I'm trying to get to his level, obviously. He's a great individual. I've read his book 'Coming Back Stronger' several times and I look up to him for the way he handles his business on the field, but, more importantly, off the field. Chris and I have talked a lot about Drew and how Drew is a tremendous competitor and relentless. That's the way I believe I am personally. We've also talked a lot about how Drew has great feet and how hard he's worked at that and that's one of the things I'm working on here."
It's kind of ironic that back in 2001, Weinke and Brees worked out together in an earlier version of IMG's combine training. Brees would end up going to San Diego in the second round and Weinke to Carolina in the fourth.
"Drew, not only was he a good athlete, he had great feet," Weinke said. "His feet have gotten even better over the years. He knew how to manipulate the discrepancies he had inside by moving his feet, finding holes to throw through and then throwing the ball over guys. I see Russell as that type of guy."
The physical comparisons are natural because Brees and Wilson are roughly the same size. But the argument that might convince NFL types that Wilson can be the second coming of Brees goes way beyond size. Chances are you know the basics on Brees -- great all-around athlete, intense competitor, mind like a computer and natural leadership skills.
The more you look at Wilson, the more you see signs he possesses those same traits. After a redshirt season at NC State, Wilson started in 2008 and was named to the All-ACC first-team. He followed that with two solid seasons while also starting a career as a minor league baseball player in the Colorado Rockies' system.
[+] Enlarge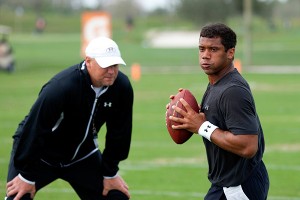 IMG Madden Football AcademyRussell Wilson has been working on his mechanics with IMG Football Academy director Chris Weinke.
But Wilson and coach Tom O'Brien clashed about how the quarterback's time was divided between baseball and football before his final year of eligibility. Wilson was released from his scholarship and was playing second base for Colorado's Class A team in Asheville, N.C., last summer when he made a unique decision. Using an NCAA rule that allowed him to transfer and play football immediately as a graduate student, Wilson gave up baseball and headed for Wisconsin.
"People ask me 'Would you ever go back to baseball?'" Wilson said. "People have to understand my focus is completely on football and has been since the moment I decided to go to Wisconsin. I took a huge, huge risk. I had to leave playing professional baseball and go to a new school and new situation with only a month to learn the entire playbook. I got there July 1 and my whole goal was to learn the entire playbook by July 21."
This is where Wilson pauses a bit and sounds like he's getting ready to confess something bad.
"A lot of people don't know this, but I went into Camp Randall [Stadium] on my own late at night almost every night last summer and got on the 50-yard line and went through all the footwork of each play," Wilson said. "I was basically installing the offense on my own each day and night for those three weeks. I might have broken curfew a few times. But that's what I wanted, just to be by myself on the field, so I could have the image and the vision of 90,000 people being in front of me and just understanding what I'm doing."
The imagery worked. Wilson had a magnificent season. He passed for 3,175 yards with 33 touchdowns (second in Big Ten history to Brees' 39 in 1998) and just four interceptions in a season in which Wisconsin won the inaugural Big Ten championship game.
"I have no regrets at all," Wilson said. "I think it's going to only help me in the NFL. I played in a West Coast offense at NC State and had to transfer to a great new team in Wisconsin and learn a whole new system, a vertical, play-action-style offense. I think the fact I learned it so quickly is a great thing for NFL teams to notice. But, also, it was a great learning tool for me."
Wilson's body of work is on four years' worth of film. He'll put his physical skills on display at the combine. He'll show his intellect and competitive spirit in the meetings with team officials.
Maybe, just maybe, they'll look at and listen to all of that and be convinced that Wilson is right. When you look at all he has to offer, height is not an issue.
February, 14, 2012
2/14/12
5:53
PM ET
BRADENTON, Fla. -- The NFL world doesn't yet know a lot about Tampa Bay coach Greg Schiano, so let's turn to someone who does.
Let's turn to Mohamed Sanu, who spent the past three seasons playing wide receiver for Schiano at Rutgers, for a scouting report.
[+] Enlarge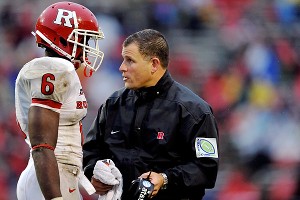 Paul Abell/US PRESSWIRE"He helped my career tremendously," Mohamed Sanu said of Greg Schiano. "He always got the best out of me every day."
"They're going to get a real resilient coach that never lets up on an opponent,'' Sanu said Tuesday. "He's just a tough coach. He's going to want the best out of you every single day in practice and out on the field on Sundays. He's very energetic. He'll get up in your face. He'll crack a joke here and there. But he'll get on you if he needs to.''
Sanu had 115 catches for 1,206 yards and seven touchdowns as a junior last season. After consulting with advisers about where he might land if he entered the 2012 NFL draft, Sanu decided to skip his final year of eligibility. Sanu wouldn't say exactly what the advisers told him, but most draft gurus and publications are projecting him to go in the first two rounds.
Sanu has been working out at IMG Football Academy since January and will go to the scouting combine in Indianapolis next week. Sanu, who made his decision to pass up his senior year before Schiano left Rutgers said it's ironic his college coach will be one of the NFL coaches watching him next week.
"He helped my career tremendously,'' Sanu said. "He always got the best out of me every day. We had a very tight relationship, so he didn't have to demand it out of me because he knew that I was going to give it all every day.''
Schiano knows plenty about Sanu, which leads to an obvious question: Could the coach and player be reunited in the NFL? Anything is possible. Sanu could be available when Tampa Bay picks early in the second round and it's not like the Bucs had stellar play at wide receiver last season.
"That would be awesome to be able to play for him again,'' Sanu said. "He's just a great coach and I just love being around him. But I can't really control that. I just want the opportunity to get the chance just to go prove myself and play the game I love. We'll see what happens.''
February, 14, 2012
2/14/12
4:48
PM ET
BRADENTON, Fla. -- The boot was off Tuesday and
Ryan Tannehill
's right arm looked just fine.
The Texas A&M product, who is considered one of the top quarterback prospects in the 2012 NFL draft, said the foot injury that forced him to miss the Senior Bowl is healing fast. Tannehill said he will head to Indianapolis for the scouting combine next week and will go through medical testing and meeting with teams, but will not participate in any of the on-field drills.
Tannehill said he'll save that for his pro-day workout in late March when he expects to be 100-percent healthy. Tannehill had been in a walking boot until recent days after having surgery to repair a fractured fifth metatarsal a little more than three weeks ago.
The surgery was performed in Charlotte by
Carolina Panthers
team physician Robert Anderson, one of the best-known foot specialists in the sports world.
"Dr. Anderson basically put a screw in there,'' Tannehill said. "It's locked down and I shouldn't have any problems going forward.''
Tannehill will stay out of the physical part of the combine, but he wasn't holding back on the field Tuesday at IMG Football Academy, where he's taking part in pre-combine training with about 30 other draft prospects.
After fellow quarterbacks
Russell Wilson
(Wisconsin) and
Kirk Cousins
(Michigan State) finished the on-field portion of their workday, Tannehill remained on the field for about 15 minutes getting one-on-one work with former Carolina quarterback Chris Weinke, who runs IMG's football operations. Tannehill said the fracture happened during a January workout at IMG, but Anderson told him it probably was the result of a pre-existing stress fracture.
Tannehill said he plans to come directly back to Bradenton after the combine and begin doing more intense on-field work with Weinke.
"We'll come back and push it pretty hard,'' Tannehill said. "I'm thinking I should be getting close to 100 percent by right after the combine and we'll really jump into the on-field stuff then to make up for the time I missed and get ready for pro day.''
Tannehill has been mentioned as a possible first-round pick by some draft experts. Last year, Carolina's
Cam Newton
and Minnesota's
Christian Ponder
came to IMG to work with Weinke and both ended up starting as rookies.
"I knew that Cam and Christian worked with coach Weinke and he helped elevate them,'' Tannehill said. "That's what you look for in a QB coach is someone who can take you to the next level. We lost a little time because of the foot, but we'll make up for it.''
(
Note:
I'll have much more from my visit to IMG, including features on some top prospects over the coming days.)
February, 14, 2012
2/14/12
11:01
AM ET
BRADENTON, Fla. -- I'm going to get a little preview of the scouting combine Tuesday. I'm down at IMG Football Academy, where I'll soon be heading out to the practice field to watch some of the draft prospects working out.
I'll be out of pocket for a bit because I'll be interviewing IMG Football Academy director Chris Weinke, the former quarterback for the
Carolina Panthers
, and some of the players for several stories over the coming days. While I'm out of pocket, keep an eye on the headlines section of our main NFL page for any news on the NFC South. Weinke obviously is doing some good things here -- he worked with Carolina's Cam Newton and Minnesota's Christian Ponder last winter and spring.
I'll check back in this afternoon, but right now I'm looking forward to seeing how these players are going about getting ready for the combine, an event where their performance could have a big impact on the rest of their lives. I was down here last summer when the rookie symposium and the
Tampa Bay Buccaneers
' minicamp were held here during the lockout and the facility is quite impressive.
In addition to the on-field work, the combine-preparation program also focuses on physical conditioning, speed and movement, nutrition, vision training and mental conditioning.
Here's a list at some of the draft prospects who have been taking part in the program along with their college and positions:
Kirk Cousins, Michigan State, QB
Luke Kuechly, Boston College, LB
Mohamed Sanu, Rutgers, WR
Ryan Tannehill, Texas A&M, QB
Russell Wilson, Wisconsin, QB
Peter Konz, Wisconsin, OL
Alexander Tounkara, Brown, WR
Alfred Morris, Florida Atlantic, RB
Bobby Wagner, Utah State, LB
Brandon Lindsey, Pittsburgh, LB
Bryce Brown, Kansas State, RB
Chris Manno, Hofstra, WR
Cordy Glenn, Georgia, OL
Corey White, Samford, DB
Derek Moye, Penn State, WR
Devin Aguilar, Washington, WR
Eric Page, Toledo, WR
Gerell Robinson, Arizona State, WR
Hugo Souza, New Hampshire, DB
Jeff Allen, Illinois, OT
Jerry Franklin, Arkansas, LB
Josh Kaddu, Oregon, LB
Josh Norman, Coastal Carolina, DB
Justin Bethel, Presbyterian, DB
Kendall Reyes, UConn, OL
Mark Asper, Oregon, OT
Matt McCants, UAB, OL
Markus Kuhn, NC State, DL
Ron Brooks, LSU, DB
Ryan Steed, Furman, DB
Stephen Hill, GA Tech, WR
Stephen Peyton, Brown, DB