NFC South:

Indianapolis Colts
October, 20, 2011
10/20/11
8:12
AM ET
Let's take our weekly look at which NFC South games will be televised in what markets.
The Sunday night game between the New Orleans Saints and Indianapolis Colts will be televised nationally on NBC.
But it's kind of interesting this week to look at
the map on the506.com
and see where the games between the Buccaneers and Bears, Falcons and Lions, and the Panthers and Redskins will air.
The Bucs and Bears are playing in London — the most exposure Tampa Bay will have had this season, other than its "Monday Night Football'' game with the Colts. For a change, the Bucs are playing a "home'' game that will not be blacked out locally.
Tampa Bay's game will be shown throughout all of Florida and through most of the Midwest. The game will also be picked up throughout New Mexico, Arizona and part of California. Curiously, the Philadelphia market will also get the Tampa Bay-Chicago game.
Atlanta also will be getting good exposure. Its game with the Lions will be shown through most of the South, the parts of the Midwest that aren't getting the Bucs and Bears, large chunks of Nevada and California and a portion of New England.
The game between the Panthers will air throughout the Carolinas, Virginia and Maryland. It also will be picked up in Arkansas, Oklahoma and Texas (I guess that's so Dallas fans can root against Washington). The entire state of Utah (Steve Smith and Jordan Gross are big deals there) also will be getting the Carolina game.
September, 13, 2011
9/13/11
1:00
PM ET
»
NFC Stock Watch
:
East
|
West
|
North
|
South
»
AFC
:
East
|
West
|
North
|
South
FALLING
1. The "hot'' coordinators in the NFC South.
New Orleans Saints
defensive coordinator Gregg Williams,
Atlanta Falcons
offensive coordinator Mike Mularkey and
Tampa Bay Buccaneers
offensive coordinator Greg Olson all got outcoached badly in their openers. These are guys whose names come up in conversations when you talk about potential head coaches. If they keep coaching this way, they'll stay as assistants.
2. Tampa Bay's pass rush
. The Bucs have known for a couple of years they needed to get better on the defensive line. That's why they drafted tackles
Gerald McCoy
and
Brian Price
in the first two rounds in 2010 and ends
Adrian Clayborn
and
Da'Quan Bowers
this year. It didn't make a bit of difference Sunday. The Bucs didn't record a sack and allowed
Matthew Stafford
to throw for 300 yards and three touchdowns.
3. New Orleans coach Sean Payton.
There was a time when there was no room to question Payton's play calling. But fans started doing it after his decision to run rookie
Mark Ingram
and take the ball out of
Drew Brees
' hands on the final play of Thursday night's loss to Green Bay. New Orleans fans are passionate and they've been spoiled by success the past couple of seasons. If the Saints get off to a slow start, they'll start questioning Payton's decision to move his family to Dallas.
RISING
[+] Enlarge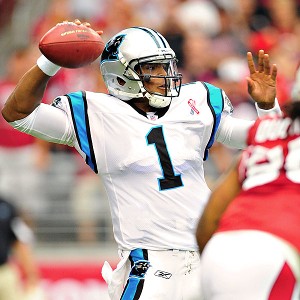 Mark J. Rebilas/US PresswireIt's safe to say that no one, except maybe the Newton family, expected Cam Newton to throw for over 400 yards in his NFL debut.
1. Carolina Panthers general manager Marty Hurney.
Who's making a huge mistake now? Not Hurney. Although fans and some members of the media said Hurney was asking for catastrophic results if he drafted
Cam Newton
with the No. 1 overall pick, that suddenly is looking like a very smart move. Yeah, Hurney also drafted
Jimmy Clausen
and
Armanti Edwards
. But if Newton's record-setting debut is any indication of the future, he's going to make things a lot brighter for Hurney and the entire organization.
2. The possibility of a Week 4 local television blackout in Tampa Bay.
That's the "Monday Night Football" game against the
Indianapolis Colts
. Once upon a time, it was thought the presence of
Peyton Manning
would guarantee a sellout at Raymond James Stadium. Now, Manning's hurt. Speaking of hurting, the Bucs' performance in the opener isn't going to help sell many tickets.
3. Atlanta owner Arthur Blank.
Could he have known about or prevented
Michael Vick
's downfall in Atlanta? It's possible. But that's the past and Vick and Blank made their peace long ago. That will make things a lot smoother Sunday night when Vick and the
Philadelphia Eagles
come to Atlanta. Blank kept in touch with Vick while he was in prison and told commissioner Roger Goodell he believed the quarterback deserved another shot in the NFL. The game between the Eagles and Falcons might bring back memories, but it's not a grudge match.
August, 25, 2011
8/25/11
11:14
AM ET
AFC South colleague Paul Kuharsky passed along a
great link
this morning. It's to a story that compares Atlanta quarterback
Matt Ryan
to Indianapolis'
Peyton Manning
over the first three years of their career.
Keep in mind, this is written by a Colts' fan and the motto of the website is "It isn't homerism if you're right.'' But, in this case, writer Nate Dunlevy isn't being a homer. He gives a fair and balanced breakdown of Ryan and Manning in their first three seasons and relies mostly on statistics.
The most amazing thing in there is that Ryan completed 357 of 571 pass attempts (62.5 percent) last season. Those were the exact same numbers that Manning had in his third season (2000). The big difference was in yards, where Manning had nearly 700 more. But Ryan led the Falcons to a 13-3 record, while the Colts were 10-6 in Manning's third season.
Overall, Ryan compares pretty well to Manning over their first three seasons. While throwing a lot less than Manning, Ryan had a much more consistent rookie season. But Manning was playing on a horrible team that went 3-13.
Manning clearly had the edge in Year 2, as he led the Colts to a 13-3 record and threw for 4,000 yards for the first time in his career. Ryan dipped a bit in his second season, but some of that can be traced to injuries.
The bottom line is that through three seasons, Ryan compares pretty favorably to Manning. He hasn't had the chance to throw nearly as much, so stats such as yards and touchdowns are skewed. But Ryan has a better three-year completion percentage and passer rating.
Most importantly, Ryan has a 33-13 record. Manning was 26-22 in his first three seasons.
I'm not saying Ryan's as good as Manning or ever will be. I'm just pointing to the stats Dunlevy sorted out and observing that Ryan's off to a pretty good start compared to perhaps the best quarterback ever.
As we look ahead to Ryan's fourth season, it's worth taking a looking at what Manning did in his fourth season. In 2001, Manning completed 343 of 547 passes (62.7 percent) for 4,131 yards with 26 touchdowns, 23 interceptions and a 94.7 passer rating. The Colts went 6-10 that season.
I don't anticipate the Falcons going 6-10. I'm thinking that after Ryan's fourth season, he still will compare pretty favorably to Manning.
January, 31, 2010
1/31/10
1:00
PM ET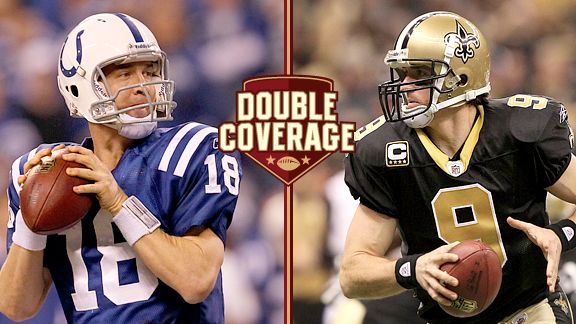 Getty ImagesPeyton Manning and Drew Brees lead two of the most powerful passing attacks into Super Bowl XLIV.
The Colts and Saints arrive in Miami on Monday, when the hype for Super Bowl XLIV will kick into high gear.
Eager to do our part, we locked NFC South blogger Pat Yasinskas, who analyzes the Saints for ESPN.com, and AFC South blogger Paul Kuharsky, who tracks the Colts, in a room and asked them to talk through several of the top issues.
We're sure to revisit many of them in the week to come, so consider this a tasty platter or appetizers. Tuck a napkin in your collar and dive in.
How much of a factor is it that the Colts have a recent Super Bowl championship on their resume, while this is the first Super Bowl appearance in a not-so-glorious franchise history for the Saints?
Pat Yasinskas:
I'm not going to even try to bluff my way through this one or downplay this aspect. This is a huge factor and the Saints are clearly at a disadvantage here. By my count, they've only got four players who have even appeared in a Super Bowl (with other teams, of course). That's safety
Darren Sharper
, cornerback
Randall Gay
, fullback
Kyle Eckel
and long-snapper
Jason Kyle
. Gay is the only one of those guys with a Super Bowl ring.
If you really want to pad the list, I suppose we could throw in tight ends
Jeremy Shockey
and
David Thomas
, who were on the injured-reserve list when their teams went to Super Bowls, and fullback
Heath Evans
, who went to a Super Bowl with New England. But Evans won't play in this one because he's on injured reserve. That's it. Not a long list of guys who have been there and done that.
The Saints haven't been here before, but they have to act as if they have. They've got strong veteran leadership in players such as Sharper,
Drew Brees
and
Jonathan Vilma
. They'll have to follow their lead. Just as important, the coaching staff has to set the tone that the Saints shouldn't stroll into Miami with their eyes wide open. They need all eyes focused only on winning the game.
Paul Kuharsky:
I'm not expecting the Saints to be overwhelmed or unfocused by the hype or events of Super Bowl week. They were smart to get their game plan drawn up and installed during the week after winning their conference, same as the Colts did.
It's Super Bowl Sunday itself that can prove to be the big difference. It's great to have people tell you about the unnatural start time, the long delay between warm-ups and pregame festivities and the extended halftime to make room for The Who. It's another thing to go through it yourself. Edge: Colts. Not only have they done it, they've done it in this very venue.
I also think the adrenaline that shoots through guys when kickoff finally arrives can make it hard for them to settle down. Indianapolis will be better prepared for that, and if the Colts settle down more quickly than the Saints, New Orleans has to hope by the time its feet hit the ground it's not facing a two-score deficit.
Understandably, the first thing people talk about with these two teams is the passing game. But both the Colts and the Saints can run the ball a little bit. Which team has the better running game?
[+] Enlarge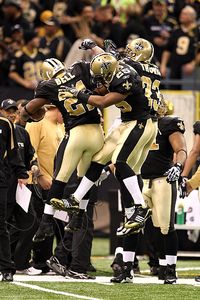 Scott Cunningham/Getty Images Mike Bell, left, Reggie Bush and Pierre Thomas are part of a running game that balanced New Orleans' offense.
PY:
I'm going with the Saints. People tend to overlook their running game, but it's a big reason why they're in the Super Bowl. One of the best things Sean Payton did in the offseason was realize his running game was inconsistent and just plain bad last year. He made a conscious commitment to make the running game better this year and the most impressive thing might be that he and general manager Mickey Loomis were able to avoid the temptation to go out and sign
Edgerrin James
or draft
Beanie Wells
.
They realized they already had some good backs in the building with
Pierre Thomas
,
Reggie Bush
and
Mike Bell
and they added
Lynell Hamilton
for a bit of depth. They had a good offensive line already in place, and Payton altered his play calling to have a more balanced offense that allowed the Saints to protect leads and run out the clock.
New Orleans doesn't have one dominant back. Thomas can do a bit of everything, Bush provides speed and a receiver out of the backfield and Bell and Hamilton give the Saints some power. This makes for a very solid combination.
PK:
I like the Saints' running game better as well, but as we've discussed thoroughly in the AFC South blog this season, the Colts aren't looking for conventional production in this department. They need their runners to pick up blitzes, put together some efficient runs, work well in play-action, and not put the team in bad spots with runs for losses. The home run plays are far more likely to come out of the passing game.
It's important to note that the Colts, the NFL's lowest-rated running team in the regular season, just out-rushed the Jets, the league's top ground game, in the AFC title game. Indy has survived a lot of quality running backs too, including the Titans' explosive 2,000-yard runner
Chris Johnson
. While he torched the rest of the league, averaging 5.8 yards a carry, he managed 4.1 and 147 total rushing yards against the Colts in two Tennessee losses.
The Colts may give up some yards, but overall they are more than capable of containing Thomas, Bush, Bell and Hamilton well enough to win.
The quarterbacks are obviously the marquee names in this game and they will be dissected all week.
PK:
I have a great deal of appreciation for Drew Brees, but even if he wins this game, we're not going to be calling him
Peyton Manning
's equal. Both quarterbacks are excellent leaders. Both are supremely accurate. Both have a quality stable of weapons.
But things begin to stray from there. Manning has four MVPs, including this season's, and he won it over Brees, who finished second. Manning has a lot more big-game experience and a title on his resume. And while he wasn't always at his best on the playoff stage, he's playing at a level right now where a lot of people feel, reasonably it seems, that he may just be unstoppable.
In the AFC Championship Game, against the Jets and the NFL's top-rated defense, he needed some time to figure out what New York was trying to do. Once he did, he shredded the Jets with 377 yards and three touchdowns. His in-game adjustments, with help from coordinator Tom Moore, are unparalleled. And like a lot of defensive coaches before him, Gregg Williams
is talking about
sending people at Manning and hitting him. These days, it very rarely works out the way against Manning and the Colts, as it did against
Brett Favre
and the Vikings.
PY:
Paul, let me start by saying I respect the heck out of Manning and all he has achieved. He is a first-ballot Hall of Famer and, quite possibly, the best quarterback ever. And I'll gladly agree that he probably is playing at his highest level ever right now.
That said, why can't we call Brees his equal if the Saints win this game? Seriously, I believe the only thing really separating Brees and Manning right now is a Super Bowl ring. Look at Brees' numbers the past few years. He's right there with Manning. I honestly remember watching him in training camp last year and thinking, "This guy is the closest thing to Peyton Manning I've ever seen'' and Brees has only continued to improve since then. He has carried a franchise on his shoulders and that franchise is the
New Orleans Saints
-- enough said about that.
As for the MVPs, that's a wonderful thing. But I think some of that is overrated and the Manning name carries a lot of weight in elections. I'm not trying to tear down Manning at all. But I think you have to at least let Brees in the same sentence if he can win this game. I'll offer a compromise here. If the Saints win this game, can we at least say the two best quarterbacks in the league are from teams in the South?
PK:
Well, beyond four MVPs to none, if the Colts win Manning will be up two Super Bowls to none, and while he's only three NFL seasons ahead of Brees he has led his team to the postseason 10 times to Brees' three. Lots of cushion there in my eyes. But I'll go with you on the South divisions ranking one and two if Brees gets his hands on that Lombardi Trophy.
We talked quarterbacks, of course we have to talk pass rushes. How much will the guys chasing Manning and Brees influence this game?
PK:
For a long time the Colts' defense was at its best when the offense got a lead and made the opponent one-dimensional. That did a lot to get the run game out of the mix against a defense keyed around speed, not size, and put
Dwight Freeney
and
Robert Mathis
in those maximal pass-rushing situations.
It doesn't have to be that way now. This version of the Colts is still fast, but the defense is a bit bigger with
Antonio Johnson
and
Daniel Muir
manning the middle of the line. It has a second big-hitting linebacker in
Clint Session
to go with
Gary Brackett
and boasts defensive backs who can come up and hit as well as run and cover.
Jon Stinchcomb
(against Mathis) and
Jermon Bushrod
(against Freeney) will be dealing with some serious speed. If
Freeney's ankle injury
holds him out or limits him, that will hurt. Raheem Brock is a quality third end, but he won't necessarily prompt the Saints to help Bushrod with a tight end or back, so the vaunted Saints passing attack may not have to sacrifice a weapon in protection. If the Colts bring a fifth rusher to help, as they have much more often in Larry Coyer's
first season
as their defensive coordinator, the timing up front can get all out of whack no matter who's at end.
If either defense can prompt some happy feet, it could be an edge.
PY:
Absolutely. The pass rush is going to be a deciding factor in this game for both teams. No doubt Indianapolis has a great pass rush and that's a challenge for the entire New Orleans offense, particularly Bushrod. He is a backup who has been forced to play all season because of an injury to
Jammal Brown
.
Bushrod has his limitations. But he has held up all right against players such as
Julius Peppers
and
John Abraham
.
DeMarcus Ware
has been the only guy to really tear him apart. Admittedly, a lot of that has to do with the rest of this offense more than it does with Bushrod's skills. The Saints account for him on every play and they've been able to cover him because the rest of their offensive line is so good. They've given him help from tight ends, fullbacks and running backs and the offense is designed so that Brees rarely takes deep drops and he gets rid of the ball very quickly. Plus, it's tough to fluster Brees.
Sure, it's tough to fluster Manning too, but that's not going to stop the Saints from trying, and their pass rush is better than a lot of people think. Defensive end
Will Smith
is one of the most underrated players in this game and Bobby McCray's a pretty good pass-rusher too. With
Sedrick Ellis
and
Anthony Hargrove
, the Saints are capable of getting a push in the middle and Gregg Williams is not afraid to bring the blitz -- although I don't see him doing it a lot in this game. The Saints beat up Favre and
Kurt Warner
in their two playoff games. I know Manning is seen as sacred by a lot of people, but I don't think Williams and the New Orleans defense view him that way.
PK:
However it unfolds, I root for a classic. We should have good seats, I want the good storylines too.
PY:
I'm with you my friend. Nothing better than the Super Bowl -- good football, good weather and good entertainment. Remember how great Bruce Springsteen's show was at halftime last year? Oh, that's right, you didn't make it. Hope The Who helps make up for that.
PK:
Could be another tricky day for you and the team you're following. But it'll be fun to join together to see how it unfolds.
December, 14, 2009
12/14/09
9:07
AM ET
The Saints (and Colts) remain unbeaten after Week 14 of the season. Here is a look, courtesy of ESPN Stats & Information, at how other 13-0 teams fared the rest of the way.


December, 3, 2009
12/03/09
12:44
PM ET
ESPN Stats & Information just passed along some numbers that compare the undefeated Saints to the undefeated Colts.

Maybe we're talking about a Super Bowl preview but the early line is that the Saints are better on offense and the Colts are better on defense.

New Orleans is averaging 37 points a game. Indianapolis is averaging 27.6. The Colts are allowing 16.7 points a game and the Saints are giving up 20.1 points a game.

By the way, the Saints' remaining opponents have a combined .400 winning percentage. The Colts' opponents have a .491 average.
September, 18, 2009
9/18/09
1:00
PM ET
| | |
| --- | --- |
| | |
| | Kevin C. Cox/Getty Images |
| | Despite the team's youthful makeover on defense, the Falcons brought in 33-year-old linebacker Mike Peterson to usher along the process of reshaping the unit. |

Posted by ESPN.com's Pat Yasinskas
Listen to
Mike Peterson
talk for about 30 seconds and you'll hear why he's fitting in so nicely -- and quickly -- with the
Atlanta Falcons
.
"It's a process," Peterson said.
Ah, the old "process" line. If you've followed Mike Smith since he took over as coach of the Falcons last year, you've heard the word at least several hundred times. Around Atlanta, there are smiles and shrugs from fans, media and even some players whenever Smith drops "process" into a sentence.
It sounds nice and you can't really question that Smith is onto something with what he's done with the Falcons, but what does this vague term he seems to live by really mean?
Ask Peterson, because he speaks the language better than anyone else. He actually understands and totally believes in what Smith is saying. He bought into the process long before the rest of the Falcons first heard of it. He bought into it early in the process.
From the day Peterson first met Smith, he's lived the process. They came together back in 2003 in Jacksonville, where Peterson had just joined the Jaguars as a linebacker from the
Indianapolis Colts
and Smith was the new defensive coordinator for new coach Jack Del Rio.
"He's been talking about 'the process' ever since I met him," Peterson said. "It's simple, really. It just means he's never satisfied. He's always trying to build something more."
March, 20, 2009
3/20/09
11:22
PM ET
Posted by ESPN.com staff
Panthers linebacker Adam Seward, whom many thought would be heading to New England at the beginning of free agency, signed with the Indianapolis Colts Friday, a source told ESPN.com's John Clayton.
Terms of the deal weren't immediately available. As a restricted free agent a year ago, Seward signed an offer sheet with the Patriots. The Panthers matched the offer and kept him for the season.
Seward, 26, spent four seasons in a backup role for the Panthers. He played in 40 games and had two starts. The Colts were down a couple of starting linebackers from last year. The addition of Seward started to replenish the team's linebacker depth.
January, 12, 2009
1/12/09
4:43
PM ET
Posted by ESPN.com's Pat Yasinskas
TAMPA, Fla. -- Forget for a second the Super Bowl victory and all the great players he coached. If you want to know what truly set Tony Dungy apart from other football coaches -- really, apart from a lot of human beings -- there is a story you need to read.
| | |
| --- | --- |
| | |
| | Greg Crisp/Getty Images |
| | Tony Dungy was more than just a football coach with the Tampa Bay Buccaneers. |
It sums up Dungy, who is retiring from the Indianapolis Colts and the National Football League today, as a person and a coach. It's the story of a man with a vision and the courage to stick to it quietly, no matter how much the world outside was banging on the windows.
The year was 1997. The Tampa Bay Buccaneers, in Dungy's second year as head coach, were showing some signs the lowly franchise might be ready to escape the so-called Curse of Doug Williams. With a young cast that featured Derrick Brooks, Warren Sapp, John Lynch, Warrick Dunn, Mike Alstott and Trent Dilfer, the Bucs got hopes up with a 5-0 start.
Then, it all seemed as if the season was about to fall apart because of one man. Well, make that two men because Dungy could see the problem as clear as the rest of Tampa Bay. But that stubborn streak that would become a part of his legacy was keeping him from, outwardly, doing anything about it.
The Bucs had a talented young kicker named Michael Husted who all of sudden started missing kicks. Not only was Husted missing field goals, but even extra-point attempts were flying badly off target.
The fans and the media were up in arms. It seemed Husted had to go or else the whole season would spin out of control. It was obvious to everyone, it seemed, except Dungy.
Week after week, he stood there with his arms folded on the sidelines, never showing the slightest emotion when Husted missed a kick. The Bucs lost three games in a row.
Any other coach would have simply brought in another kicker. But Dungy had laid out a philosophy that would end up applying to every player he ever coached and he had to stick to it. He knew something the rest of the world didn't.
While media and fans were breaking down Husted's kicking technique, Dungy knew what was in the kicker's head and heart.
The real story here was Husted's mother, Ann, was dying of cancer up in Virginia.
| | |
| --- | --- |
| | |
| | NFL.com Video |
| | Take a look back at the coaching career of Tony Dungy. |
"I always prided myself on being a pro and being able to separate off-the-field stuff from what I did on the field,'' Husted said Monday morning from his home in San Diego. "But it got to the point where my mom's situation was taking up all of my thoughts."
On the Monday after the third straight loss (to Minnesota), special-teams coach Joe Marciano sat down with Husted and said, "What would you do if you were in our shoes?'' Husted pretty much shrugged and braced himself for the inevitable.
The next morning, Dungy called and Husted was sure he was being cut. Dungy's words said something else.
"He just said, 'You're a Buccaneer. You're part of our family. You're our kicker,''' Husted said.
Mission accomplished. The next Sunday, the Bucs went up to Indianapolis. Husted made a game-winning field goal that broke his slump. The season was saved and the Bucs went on to make the playoffs for the first time in a generation. Ann Husted died after the season, but not before she came to several games and sat with Dungy's wife, Lauren, in a private box.
"What he did was relieve the pressure from me,'' Husted said. "A lot of other coaches would have just let me go. I'm forever grateful to Tony for how he handled that. It speaks a lot about the type of individual he is and how he's not going to let outside forces influence what he knows is right.''
Throughout his career, Dungy has been criticized for being too stubborn or too soft. But, deep down, wouldn't you rather have someone who cares about you and not someone who flies off the handle and listens to the whims of the world?
That should be as much a part of Dungy's legacy as all the games he won and as much as becoming the first African-American head coach to win a Super Bowl. Yes, he did things differently at times, but, in the end, you can't argue with the results.
The Super Bowl win still is fresh in the minds of many. But what Dungy did in Tampa Bay might have been even more remarkable. He took over a franchise that was in disarray, replacing Sam Wyche as the coach soon after owner Hugh Culverhouse had died and Malcolm Glazer purchased the team. In those days, the Bucs played in dreary Tampa Stadium and there was speculation about them moving anywhere from Los Angeles to Baltimore.
In 1996, a very quiet man took over a mess.
"The thing is Tony just brought this silent, commanding respect,'' Husted said. "We never felt like there was a clear road map. He came in and established what we wanted to do and how to go about it. People bought into it in the locker room and we started winning.''
The Bucs got their new stadium in 1998 and consistent winning followed. Dungy couldn't quite get the Bucs over the Super Bowl hump. Jon Gruden came in and did that. But Dungy's contributions in Tampa Bay are going to be evident for a long time. The franchise has been respectable since his arrival, and the stadium has been full for years.
Respect might be the most fitting single word to sum up Dungy's career and that's fitting. Through it all, he always earned respect.
"I think the biggest thing was you never wanted to disappoint coach Dungy because of how he treated you,'' Husted said. "I think any player who ever played for him will tell you it was an honor to play for him. The league is going to miss him and I wish you could clone him and make every coach like that because it would benefit the whole league. But you know that whatever he does going forward, he's going to keep doing it the right way and he's going to positively impact a lot of people.''
October, 6, 2008
10/06/08
11:24
AM ET
Posted by ESPN.com's Kevin Seifert
EDEN PRAIRIE, Minn. -- Assigning blame and credit in pass coverage is a tricky business in the NFL. The closest defender isn't always responsible, and sometimes a smart adjustment by one player makes another look good.
| | |
| --- | --- |
| | |
| | David Stluka/Getty Images |
| | Cedric Griffin expects to be tested by Drew Brees and the Saints Monday night. |
In that context, we can't specify how many completions Minnesota cornerback Cedric Griffin has given up this season. What we can tell you is that opponents are targeting him frequently -- enough to make him the Vikings' fourth-leading tackler, an ominous statistic for an NFL cornerback. Griffin doesn't have an interception this season, has batted away only one pass and faces a stiff challenge Monday night against New Orleans' top-rated passing offense.
Speaking last week in the Vikings' locker room, Griffin acknowledged he is being picked on this season but attributed it to a pair of extenuating factors:
The presence of veteran Antoine Winfield on the other side of the Vikings' defense. Teams naturally prefer to throw away from Winfield, Griffin said.
His status as the right cornerback. According to Griffin: "Most teams are right-handed, and the ride side is usually the single-receiver side ... where they run their outs and curls. I love playing right corner because I get a lot of action."
Griffin, of course, has seen a lot of action in part because he hasn't stopped receivers from catching medium-range passes in front of him. Vikings coaches note Griffin has given up only one long pass play, a 58-yard completion to Indianapolis receiver Anthony Gonzalez, and they don't appear unhappy with his performance.
Here's how defensive coordinator Leslie Frazier assessed Griffin's play thus far:
"Some people have caught some passes underneath, some outs and some curls, and with the exception with that one play with [Anthony] Gonzalez, he's done a good job of not allowing big plays over the top of him. That's what we ask him to do in our scheme. As long as he does that and tackles well ... then he'll be fine. There are things that people try to do because Antoine [Winfield] is such a good player on the left side. He's holding his own. You just have to do a good job of tackling and not giving up big plays over the top and we'll be fine."
From our vantage point, a collection of 7-yard receptions can hurt a defense just as much as one long pass. Griffin is a physical player, but it only takes one missed tackle to turn a short pass into a big play. It seems fair to expect opponents to continue targeting him unless he tightens up his coverage enough to make an interception or at least break up passes more consistently.
Griffin doesn't disagree, but said the worst thing he can do is start pressing for an interception.
"You can't be too aggressive out there," Griffin said. "You have to patient, you have to relax and you have to have a lot of confidence. When my time comes ... to get some picks, it's going to come."
Monday night would be a good time for the Vikings.