June, 5, 2013
6/05/13
2:45
PM ET
METAIRIE, La. -- Very quietly, and it's hard to imagine he'd want it any other way,
Marques Colston
turned 30 on Wednesday.
Colston
Not even receivers coach Henry Ellard was aware his best receiver was celebrating a significant birthday.
"Really?" Ellard asked when a reporter informed him it was Colston's birthday. "OK, well, all the young guys will have to sing 'Happy Birthday' to him in the meeting room.''
None of that is surprising. In a sport where there is a long history of wide receivers with diva personalities, Colston is the anti-diva. He's quiet and shies away from attention.
"He's truly special,'' Ellard said. "I can't really put it into words. The things he does are special. He doesn't care for the hoopla. He just comes to work and aims to please, and you couldn't ask for a better guy than that.
"I was blessed to have a Torry Holt (when Ellard coached for the
St. Louis Rams
) and Isaac Bruce was the same way. They were very quiet, went about their business and took a lot of pride in what they did, and Marques is the same way.''
But a 30th birthday isn't always a great day for a wide receiver. Many people say receivers tend to start slowing down once they hit their 30s.
Ellard doesn't see any signs that Colston is ready to slow down.
"No, not at all,'' Ellard said. "He takes great care of himself. He's lasted a long time, and he's going to last a lot more time. The weight program we have going on this year I think is going to make him a little more stronger, and more durable, and I think that's really going to pay off.''
Plus, there is tangible evidence that Colston isn't anywhere near the end of his career. He caught 83 passes for 1,154 yards and 10 touchdowns last season. That yardage total was the best Colston has produced since 2008.
July, 27, 2012
7/27/12
8:19
PM ET
METAIRIE, La. -- I just finished a
news story
for our main NFL page on this, but it's well worth sharing here.
Suspended
New Orleans Saints
coach Sean Payton still is watching the team. Well, not really. A huge photo of Payton was put up in the team's indoor practice facility. It's on a sideline wall at right about midfield and it shows Payton with a glare on his face. At the bottom of the photo are the words, "Do your job."
"That was Dallas Clark's third-quarter catch in the Super Bowl and [Payton was] looking at me,'' assistant head coach Joe Vitt said with a chuckle when asked to describe Payton's look. "Every player on our team has gotten that look.''
Vitt said putting the Payton photo up was the idea of team owner Tom Benson. Vitt said numerous players said to him that they had the same reaction -- that Payton was watching them. Although Payton is not allowed to have any contact with anyone employed by the Saints during his suspension, his presence still is felt beyond the photo. The team's media guide features Payton's photo and biography near the front and he's still listed as head coach on the official training camp roster.
The "Do your job'' message is the same one Vitt said Payton gave him as he left to begin his suspension. Apparently, the photo is a way of reminding all the players and coaches to do their jobs.
I'll have much more on Saints' camp on Monday when we run our Camp Confidential profile on the team, but I'll share a couple of quick notes from Friday's practice here.
Longtime NFL receiver Isaac Bruce, a close friend of Vitt's, visited with the team for the second straight day. Vitt called Bruce one of the best players and people he ever has coached.
The Saints practiced indoors, due to weather, for the second straight day. Vitt said he's hopeful the team can get outside in front of its fans on Saturday.
Tight end David Thomas sat out practice with a lower-back strain. Vitt said Thomas is expected to return to practice soon.
Running back Mark Ingram did not take part in team drills. Vitt said that was by design and the team is proceeding cautiously with Ingram as he comes back from knee and foot issues.
Backup tight end Michael Higgins had several nice catches and drew praise from Vitt after practice.
April, 12, 2012
4/12/12
6:02
PM ET
On the surface, Joe Vitt's tenure as an interim head coach in St. Louis doesn't look very pretty.
But dig beneath the surface a little bit and you'll find a different story. I spoke with several people who observed Vitt's time as the Rams' head coach in 2005, and they said he did a nice job of weathering the storm.
Vitt will be taking over as the interim head coach of the
New Orleans Saints
on Monday when Sean Payton begins his season-long suspension. Vitt, who has been Payton's assistant head coach since 2006, will run the team through the offseason program, training camp and the regular season. But Vitt will have to step away at the start of the regular season and serve a six-game suspension for his role in the Saints' bounty program. After that, Vitt will return as head coach.
[+] Enlarge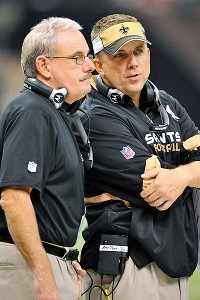 Kirby Lee/Image of Sport/US PresswireJoe Vitt, left, who will lead the Saints while head coach Sean Payton serves a suspension, dealt with similar circumstances while with the Rams in 2005.
General manager Mickey Loomis will serve an eight-game suspension to start the season. The Saints also could have players suspended.
There are turbulent times ahead for the Saints, but Vitt has experience in handling situations like this.
Back in 2005, he was the assistant head coach and linebackers coach in St. Louis. The Rams already were ending "The Greatest Show on Turf'' era. With Mike Martz as the head coach, the Rams got off to a 2-3 start and there was a well-publicized feud brewing between Martz and the front office. Martz came down with a bacterial infection in his heart after five games, and Vitt was elevated to interim head coach.
By that point, injuries already were piling up. With quarterback
Marc Bulger
injured, the Rams had to go through a lot of that season with Jamie Martin and
Ryan Fitzpatrick
at quarterback. Wide receiver Isaac Bruce was dealing with injuries and near the end of his career, and nothing was easy. The Rams went 4-7 under Vitt, but several people that were associated with the team or observed the Rams closely in those days said Vitt made the most out of a difficult situation.
They said Vitt kept his players playing hard. He's known as a motivator in New Orleans, and it was the same way in St. Louis. Vitt used to show the Rams a movie the night before a game, and it always was tied to a motivational message. One movie was "Gladiator,'' which emphasized the importance of sticking together. Under Vitt, the Rams started off 3-3, highlighted by Fitzpatrick coming off the bench to rally them to a 33-27 victory against Houston.
After that, the Rams endured a four-game losing streak, but most of those games were close. The last two were a one-point loss to Philadelphia and a four-point loss to San Francisco. Vitt wrapped up his tenure with a season-ending victory against Dallas, a team that included Payton on its staff. After that, Payton got hired by the Saints, and one of the first moves he made was hiring Vitt.
On Monday, Payton will hand over his team to Vitt. It's not an ideal situation by any means. But Vitt has made the most out of a tough situation before, and the Saints are counting on him to do it again.
August, 8, 2011
8/08/11
10:41
AM ET
Roddy White
made headlines this offseason when he said Atlanta's offense has a chance to become the second coming of the "Greatest Show on Turf."
For the younger members of our audience, that's a reference to the St. Louis offense back when the Rams had
Kurt Warner
,
Marshall Faulk
,
Isaac Bruce
and a whole bunch of other guys who could score points in a hurry.

White
White is a wide receiver and fits the profile perfectly. He's a guy who likes to talk big and talk a lot. When I sat down with him in the Falcons' cafeteria in Flowery Branch, Ga., last week, all I had to do was hit the "record'' button on my tape recorder and let White run the deep routes.
He didn't back off the "Greatest Show on Turf" talk at all. In fact, he took it and ran with it.
"This offense can be great,'' White said. "We're loaded. We are loaded. We already were pretty good and we added the guys we needed to add.''
White had huge praise for rookie receiver
Julio Jones
, who is expected to be the other starter.
"He can get down the field and really help us with explosive plays," White said. "There's nothing wrong with going out there for two or three plays and getting a touchdown. I think a lot of our drives this year are going to end that way.''
White also had high praise for quarterback
Matt Ryan
, tight end
Tony Gonzalez
and running back
Michael Turner
.
"Matt's continued to improve each year,'' White said. "Tony's obviously very consistent. Mike is Mike. He can run the ball. We know we're going to get 1,300 or 1,400 rushing yards and double-digit TDs from him. That's just what's expected from him and he's done that. And I can tell you he's not going to be facing a lot of eight-man boxes this year.''
White said that's because the Atlanta offense will be different this year. Virtually everyone in the organization has hinted at that in one way or another. But White, as you might expect, had a little more to say on that than anyone else. He stopped just short of pulling out the playbook and sharing whatever new wrinkles are in it.
"I can tell you this, you're going to see a lot more downfield throws,'' White said. "We're going to try to stretch the field as much as possible. We're going to try to get big chunks of yardage. We're going to get some explosive plays and make this thing a whole lot easier.
"From the first day of training camp, I think Matt's thrown more deep balls than he ever has. We're working on it. That's nothing but a good thing.''