NFC South:

Jamaal Charles
December, 2, 2012
12/02/12
3:59
PM ET
Thoughts on the
Carolina Panthers
'
27-21 loss
to the
Kansas City Chiefs
on Sunday:
What it means:
The Panthers fall to 3-9, and this one isn't going to help coach Ron Rivera's job security. Carolina lost to a team that had won only one game this season. That ended an opportunity for Rivera to put together back-to-back wins for the first time since Weeks 15 and 16 of last year. Rivera said it's been made clear to him by owner Jerry Richardson that he needs to finish the season on an upswing to have a chance to keep his job. But Carolina flubbed a chance to get on a bit of a roll. Barring some dramatic turnaround to finish the season, it seems likely the Panthers will be looking for a new coach after the season.


No defense:
The Panthers came in knowing they were facing a good running back in
Jamaal Charles
. But they weren't able to slow Charles down at all. More importantly, the Panthers made quarterback
Brady Quinn
, who entered the game without a touchdown pass this season, look like a Pro Bowler. Carolina's defense simply couldn't get Kansas City's offense off the field. The Chiefs dominated in time of possession, largely due to lengthy touchdown drives in the second and third quarters. The Chiefs ended up holding the ball for 37:13.
All for nothing:
Quarterback
Cam Newton
threw three touchdown passes and ran for 78 yards and didn't make any major mistakes. Newton and the offense probably could have scored a lot more points if the defense had been able to give them more time with the ball.
Worst drop of the season:
Newton easily could have had a fourth touchdown pass. A wide-open
Brandon LaFell
dropped a sure touchdown pass in the third quarter.
Amazing stat of the day:
The Panthers now have lost all 13 coin tosses (12 at the start of games and once for overtime) this season. Carolina even tried a new approach on this one, asking fans to vote on whether to call heads or tails on Facebook. It didn't make any difference.
What's next:
The Panthers host the
Atlanta Falcons
next Sunday.
December, 2, 2012
12/02/12
2:26
PM ET
The
Carolina Panthers
have a decent chance at their first two-game winning streak since Weeks 15 and 16 of last season.


At halftime, they trail the
Kansas City Chiefs
,
17-14
. Kansas City scored a touchdown on the final play of the second quarter. But the Panthers led for most of the first half.
Cam Newton
and the offense have put together a couple of impressive touchdown drives.
But Carolina's defense did not have a great first half. The Panthers have had trouble stopping running back
Jamaal Charles
and they're making quarterback
Brady Quinn
look like the model of efficiency. The Panthers also have had problems with penalties and safety
Sherrod Martin
and defensive lineman
Frank Alexander
have left the game with injuries.
Feel free to share your thoughts on the Panthers in the comments section below. I'll be back with a wrap-up soon after the game ends.
October, 16, 2012
10/16/12
3:17
PM ET
As I said earlier, when the ESPN.com Power Rankings were released, I'm not really convinced the
Atlanta Falcons
are the
best team
in the NFL.
It's not like I see anyone dramatically better and it's hard to argue with putting the league's only undefeated team at No. 1. But my opinion is based largely on what I've seen the Falcons the last three weeks. They've needed last-minute drives to win against bad teams.
But let's take a look at this
Insider post
by Football Outsiders. I go by sense and feel, but the Football Outsiders go by hard numbers and they're coming up with the same conclusion I am about the Falcons.
They point out several things that throw rain on Atlanta's parade, starting with the fact the teams the Falcons have beaten are a combined 12-22 and none has a winning record. It also is pointed out that only two of Atlanta's future opponents have winning records at the moment.
Football Outsiders also points out the shortcomings of Atlanta's running game. It would be nice to have a running game, but I'm not sure this is all that big a deal. The Falcons came into the season wanting to be more of a passing team and they're accomplishing that.
But, if you're looking for a flaw that could really bring down the Falcons in the postseason, Football Outsiders has it. It points out how Denver's
Willis McGahee
, Washington's
Alfred Morris
and Kansas City's
Jamaal Charles
and Carolina's multi-faceted backfield all had an easy time running on the Falcons.
Think about the possibility of the Falcons having to stop
Matt Forte
,
Frank Gore
or
Ahmad Bradshaw
in a playoff game?
If they finally are going to win a postseason game in the
Mike Smith
era, the Falcons are going to have to improve at stopping the run.
They'll get some relief soon when defensive tackle
Corey Peters
comes off the physically unable to perform list. Peters will help, but I'm not sure he solves everything.
If the Falcons really want to go far into the postseason, coordinator Mike Nolan better start finding ways to make the run defense better.
October, 14, 2012
10/14/12
6:25
PM ET
Thoughts on the
Tampa Bay Buccaneers
'
38-10 victory
against the
Kansas City Chiefs
on Sunday at Raymond James Stadium:
What it means:
I wouldn't quite call this one the turning point for a young team with a new coaching staff, because turning points need to come against good teams, and the Chiefs don't fit that bill. But this one was significant and a potential step toward that turning point. The Bucs played well on both sides of the ball and probably played their most complete game of the season. They also improved to 2-3, which places them in sole possession of second in the NFC South.


Best idea coming out of a bye week:
The Bucs took the handcuffs off
Josh Freeman
, and the quarterback threw for 328 yards and three touchdowns. The Bucs let Freeman take some shots downfield, and he connected with
Mike Williams
,
Tiquan Underwood
and
Vincent Jackson
. Memo to the coaching staff: Remember this one and, going forward, let Freeman continue to do what he does best.
Time to stop the Doug Martin bashing:
The knock on the rookie running back early this season was that he wasn't producing big plays. Well, he changed that against the Chiefs. Martin had a 23-yard run as he finished with 76 rushing yards, and he also caught a pass that went for 42 yards.
Stellar day by the defense:
There's been a lot of talk about how improved Tampa Bay's run defense is from last year. I wasn't completely buying into that. But now I am. The Bucs limited
Jamaal Charles
to 40 yards on 12 carries.
Defying time:
Defensive back
Ronde Barber
is 37, but the guy just keeps making big plays. Barber recorded his 45th career interception and returned it 78 yards for a touchdown.
What's next:
The Bucs are home next Sunday with the
New Orleans Saints
.
October, 12, 2012
10/12/12
1:30
PM ET
»
NFC Final Word
:
East
|
West
|
North
|
South
»
AFC
:
East
|
West
|
North
|
South
Five nuggets of knowledge about Week 6 (remember, the Panthers and Saints are on their bye week):
Odds-on favorite:
With a 5-0 start, the Falcons are well on their way to the playoffs. Thirty-eight teams have started 5-0 since the NFL went to its current playoff format in 1990, according to ESPN Stats & Information. Of those teams, 34 have reached the postseason, with 25 winning at least one playoff game. Sixteen of those teams have reached the Super Bowl and eight of them have won it. We'll give you an update on the history of 6-0 teams next week if the Falcons beat the Raiders on Sunday.
[+] Enlarge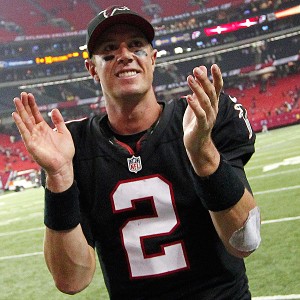 AP Photo/John BazemoreFalcons quarterback Matt Ryan is set to face a Raiders defense that has been burned by opposing quarterbacks recently.
Aiming for the trifecta:
The Oakland defense has given up three or more touchdown passes to the past two quarterbacks it has faced (
Peyton Manning
and
Ben Roethlisberger
). That obviously is good news for Atlanta's
Matt Ryan
. In his five-year career, the Falcons are 14-0 when Ryan has thrown for three or more touchdowns. In NFL history, only Daryle Lamonica (19-0) has won more games without a loss when throwing for three or more touchdowns.
Rain on the parade:
Speaking of Ryan, he's having a wonderful season and deserves to be in any MVP conversation. But there is one unflattering little streak going on right now. Ryan has thrown an interception in his past three games. That's tied for the second-longest streak of his career. The longest came in 2009, when he was intercepted in six straight games.
AFC history isn't pretty:
Although the Chiefs may be struggling, the fact that the Buccaneers are playing an AFC opponent is not very encouraging. Over the past 10 years, the Bucs are tied with the Redskins for fewest wins among NFC teams against AFC opponents. The Bucs are 11-25 against the AFC in that span.
Something has to give:
Tampa Bay's run defense has been a bright spot so far. The Bucs are allowing 73.8 rushing yards per game, which ranks as the fourth-lowest average in the NFL. But Kansas City's
Jamaal Charles
is averaging 110.2 yards per game.
October, 10, 2012
10/10/12
6:22
PM ET
Let's take an evening run through some news and notes from around the NFC South:
ATLANTA FALCONS
In this
radio interview
, receiver Roddy White has some fun with tight end Tony Gonzalez, who has said he probably will retire after this season. White seems to think Gonzalez has at least another year left in the tank. That's pretty conceivable after Gonzalez went out and caught 13 passes against the Redskins on Sunday.
Linebacker Stephen Nicholas was held out of Wednesday's practice with an
ankle injury
. If Nicholas can't play Sunday against Oakland, the Falcons likely would turn to veteran Mike Peterson.
CAROLINA PANTHERS
With the Panthers on a bye week and a bad season getting worse with the loss of center Ryan Kalil, it might be time to take a look at this
Insider post
in which Mel Kiper Jr. has his Big Board for the 2013 draft. I'm thinking defensive tackle Star Lotulelei sounds like a possible fit for the Panthers.
NEW ORLEANS SAINTS
Nakia Hogan writes about how young defensive ends Martez Wilson and Junior Galette
stepped up
in the victory over the Chargers. With it now looking like Will Smith will have to serve his four-game suspension after all, Wilson and Galette could take on bigger roles. I'm also thinking that, despite all the criticism defensive coordinator Steve Spagnuolo has taken early in his tenure, he could be starting to develop two pretty good young pass-rushers.
TAMPA BAY BUCCANEERS
With Matt Cassel going through the league's
protocol for a concussion
, the Bucs could see Brady Quinn as Kansas City's starting quarterback on Sunday. I'm not sure it really matters which quarterback the Chiefs use. The Bucs have a bigger concern and that's stopping running back Jamaal Charles.
October, 8, 2012
10/08/12
5:39
PM ET
I just arrived back at NFC South Blog headquarters, so let's take a spin through the afternoon's top stories from around the division:
ATLANTA FALCONS
Jeff Schultz writes the Falcons' win over the Redskins was the highlight of a
bad sports weekend
for Atlanta (see the Braves, Georgia Tech and Georgia).
In his
weekly report card
, D. Orlando Ledbetter gives the offensive line an "A" for its outing against Washington. That's at least three or four letter grades higher than the Falcons got most of last year.
CAROLINA PANTHERS
Coach Ron Rivera said quarterback Cam Newton is
pressing too much
. Of course he is. It's pretty obvious Newton is going overboard to try to carry his team. The coaching staff needs to get Newton settled down. More importantly, those same coaches need to start taking better advantage of all the talent around Newton, so he doesn't feel like he has to do it all himself.
The Panthers just announced they have re-signed defensive tackle Andre Neblett to the 53-man roster and waived cornerback Ron Parker.
NEW ORLEANS SAINTS
The Saints were in much
better spirits
Monday, after getting their first win. They have a bye week and then a game at Tampa Bay, so you can at least see the outline of how they could get started on a bit of a run. But it's going to have to turn into a very big run if this team is going to have a shot at the playoffs.
Jeff Duncan points out that the Saints have allowed
2,280 yards of total offense
. That's the second-highest five-game total in NFL history. Think it's safe to say the Saints will spend some of their bye week working on their defense.
Interim head coach Aaron Kromer didn't have much in the way of
updates
on injuries to cornerback Jabari Greer (ankle) and tight end Jimmy Graham (groin). With the bye week, the Saints have a little time to get them health, but there's a big drop off to their backups if Greer or Graham has to miss time after the bye.
TAMPA BAY BUCCANEERS
Coach Greg Schiano continues
to hint
there could be a change coming at right guard, where Ted Larsen has started since Davin Joseph went down with a season-ending injury in the preseason. Jeremy Trueblood, who lost his starting job at right tackle, seems to be a candidate to take over at right guard.
Although their run defense has been a bright spot, the Bucs are
bracing for
Sunday, when they face Jamaal Charles, the NFL's leading rusher.
September, 23, 2012
9/23/12
5:10
PM ET
Thoughts on the
New Orleans Saints
'
27-24 overtime loss
to the
Kansas City Chiefs
at the Mercedes-Benz Superdome on Sunday:


What it means:
Last week, I said it was time for the Saints to
panic
. My point was that they needed to do something dramatic before this season got out of control. They might be at that point now. They controlled things for most of the day in a game in their own stadium and they still ended up losing. The Saints are 0-3 and in sole possession of last place in the NFC South. The Saints have dug themselves a big hole and it's not going to be easy to climb out of. The last time the Saints started 0-3 was 2007, when they lost their first four games and failed to make the playoffs. It probably remains a little too early to say the Saints' season is over, but look at the next opponent on the schedule (at the bottom of this item) and it's tough to imagine New Orleans suddenly turning things around.
Defensive woes continue:
Kansas City wasn't supposed to be an offensive powerhouse and, early on, it looked like a New Orleans defense that struggled in its first two games was going to be all right. But the defense collapsed, particularly the run defense. Kansas City's
Jamaal Charles
carried 33 times for 233 yards, including a 91-yard touchdown run.
Matt Cassel
threw for 248 yards. The Saints could have survived that if their run defense had just kept Charles in check. Defensive coordinator Steve Spagnuolo's been taking a lot of heat from fans. What happened Sunday isn't going to stop that.
What happened to the offensive line?
I'm not going to put the blame for the collapse of the offensive line solely on the loss of guard
Carl Nicks
to Tampa Bay in free agency. I certainly think the loss of Nicks was a factor. But I think some other members of the offensive line are underachieving. The Chiefs aren't a team known for generating much of a pass rush. They came up with a strong pass rush against
Drew Brees
and even scored a safety late in regulation by sacking Brees in the end zone. Brees has had to face too much pressure so far this season. He banged up his ankle last week and there were times on Sunday when Brees seemed to be limping a bit after taking big hits from the Chiefs. If Brees suffers any sort of injury, whatever is left of the Saints' season is over.
What's next:
The Saints travel to Lambeau Field to play the
Green Bay Packers
next Sunday.