NFC South:

JaMarcus Russell
September, 14, 2011
9/14/11
12:00
PM ET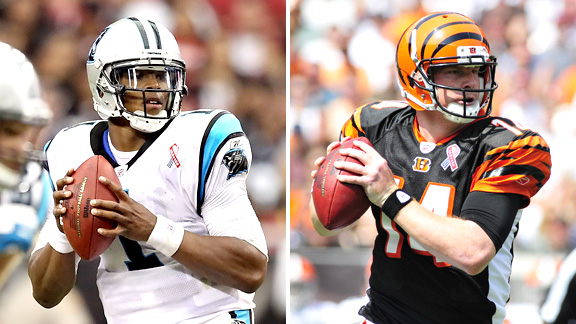 Getty ImagesCarolina's Cam Newton, left, and Cincinnati's Andy Dalton are the latest examples of quarterbacks who started the first game of their rookie seasons.
There's an ancient NFL proverb that says you shouldn't play a rookie quarterback right away. If you do, the logic goes, you might ruin him.
In breaking and somewhat related news: The world is flat.
Yeah, Christopher Columbus shot the second one down, and let's turn to
Cam Newton
and
Andy Dalton
to take care of the first. Let's label the exhibits Rookie QB 1 and Rookie QB 2.
Just look at the evidence Newton and Dalton put on the field Sunday as the only two rookie quarterbacks to start the season.
Newton threw for 422 yards
, the most ever by a player making his NFL debut.
And this was a guy who some fans and draft gurus said wouldn't be able to run an NFL offense?
Then there was Dalton. He wasn't as flamboyant as Newton, and he left the game with an injury. But, before he did, Dalton was a very efficient 10-of-15 passing for 81 yards with one touchdown and no interceptions to help the
Cincinnati Bengals
kick off the post-
Carson Palmer
era with a
victory against Cleveland
.
And Dalton slid all the way to the second round of the draft?
There's a lesson to be learned from what Newton and Dalton did on Sunday. You
can
start a rookie quarterback right off the bat. And this theory's not exactly brand new.
Take a look at recent years.
Sam Bradford
,
Matt Ryan
,
Joe Flacco
and
Mark Sanchez
have played quickly and fared well. As a matter of fact, can you name the last early draft pick who truly got "ruined" by playing too soon?
I say it's
David Carr
, and that was a long time ago and in unique circumstances. Carr was playing on the expansion
Houston Texans
, who never really did anything to build a quality offensive line during his tenure.
You can throw out names like
Joey Harrington
,
JaMarcus Russell
,
Vince Young
and
Alex Smith
. But I think those were guys who were going to struggle no matter how soon they played.
Yeah, maybe in a dream world you can let
Aaron Rodgers
sit behind
Brett Favre
for a few years. But the NFL's not a dream world, and maybe it's time for those still clinging to the myth that a quarterback has to sit to let go.
Maybe it's time -- or at least close to time -- for the Vikings, Jaguars and Titans to realize they've got nothing to lose by playing
Christian Ponder
,
Blaine Gabbert
and
Jake Locker
sooner rather than later.
In a new age when first-round rookie contracts are limited to four years with an option for a fifth, there's a sense of urgency to find out what a quarterback can do. Yeah, you can make the argument that's throwing a guy to the wolves. But the Panthers threw Newton to the Cardinals and the Bengals threw Dalton to the Browns and no one got ruined.
This is the inaugural edition of Quarterback Watch. We'll be here every Wednesday throughout the season, examining the trends and themes involving quarterbacks and looking at whose stock is on the rise and whose is declining.

TRENDING UP

TRENDING DOWN
May, 2, 2011
5/02/11
9:56
AM ET
I'm not trying to curb the enthusiasm in the Carolinas after the Panthers used the No. 1 overall pick in the draft on quarterback
Cam Newton
. It's a move with huge upside and we'll find out a few years down the road if it was indeed the right move.
However, there's an discouraging statistic, courtesy of the Elias Sports Bureau, that suggests Newton and coach Ron Rivera face an uphill battle. Since 1990, seven rookie head coaches have had the No. 1 overall pick and used it on a quarterback.
None of them has won a postseason game. Think Mike Nolan and
Alex Smith
in San Francisco, Dom Capers and
David Carr
in Houston, Marvin Lewis and
Carson Palmer
in Cincinnati, Chris Palmer and
Tim Couch
in Cleveland, Lane Kiffin and
JaMarcus Russell
in Oakland, Jim Schwartz and
Matthew Stafford
in Detroit and Steve Spagnuolo and
Sam Bradford
in St. Louis.
There seems to be hope for Stafford and Bradford to become successful quarterbacks. Carson Palmer had some good times in Cincinnati, but wants out of there and may get his wish. Other than that, all of the guys on the above list have flopped.
If you want to find a rookie head coach who used the No. 1 overall pick on a quarterback, you have to go all the way back to Jimmy Johnson. Back in 1989, he took Troy Aikman with the first pick, a move that helped the Cowboys become a dynasty for much of the 1990s.
April, 29, 2011
4/29/11
7:02
PM ET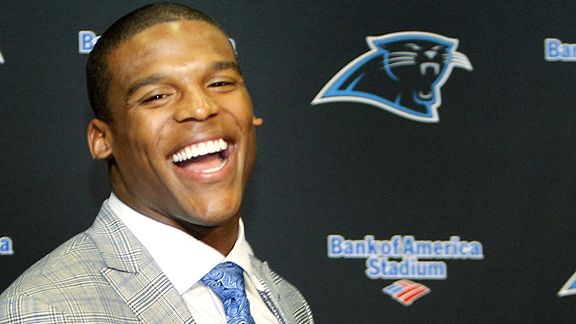 Bob Donnan/US PresswireCam Newton may have enough natural ability to be successful in the NFL if he puts in the work.
CHARLOTTE, N.C. -- Every time the question came, I silently rooted for
Cam Newton
to have some fun.
It's gallows humor, but the question is getting old.
"Do you want to be great?'' the new quarterback of the
Carolina Panthers
was asked in about seven different forms during a 20-minute introductory news conference at Bank of America Stadium on Friday afternoon.
It's a question Newton was repeatedly asked Thursday night, and in the weeks and months leading up to the draft.
I'll tell you what would have been great. Newton should have said something like, "No, I really have no desire to be great. In fact, I'm shooting for mediocrity. I'm thinking I'd like to be some sort of combination of
JaMarcus Russell
,
Ryan Leaf
,
Akili Smith
and
David Carr
. Heck, I think I could be worse than any of them.''
None of that happened. Instead, Newton said all the right things.
"I'm saying it right now: I'm trying to be the best," Newton said. "I strive to be great."
Good answer, but I still think the question is borderline ridiculous. Does anybody really aspire to mediocrity and what does a "desire to be great'' really mean?
Does it mean Newton's got to spend the rest of his life in the film room at Bank of America Stadium except to come out to practice and play in games? Does he need to eat, drink and sleep football to achieve greatness?
I don't think that's really necessary. I think if Newton simply works reasonably hard at his craft, he'll be just fine. The knock by a lot of media members and some anonymous sources as he went through the draft process was that Newton might not totally dedicate himself to the game.
Well, guess what? Everywhere he's been -- high school, junior college and college -- he's done enough to be great.
Yeah, you hear stories about some big-name NFL quarterbacks who spend massive hours watching film and do nothing but work out in their free time. Some of those stories are true and some might be a little inflated.
And sometimes being too driven can be counter-productive. I've been around a few intensely-driven people in my life (a baseball teammate in high school and a couple guys in my current business). They went around beating their chests, telling you they were great and telling anyone who would listen how they worked harder than anybody, even though that wasn't really true. The reality is none of those people were great at what they did. Even with all their effort, they were only good and they never really made it big.
The high school baseball teammate came with the ultimate Little League father, always pushing, but ultimately burning out his son, physically and mentally, for life. Call it the Marv/Todd Marinovich system.
Heck, I think Newton comes with less concerns in this area than
Jimmy Clausen
, the quarterback the Panthers selected in the second round last year. Clausen seemingly has been groomed for greatness all is life, but I don't think you can say he truly has achieved that.
Newton talked a lot about how he plans to put in the work in the NFL and that's great. But he admits it will be a process.
"I understand it's not something that's going to be instant, like instant grits," Newton said. "It's more like collard greens. You've got to let it sit and wait. But at the same time it's going to be a fun process. I know that."
Newton has physical talents as good or perhaps better than any quarterback ever has come into the league with. I think that's the most important thing to start with. No matter how much heart and desire you have, you're not going to achieve greatness if you don't have the physical tools.
Newton doesn't need to go around telling the world he's great or wants to be great. It's a lot more simple than that.
All he has to do is go out and put in a reasonable amount of work, expend a reasonable amount of effort, have some fun, use his natural ability and it just might be easy for him to be great.
April, 29, 2011
4/29/11
12:03
PM ET
At the risk of sounding like Cliff Clavin from "Cheers'', here's a little-known fact about
Cam Newton
.

When he was taken by the
Carolina Panthers
with the first pick Thursday night, Newton became a part of history. He became just the third player to win the Heisman Trophy, a national championship and be the NFL's No. 1 overall pick in the same academic year.
The only two guys who did that before Newton were Leon Hart in 1950 and Angelo Bertelli in 1944. That trivia comes to us from the fine folks at ESPN Stats & Information.
Here's a little more from that same crew. Newton became the sixth SEC quarterback taken with the No. 1 overall pick since 1967.
The others were Georgia's
Matthew Stafford
in 2009, LSU's
JaMarcus Russell
in 2007, Ole Miss'
Eli Manning
in 2004, Kentucky's
Tim Couch
in 1999 and Tennessee's
Peyton Manning
in 1998. The Panthers better hope Newton turns out to be more like the Mannings, or maybe even Stafford, than Russell or Couch.
April, 28, 2011
4/28/11
8:30
AM ET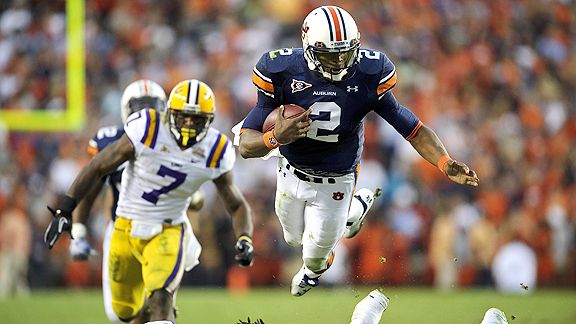 Paul Abell/US PresswireCam Newton has been compared to both Ben Roethlisberger and JaMarcuss Russell.
Cam Newton
has been a huge success just about everywhere he has been.
He won a national championship and a Heisman Trophy at Auburn, and a national junior college title at Blinn College. Coaches, scouts, decision-makers and media draft gurus frequently mention the quarterback in the same context as players such as
Ben Roethlisberger
and
Josh Freeman
. Some will tell you Newton has the potential to be even better than Roethlisberger and Freeman.
So why is it that some people in those very same jobs talk about Newton and mention players such as
JaMarcus Russell
and
Akili Smith
?
Well, it's mainly because most see the 21-year-old as a player who could go either way. The one thing virtually every expert agrees on is that the only thing as huge as Newton's upside is his downside.
Nobody is sure which way the pendulum will swing once Newton gets into the NFL. But in an age when the league is driven by quarterbacks more than ever, it seems a certainty someone will take a chance on Newton in the first 10 picks of the draft.
It could be the
Carolina Panthers
at No. 1, the
Buffalo Bills
at No. 3, the
Arizona Cardinals
at No. 5 or the
Washington Redskins
at No. 10. Or maybe another team will trade up to grab him.
"If he's successful, people are going to love him and the coach and general manager that take him are going to look like very smart guys," a former NFL talent evaluator said. "If he's not successful, it's probably going to cost that coach and general manager their jobs."
If it sounds like Newton is a boom-or-bust prospect, that's because he is.
Here are three reasons Newton has a chance to be a huge NFL success.
1. His athleticism is extremely rare.
Think about quarterbacks who have had big success lately --
Aaron Rodgers
,
Michael Vick
, Roethlisberger and Freeman. They're all extremely mobile. Vick is as quick as a running back, and Rodgers is as elusive as most running backs. Roethlisberger and Freeman aren't as fast, but they're so big and strong that coaches don't mind seeing them take off because they're capable of running over linebackers. Newton has a little of the best features of all those players. He can make plays outside the pocket with his feet. Plus, he has an exceptionally strong arm.
2. Charisma; Newton has won at every level dating to high school.
Teammates follow his lead, and he isn't afraid of the spotlight. As he walked into his session with the media at the NFL combine, one talent evaluator described it as "the moment time stood still." Newton has the type of personality that can charm fans and help sell tickets.
3. The right situation could make him perfect.
In talking to talent evaluators, the general opinion is that Newton would benefit most if he went to a team that didn't ask him to carry it right away. Some suggest he'd be better off in a situation in which he plays sparingly in his rookie year or sits at least half a season with a transition quarterback bridging the gap. Buffalo, with
Ryan Fitzpatrick
already in place, could be an ideal setting. But those same evaluators look at a Carolina roster that, at the moment, includes receiver
Steve Smith
, running backs
DeAngelo Williams
and
Jonathan Stewart
, tight end
Jeremy Shockey
, and a decent offensive line, and say Newton's presence instantly could improve a team that went 2-14 this past season.
Now, let's look at three reasons Newton could be a big failure in the NFL.
1. He hasn't played in an NFL-style offense.
At Auburn, Newton lined up in the shotgun formation frequently, and he doesn't have much experience taking snaps from under center. The Auburn offense didn't rely much on the complicated routes that are prevalent in NFL offenses. As great as Newton's college career was, it wasn't very structured and there are strong concerns that he could fail miserably if he tries a freelance approach in the NFL.
2. In some ways, he's not Freeman, Matt Ryan, Sam Bradford or Joe Flacco.
Those young quarterbacks all have had early success.
"I sat down with Ryan, Flacco, Freeman and Bradford," one talent evaluator said. "Those are four of the smartest quarterbacks I've ever interviewed coming out of college. You could cue up the film to a certain play, and they'd walk you right through every step of it for the entire offense. I saw
Cam's interview with Jon Gruden
, and the look on Cam's face when Jon asked him to walk him through a play scared the absolute heck out of me."
The concerns go beyond Newton learning a complicated NFL playbook. Talent evaluators say they're not sure whether Newton can handle pre-snap reads because he didn't have to do that in college and they have no idea how he'll read and react once he takes the snap.
3. The background and so-called character issues could come back to haunt him.
By now, you've heard all the reports about alleged computer theft when Newton was at Florida, and talk about alleged offers to play for pay when Newton was looking to transfer from Blinn and how that prompted an NCAA investigation. (The NCAA ruled
in December that the Heisman Trophy winner was unaware
of the pay-for-play scheme devised by his father, Cecil.) There have even been reports questioning Newton's work ethic and attitude. NFL teams have been doing a ton of homework on Newton, and they should. If you're going to hand the keys to your franchise to someone, you want to be certain he's not going to go straight out and crash it.
April, 13, 2011
4/13/11
3:38
PM ET
We have a very interesting story over on our news side that reveals the National Football League
has proposed to divert about $300 million a year from guaranteed money for rookies
to benefits and salaries for veterans.
We've gone a little further into that because the resolution of the labor situation and how rookies are paid could have a huge and direct impact on the
Carolina Panthers
, who hold the No. 1 pick in the draft.
Under the old system, that pick likely would make somewhere around $50 million in guaranteed money. According to figures obtained by ESPN.com, the past five No. 1 overall draft picks have received $180.8 million in guaranteed compensation before ever playing a down in the NFL. That's an average of $36.169 million per player.
Last year's top draft pick, St. Louis quarterback
Sam Bradford
, got $50 million guaranteed in his contract.
Matthew Stafford
, the top pick in 2009, was given a deal with $41.7 million in guaranteed money. Miami's
Jake Long
got $30 million guaranteed when he was taken in 2008. Oakland's
JaMarcus Russell
, one of the biggest busts in recent years, was given $32.019 million in 2007 and 2006 top pick
Mario Williams
got $27.125 million in guaranteed money.
Much of the pre-draft speculation has Carolina taking a quarterback at No. 1, and Auburn's Cam Newton and Missouri's Blaine Gabbert are the names that have come up most often. But drafting a quarterback early doesn't always mean success, although it has meant big money.
The last 15 quarterbacks selected in the top 10 (going back to
Michael Vick
in 2001) have had contracts that guaranteed them more than $367 million. That's an average of $24.474 million per player, and only six of those 15 quarterbacks have been selected to a Pro Bowl.
Here's a list of those quarterbacks that includes their draft year, team and guaranteed money.
2010 Sam Bradford, Rams, $50 million
2009 Matthew Stafford, Lions, $41.7 million
2009 Mark Sanchez, Jets, $28 million
2008 Matt Ryan, Falcons, $34.75 million
2007 JaMarcus Russell, Raiders, $32.019 million
2006 Vince Young, Titans, $30.115 million
2006 Matt Leinart, Cardinals, $12.91 million
2005 Alex Smith, 49ers, $24 million
2004 Eli Manning, Giants, $24.034 million
2004 Philip Rivers, Chargers, $17.955 million
2003 Carson Palmer, Bengals $15.08 million
2003 Byron Leftwich, Jaguars, $12.282 million
2002 David Carr, Texans, $15.04 million
2002 Joey Harrington, Lions, $13.925 million
2001 Michael Vick, Falcons, $15.3 million
April, 7, 2011
4/07/11
12:00
PM ET
»
NFC Draft Watch
:
East
|
West
|
North
|
South
»
AFC
:
East
|
West
|
North
|
South
Each Thursday leading up to the NFL draft (April 28-30), the ESPN.com NFL blog network will take a division-by-division look at key aspects of the draft. Today's topic: history in that spot.

Carolina Panthers
The Panthers' top pick is No. 1 overall. Here are the last seven players taken in that spot, with their NFL team in parentheses:
2010 QB
Sam Bradford
(Rams)
2009: QB
Matthew Stafford
(Lions)
2008: OT
Jake Long
(Dolphins)
2007: QB
JaMarcus Russell
(Raiders)
2006: DE
Mario Williams
(Texans)
2005: QB
Alex Smith
(49ers)
2004: QB
Eli Manning
(Giants via Chargers)
Analysis:
It's still early, but indications are the Panthers are seriously considering taking a quarterback, and that probably narrows it down to Auburn's
Cam Newton
and Missouri's
Blaine Gabbert
. Part of the reason the Panthers are looking down this road is because they saw what the Rams got in Bradford last year. The early results from Bradford and Stafford have been encouraging. But Russell was a tremendous flop, and Smith hasn't been much better. Manning is the only quarterback taken No. 1 overall in this time period to make a Pro Bowl. Even before Manning, the history of quarterbacks at No. 1 was shaky for a long time.
Carson Palmer
and
Michael Vick
have had some good years and some bad ones.
David Carr
and
Tim Couch
rank right up there with Russell. To find a quarterback drafted first overall who has been an unquestioned success, you have to go all the way back to
Peyton Manning
in 1998, and there were some people at the time who thought
Ryan Leaf
could be just as good. Long story short: there might not be such a thing as a surefire quarterback, even with the No. 1 pick.

Tampa Bay Buccaneers
The Buccaneers' top pick is No. 20 overall. Here are the last seven players taken in that spot, with their NFL team in parentheses:
2010: CB
Kareem Jackson
(Texans)
2009: TE
Brandon Pettigrew
(Lions)
2008: CB
Aqib Talib
(Buccaneers)
2007: CB
Aaron Ross
(Giants)
2006: DE
Tamba Hali
(Chiefs)
2005: DE
Marcus Spears
(Cowboys)
2004: DE
Kenechi Udeze
(Vikings)
Analysis:
The Bucs have been in this territory recently and have had tremendous results and one very big complication. The Bucs were at No. 19 heading into the 2009 draft, which was the first for general manager Mark Dominik and coach Raheem Morris. They feared missing out on a chance to get the guy they believed would be their franchise quarterback. That's why they traded up to No. 17 and took
Josh Freeman
. You can't question that move because Freeman single-handedly turned the franchise around last season. Even taking Talib at No. 20 -- and it should be pointed out that move was made by former general manager Bruce Allen and coach Jon Gruden -- brought some positive results. When on the field, Talib showed flashes of being one of the best young cover corners in the game. But the latest in a series of off-field troubles means Talib is probably on his way out of Tampa Bay. The lesson to be learned here is that you can get big-time talent in the draft but it's wise to do your homework on the character and attitudes of players. It's common knowledge the Bucs desperately need a defensive end. Look at Hali and Spears. They represent two ends of the spectrum. Hali came with some questions about being undersized but had no character issues, and he has turned out to be a solid pass-rusher. Spears came with some questions about attitude and never has panned out.

New Orleans Saints
The Saints' top pick is No. 24 overall. Here are the last seven players taken in that spot, with their NFL team in parentheses:
2010: WR
Dez Bryant
(Cowboys)
2009: DT
Peria Jerry
(Falcons)
2008: RB
Chris Johnson
(Titans)
2007: DB
Brandon Meriweather
(Patriots)
2006: CB
Johnathan Joseph
(Bengals)
2005: QB
Aaron Rodgers
(Packers)
2004: RB
Steven Jackson
(Rams)
Analysis:
Johnson, Rodgers and Jackson are proof that you can get a big-time player this late in the round. The Saints aren't looking for a quarterback because they have
Drew Brees
. But running back isn't out of the realm of possibility, and when you see that guys such as Johnson and Jackson have been available at this spot, it makes you wonder about the Saints taking a shot if Alabama's
Mark Ingram
is there. Yes, defensive end and outside linebacker might be greater needs, so those positions are possibilities.
Pierre Thomas
re-signed,
Reggie Bush
is expected to stay and
Chris Ivory
is recovering from injury, but the Saints still have to think back to the end of last year when they basically ran out of running backs.

Atlanta Falcons
The Falcons' top pick is No. 27 overall. Here are the last seven players taken in that spot, with their NFL team in parentheses:
2010: CB
Devin McCourty
(Patriots)
2009: RB
Donald Brown
(Colts)
2008: CB
Antoine Cason
(Cardinals)
2007: WR
Robert Meachem
(Saints)
2006: RB
DeAngelo Williams
(Panthers)
2005: WR
Roddy White
(Falcons)
2004: OLB/DE
Jason Babin
(Texans)
Analysis:
Although nearly every draft guru is projecting that the Falcons will take a defensive end, it's not out of the question that a wide receiver or running back could be the pick here. General manager Thomas Dimitroff and coach Mike Smith have talked a lot about wanting to add explosive players. If they look at their own history and the recent history of NFC South teams that have been in this spot, the idea of going with a receiver or running back could get stronger. Although it took some time for him to develop, White has turned into one of the game's top receivers. Meachem also took some time and dealt with some injuries, but he has emerged as a force in the New Orleans passing game. Williams had some explosiveness as soon as he joined the Panthers.
March, 10, 2011
3/10/11
10:15
AM ET
Time for a trip through some NFC South headlines.
Martin Fennelly writes that signing Tiki Barber
runs contrary to everything the Bucs are doing
. He's absolutely right. The Bucs are building with youth. But until the running back signs somewhere else or decides to stay retired, there will be speculation about the Bucs. With twin brother Ronde in Tampa Bay, this is a great storyline, even though it's an extreme long shot.
Some residents in the neighborhood of Atlanta's proposed open-air stadium
worry that it could turn out to be like baseball's Turner Field
. That facility was supposed to spark all sorts of other development around it, but essentially remains on an island.
Although he doesn't have a contract and appears headed for free agency, fullback Heath Evans
said he's confident he'll re-sign with the Saints
once the labor situation is resolved. This is one where there shouldn't be any complications. Evans wants to play for the Saints and the team obviously likes him and wants him back.
While praising the upside of Auburn quarterback Cam Newton, who could be a candidate for the No. 1 overall draft pick with the Carolina Panthers, ESPN draft analyst Mel Kiper also
addressed the downside
. He did that in the harshest of ways, comparing Newton to Akili Smith. That may sound cold, but that gives an honest portrayal of how unsure many are about Newton. He's drawn comparisons to Pittsburgh's Ben Roethlisberger and Tampa Bay's Josh Freeman and those are flattering. But the comparisons to Smith and JaMarcus Russell make you wonder if he's worth the risk at No. 1.
December, 21, 2009
12/21/09
3:47
PM ET
Great stat from the Elias Sports Bureau on Carolina quarterback
Matt Moore
.

Moore
Entering Sunday night's game against Minnesota, Moore had thrown for only one touchdown pass in his last 72 attempts, which dated back to December 2007. Moore had three touchdown passes without an interception against the Vikings on Sunday.
Injured starter
Jake Delhomme
had only one game where he threw at least three touchdowns without an interception in his last 52 regular-season starts, a span that dates back to November 2005.
By the way, Moore came out of Oregon State as an undrafted player in 2007.
JaMarcus Russell
, the first pick in that draft, never has had a game with three touchdowns and zero interceptions. Neither have
Kevin Kolb
,
John Beck
or
Drew Stanton
, who were second-round picks in that draft.
Brady Quinn
, the No. 22 overall pick in that draft, has had two career games where he's thrown for three touchdowns without an interception.
August, 26, 2009
8/26/09
4:29
PM ET
Posted by ESPN.com's Pat Yasinskas

TAMPA, Fla. -- There could be even another element to the quarterback situation for the Buccaneers.

The team could be looking to trade one of its quarterbacks for a draft pick. Coach Raheem Morris wouldn't confirm an NFL.com report that the Bucs are shopping three of their quarterbacks for a trade, but he didn't deny it either.

"Oh, man, they're Nostradamus," Morris said when asked about the report. "Everybody in this league, all 32 teams around this time start calling front offices. I can't control who calls us. Everybody's interested in everybody's roster and everybody's looking to nit-pick off everybody's roster. Everybody has talent and you're trying to accumulate the best talent on your football team. That's just all that talk is what that is."

But it makes total sense for the Bucs to at least try to find out what the market value might be for Byron Leftwich, Luke McCown or Josh Johnson. They're not about to let go of rookie Josh Freeman, who they call their franchise quarterback.

But that's likely in the future. For now, it appears the Bucs will open the season with either Leftwich or McCown as their starter. They're about even at this point and a potential trade could play into Morris' decision, although the Bucs likely would be able to get only a late-round pick (at best) for any of their quarterbacks.

Leftwich, a former starter in Jacksonville, probably has more trade value because of his experience. McCown has only seven starts. Johnson, a second-year pro, has yet to play in an NFL game and probably wouldn't bring much in a trade.
November, 8, 2008
11/08/08
11:25
AM ET